What Carriers Are Compatible With Tracfone
TracFone Wireless is a U.S. prepaid, no-contract mobile phone provider and is a subsidiary of Mexico's largest telecommunications company, América Móvil. Besides, it provides products and services under several brands, as discussed later in this article. As a mobile virtual network operator (MVNO), this company operates and provides its wireless services under Verizon Wireless, AT&T, and T-Mobile.
However, TracFone operates a dozen brands in the U.S. as a mobile virtual network operator or MVNO. If you wonder what carriers are compatible with Tracfone, its brands include StraightTalk Wireless, NET10 Wireless, SIMPLE Mobile, and Total Wireless, and more. In addition to its Tracfone wireless brands, the company is a crucial player concerning low-cost cell phone plans in the U.S.
Moreover, Tracfone is the biggest reseller of wireless services in the U.S., having approximately 21 million subscribers using a network of over 90,000 retail locations nationwide. Although TracFone has many brands, it offers services under the "TracFone" name and provides other wireless services through many other brands.
What Are The Key Features Of Tracfone Wireless?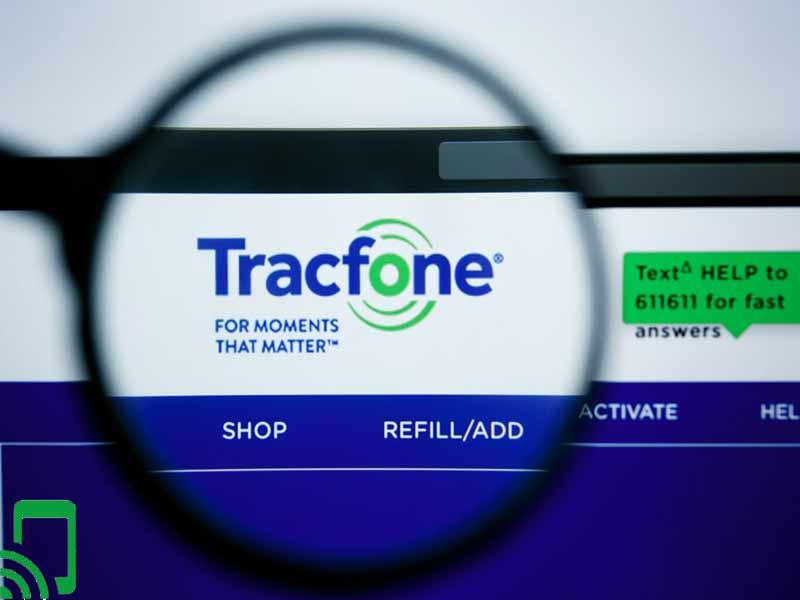 i) Plans and Pricing
Tracfone's best-prepaid plans with carryover data begin at $15 a month, giving you unlimited talk, text, and 1 G.B. of 4G LTE data. However, there are $25 and $30 monthly plans having more data. If you deplete high-speed data, you can add more for $10 per G.B.
Notably; there is no unlimited data plan offered. Additionally, other service plan options include several 365-day plans with minimal data. Tracfone plans are best suited to those who use their phones primarily for calls.
ii) Network Coverage
TracFone operates as an MVNO on all four major carriers' networks, which offers customers flexible options when bringing your device to a TracFone plan if you have any of the Tracfone Compatible Phones.
However, when you switch to Tracfone, you will access services on one of these big carriers, depending on your device and location.Besides, if you're an existing Verizon, AT&T, T-Mobile, or Sprint customer, there's a higher chance that to keep your current cell phone, phone number, and network when you switch.
iii) Service Features
Tracfone doesn't offer many premium features. The unlimited rollover data is undoubtedly the most valuable perk that you can receive with this low-cost carrier. In a nutshell, features include;
No Mobile hotspot support
Video streams at DVD quality, 480p
Wi-Fi calling with an enabled device
Generally, Tracfone provides simple phone plans with text, talk, and a fixed amount of data. So, if you depend on a mobile hotspot or H.D. streaming, this provider is not fit for you.
iv) Phone Options
Most customers who switch to Tracfone will need to keep their existing smartphones. Nevertheless, that's possible if you have one of the Tracfone Unlocked Phones or any GSM unlocked device that's compatible with Verizon, AT&T, or T-Mobile.
However, for those who require a new phone, Tracfone stocks a limited number of devices at consumer-friendly prices. They are both brand new and refurbished phones from Samsung, Apple, Motorola, and Samsung, among those for Tracfone Phones for Sale online.
v) Customer Service
Customers can receive fast answers to their burning questions such as data usage through dialing 611611 using their device.
What Are Steps Do You Follow When Switching To Tracfone
Go to the TracFone BYOP page.
Choose your current compatible carrier, and then enter your zip code and IMEI number.
Select either 'Need to buy activation kit' or 'already have activation kit.'
'Already Have Activation Kit' needs you to scroll to the bottom of the page and click 'Activate now.' You can then opt whether to transfer your current number or request a new one.
'Need To Buy Kit' will require you to choose the correct SIM card for your phone.
Please select your choice of a plan by adding it to your cart.
Review your shopping cart and select 'Proceed to Check Out.'
Complete your billing, shipping, and personal information.
Once you get your SIM Card, follow the steps included with your SIM to activate your service.
What Are The Carriers Compatible With Tracfone?
1) Straight Talk
Straight Talk Wireless is a no-contract phone plan service that got launched on October 18, 2009. Besides, this company keeps it simple with its prepaid plans with its services most widely sold at Walmart.
 What you need to know about straight talk;
Plans start from basic, with countable minutes and watch data, but you pay much less per month to unlimited text and text, with varying data caps at around half the significant carriers' price.
You have diverse options for monthly, no-contract plans, translating to more freedom with cheaper plans.
If you're a tech-savvy customer, the downside is that majority of the phones are older models.
Unlimited talk, text, and data plan cost $55.
You can extend plans to three-month, six-month, or annual terms for even more savings.
2) Simple Mobile
Simple Mobile got started in November 2009 as a prepaid mobile virtual network operator of T-Mobile U.S. Later on, Simple Mobile was acquired by TracFone Wireless in 2012 through America Movil.
The wireless provider may be a suitable option for you if:
You want to maintain your phone and phone number.
You like T-Mobile's network and coverage area.
You're willing to prepay every 30 days for cell phone service.
3) Total Wireless
Total Wireless is a TracFone Wireless subsidiary and is a Mobile Virtual Network Operator (MVNO) that relies on the Verizon network. Interestingly, Total Wireless is a low-cost cell phone wireless provider that can reduce your current monthly bill in half and still provide customers with the same great coverage as Verizon's.
Below is what you need to understand about this carrier;
i. Individual plans
Total Wireless's cell plans are cheap and provide excellent phone coverage through Verizon's network. However, the absence of full-speed data and the possibility of slowdowns will be the downside for many people.
ii. Family plans
Total's family plans are relatively cheaper than its individual cell phone plans. The prices are significantly lower when compared to when buying single lines. Plus, these plans feature more data, including mobile hotspot data.
iii) Performance
Verizon's network, which serves Total Wireless, provides unparalleled coverage and super fast data speeds when your data gets not deprioritized.
4) Walmart Family Mobile & Go Smart
Walmart Family Mobile got purchased by TracFone from T-Mobile in September 2016. Besides, GoSmart Mobile was previously a T-Mobile U.S. subsidiary that emerged in the U.S. on February 19, 2013. The Walmart Family Mobile offers prepaid coverage on T-Mobile's network at a low monthly price. However, there are no commitments, no contracts, and no cancellation fees.
Walmart Family Mobile may be suitable for you if:
T-Mobile coverage is available where you live.
You need a cheap unlimited data plan.
You possess a compatible phone or want to purchase a new device.
In-person customer support isn't necessary to you.
5) Net10 Wireless
Net10 Wireless is a subsidiary of TracFone Wireless which provides no-contract phone plans. The Net10 offers pay-as-you-go and monthly plans and delivers its services through the four major cell phone carriers depending on your location and phone. Features include;
i. Plans
Net10 Wireless provides several "Unlimited Plans," but they have data caps.  So, if you pass that data cap, your data slows down, but if you can choose a Net10 Wireless data plan and maintain it below your data cap every month, you'll receive a pretty good deal.
ii. Coverage
Net10 Wireless has better coverage than your average MVNO cellular wireless provider. Since it operates under the four major carriers, it will collect up to whatever network around you with the strongest signal.
iii. Devices
Nearly all the latest devices from Android, Apple, and Google will function with your Net10 Wireless plan.
6) Page plus Cellular
Page plus Cellular is a prepaid mobile virtual network operator operated by TracFone Wireless in the United States using Verizon Wireless. In May 2013, Page Plus Cellular got acquired by América Móvil.
The following is what you need to know about Page Plus Cellular.
i. Same quality coverage
By using Verizon network towers, this online-only carrier offers you the exact coverage you can depend on.
ii. Lower prices
This carrier offers a low-cost plan that typically costs between $10-$45 per month. When using a traditional cell phone plan, the cost is like $80 a month.
iii. Simple switching process
If you want to join this carrier, you will be up and running with your new plan in a few days. Besides, you can even keep your phone number when you switch.
iv. Customize your plan
The low-cost carriers are quite flexible. Nearly all Page Plus Cellular plans feature unlimited talk and text, and you can select the data to match your needs. You can also switch your plan as often as you want.
v. No commitment
Page plus Cellular has no contracts, and you can switch at any time to look for a better deal if your needs change.
vi. Buy online
You can choose and buy your plan fast and simple online.
See our related article: Add Service Time to TracFone. Here are the steps you need to follow to add time to your TracFone!
Bottom line
One key advantage of choosing a prepaid MVNO such as TracFone for your cell phone service is that the carrier's small size compared to the majors enables it to provide very cheap text, talk, and data plans. You can switch to any of the Tracfone-owned carriers and reap the benefits of affordability and reliability.