Should a 5 Year Old Have a Cell Phone
Hi there? Do you think it's time for your kid to have a phone? If you are in doubt of whether your 5-year-old kid should have a phone, then this article will give you a detailed guide on what to consider before getting the child a phone. There are lots of debates with regards to children having phones. Some parents give their children a phone at an early age and the children are disciplined enough to use the device for the right purpose. On the other hand, there a parents who offer kids phones and, in the end, it may disrupt or ruin their good moral values which the parents have brought them up with.
Debates have been there on whether kids below 8 years should have phones or not. Depending on some pre-existing conditions, a parent may give a 5-year-old a phone.  There are also factors to consider before giving the child phones. Cell phones without internet capabilities are one of the options parents give their children especially if they are at a young age.
This however does not limit you to give your child a phone with internet access as long as you think he qualifies to use the device. This article will give you detailed information as to whether your 5-year-old kid should have a phone or not. You will also learn on what to consider before giving the child the phone and much more information.
What to consider before giving 5-year old phones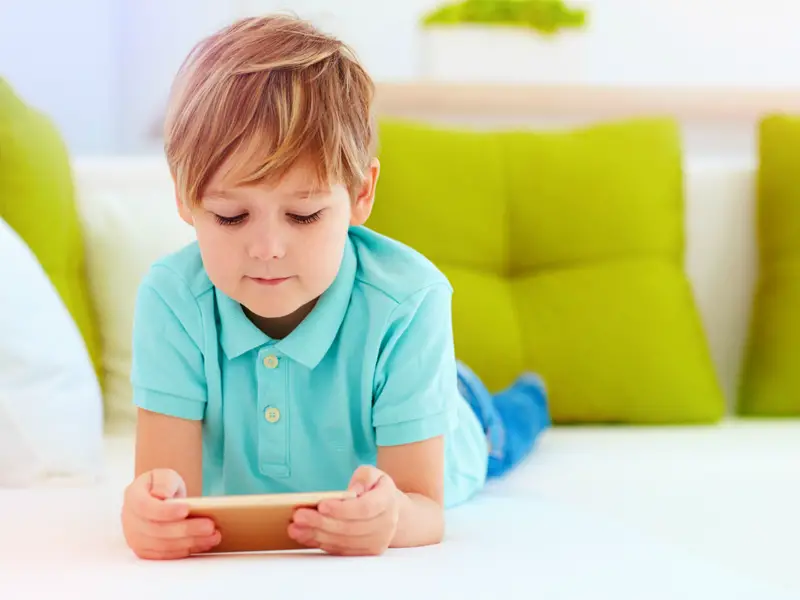 Before getting the best prepaid phones for kids, here is what you need to evaluate on;
1. Security
A kid having a phone can boost up his or her security. If you tend to think your kid is not safe when he or she goes to school or any event, you can consider getting him or her a simple phone with reliable emergency services. One good device is the Jitterbug flip phone and it has the 5-star emergency button to contact anyone for emergency services.
2. Costs
It may be costly to buy and maintain a new phone for your kid. You have to pay for plans every month and in case the phone breaks, the kid will be running to you every time. If your budget is not able to accommodate another device in the homestead, then it's not worth it. You can get other alternatives like keyholders with tracking services in case you want to monitor your child.
3. Maturity
Maturity levels are key especially if you plan to give a 5-year-old kid a smartphone. You should evaluate on the shift of behavior on the child after getting the phone. If you think your child can become extra focused on the phone, then just get him or her a phone without internet access.
4. Location
To know where your child is in real time, then you can consider getting them a phone with Geo-fencing or GPS capabilities. This will help you know where your child is and can easily contact you if there is any problem.
How to monitor phones for 5-year-old kids
There are many ways to monitor how your child uses a phone, especially a smartphone. For a phone without camera or internet access, there is less concern with regards to monitoring the child. However, if you have given your child a smartphone, below are some of apps you can install on the phone to monitor and restrict some activities in the device.
Qustodio
Net Nanny
Norton lifeLock
Kaspersky
Clean Router
Safe DNS
unKnownKids Premier
Should the phones have internet access?
Yes. A five-year-old kid can have a phone with internet access. The internet can be of great benefit to the child with wide range of perks. It may be an educational platform where the id can do further reading on what they have done in school.
Aside from that, the kid can enjoy entertainment services from several platforms like YouTube for Kids app and many more entertaining platforms for kids.
What are the alternatives for cell phones for 5 year-old-kids?
If you think your kid is not mature enough to have the phone or he or she may lose the device, there are other options you can do with. For a kid's case, you are giving them the phone mostly for communication purposes.
You can get the kid a smartwatch with limited features which he or she can communicate with to you very easily. The smartwatch can also have Geo-fencing features which will give you real-time updates on their locations.
If you just want to know your kid's location, you can place trackers on their bags or a simple keyholder which they can carry around. This is the most widely used option for kids especially below 8-years old.
Are there cheap phone plan for 5-year-old kids?
Most phone plans for kids are very cheap. The plans costs ranges between $10 to $35 at the maximum. If you want a phone without internet access, the plans tend to be cheaper compared to plans with data services.
Here is a list of service providers to consider;
These plans have the best value in the market.
Can kids get free Government phones?
No! Free Government phones are only eligible for adults and people with an income level below the federal poverty guidelines. If you are on a low budget, you can get cheap phones from Amazon or a retailer near you.
Bottom Line
Giving a kid a phone has never become much easier. With the factors mentioned in this article, you can know whether the kid deserves a phone or not. There Are also other alternatives if you think your kid does not deserve a phone. You can give them, a smartwatch, and place tracking gadgets on their backpacks or keyholders with trackers.  So, getting a phone for 5-year-old kids is not a big issue and there is also no legal restrictions.