How to Get Free Wifi At Home | 5 Best Way
You can all agree with me that the internet has become a necessity in our day to day lives. For instance,  as I write this article, I'm accessing the internet to do extensive research on today's topic. Though the internet has become a necessity. It can become a costly amenity to cater for considering if you are a heavy consumer of the internet. Let's say you need to access the internet urgently but you don't want to buy the internet plan or you don't have enough bucks to cater for it. You may think it is a dead-end but no need to worry as there is a solution to such a situation. In today's article, I'll show you how to get free Wi-Fi at home.  
Currently, a huge amount of our time is spent online doing various duties such as shopping, managing your businesses, communication, learning and so much more. Some individuals can't live a day without accessing the social networks and browsing their favorite sites thus the internet is key to them. You can now access the internet without paying any amount as you can enjoy the free Wi-FI at your home. Even though there are various public Wi-Fi hotspots that at the moment are on a rise, finding suitable free WiFi hotspots isn't an easy job.
There are various ways on how to get free internet anywhere in your area. In this article, I'll show the best way on how to get free WiFi at home. Not only will I guide you on how to get free Wi-Fi at home but also show you the best unlimited mobile hotspot plans offered by various mobile carriers. I hope by the end of the article you get to choose one of the methods that will suit your needs efficiently. Read ahead. 
Top 5 ways to access free WiFI at home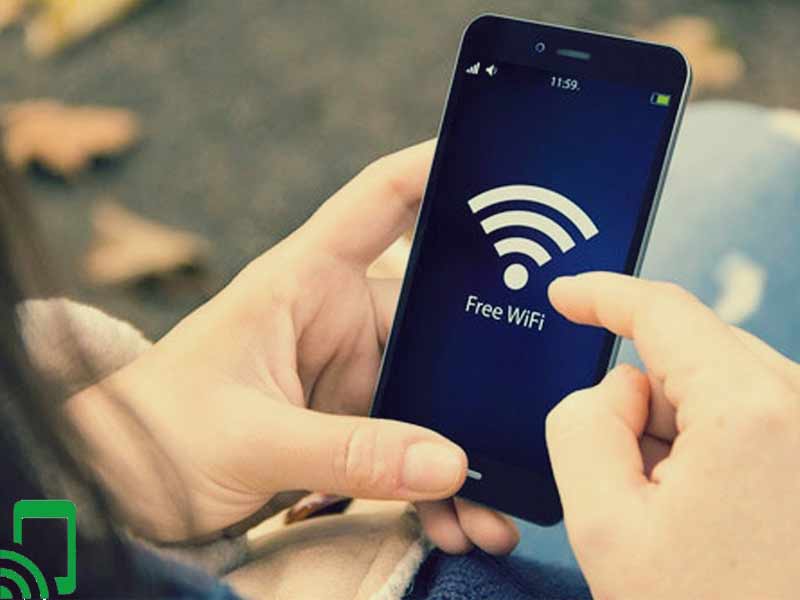 Currently, the internet has become a necessity to help us with our various duties, you need a good internet connection. Though the Wi-Fi is free it comes with various restrictions such as slow internet speed if there are many users connected to the same network, online live streaming of movies, online gaming and so much more.
Below are some of the methods you can perform so that you can access the free Wi-Fi at the comfort of your home. No need to worry about the methods as they are legal and none will get you in trouble with the police. 
Read our related article on How to Get a Better WiFi Signal From Neighbors (with their permission, of course!)
1. Mobile hotspot
If you have a smartphone with enough mobile data then you can create a mobile Wi-Fi hotspot to share with your other devices. A mobile hotspot is an excellent option if you have a surplus mobile data plan that you have subscribed to your favorite mobile carrier.
Also, some mobile carriers offer mobile data and even an ideal mobile unlimited mobile hotspot plan so that you can keep your devices connected to the internet. You can easily activate the mobile hotspot feature on your phone by going to the settings and choose the Wireless and networks section.
I highly recommend you create a strong password with at least 12 characters to avoid intruders using your data. Ensure in the password you mix with letters, numbers and special characters to make it hard for hackers to crack it.
Beware that once you activate the mobile hotspot it will drain your phone's battery due to various factors such as the number of users, mobile connection and many others.
2. Portable router
Popularly known as travel routers, it isn't much of a difference from the router you have at your home. The main difference between the two is that unlike the router it has to be connected to the internet via cable the travel router has a SIM card slot. Due to this, you can insert your line and you can enjoy the 3G and 4G network anywhere as you adventure the world.
Since it establishes a Wi-Fi network you can connect it with all your devices. One key thing you need to note while buying is how much simultaneous connection it supports, how fast it is and how strong are the antennae buds. The routers are affordable and you can enjoy the internet the whole day thanks to the single charge. 
3. Use of Hotspot Databases Apps
Due to the massive demand for free public hotspots, software engineers have built various mobile apps specially designed to help users find them. The hotspot database apps provide a huge list of Wi-Fi hotspots around your region and those with passwords for hotspots that aren't available to the public for paying. You can consider the following apps:
i) Wi-Fi Map
The database app provides you will all the Wi-Fi hotspots around no matter where you are even if you are in a different country. It has a friendly user interface and you can navigate around easily.  
ii) Wiman
It is among the top hotspot database in the world and the mobile app can help you find free Wi-Fi hotspots anywhere you go.  The unique thing about the app is that it chooses the best WI-Fi hotspot with good quality. 
iii) Avast Wi-Fi Finder
Avast is among the top leading cybersecurity companies, thus their app is exceptional. It has intelligent features as it can answer your question such as "Is there free Wi-Fi near me?"
For status, wireless networks can be identified by Service Set Identifiers (SSIDs) that serve as their network names. It allows one to hide the network's SSID and create a hidden network so that it isn't visible to Wi-Fi enabled devices.
You can access these hidden networks with various software developed such as the NetSpot analyzer that is possible to find the nearby hidden network.
5. Public places
Lastly, to finish off is you can visit public places. You can agree that there are various places guaranteed to find free Wi-Fi, wondering how you will access them? I recommend you move next to one of these places below:
Libraries
Public plaza
Restaurants
Coworking space
You need to consider that this is a public Wi-Fi hotspot so you are at risk with your personal information. Be vigilant of any unsuspicious websites and pop-ups and disconnect immediately after you use it. Also, remember to log out from any accounts to avoid unauthorized individuals.
How to secure your credentials while using free Wi-Fi?
If you get internet access from a private network then no need to worry as you can browse without your data getting saved to avoid your data being vulnerable to hackers. If you access the internet with the public Wi-Fi then the following tips can come handy to secure your credentials.
1. Virtual Private Network(VPN)
The VPN creates a barrier between your credentials and the internet by encrypting it to and from your handset and connection. It can change the IP address of your device to indicate a different country for extra protection. 
2. Avoid automatic connection
If your device connects to the Wi-Fi hotspot automatically then you need to uncheck the option in the settings option. Due to the automatic connection, a hacker can easily access your details anytime and you will be vulnerable. Make sure you disconnect to the internet connection once you are done browsing the internet. 
3. Browse on secure websites
Since you are using a public Wi-Fi hotspot, you need to be keen on the website you browse. A reliable way to check the website's security, check the URL of the website if it has an HTTPS then it is secure. If you make any online payments then you need to check the website if it has trust seals from Paypal and other companies.  A secure website should have a detailed contact page so that you can contact them in case of any problem. 
Avoid file sharing
If you don't want any catastrophic or havoc on your devices then don't share any file on the internet connection. Though there are networks that do not allow any file sharing there are some that aren't that strict. Turn off the sync option to your cloud storage so that your documents, photos, videos, and other media are safe from unauthorized people. 
Bottom Line
From the article above you have seen the various ways, you can access free W-Fi at home. You can get the Wi-Fi hotspot devices that provide unlimited data so you can enjoy your browsing experience. Though you have learned how to get free Wi-Fi at home you need to be keen about your credentials, especially on the public Wi-Fi hotspot.
I highly recommend you get the unlimited mobile hotspot offered by various mobile carriers. It can help avoid your details being vulnerable to hackers and you can enjoy a smooth internet connection as the public wifi can be slow at times due to the congestion of users on the Wi-Fi connection.
I hope I have answered your burning questions and you can now opt for one of the options I have stated. Feel free to leave a comment below and you can also share other ways on how you can access free Wi-Fi.