The 5 Best Way To Buy An iPhone Without Contract
Do you ever have issues when it comes to paying your monthly billing of your iPhone? Or you may wish to enjoy Unlimited mobile hotspot plans but you are bound by a contract? Well if that is the case, there is a way in which you can evade yourself from making a contract with iPhone and end up in paying a lot of money due to the contract that binds them. If you are into an iPhone user and are reading this post, you may be wondering what an iPhone contract means.
iPhone contract is whereby you are in a deal with the network service provider. By being in that contract, you are likely to pay a sum of the money which is set to purchase the iPhone and the rest of the amount will be paid by instalments for the next two years. The amount which you are likely to pay depends on the type of iPhone that you want. For example, if you get an iPhone from AT&T, you are likely to pay around $350 upfront, and the remaining amount can be paid for two years or depending on the terms of the network service provider.
The catch here is that if you move to another carrier without completing the payment, you will be penalized dearly. To evade all that, this article will give you more prior knowledge on the Best ways to buy an iPhone without a contract as of 2021. Some factors which may force you into a contract can be the following:
Carriers who have limit you to the contract option only
If you are getting a free government phone
If the user wishes to pay in instalments etc.
These are some of the factors which bind people into buying an iPhone with a contract.
How do you know that you are under a contract?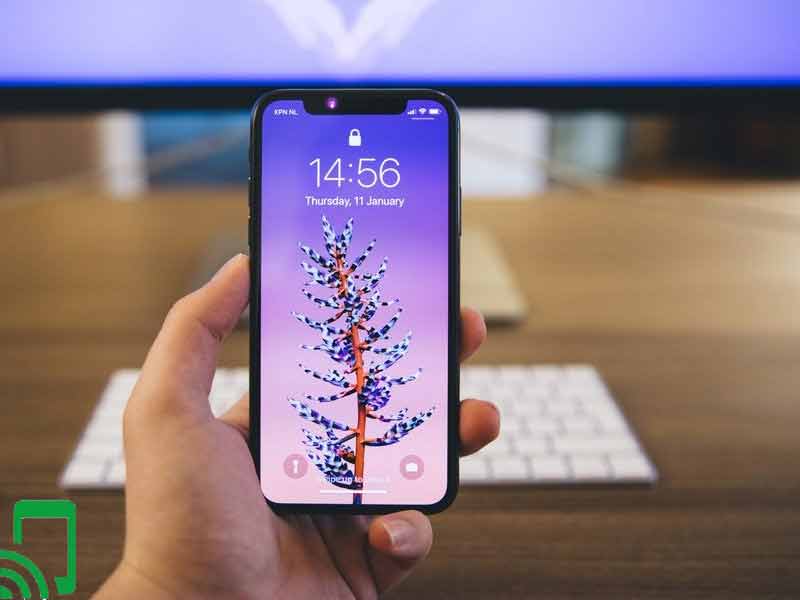 Generally, the iPhone comes in two different versions. The first is Unlocked, and the second one is the Locked version. If you wish to get the unlocked version, which I highly recommend, you will not be under contract to any service provider. The Unlocked version of iPhones can be purchased from an Authorized Apple Store dealer.
You should also be careful when you get an iPhone because a dealer may sell you a locked phone and it can only be unlocked once the person clears the remaining payment. If you wish to know whether the iPhone is locked or unlocked, you can use the settings or a SIM card.
For the Sim card, it will give you a prompt requesting you to place the network password. The network password can only be given if your contract with the service carrier is completed.
The second method you can use is by going to the settings, open mobile data options. After that check for the option named Mobile Data Network and if you see that option, you will know that your device is unlocked. This will help you evade fraudsters who will sell you a locked phone which will not allow you to use a carrier that you desire.
What are the benefits of having an iPhone without a contract?
The first and most crucial factor to consider is that when you opt for a contract when getting the iPhone, you will end up paying more money. This is because you are paying for the phone in instalments for up to two years and the monthly cost may be very high to raise. Another limiting point is that you will not be able to switch to any other service provider since the device will be purchased when locked.
This will limit you to the plans of the carrier which you may not like. Also to get a prepaid option will be very difficult if your iPhone is under contract. An iPhone under no contract will be able to get a prepaid plan very quickly, and hence it will cut off the cost of monthly payments made.
When you have prepaid plans, you have the option to pay in advance for your talk, text, and data. The best-prepaid plans to use under iPhone come from the big four service providers, which are Sprint, T-Mobile, Verizon Wireless, and AT&T Mobile. With prepaid, you get high-speed data and low monthly cost at the same time and currently, all the latest iPhone models come with 4G network capabilities, so it will not be a pain in the neck.
The plans will also depend on the carrier through which you have taken your iPhone from. Another point of view is that the iPhone without a contract can come unlocked meaning you can go to any service provider you want. For example, if you purchase the phone from Verizon, you can easily switch to a T-Mobile plan without a hustle since you are not indebted to them.
Procedure for getting an iPhone without a contract
Many people get to purchase an iPhone under a contract because they fail to have enough money to buy the phone at once. This can be evaded by establishing a budget. You may be having an old phone, and you may wish to get a new iPhone. You can plan for a budget like, for example, if you wish to get an iPhone 6 valued at $600, you can set a monthly spending budget instead of setting a complete.
This entails when you want to buy an iPhone using the Apple payment plan. Once that is established, you can get an unlocked phone hence evade from being under a contract with a carrier.
The next and most crucial part is to choose on the device which you would wish to get. As of 2022, there are many iPhone devices in the market which you can choose from. Apple Inc. also sells their old versions of iPhones like iPhone 5 and iPhone 6 through places like Amazon and eBay. If you do not wish to get the old versions, you can opt for devices like:
Apple iPhone 12
Apple iPhone 11
iPhone XS
iPhone 7
iPhone XR
iPhone 8 Plus and iPhone 8
These are some of the best and most updated iPhones to go for. Remember not to buy iPhone 4 since Apple assumes it is too old; hence, no updates will be made to it. Once you identify the phone you want, then you can do a budget as mentioned earlier.
If a new phone is expensive for you, the best and only option is to get a pre-owned phone. Many people fear this since the phone may be spoilt or the accessories that come with it may be of poor quality. However, that should not be a hustle since some websites are known to sell legit pre-owned iPhones. Some of them include:
Also, you can get an unlocked phone from the network service providers. These providers have a market place whereby it contains all the types of iPhones that anyone would want to get. Some of the carriers include AT&T, Verizon Wireless, among others.
How to choose a carrier after buying an iPhone without a contract
This is an essential factor to consider since many people can choose a carrier which may not favor them on their iPhone devices. This section applies to those who opt for getting an iPhone without a contract. Some key points to take include:
The network coverage in the location you are in
How often do you travel
The amount of data you use
Different cellular frequencies.
1) Network coverage
Ensure that you are using a carrier whose network coverage is very efficient. To know if a service provider like T-Mobile is very efficient in your area, and then you can opt for it. For one to choose the best network coverage, he or she can go through the websites of the carriers and check which locations they offer their services.
2) How often do you travel?
As an iPhone user, you may often travel, maybe due to family stuff or business. According to a survey carried out, the best carrier to use if you travel a lot is Verizon Wireless. This is because it has optimal coverage, including data usage.
3) Amount of data you use
iPhone is known to consume a lot of data as compared to android devices. Subscribe to a carrier which has cheap and affordable rates whereby you will get quality and lots of data at a low price.
4) Different cellular frequencies
Generally, your iPhone will use one or two cellular data frequencies, either CDMA or GSM. Both of them are okay, but they all narrow down to your location. Verizon and Sprint use CDMA; hence, their network coverage is optimized compared to AT&T and T-Mobile that use GSM carriers.
Conclusion
iPhone without a contract is the best option to avoid spending a lot of money. Furthermore, Apple Inc. is ranked the second-best phone provider by Forbes in 2021. By getting an iPhone under no contract, you are sure of getting high-quality services and also choosing the carrier of your choice. Visit Apple's official website or go to an apple store to know more about how to get their products without a contract.