Top 5 Verizon Wireless Hotspot Plans and Devices
At one point, you have experienced some disappointments when it comes to surfing the net. This may make you wish to get another service carrier which you have heard positive responses about. Well, Verizon Wireless is one of the best platforms to go for.
The Verizon Wireless Hotspot plans depend significantly on what you need at first. If you do not know your priority, this article will help you understand what to go for when it comes to the unlimited mobile hotspot plans and also the best devices compatible with Verizon Wireless.
Over the years, there have been endless speculations that Verizon is quite an expensive service carrier to opt for. Due to this perception, many people fall victim to a cheap service provider and end up experiencing unfavorable factors like: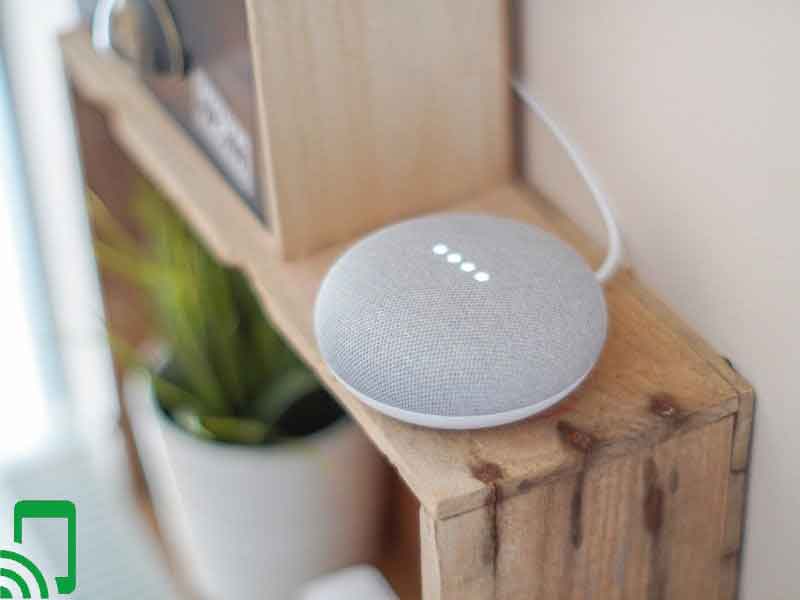 Poor network connectivity
The customer service is not very efficient
Some of the mobile hotspot devices are not working, and they will deny you a refund
Your bank account is credited with data which you did not use etc.
Once you join Verizon, you are assured of the best services you can ever get. The network connectivity covers about 95% of the US population hence very efficient to use. Also, you receive high speeds of internet connectivity of up to 60 Mbps. Due to this, many people are joining Verizon Wireless to get a taste of what high-quality Verizon wireless internet is. Their plans are not as expensive as many people say since it all depends on how much money you have.  They have three plans which you can opt for, and they all depend mostly on how much money one has.
Verizon wireless Mobile Hotspot Plans
As mentioned earlier, Verizon offers three types of mobile hotspot plans, namely: Go Unlimited, Beyond Unlimited, and Above Unlimited. These plans have some standard features in common like:
Unlimited Talk and Text in the US
Unlimited Mobile Hotspot
High-Quality Video Streaming
4G LTE threshold are available in all plans
The Verizon plans can handle network congestion very well, and the user is assured of quality internet. For the Go Unlimited, the mobile hotspots are supported at 600 kbps, and the Beyond Unlimited offers 15 GB of Hotspot at 4G LTE speeds. Above Unlimited gives you 20 GB of data.
Recommended Articles:
Verizon wireless free government phone
Verizon deals for existing customers
Verizon flip phones for seniors
Above Unlimited gives you quite amazing offers. First, you get 500GB of cloud storage and some extra packs to come with it.  Also, when you enroll for the Beyond and Above Unlimited plan, you get speeds of up to 5G on the supported devices. With 5G, you get quality 4K video streaming, fast downloads, and data speeds without buffering.
Here are the prices of the Go, Beyond and Above Verizon Unlimited data plans:
At $75 per month, you get the Go unlimited plan at 4G LTE
For $85 per month, you get the Beyond Unlimited networks at 5G speeds
Above Unlimited plan comes at $95 per month and also you get 5G speeds
If the above plans may not be what you are looking for, Verizon Wireless offers some prepaid plans which you can also go for.
Verizon Wireless Hotspot Prepaid Plans
For the Verizon Prepaid Plans, they have one disadvantage.  For the Unlimited plan, it will not work on hotspot devices; hence, you can only buy data at a certain amount to enjoy the hotspot services.
Their prices begin at $30 per month for only 1GB and $75 for the unlimited data, which is in comparison to the Go Unlimited plan. Currently, there is an offer which is going for an excellent price. At $45, you get 16 GB of data. At that amount, you are supposed to get 8 gigs of data, but Verizon is giving an advantaged offer.
How do you activate your mobile Hotspot device?
Activating your device depends on where you bought the product. If it were purchased at the official Verizon Store or Website, then that would be quite easy to configure. The user is only required to power up the device, insert his or her details like phone number and you are good to go.
If you get the device from Amazon, the procedure is a bit different. You are supposed to turn the device on and then insert your Sim card. After that, the device will automatically activate itself, and the process will take only a few minutes.
To know your password is also another critical point to note. For new users, the Wi-Fi password is "admin," and the Administrators password is the 14 digit number at the back of the device. Once you get the admin password, you can then change the Wi-Fi password to secure people from using your data without consent.
What types of phones are compatible with the Verizon Hotspot Devices?
Over rally, for a phone to be compatible with any hotspot device, it needs to be a smartphone. You cannot get access to a hotspot device if you are using a flip phone. Also, all phones can connect to the hotspot device regardless if they are compatible with Verizon wireless or not.  If you lack a smartphone, Verizon Wireless has been authorized by the government to provide phones for the Lifeline program.
To enroll in such applications is quite easy and all you need are two key things: your income must be below the federal low-income policy and must also participate in the lifeline programs like food stamps. These Verizon free government phones may apply to those who wish to get the smartphone, but it is quite expensive for them.
The Five Best Verizon Hotspot Devices
1) Verizon MiFi 6620L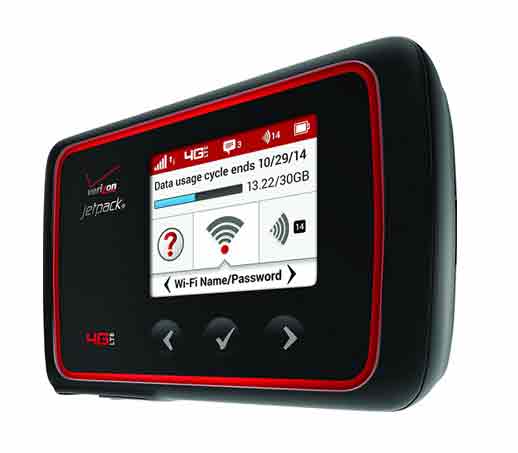 Verizon Jetpack is quite an amazing device to go for. You can be able connect up to 15 devices at once and there will be no buffering or slow internet. Also the device has a large LCD display which shows accurately the network coverage, data used and how many people are connected to the device. It uses the LTE network band hence there will be no reports on slow internet coverage.
Pros
Fast internet connectivity
Easy to use even for seniors
Compatible since it can easily fit into the pocket
Large LCD display
Can be globally used
Cons
Global connectivity is not that reliable
2) Verizon Jetpack Mobile Hotspot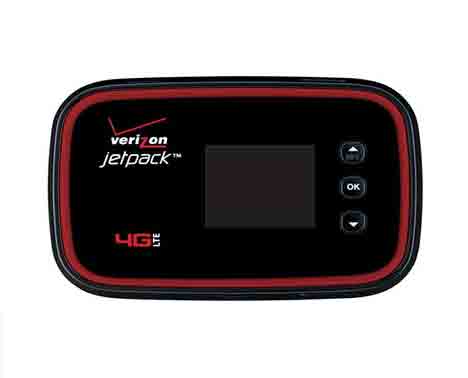 The Jetpack is a real lifesaver when it comes to mobile hotspot devices. First, it is globally usable; hence, the user can enjoy fantastic internet at fast speeds in any place. You get downloads speeds of 50 Mbps, and this is fast enough for light downloads mostly. Also, the device is has a long lasting battery that can last for about 24 hours, and you can also charge other devices as well.
Pros
It can act as a power bank
No reports of internet buffering
It has simple settings to navigate through
Long lasting battery
4G LTE speed networks
Cons
Takes time to reboot after you shut down
The download speeds are quite low
3) Verizon Prepaid Broadband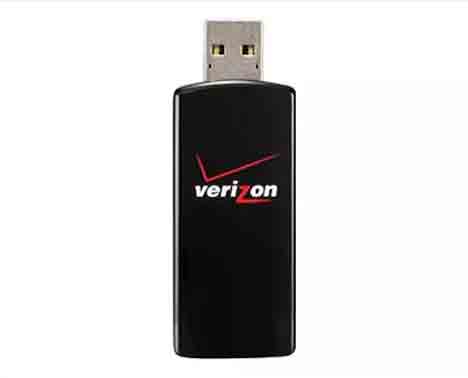 The Verizon broadband is quite an amazing device to opt for if you are using a laptop or a PC. First there is no slow internet or buffering. The device ids also small enough to fit in the pocket and it also has an amazing design and appearance.  When you purchase this device, you also get a free Verizon Sim card which is quite efficient for the USB broadband. The device does not have a battery since you only use it when it is connected to a PC.
Pros
Fast and reliable internet connectivity
Easy to use and interpret
You get to monitor your data usage through the PC
Simple to carry around
Cons
The device can only be used in computers
4) Verizon Novatel T1114v LTE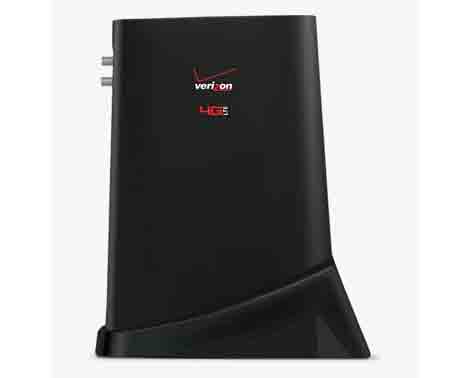 The Jetpack is one of a kind device due to its reliable connectivity.  It has a great LCD screen that shows the time, amount of data used, remaining data, battery percentage and the number of users using the device. It also has an amazing outward appearance that matches flawlessly with its compatibility. It contains the Qualcomm processor which is very efficient to save on data efficiently.
Pros
Easy to use and interpret
Fast internet connectivity
Uses a Qualcomm processor
Compatible
Long lasting battery
Cons
Slow internet in some remote areas in US
5) Novatel Verizon Wireless Jetpack 7730L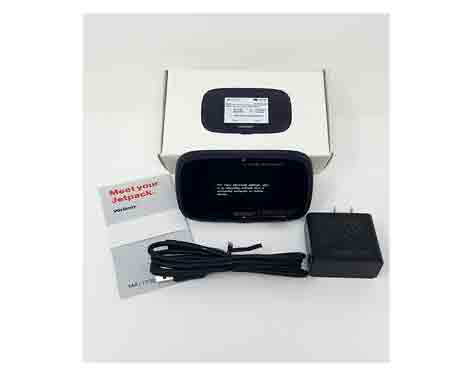 This model of the Verizon Jetpack is quite efficient and very reliable. It runs on a qualcomm chipset hence there is no buffering or at no point will the device hang or slow down. It has a friendly user interface which a senior can easily interpret.
Pros
Great User interface
Fast internet connectivity
Easy to carry around
Cons
Battery does not last up to 24 hours
Bottom line
With the above mentioned devices, all you are left with is to come up with a fitting conclusion. Also, the Verizon wireless mobile Hotspot plans are quite affordable, and I would recommend that you go for the unlimited plans to enjoy high-quality internet. Lastly, Verizon will not disappoint you when it comes to internet connectivity since it has extensive internet coverage.