The 5 Best Telephones For Hearing Impaired
Hearing impairment comes with a handful of struggles in communication, and with increased reliability on telephones as the best communication devices, you need to get one that allows you to communicate without any difficulties. Amplified telephones are effective in ensuring candid communication is achieved if you suffer from a hearing problem.
This means getting telephones with extra features such as speaker options, ability to connect with hearing aids, ability to text, adaptable volume and ringtone, and ability to do video calls are necessary. The phone should also have the ability to neutralize background noise, which can cause distractions when communicating.
If you have a relative or a friend who has hearing difficulty, you must have realized that communicating with them can be a daunting experience. They miss calls, and you have to shout to the top of your voice and repeat words regularly to be able to communicate with them. A telephone amplified specifically to mitigate these shortcomings will come in handy, but you'll need to know which specific modifications work for them. When choosing the right phone for a hearing-impaired person consider their opinion and the precise problem they have when communicating. For complete inability to hear, captioned phones are ideal while other modified telephones are good for partial impairments. 
Best 5 Telephones For Hearing Impaired People
1. Hamilton CapTel 2400i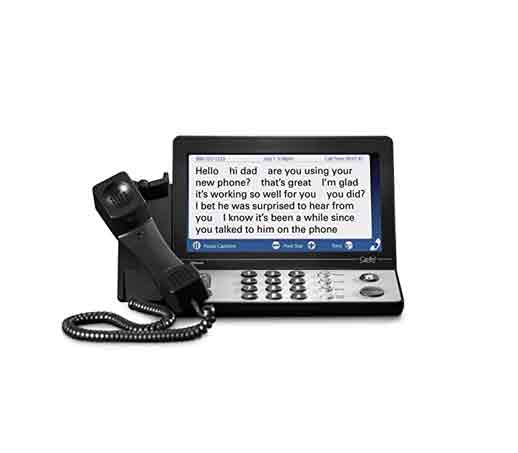 Hamilton CapTel 2400i telephone is ideal for individual who people who cannot hear completely. The phones come with a large touchscreen and with easy to adjust fonts that work best with hearing impairment. With its easy installation process, all you need is a reliable internet, service provider, and a power source.
The new CapTel 2400i has an inbuilt Answering machine that can easily take voice messages and convert them into readable messages with captions which can be turned on and off when calling. The volume key is very visible, can adjust up to 40dB and can be effortlessly regulated during calls. 
Its phonebook stores a maximum of 95 names and phone numbers that you can readily dial with assigned speed dials for frequent contacts. The system menu is effortless to follow with just Yes or No questions, and the enormous screen shows clearly who is calling.
Recommended Articles:
The Best Free Government Smartphones
Best boost mobile deals for existing customers
Best Unlimited Mobile hotspot plans
For easy reading, the adjustable touch-screen slants to different angles. Besides, the prints on the device are quite large making it ideal for senior citizens who are prone to all sorts of impairments. For appropriate notifications, the telephone lights up when ringing and has a bright flashing light. 
PROS
Has an in-built answering machine
Very large display
Makes good quality calls
Lights up to notify users of incoming calls or voice messages
CONS
Message can take long to type
Most be connected to reliable internet
2. Clarity XLC3.4+ DECT 6.0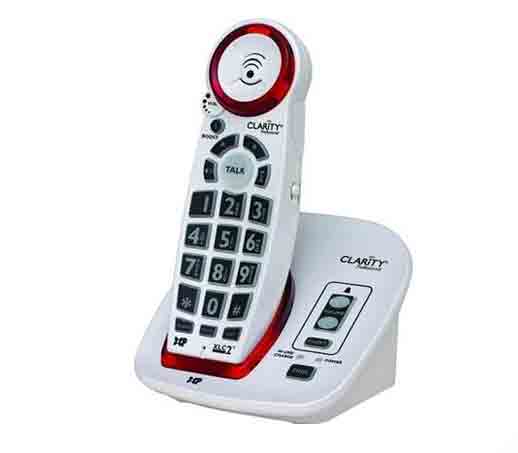 Clarity XLC3.4+ DECT 6.0 is a cordless phone with up to 50dB amplification for inbound sounds, making it one of the loudest phones for hearing impaired people. The phone allows a user to press, see and speak out phone numbers as they are being dialed and the user can easily see who they are calling with Talking Caller ID. 
What do you need to set up? The phones come with a very comprehensive user manual. The telephone is easy to install, and all you need is; 2 Amh batteries or residential voltage as a source of power, and a place to mount.
Clarity XLC3.4+ DECT 6.0 comes with a headset jack that works perfectly with those using hearing aids. Its Speed Dial is modified in the Phonebook, to quick dial a number saved in your phone, you dial a number in your phonebook and press "talk," and it will call your contact. The gadget can store a maximum of 50 contacts. 
The telephone has large fonts and a clear quality screen that works perfect with people with poor vision, and it is portable for those with restricted movement. The super loud 95dB ringer has adjustable ringtones and an illuminating visual ringer that acts as a voice message indicator. It also has a battery backup in case of a disrupted power source with DECT 6.0 technology for uninterrupted conversation.
PROS
Comes with loud speakers
Easy to install and use
Has removable batteries in case of power disruptions
Large fonts for clear displays
CONS
Does not last long
It is very bulky
3. PANASONIC Amplified Cordless Phone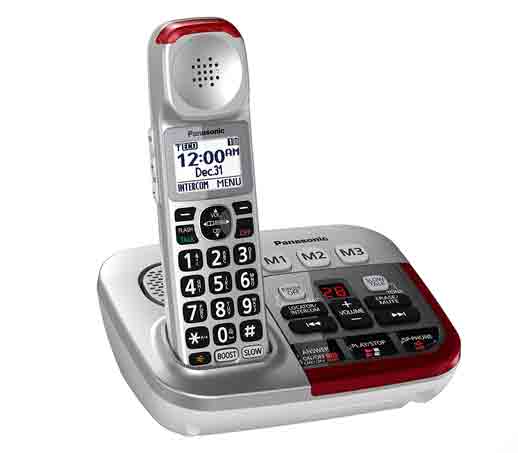 The Panasonic is one of the best telephones for hearing impaired. It is built voice amplification of up to 50dB, making communication for hearing impaired quite comfortable and manageable. Its buttons have backlights hence easily visible during the night or for those with other impairment such as poor vision. 
The phone is modified with extra-large touch buttons with a range of six tones to choose from.  In order to ensure that you hardly miss calls, its ringtones are amplified to produce up to 112dB sound. The KX-TGM450 has a one-touch Slow Talk regulator that allows a user to control the voice speed while on call spontaneously. The Slow Talk touch control is ideal for both quick and slow speakers since it adjusts according to users' specification and works in both real-time talk and transmission of voice messages.  
For clearly audible and visible caller identity, the KX-TGM450 is installed with 15 ringing alerts tones and LED flashing lights on both the gadget and the headset that blinks to alert the user of incoming calls or voice messages. 
The gadget is designed to identify the caller and notifies the user the identity of the caller in Spanish or English. The device comes with two rechargeable Ni-MH batteries that come in handy when there is a power outage.
PROS
Quality sound output
It is easy to set up
Stays programmed once set
Readable texts
It is slow-talk enabled
CONS
The volume buttons are not conveniently positioned
Not portable
4. Clarity Alto 54005.001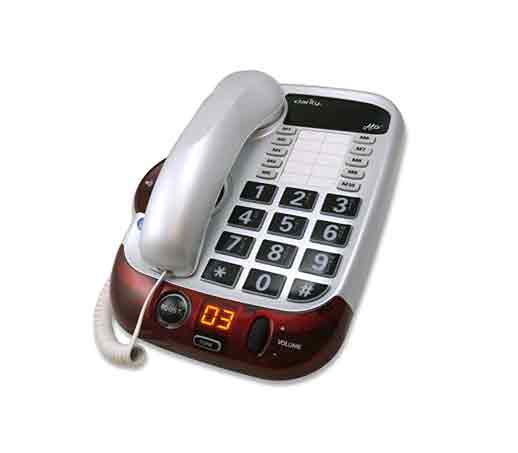 Clarity Alto 54005.001 is among the top telephones for hearing impaired that integrates hearing aid expertise to achieve precise call quality clarity. The telephone amplifies inbound voice up to 53ddB, and its ringing tone can be set to a maximum volume of 100dB. For outgoing voice, an amplification of up to 15dB can be achieved. The Clarity Alto has Voice Assist that works perfectly in identifying callers as well as talking buttons on the phone.
The Alto 54005.001 is TIA-4953 certified proofing its ability to be used by various people with hearing difficulties and recommended to those who have arthritis due to its ergonomic tonal and volume regulators. Being TIA certified also shows that the phone has met all the necessary standards of captioned phones. 
It also comes with a soft keypad which has a backlight that allows a user to use the phone in not so well lit places and a voice assistant talking button with 10 speed dial keys for easy dealing. The telephone features an extra-large perky ringer with jack ports for other gadgets such as neck-loop and headset.
The clarity Alto comes with a detailed user manual that comprehensively covers the installation process with all the necessary appliances such as rechargeable batteries that are helpful when their power supply interruptions. It also has an inbuilt speakerphone which very loud and audible enough for any hearing impairment. The clarity Alto has modifiable tone control with a boost key and uses amplifies voice using Digital Clarity Power. 
PROS
Lights up and blink to notify users of incoming calls and voice messages
Has a quick dial for frequent contacts
Stays programmed once set
Makes quality calls
CONS
Doesn't display caller identity
5. AT&T ML17929 2-Line Corded Telephone, Black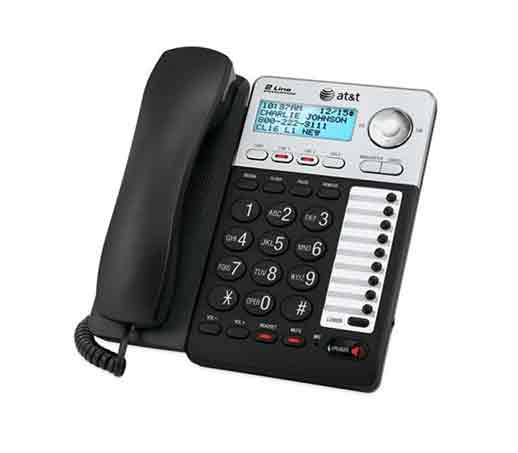 AT&T ML17929 2-Line Corded Telephone is the most versatile of all the telephones due to its peculiar features. The phone allows you to talk to more than one person at ago, making it ideal for small conferencing, of up to three participants. It has clear speaker(R) button, and a headset jack port makes it convenient to use hands-free. The speakerphone is suitable for moving around due to its portability and perfect when you want to engage yourself in other tasks.
The ATT(R) ATML17929 Two-line Speakerphone has a clear display screen that enables you to quickly view incoming calls as well as see callers on waiting during calls. It can save up 100 names/numbers on your phonebook and can save a maximum of 18 Speed Dial of your frequent contacts for quick dialing with selectable ringtone for every line. The call log has a memory capacity of 99 numbers with time and date stamp of each call. Its panel lights are set to light up when there is an incoming call or voice message.
The AT&T ML17929 2-Line Corded Telephone can be combined with other devices to receive voice mail features. To achieve this, set up your VM through your AT&T ML17929 U- verse, dial 98, enter your password and you will access your voicemail. Have two VM if you have two lines on your AT&T ML17929 and it works just perfect. The ATT (R) ATML17929 Two-line phone does not use batteries and you only need to plug into a 110V outlet to use.
PROS
Allows 2-line operation
It is very portable
Has good speakers that can work hands-free
Allows 3-party conferencing
CONS
Has a goofy keypad design
Conclusion
As a hearing impaired person, you need amplified telephones for hearing loss to communicate comfortably and effectively. However, you need to know the challenges you face when hearing to be able to pick the right device when making a purchase. Having comprehensive information about any given telephone for hearing impaired is necessary for making the right choice. These top telephones for hearing impaired have different features which are suitable for everyday communication needs.