Best 5 Boost Mobile Flip Phones 2021
Are you trying to save money or just want to enjoy simplicity with your next phone? You don't have to worry; there are a good number of reasons why you need to go for the flip phones. There are times when you might just be having a contract with the carrier, and you are just interested in holding onto it. It does not matter what the reason, you want to get the best of the type of phone you need.
That is why we bring you the best 5 Boost Mobile flip phones to help you make a decision. Previously, cell phones were mainly used in making calls. Back then, your handset would comfortably fit into your pocket.
Although it's difficult to compare them to the incredible and versatile Smartphone's, the flip phones will take you back to the golden age of mobile devices for prices which are lower than the modern types. Besides, you get a chance to enjoy the Boost mobile deals for existing customers currently available in the market. That said, let's get right into it!
Top 5 Boost Mobile Flip Phones
1. Boost Mobile Alcatel GoFlip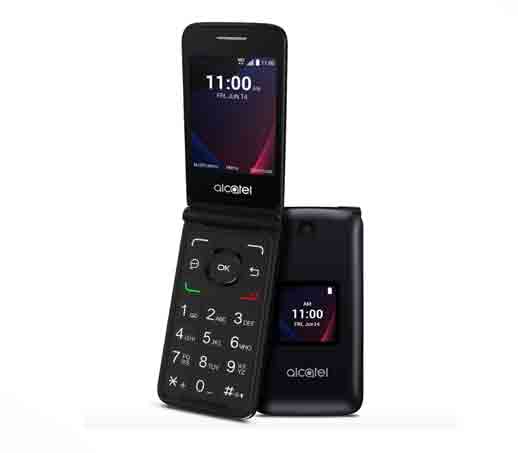 The Boost Mobile Alcatel GoFlip is readily available for multiple carriers including the Boost Mobile, Sprint and T-Mobile. It is capable of performing in an array of basic consumer tasks that do not require access to loads of games and apps or a large touch screen.
It comes with a Qualcomm Snapdragon 210 processor that is of a lower end version when compared to the chips that are used in most of the Android phones. Its 2.8-inch TFT LCD screen does come in 320 x 240 resolutions that are common in terms of clarity and size for the flip phones. It is never a crisp of the screen as you will get in the majority of the Smartphones.
It does run KaiOS, an operating system which has been specifically designed for the feature and modern flip phones. The OS is incredible which enables the phone to deliver incredible performance.
On the downside, the phone is a little bit flatter and wider than most of the flip phones, although it doesn't have the premium feel in a quality build. Its design will reveal to you that it is an economical phone comprising of a cheap feeling plastic on its build.  Although it does not feel durable, it is affordable and functional.
The phone also doesn't have ambitious aims as it has been designed for texting and calls although one can also snap photos, play music, tune into FM radio and receive emails.
PROS
Has a good battery life
Incredible low radiation
Its memory can be expanded to 32GB
Excellent processing capability
Clear screen
CONS
2. Alcatel OneTouch Retro Brown Black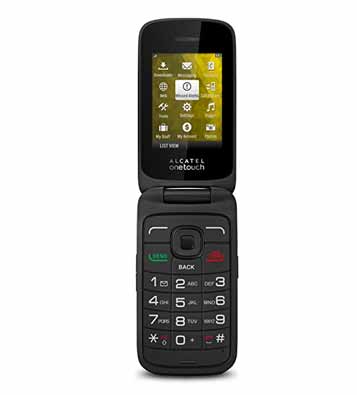 Alcatel One Touch Fling is one of the top boost mobile phones currently available in the market. This phone features 256MB of ROM, 128MB of RAM, 1.44-inch external and a 2.4-inch (240×320) internal display that comes with a caller ID. It also comprises of a microSD card slot for the memory expansion of up to 32GB.
The Alcatel One Touch Fling does come with a two-megapixel camera together with music player, video recording, voicemail, Bluetooth 3.0, voice recorder, GPS for connectivity and Micro USB 2.0. It also comprises of anmAH li-on removable battery offering up to 4 hours of talk time together with up to 210 hours of standby time.
The dual screen of the Alcatel One Touch Fling measures 2.4 inch while the external measures 1.44 inch does come with a dedicated 911 button which can be of great benefit to the seniors.  However, the microSD card slot will never come around all the time for this specific form.
PROS
It has a dedicated 911 button
Delivers up to 210 hrs of connectivity
The memory can be expanded up to 32 GB
Has Bluetooth functionality
Good 2.0 MP camera
CONS
Its Fling's 850mAh battery comes short of other several comparable models
3. LG – Exalt 4G LTE VN220 with 8GB Memory Cell Phone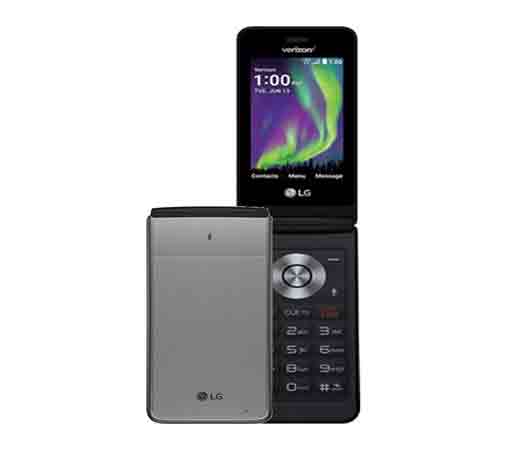 The LG – Exalt 4G LTE VN220 set up process is straightforward. It is shipped together with the Verizon's SIM card already installed which enables you to start using it right away. After the phone has been charged, you can always activate it from the Verizon Website or from the device itself.
Its overall design is high end and professional and has flattened silver sides with textured patterns along the surface and some of its angular touches. This phone has dedicated buttons which ensure voice commands are enabled and activate the functionality of the speakerphone during a call.
Just like the other types of Android Smartphone's, this phone also has a Qualcomm processor although its quad-core Snapdragon 210 is located at the speeds bottom end, giving the phone a basic functionality. The phone's interface is responsive although it does take a few seconds for content to load after opening the feature.
It does have a large screen for a flip measuring three inches diagonal and boasts of 400 x 240 resolutions together with a TFT LCD. The screen is colorful and very bright, enabling even users with eye sight problems to use the phone without struggling. Although its angles for viewing are not that great, they are better than those of the Alcatel Go Flip.
PROS
It is of minimal and sleek design
Comes with a Verizon Sim card installed
Has a large 3-inch display
Good display for easy viewing of texts
Well placed buttons for quick navigation
CONS
Contents take a little long to load
4. ZTE Cymbal 4G Prepaid Cell Phone (Z233VPP) Silver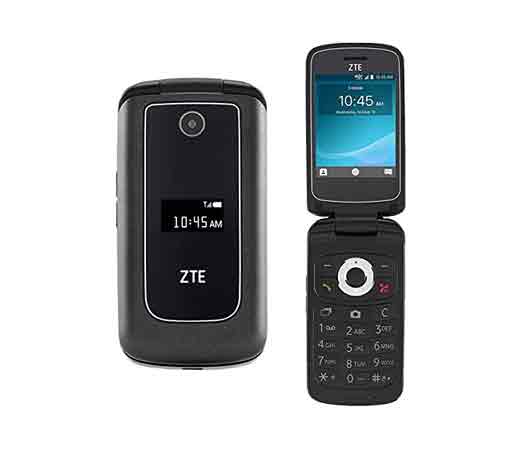 The ZTE Cymbal 4G Prepaid Cell Phone is the first of its kind. It comprises of a complete alphanumeric keypad and 3.5-inch full touch display. It also has some great features such as 8GB internal memory, Android 5.1 Lollipop, front and back cameras, 1.1GHz quad-core processor, and 1GB of RAM.
It is also important to mention that the ZTE Cymbal 4G Prepaid Cell Phone is a Tracfone exclusive phone, which means you will enjoy no contract texts, calling and browsing data every month.
The phones' exterior design is great. ZTE Cymbal 4G Prepaid Cell Phone is among the first phones to introduce the flip design on Smartphone.  The top half of this phone comprises of a 3.5-inch touch screen while the bottom half is its alphanumeric keypad. However, this phone lacks traditional navigation keys, which are common in android phones. Its navigation keys are contained in the physical keypad.
It comes with two cameras, 2MP front and the 5MP back facing the camera which can capture 720P videos on 30fps. Both cameras are known to have great features which make the phone suitable for making video calls.
PROS
Has two screens
Incredible 2MP front and 5 MP camera
Great 3.5-inch display
Has an internal storage capacity of 8GB
Long lasting and removable battery
CONS
The camera does not have flash
5. Samsung Smooth Prepaid Mobile Cell Camera Phone CDMA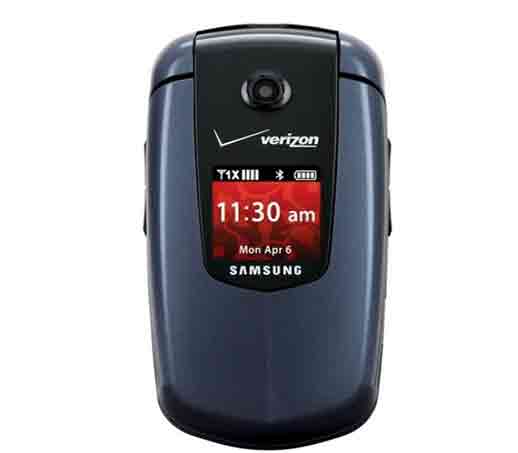 The Samsung Smooth Verizon Wireless Prepaid Mobile Cell Camera Phone features an internal display measuring 1.9 inches having a resolution of a 128 x 160-pixel supporting up to 65k colors.  It comes with an external screen which complements its internal display. The external screen is responsible for displaying incoming calls, battery life, current time, and signal strength.
Its internal phonebook is capable of storing up to 1000 contacts with each entry storing up to five different phone numbers including the street address, picture ID, and email. This phone also has a tiny built-in flash memory which cannot be expanded.
You get to enjoy hands-free communication thanks to its integrated speakerphone. The phone also offers Bluetooth wireless connectivity which allows easy file transfer, hands-free and communication headset profiles
Samsung Smooth has a reputation for its premium charging capability, which enables it to get charged in no time. Other features that come with the Samsung Smooth Verizon Wireless Prepaid Mobile Cell Camera Phone include: Stop Watch Bilingual Interface, Calendar with Scheduler, Personal Organizer, World Clock, Alarm Clock, and Calculator with converter and Note Pad Tools.
PROS
Can hold up to 1000 contacts
Comes with both internal and external screen
Allows hands-free communication
Has Bluetooth functionality
Comes with many features; alarm clock, calculator and more
CONS
The phone can be a bit expensive for some users
Conclusion
It's no doubt that Boost Mobile is one of the best network providers with amazing plans that suit your everyday communication needs. So, whether you need a boost mobile hotspot plans like the boost mobile 30 dollar plan or a boost mobile flip phone, you are making the right choice with Boost Mobile. Apart from these top phones, there are still other options for the boost mobile flip phones available in the market.
One important thing any buyer needs to put in their mind when buying a flip phone is what they intend to do with the phone and the total amount they are ready to spend every month. As devices for communication, mobile flip phones are rugged and more capable than the other models. Users get to enjoy the ease of use, simplicity, and durability.