The Best Metal Phone Case: 7 Options For Everyday Use in 2022
Metal phone cases gained popularity over the years because of their ability to withstand and absorb considerable fall shock; manufacturers continue to  introduce super durable metal cases for specific mobile phone models so your pricey phone is safe from unfortunate accidents.
Kids seem to do a good job with breaking phones. A metal case would be a necessity when buying a phone for an 11 year old.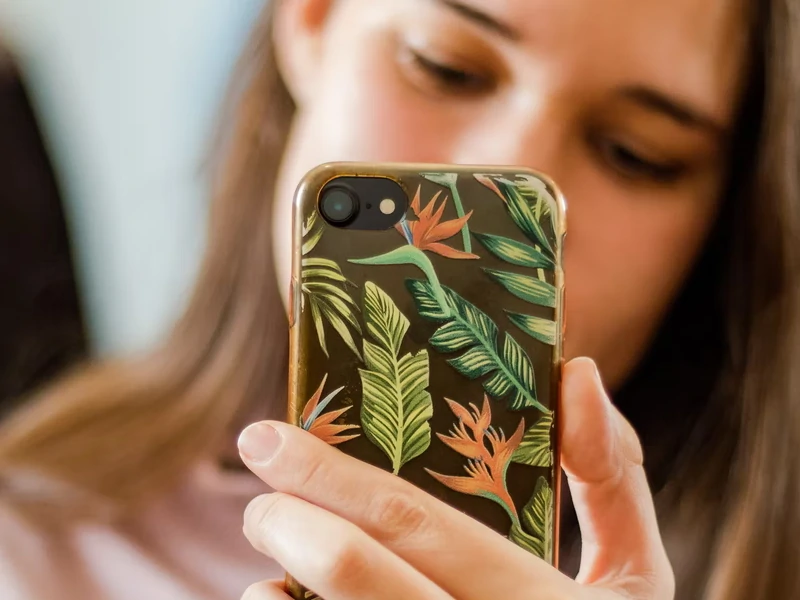 Things To Consider When Buying A Metal Phone Case
What do you actually need to look for when buying a metal phone case? We've listed all the essential traits below:
1. Which Metal Case Is Right For Me?
Many different types of metal are used to make phone cases. Some of the most popular and high-quality ones include titanium, aluminum, and stainless steel. You might think that titanium is the strongest and best choice, but there isn't a simple answer. Each metal has its pros and cons and, obviously, price.
2. How Much Does It Cost?
A real titanium phone case will cost hundreds of dollars more than an aluminum case with a titanium finish. The price will also vary depending on where you buy from and what brand it is. It's always prudent to do your research before making a purchase.
3. Will It Fit My Phone?
Many metal phone case manufacturers make cases for specific phone models (to ensure the best fit for that specific model). So you'll need to find one that is specifically made for your phone.
4 Which Other Features Should I Consider?
A good quality product will come with a lot of features. The basic feature is that it can protect your mobile device from being damaged when accidentally dropped or scratched. However, some brands come with advanced features such as built-in screen protectors, impact-resistant bumpers, shock resistance, and water resistance.
Here a 7 metal phone cases that will offer premium protection for your phone:
1. Lunivop iPhone 13 Pro Metal Case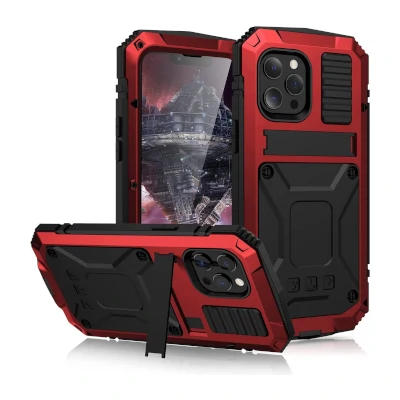 Metal cases are durable but can be bulky. The Lunivop Metal Case for iPhone 13 Pro Max takes the iPhone design and adds a sleek, metallic look to it. It boasts a 3-layer heavy duty protection that safeguards your phone from high-impact falls; it is also water and dust resistant – perfect for your camping trips.
It comes with a convenient kickstand to make watching videos and making video calls practical and pleasurable.
Key Features     
Made specifically for iPhone 13 Pro  
3-Layer military grade protection
Fall protection up to 6 feet.
Fits smoothly in your pocket       
Anti-Slip Design
Durable metal case comes with a lanyard
Colors: Red, Black, Yellow, Silver, Military Camo
2. Foluu Galaxy S21 FE 5G Case Metal Phone Case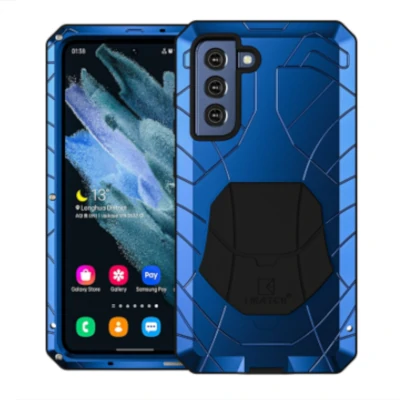 With the Foluu Aluminum metal case for Samsung Galaxy S21 Fan Edition, you can finally complement your device's sleek design with refined style. It keeps the device super-slim and lightweight — giving premium protection with it's aluminum back and front and an inner silicone layer.
The raised bevel keeps the screen protected, while military-grade drop protection makes those accidental drops nothing more than a speed bump on the road to a better day. 
Key Features        
Made for S21 FE (5G edition) 6.1 inch
Easy grip design     
Dust protection    
Lightweight but tough
Dual layer metal protection
Reinforced corners enable better drop damage protection 
Colors: Blue, Red, Black
3. Mitywah Metal Phone Case For iPhone 11 Pro Max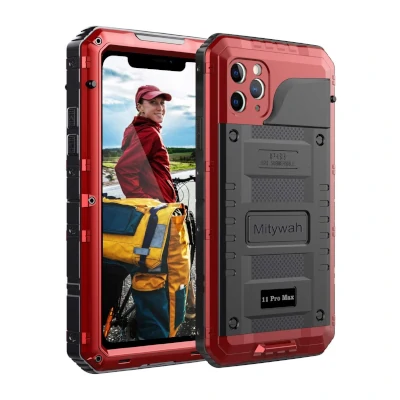 Mitywah makes cases for various models of the iPhone; this particular Mitywah metal case (for iPhone 11 Pro Max) provides water-protection of up to 6.6 ft (2m) and shock protection from drop heights of up to 6.6 ft (2m).
The silicone rubber material inside the case features a unique non-slip texture, effectively reducing the impact when dropping in order to protect the screen while remaining comfortable to the touch.
The airtight screw cap ensures a tight seal when underwater, while the heavy-duty construction of the case provides peace of mind from accidental fall damage.
Key Features
Designed for iPhone 11 Pro Max only
Fully submersible to 2m for 1 hour
Aluminum alloy hard shell   
Military grade, 3-layer protection.
Invisible design that perfectly outlines your iPhone's body       
Meets IP-68 ingress protection rating.
Available Colors: Red
4. CarterLily iPhone 11 Metal Case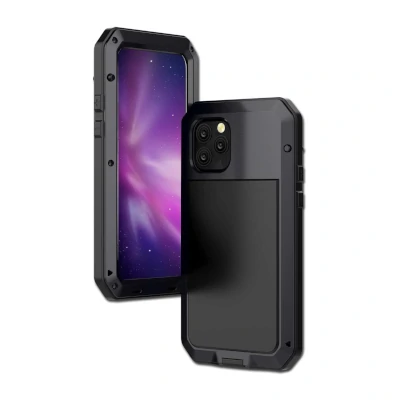 This CarterLily metal phone case protects your iPhone 11 from drop damage and dust. It has a scratch-resistant, built-in tempered glass screen protector.
Made from aluminum, metal and thermoplastic, it is designed to be extremely tough. This water-resistant case will give you the freedom to use your iPhone 11 freely on the beach without fear of water or sand damaging your phone.
Key features   
Designed specifically for iPhone 11
Exceeds military grade protection standards.
Offers maximum dust protection  
Waterproof resistant – not submersible
Advanced shock absorption protection
Available colors: Black
5.  Lanhiem iPhone XS Max Metal Case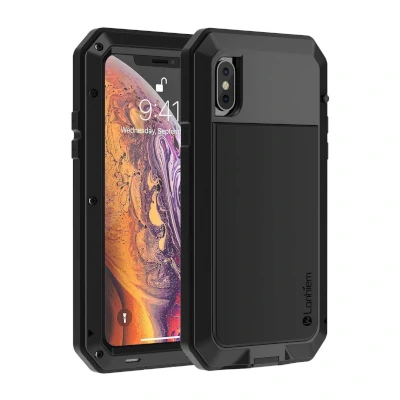 Lanhiem iPhone Metal Case is a premium case for your iPhone made from high-quality aluminum that protects your phone from damage. This case features an aluminum exterior support frame with an acrylic backplate to hold everything together and provide you with the best durability and smooth-edged comfort.
This durable case is fully compatible with fingerprint ID and has a built-in screen protector to keep your screen well-protected and provide you easy access.
Key Features     
Strong and lightweight   
Designed Specifically for iPhone
Provides your iPhone with 360 degrees of protection   
Impact absorption    
Anti-Shock and Anti-drop
Scratch-resistant
Built-in screen protector for extra protection
Available colors: Blue, Gold, and Black
6. Damda Glide Shield Phone Case For Samsung Galaxy S10e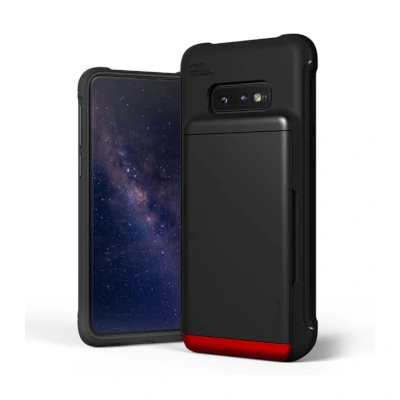 The Damda Glide Galaxy S10e case is a wallet case made from durable TPU (thermoplastic polyurethane) and PC (polycarbonate) making it a perfect candidate phone case for protection from high-impact drops. It has a magnetic closure for secure storage of your cash and cards.
Having a slim design, it comes across as stylish and perfect for professional use.
Key Features
User-friendly sliding tray
Space for 2 cards and cash   
Minimalist design, single-layered TPU case
Style that delivers a clean aesthetic to your phone
Extreme drop protection
Made for Samsung Galaxy S10e    
7. Spigen Slim Armor For iPhone 11 Pro Max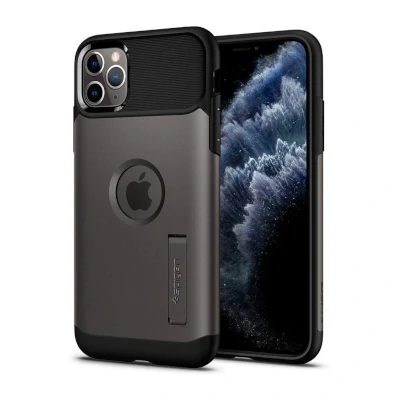 Keep your phone lightweight and protected with Spigen Slim Armor — an ultra-slim case equipped with air cushion technology. As a smart and stylish companion to your iPhone 11 Pro Max, Slim Armor features a matte finish that adds a sleek aesthetic to your iPhone.
Key Features    
Made for iPhone 11 Pro Max      
Sleek and shockproof
Heavy Duty Protection
Rounded sides make for comfortable grip.      
Equipped with Air Cushion Technology      
Precise cutouts
Pros and Cons of Metal Cases
Pros
Metal cases offer several advantages over plastic. Let's see some of the most important pros and cons:
Durability: Metal is, by definition, extremely durable. One could argue that it is more durable than the phone it protects. If you drop your phone (without the case), for example, you will probably break the glass screen.
Weight: If you have an older phone with a thick plastic case, you've probably noticed that it feels bulky in your pocket or purse. The weight creates unwanted drag as you try to get things done. A metal case, though, tends to be much thinner having precise cutouts and lighter while offering the same level of protection (or more) by getting rid of all that bulk
Conductivity: You may not realize it, but your cell phone is constantly transmitting and receiving signals from nearby towers. To do this effectively, however, your phone needs an antenna capable of conducting these signals. 
Most phones use a small section of metal on the outside of the device as their antenna, but many metal cases also act like antennae. Since there's no plastic separating them from the actual antenna on your phone, they can improve signal strength.
Cons
First of all, metal materials are very cold in winter. If you are not careful, they will hurt your hands. In some colder areas, this problem may be more obvious. This disadvantage is acceptable to some people, but it can't be ignored by others.
Secondly, as most people know that metal materials are very easy to be scratched by sharp objects. The scratches on the surface of the metal case will destroy its beautiful appearance and affect your mood. Thus if you choose a metal case, you must pay attention to avoiding scratches when using it.