The Best Satellite Internet for Gaming
Satellite internet may not be a common name to many when it comes to internet connectivity. However, Satelite is regarded to be among the pioneers that brought light to other network services like Cable, fiber, and DSL. Despite it being nearly extinct, there are some of the best Satelite internets for gaming which offers high-speed internet to meet your gaming needs.
Fiber and Cable internet is known to be the best option when it comes to gaming. However, there are some areas like in the rural parts of the US where you can't get fiber or Cable and if it is available, then the speeds are not sufficient. In such areas, Satelite internet is more productive since it provides signals straight to your satellite dish without the need for cables and hence you get more dependable internet connectivity.
It tends to display similar properties to the internet without cable or phone line. From this article, you will learn how the satellite internet works, whether it is reliable for gaming, and some of the best service providers that offer satellite internet. We will also do a comparison on the internet latency against other networks and so much more!
How does satellite internet work?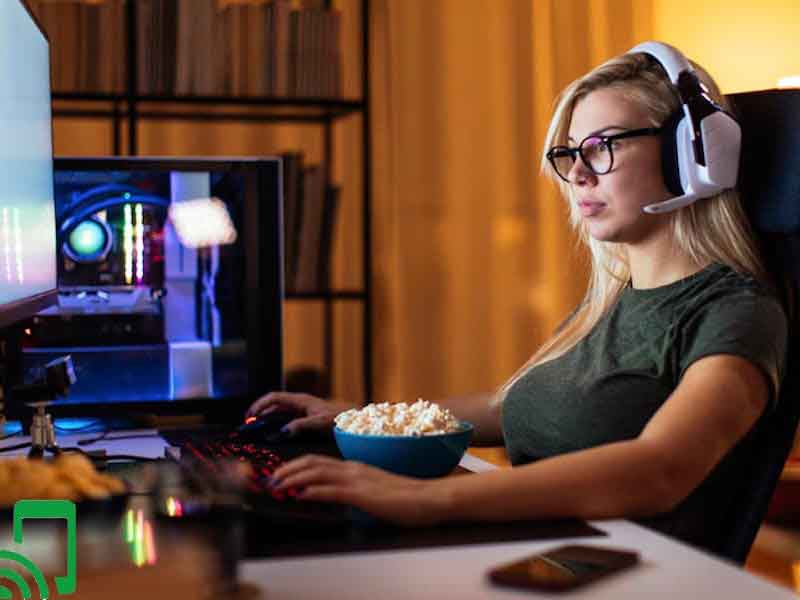 Satellite internet works in a very simple way. It starters when a computer sends a signal request from your modem to your satellite dish then it is sent to a provider's satellite on Orbit. From there the provider transmits the signal back to the satellite, then to your satellite dish – modem and finally back to your computer.
Satellite internet displays some similar properties when compared to other internet services but the major difference is that it relies on satellite dishes to send and receive signals. In many cases, Satellite internet was used by Modems but you can use a router to distribute the internet through WIFI in your home or office.
Satellite vs Broadband internet services: which is better for gaming?
Satellite internet has its ups and downs when compared to other internet services. As for Satelite, the major con for most service providers in the data caps that come with the plans. Also, it tends to have a higher latency than fiber and broadband internet services.
When it comes to coverage, Satellite internet can work in just about anywhere. This makes it a better option especially in rural areas since you never have to worry about the high costs of connecting fiber or cable networks in rural areas.
How set-up a satellite internet: Equipment and installation
Setting up the Satelite internet services is quite affordable since Satelite services can reach just about anywhere. To set up the internet, you will require the following:
Satellite dish
Modem
Router
The satellite dish is to be used on your home and it is placed on the rooftop or at a point above the ground.  The modem is a key component that converts the satellite signal to a readable signal by the computer's network adaptor. In general, it is what brings the internet to your device.
If you wish to distribute the internet across the house, this is where the router comes in. It picks up the internet from the modem's signal and distributes it throughout the house via an ethernet cable or by WIFI.
Is Satellite internet nationwide?
Yes! Satellite internet is available nationwide. However, there are very few service providers in the US that offer satellite internet. This is mostly due to the popularity of broadband internet which has also become very common in rural areas. Satellite internet achieves nationwide coverage due to the satellites in space that may orbit around the Country
How does latency work on satellite internet?
If you are a gamer, latency may not be a new word to your vocabulary. In simple terms latency is the time taken to transfer data from your keyboard and mouse from your computer to the network of the game's server and then back.
As for satellite and latency, it means the time taken in milliseconds for data from your computer to travel to a satellite orbiting earth all the way to the game's server and back to the satellite. After that, it is then beamed back to the computer then the task you were doing in the game is achieved.
For satellite Internet latency, it takes a whopping 590-600 ms to transmit data to and from the game's server. This is quite slow when compared to other networks like fiber optic that may take only 12-20 ms.
This makes satellite internet not best for gaming especially high-end games but it is can still deliver a reliable gaming experience for games that do not require an internet connection to achieve most of the tasks. There are some ways in which if implemented, you can reduce the latency by a great percentage:
i) Game via a wired connection
Gaming via WIFI is always regarded to be slower than using an ethernet cable. If you are able to use an ethernet cable or find a way to use a hard-wired connection to the modem, then that is the best option.
ii) Close running programs
Playing a game while Spotify, your browser, or any other app which is running may slow down your speed. It is recommended to close any apps running as this will help the internet focus on playing the game
iii) Avoid downloading and uploading content on the internet
While gaming, make sure you have canceled downloads and nothing is being uploaded on the internet. This will also help in reducing the latency.
iv) Perform updates on your router
Make sure the router has the most current firmware installed on it. This will ensure there are minimal bugs or other issues that may slow down your connection. If there is persistence in slow connection, then it is best to get a new router.
The best Satellite internet providers for gaming
1 BEST: Viasat
Viasat offers the fastest satellite internet speed in the US. They offer coverage across the US and have some of the best perks like free installations and so much more.
With a package from Viasat, you get professional installation services. In some situations, you can get free installation if there is a promo. They also offer a WIFI router that delivers network in your home.
Another great benefit of using Viasat is that they offer the same price guarantee for 2 years. This makes them better when compared to other service providers who change their prices from time to time. However, the same pricing does not apply to taxes and surcharges. Viasat offers three types of plans:
1. 12 Mbps plan
This plan goes for $50/mo and you get up to 12 Mbps of internet speeds. However, after using 40 GB of internet, high-speed internet may not be available during network congestion
2. 70 Mbps plan
Popularly known as the unlimited silver 25, this plan is regarded as the best option among many. It goes for $70/mo for the first three months after which it will cost you $100/mo. The plan is convenient for a maximum of 1-3 people.
3. 30 Mbps plan
With this plan, you get 30 Mbps of data at only $100/mo for the first three months after which you pay $150/month. You are also likely to be throttled during network congestion. The plan is convenient for a maximum of 4 people.
To get started, visit their website Viasat. They also have authorized local dealers which you can find via local stores.
2 BEST: HughesNet
HughesNet offers some of the best deals when compared to cheap cable and internet services. They have nationwide coverage and some of the great benefits include free installation, fast internet speeds, reliable customer care and so much more.
They also offer a built-in WIFI network that allows you to connect multiple devices in your home. The router also comes with the latest Firmware and delivers between 2.4 GHz and 5 GHz which is quite a stunning internet speed.
The satellite internet uses the next Generation architecture to ensure you get stable internet even during network congestion. The HughesNet plan come in four categories:
10 GB/mo plan
20 GB/Mo plan
30 GB/mo plan
50 GB/Mo plan
Despite the plans not offering unlimited internet, they can be a great option for lightweight gaming. To get started with HughesNet, visit their website here Hughesnet. They also have authorized dealers that you can use the network within the US.
Bottom line
Satellite internet is a great choice for people who cannot get cable or fiber internet services. This type of internet is perfect for some games that do not require high-speed internet.
In general, Satellite internet is a good option to connect with friends, play games, and do so much more. To get started, visit a service provider mentioned in the article and they will give you more information to get connected with satellite internet.