The 7 Best Projectors under $1000 Reviews
A projector refers to an optical device that casts an image onto a surface, known as a projection screen. Most projectors produce an image by channeling light through a tiny transparent lens, but few models project the image directly using lasers. However, a projector is very mandatory nowadays, but it can be hard to find the best projector under $1000 for your entertainment and other needs.
Fortunately, this article focuses on projectors designed majorly for watching movies and TV shows. These digital projectors with video inputs serve a similar function to a TV or computer monitor alongside offering several benefits, including flexible installation possibilities, larger image sizes, and increased portability. If you are concerned about the installation space, and portability, you should think of a projector.
Moreover, as technologies advance, projectors become smarter and more connected. There are ultra-portable pocket projectors, offering a range of inputs. Besides, VGA connection is still the staple, but digital inputs such as HDMI, DVI, DisplayPort, and even SDI are available. Most importantly, they support interactive and wireless connectivity such as Bluetooth Projector for iPhone, as well as the possibility of giving presentations without a computer.
What Factors Do You Consider When Buying a Projector?
i) Contrast Ratio
Contrast is an essential factor that determines the picture quality of the projector. It is explainable by the difference between the whites and the black part of the picture. However, a high contrast ratio translates to impressive picture quality that enables you to see more shades of colors and lights.
ii) Throw Distance
Throw distance is an essential parameter for a projector that shouldn't be ignored whenever you are shopping for a new projector. It means how far away or close your projector is from the screen or the wall for your monitor to produce a particular size picture. For instance, if you want to set your projector 4-feet away for a 44-inch screen, then the throw ratio should be 1.1.
iii) Brightness
The unit for quantifying the projector's brightness is in lumens, and the more the light, the better the picture quality. Besides, for a business projector, 1000 lumens or less is somehow perfectly adequate to use in a small and dark environment. For ambient light environments, then you need to look for a rating of 5,000 lumens or plus.
iv) Lamp Life
Lamp life refers to the operating time, or the length of time before the lamp goes dark or begins to dim. Most budget home theater projectors under 1000 have a lamp life of about 30,000 hours that can service the projector for more than ten years before a need for replacement.
v) Resolution
The type of resolution depends on the purpose of usage. If the projector is for business or education presentations, then a projector worth 720p or 800 x 600 pixels can function well and save some money. If you want to watch HD movies or use in gaming, look for a resolution of at least 1920 x 1080 pixels. For a higher resolution projector under $1000, consider ViewSonic PX747 to enjoy 4K True content.
What Are The 7 Best Projectors Under $1000?
1) Optoma HD39HDR High Brightness HDR Home Theater Projector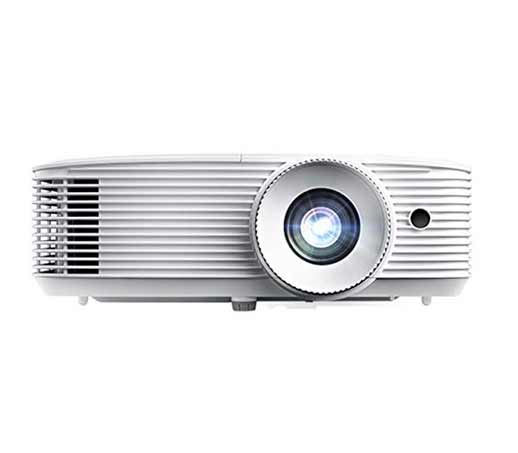 Are you a die-hard gamer in search of a broader TV-like screen? The Optoma HD39HDR projector it's here for you. It's ideal for movies and next-generation console gaming. Besides, it's applicable in bright light, daytime viewing, or low-light environments.
It has a fast response time with an enhanced gaming mode that enables a super-fast response time of 8. 4ms, with a 120Hz refresh rate. Moreover, 1080p resolution with 4K input plus 50, 000: 1 contrast ratio renders sharp and detailed images without down-scaling or compression.
You can connect to gaming consoles, media players, and other HDMI devices such as Google Chromecast, Firestick, and Apple TV. The inputs include dual HDMI with 1. 4a 3D support. Interestingly, you can enjoy up to 15 000 hours of lamp life, enabling an average of 4 hours of viewing time every day for 10+ years.
PROS
Delivers incredibly bright and colorful images
Offers multiple placement options
Easy installation
Supports 4K and 1080P HDR inputs
Has a long lamp life
2) ViewSonic PX747-4K True 4K Projector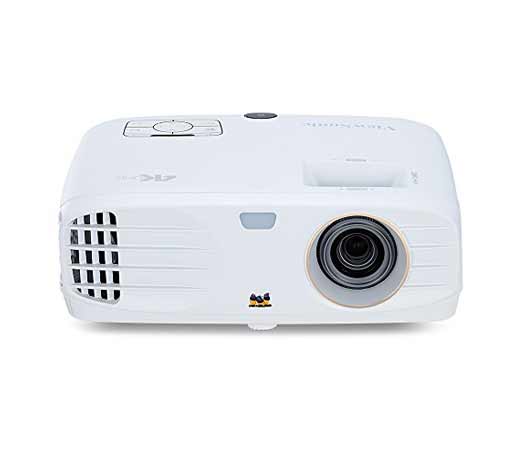 ViewSonic PX747-4K projector offers stunning home entertainment, whether its day or night, in bright rooms or dark environments. Featuring HDR compatibility, exclusive super color technology, and true Ultra HD 3840X2160P resolution, the PX747-4K delivers a breathtaking home cinema experience you expect to only get at the movie theater. Besides, with high brightness and a powerful 10W speaker, this projector provides bright visuals and immersive audio with room-filling sound.
However, the dual HDMI inputs allow you to connect to various HD devices, including gaming consoles, Blu-ray players, laptop PCs, digital cameras, and many others for an authentic high-definition experience. A full 1.2x optical zoom provides more mounting flexibility with a throw distance of 3.2 to 38.4 feet. Additionally, it's packed with 3,500 lumens and has 15,000 hours of lamp life.
PROS
Produces bright images in any environment
Has a dual HDMI connectivity
Delivers 4K Ultra HD resolution
Powerful speakers
Long lamp life reduces power consumption
3) BenQ TH585 1080p Home Entertainment Projector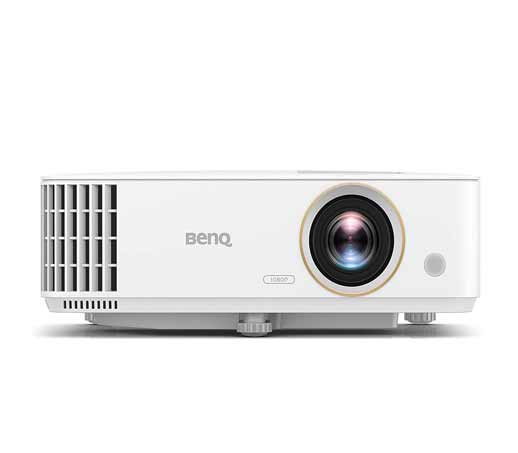 Invite your friends and get in a vast viewing and entertainment experience with BenQ TH585. This projector gets overpowered with low input lag for real-time gaming thrills. Besides, 1080p Full HD image quality with 3500 lumens and 10 000: 1 contrast ratio delivers ultimate gaming experiences in a well-lit environment.
The clear built-in 10-watt speaker comes up huge for games, movies, and TV for every party occasion. Additionally, take your video games to the big screen with the short-throw projection that produces big 100″ images from just 3 meters with 1.1x zoom for total gaming immersion.
The 15, 000 hours lamp life with lamp save mode extends projector lamp life to 15, 000 hours for intense gaming until next-generation consoles. However, 16ms low input lag and microsecond DMD fast response ensure ultra-smooth gaming experiences.
PROS
Offers a range of throw distances
Simple to operate and install
Incredible picture quality
Has a low power usage
High resolution and contrast ratio
4) Optoma GT1080HDR Short Throw Gaming Projector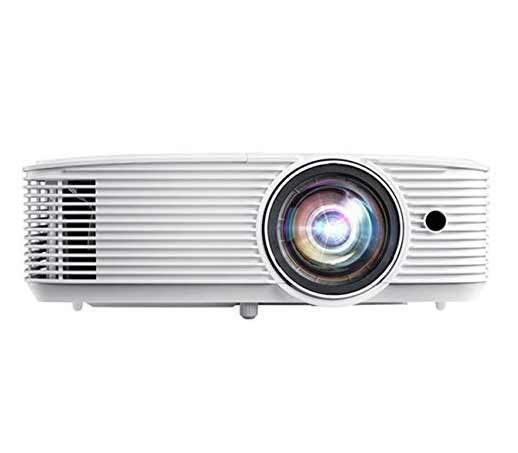 If you have limited space, you should consider Optoma GT1080HDR and experience a large 120″ image projected from 4 feet away. This projector has a short throw lens that allows the placement of the projector closer to the wall.
Besides, the 3, 800 Lumens, 50, 000: 1 contrast ratio, and Full HD 1080p (1920X1080) resolution enable a detailed, clear image production. The enhanced gaming mode enables lightning-fast response time of 8. 4ms with a 120Hz refresh rate. You can connect this device to gaming consoles, media players, and other HDMI devices.
The inputs include dual HDMI and have 1. 4a 3D support. The GT1080HDR consists of a 10-watt speaker that's ideal in a variety of environments, including family rooms, theater rooms, game rooms, and outdoor spaces such as backyards, camping, tailgating, and more. Luckily, you can enjoy up to 15,000 hours of lamp life, enabling 4 hours of viewing time every day.
PROS
Suitable for smaller spaces
Easy image setup
Fast response time
Offers flexible connectivity including 3D
Impressive picture quality
5) ViewSonic True PX727-4K Home Theater Projector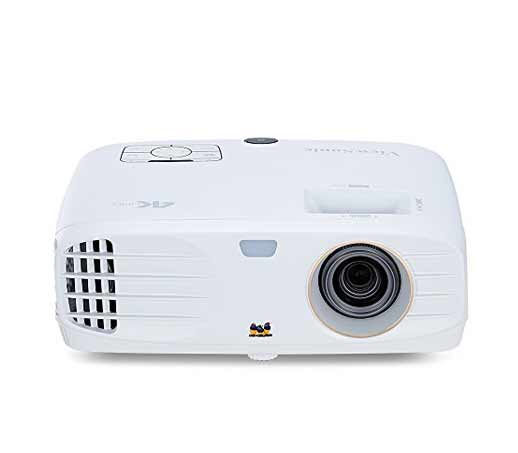 If you a movie lover, enjoy an incredible cinema experience from the comfort of home with the view Sonic PX727-4K projector. Besides, engineered with an advanced DLP 4K Ultra HD chip with XPR technology, this projector delivers 3840 x 2160 distinct pixels for true 8.3 million pixel 4K UHD resolution.
This projector delivers 96% coverage of the Rec. 709 color space and provides Rec. 2020 compatibility for a jaw-dropping, lifelike color you expect to only get at the movie theater. Moreover, with the ability to decode HDR video signals, this projector delivers incredibly detailed video playback.
Also, the colors are brighter and more vivid, and the contrast is more vibrant and detailed. There are a backlit remote control feature illuminated buttons for convenient and easy use in dark rooms and nighttime viewing. Using the Dual HDMI inputs, you can connect to various HD devices and experience a room-filling, immersive sound experience with a powerful 10W speaker.
PROS
Has versatile connectivity options
HDR compatible
Delivers True 4K resolution
Three years warranty
Offers incredible cinematic experience
6) BenQ HT2050A 1080P Home Theater Projector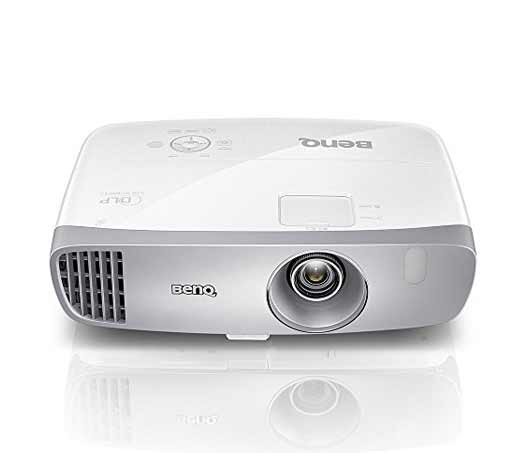 BenQ HT2050A projector brings big-screen Full HD visuals to your living room with the 1080p projector, a brightness of 2,200 Lumens, a high native contrast ratio, and 96% Rec 709 color accuracy calibration. Besides, the specialized low input lag of 16ms and unique game modes ensure gamers an ultra-smooth gaming experience. The inbuilt 10 watts speaker delivers immersive audio for elevated enjoyment.
However, this projector supports most media players, gaming consoles, PCs, Macs, and mobile devices with input options such as HDMI, USB, etc. You can take action to the big screen by projecting a 100-inch screen from just 8 feet away, projecting up to 300 inches. Built with DLP technology, you will experience a longer-lasting, slimmer design, sharper and crisper image from this BenQ projector.
PROS
Cheap
3D compatibility
Delivers great image quality
Has a smart Eco-mode
Hassle-free installation with flexible placement options
7) GooDee 2020 Upgrade HD Outdoor Movie Projector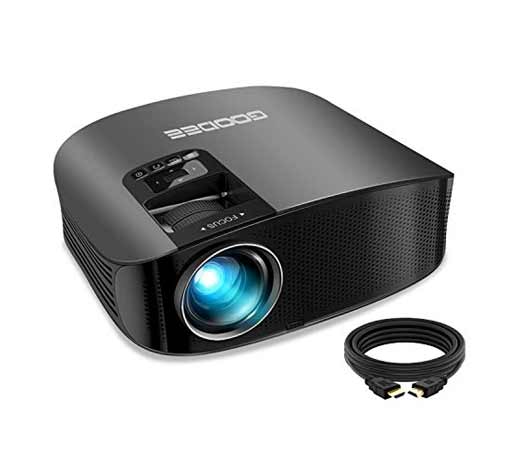 Are you still longing for a suitable projector to play a party activity? Worry no more. GooDee HD movie projector offers outstanding sharpness with native resolution 1280×768, offering an ultra-accurate and vivid video quality. This projector is among the top rated home theater systems, adopts an advanced color technology and a powerful cooling system that provides incredible heat dispersion and lower noise.
Additionally, the massive 230 inches display size with an aspect ratio of 16: 9 has a viewing screen starting from 44″ to 230″ with a throw distance of 9ft to 18ft. This video projector can easily connect with PC, laptop, tablet, external speakers, TV Box, Fire Stick TV, Chromecast, Xbox, DVD player, PS3, PS4, USB stick, media players, iPad, iPhone, and Android smartphones. Other notable features include 30,000 hours lamp life and dual stereo speakers (3W) with SRS Sound.
PROS
Multidirectional projection
Has an advanced cooling technology
Supports 1080P full HD
Very cheap
Multiple connection options
Bottom line
You don't require breaking a bank to pursue the high-performance projector with your desired price range and features. This article has compiled a list of the seven best projectors you can get with a budget of $1000 and below.
The list is from some of the best manufactures and gets based on experts' input. Therefore, don't hesitate to buy since quality the language we speak when delivering our reviews. Whether it's for entertainment or business purposes, grab yours while stock lasts.