The 8 Best Dolby Atmos Home Theater System
Since the first speaker was invented some decades, ago, there have been tremendous changes with regards to the innovation of a new model of sound systems. Current home theater sound systems share a similar resemblance with regards to the sound output of that of cinemas and music shows. This trend keeps on getting better and better and one of the notable ones is the Dolby Atmos home theater system.
Dolby Atmos is the predecessor of the renowned Dolby digital which is still one of the best-known sound mixing platforms. The Dolby atmos offer a new sound exchange era with its end to end sound mixing services for the home theater system. Having the best 7.1 home theater system incorporated with Dolby Atmos will do you a great deal in that the speakers are able to pinpoint the perfect location in your home for the sound output to be delivered which in turn gives you the best sound experience.
If you are looking to get a wireless surround sound speaker for your TV or any purpose, then you should consider getting one with the Dolby Atmos feature. This article will give you more details as to how the Dolby Atmos works and whether it is a good option to consider. Read ahead to learn more about the best Dolby Atmos home theater systems in 2020!
Dolby Atmos vs Dolby digital: What's new?
Dolby Digital is an audio compression technology and Dolby Atmos is the improved version on Dolby Digital audio compression. Below are some of the key features that are way better in Dolby Atmos:
i) Number of channels
Dolby Atmos brings about refined channels of up to 8.1 discrete channels hence it is better when it comes to the audio compression at a greater rate compared to the Dolby Digital 5.1.
ii) Support
Dolby Atmos supports a wide range of integrations from Blu-Ray players. IT also supports integrations with mobile phones and Tablets.
iii) Metadata
The metadata in Dolby Atmos is way better compared to that of Dolby Digital. This assures the user of better sound quality and also consistent sound.
iv) Audio quality
The sound quality is better than Dolby Digital in that there is less compression hence you get a realistic and improved sound quality. It is also better in that content developers are able to create better sound quality in multiple channels and better bit rates.
b) Data rate
Data rate in Atmos can go up to 6 Mbps while that of Dolby digital-only clocks at 640 Kbps.
Other great perks include mobile network support, comes built-in windows 10, and Microsoft edge. It also supports applications that are salable and require bandwidth. Below are some of the best Dolby Atmos home theater systems.
The 8 best Dolby Atmos home theater system
1) Klipsch Black theater Pack 5.1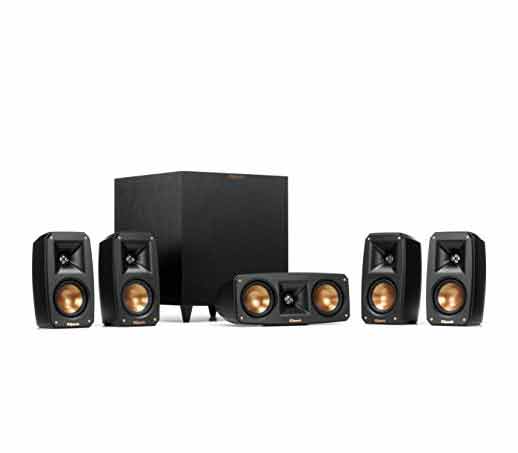 This device is ranked best among the top 5.1 home theater systems in the market. It is very simple to set up and comes with a friendly user interface to help you get started. The device allows seamless Ultra HD 4K connectivity with a variety of slots available.
The Horn-loaded power feature gives you a high-end response to your sound output and also gives you the best natural sound as possible.  It is also easy to replace in case one of the speakers becomes defective or there is an issue. It features an LTS tweeter which will offer the best performance similar to that of a cinema.
Pros
Easy to install
It comes with an LTS tweeter
Ultra HD connectivity is reliable
Friendly manual guide
Cons
Unstable base support for the speakers
2) Onkyo HT-S3900 5.1-Channel Home Theater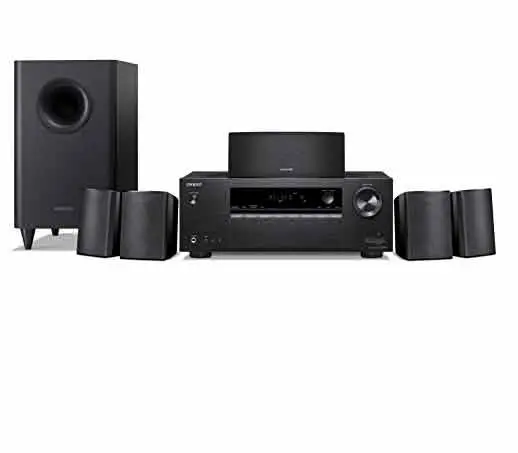 The Onkyo HT-S3900 is a great surround sound system with amazing perks. The device supports Dolby Atmos of up to 5.1 channels and it is also included in the speakers. It has a powerful power output of up to 120 W with a wide range of Amplifier technology to give you the best sound experience.
The device allows up to 4 HDMI inputs and 1 HDMI output. It also allows fast Bluetooth connectivity and you get to enjoy amazing discrete Amp circuits.
Pros
Equipped for Ultra HD 4K
Fast Bluetooth connectivity
Easy to connect with a friendly manual guide
Ample HDMI inputs
Cons
Unreliable HDMI slots
3) VIZIO SB46514-F6 46-Inch 5.1.4 Premium Home Theater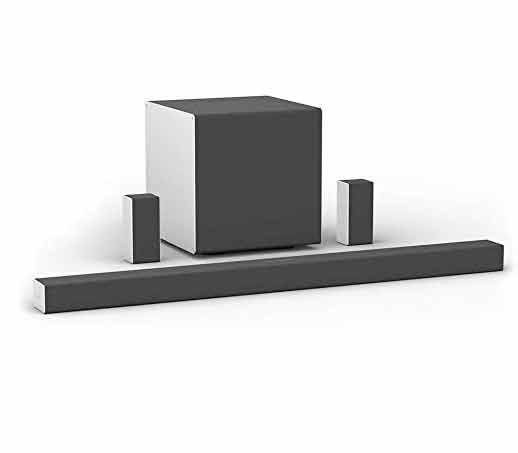 Looking to have a Broadway experience from your home, then this is something you should consider. This speaker features a perfectly integrated Dolby Atmos system that is able to deliver perfect audio. It also features wireless subwoofers with a 10 inches driver hence you get the perfect shacking Bass.
You also get to enjoy wireless connectivity with regards to chrome cast Bluetooth and WIFI. The sound system also comes with top-notch audio cables to give you the best sound experience.
Pros
Fast wireless connectivity
Friendly user interface
Reliable audio cables
Frequent firmware updates
Cons
Lagging frequency from the sound bar
4) JBL Bar 5.1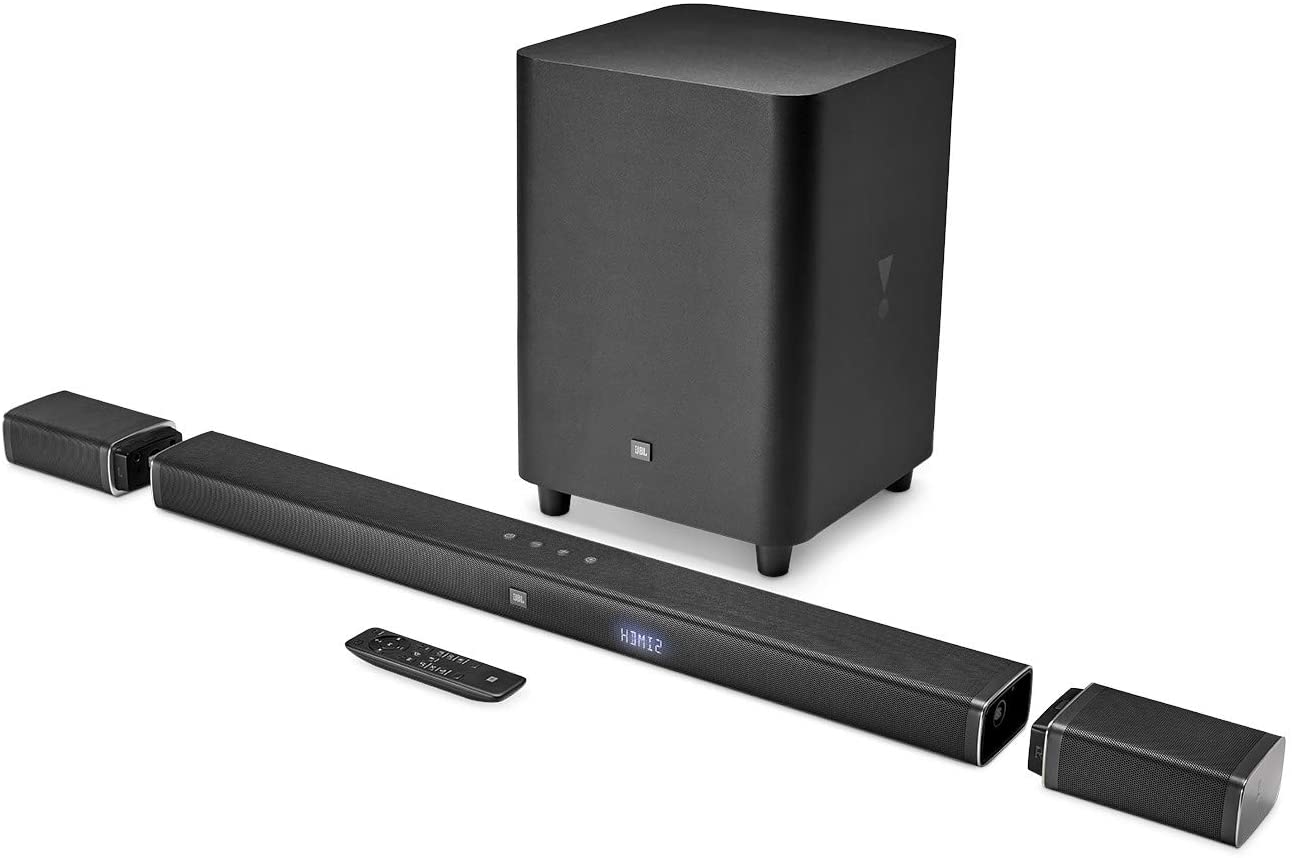 JBL is a well-known company and this device will truly not disappoint you. If you are looking for the best sound system for your TV, you should consider this device. It works with Dolby Atmos to give the best surround system experience and also features a dynamic sound balance technology.
You can easily connect with all your wireless devices for 4K Ultra HD through the HDMI input. The device also supports fast Wireless connectivity at a fast rate.
Pros
Easy to set-up
Stunning dynamic sound technology
Friendly manual
Easy Ultra HGD connectivity
Cons
Unreliable price adjustment
5) Yamaha Yht-4950U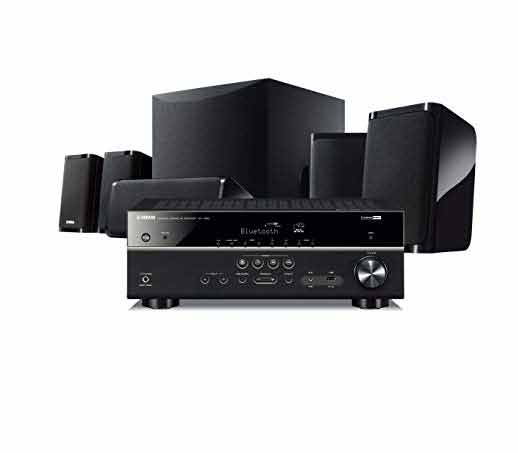 Yamaha offers a simplified sound system just like the soundbars under 100. The device offers a balanced sound system with it's AV receiver. You also get to enjoy 4K Ultra HD sound with a 60 FPS in support of the Dolby vision. It allows Bluetooth connectivity which is fast and supports many devices.
It supports Yamaha Parametric room acoustic optimizer that is able to provide the best audio experience to your room. You are also assured of amazing bass with the Advanced YTS II subwoofer that combines constant-current principles to drive the speaker with tight control.
Pros
Elegant design
Friendly installation process
Works with Advanced YST II
Uses stunning DSP technology
Cons
Low output Wattage
6) Logitech Z906 5.1 Surround Sound Speaker System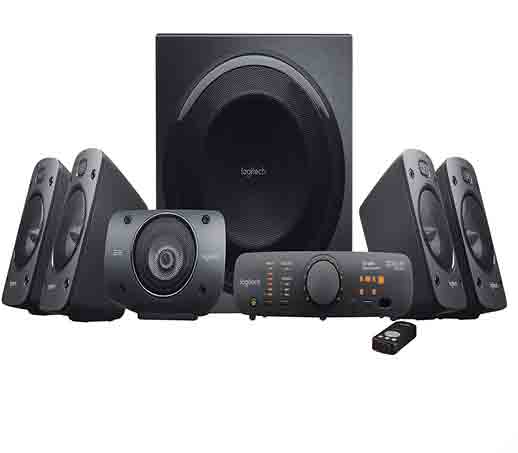 Logitech is an amazing 5.1 home theater system that comes with a wide range of perks. It supports Dolby Digital and DTS soundtracks hence you get the best sound experience. The system also offers a power outage of up to 165Wattage for the subwoofer and it can deliver up to 100 Wattage at maximum situations.
The device is simple to set-up and supports a wide range of cable connectivity. Control the device easily with the central control panel that is simple to navigate through. It is also THX certified hence you are assured of a cinema-like experience.
Pros
It is THX certified
Simple to install
Great audio quality
Centered control panel
Cons
Not perfect with some game consoles
7) Sony STR-DH790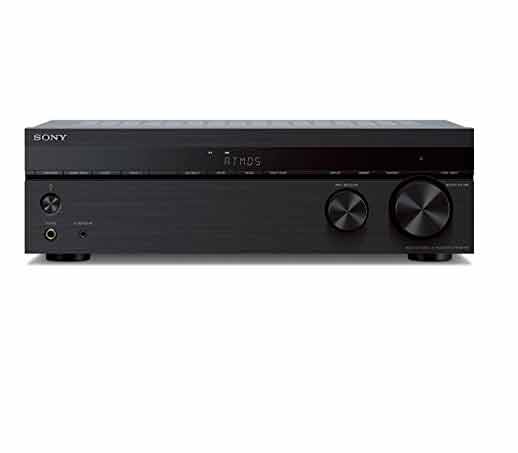 If you are looking for the best wireless surround sound system in 2020, this is the perfect device for you. It offers a virtual front surround that gives you an acoustic audio touch with the 2 speaker setup. The device has a stunning 4K quality with the support of Dolby Atmos and HDR10.
This device also works perfectly with the Hybrid Log gamma which in turn offers the best video clarity. The system allows advanced calibration that is able to adjust the sound system amidst the current sound environment.
Pros
Amazing 4K Ultra HD sound quality
Friendly user interface
Reliable technical support
The virtual front surround is amicable
Cons
Unreliable auto-calibration feature
8) Yamaha TSR-7810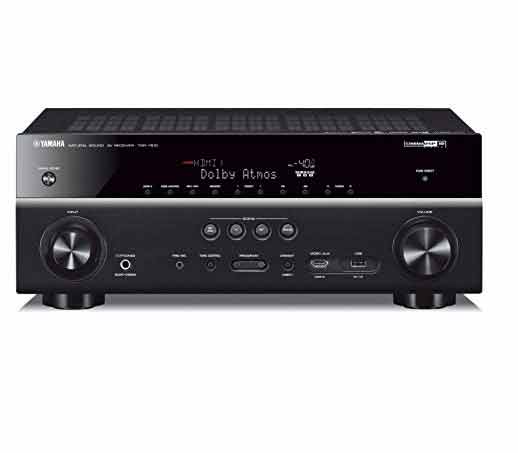 Yamaha is a great device to consider with the wide range of features available. It comes with a 1-year Yamaha warranty and you are also backed with the Amazon 90-day money guarantee. It has a Dolby Atmos channel surround and also features the DTSX.
You can also easily control the device with voice control from Amazon Alexa. Wireless connectivity is at it's best with a wide range of support from Spotify connect, WIFI, Bluetooth, and AirPlay. The device also features a 6/1 input-output HDMI system and it also includes the Hybrid log-gamma and Dolby vision.
Pros
It can work with up to HDCP 2.2
Dual HDMI output
Amazing voice control
Full Bass is prodigious
Cons
Requires some technical skills in the installation process
Bottom Line
Dolby Atmos sound system gives you the best experience with regards to your top-rated home theater systems. The Dolby Group also plans to integrate it with phones and tablets so it would be a great option for you to feel the experience in the home theater as you wait for the transition into other devices.
With the right hardware and arrangement of the speakers, you will always enjoy watching movies, gaming, and other sound activities in your home.