The 7 Best Boost Mobile Cell Phone Booster Reviews
Boost Mobile is a mobile carrier in the U.S. that offers pre-paid services to its customers that are pocket-friendly and come with various features and will meet your needs. Boost Mobile uses Sprint's nationwide 4G LTE to power its mobile services for its customers. The unique thing about the mobile carrier is that as you subscribe to their mobile plans, there are no contracts to be signed. Also, courtesy of the Sprint's network, Boost Mobile has a 99% nationwide coverage on 4G LTE and enhanced LTE services. For those experiencing poor reception in remote areas, no need to worry as you are in the right place. In today's article, I shall guide you through the best cell phone booster for Boost Mobile that you can get.
In some remote regions, the residents experience poor reception as the cell towers could be miles away from their residence. If it within their house, it can be facing the other direction. Not only can these be the problem, but also if you live in an area that has mountains and hills surround your residence, then you will have inadequate network coverage in the house. It is a massive problem if you have a business to run but don't want the hassle in the city, but neither the mobile carrier nor your smartphone can fix the problem. You need to get a cell phone signal booster as they aid in capturing network signals.
For you to enjoy the entrancing mobile plans offered by Boost Mobile but you have a lousy reception then get the best cell phone signal booster for home. The signal booster captures existing 3G, and 4G signal in tun amplifies it by 32X and rebroadcasts the boosted signal whether you have one in the office, at home, or even one for your car. In this article, I'll take you through the best cell phone booster for Boost Mobile, and also, I shall shed light on the features each has to offer. Read ahead to find out more.
What causes poor network reception in the countryside?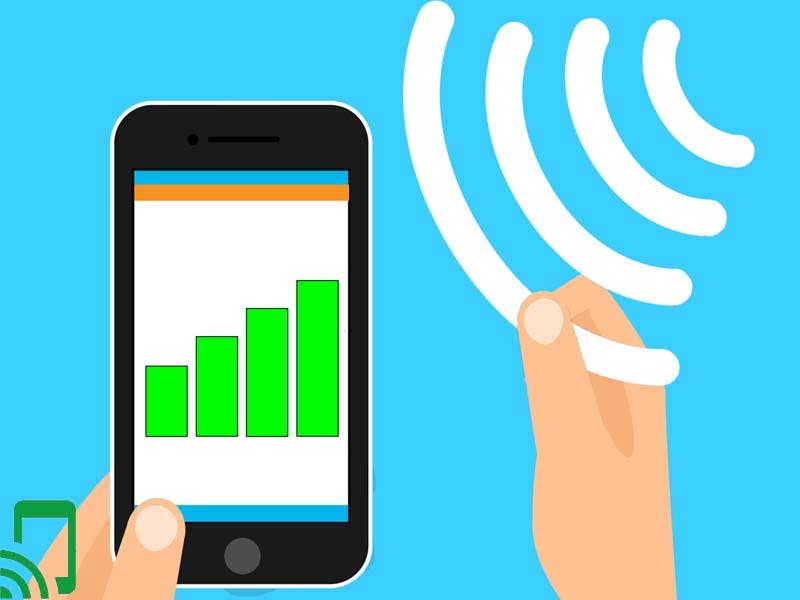 The primary cause of the poor cell phone reception is due to the weak incoming cell phone signal. For status, the cell phone signals are radio-frequency waves, and waves are easily manipulated and distracted. The sun can also alter, absorb, and block the cellular signals to reaching your smartphone.
Other factors that alter the network reception are the distance of your residence and the cell tower if you are miles away from your home then you will get weak signals. Also, if you live in an area where there is an obstruction such as trees, hill, mountains, valleys can block the signals.
Another factor that can cause poor reception is the building materials used for your house and majorly if there are conductive materials, either electrical or magnetic. Due to such factors, you can count your Boost Mobile network coverage next to nothing.
Which is the best cell phone signal booster?
There are a variety of cell phone signal boosters in the market, and determining the best can be a tough decision. I recommend that you get the signal booster concerning your needs so that you can get the best one. If you are currently on an adventure around the U.S.
A portable cell phone booster for a car is quite handy so that you can keep your friends posted on your experience. Also, if you have a large household, then you can get one that has a broad network coverage, and it's multi-purpose so that everyone can enjoy smooth network coverage.
Top 7 cell phone booster for Boost Mobile
After extensive research on the various cell phone signal boosters in the market, we have come up with the best cell phone booster for Boost Mobile. With these boosters at hand, you get to enjoy fast internet speeds, no more missed calls, excellent audio quality even as you enjoy the magnificent luxuries away from the city. Let's dive in and see what we have got for you in-store.
1) weBoost (472120) Home Cell Phone Signal Booster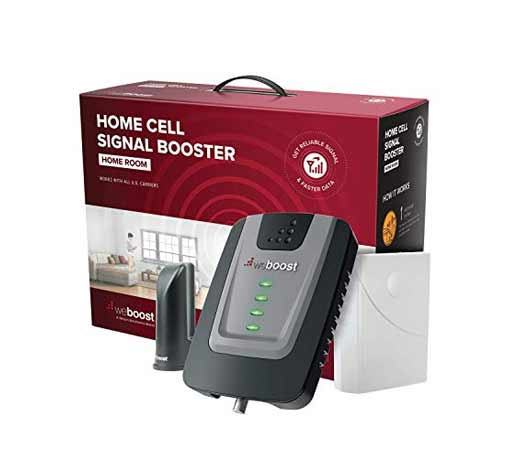 Enjoy a robust mobile phone reception in your abode with the weBoost Home Room cellular booster. It has extensive coverage of 1500 sq.ft that is ideal for small homes that, in turn, amplifies the signals up to 32 times.
The amplifications lets you enjoy more explicit phone calls and smooth mobile internet access so that you can stay connected with your friends with friends and family.
With up to 60dB gain, thus extends your device's signal for both voice and data connections. It is easy to set-up and configures so that you can have a powerful signal to all compatible cell phones and 4G enabled wireless devices simultaneously.
PROS
Boosts the signal up to 32 times
Reduces dropped and missed calls
Versatile
Simple installation
It has a high gain
2) weBoost Home MultiRoom Cell phone signal booster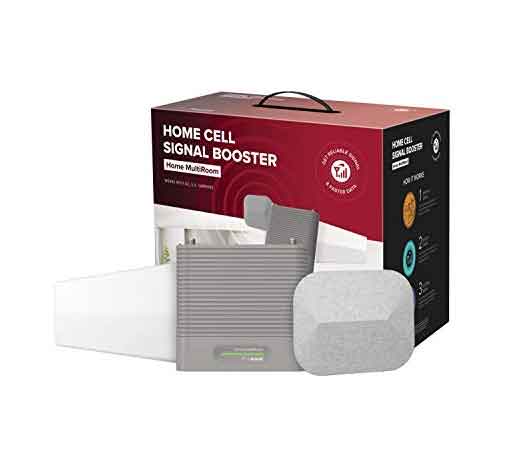 Get to enjoy a superb increased cell phone reception in remote areas with the weBoost Home multi-room signal booster. Approximately it has a 22dBm of uplink output power and 10dBm of downlink output; thus, you can enjoy exceptional internet speeds for an immersive online gaming or even smooth video calls with your loved ones. The signal booster has a 61 to 70dB of gain, thus providing you with a powerful signal and wide coverage area.
PROS
Easy to set-up and install
It has a high gain
Wide coverage area
It has an indoor multiroom antenna
Enhances battery life
CONS
The antenna needs to close to the booster
3) weBoost Drive 4G-X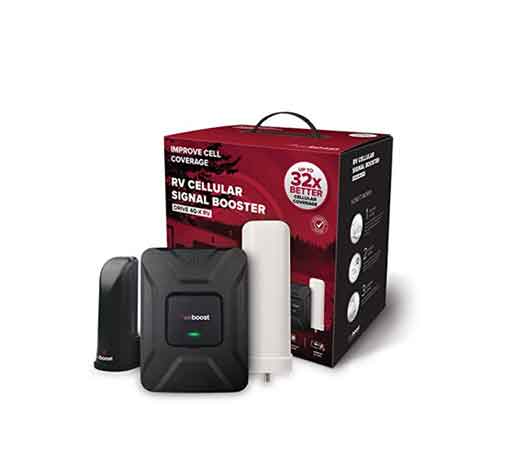 If you need a portable cell phone signal booster for a car, then the weBoost Drive is an ideal choice. Stay connected while on the road as the weBoost Drive helps prevent lost connections and faster download speeds.
If you are on a road trip with your family or your friends, then no need to worry as the booster is a multi-device support device, thus allowing your passenger to enjoy the benefits. It comes with antennas, and power supply included for easy installation with the help of the manual.
PROS
Fast, simple set-up
Supports multiple devices
Enhances voice and data signals in the car
It prevents lost connections in the vehicle
Suitable with Boost Mobile
4) SureCall Fusion4Home Yagi/Whip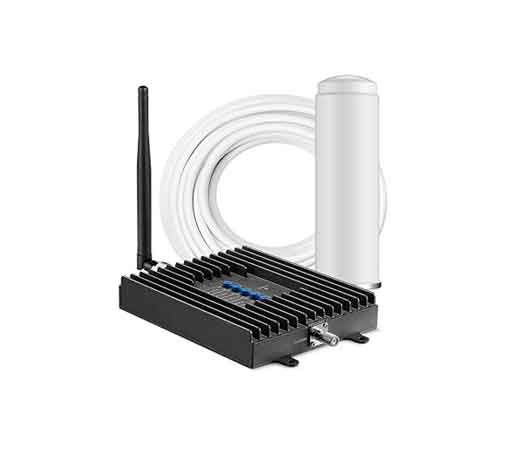 Get to enjoy enhanced text, voice, and 4G LTE data signal with the SureCall Fusion4Home antenna set as it is a high-quality product. With the indoor whip, it provides you with coverage for two to four rooms, which in turn enhances the performance for the entire household or small office.
The Yagi antenna is a cool feature as it boosts performance outdoors when you have a single bar of signal strength. It has an auto gain control (AGC) for simple antenna placement.
PROS
Auto gain control
Stealth technology
Simple installation
Compatible with various devices
Enhances cellular signals
CONS
Wi-Fi doesn't cover that far
5) weBoost Drive 4G-X OTR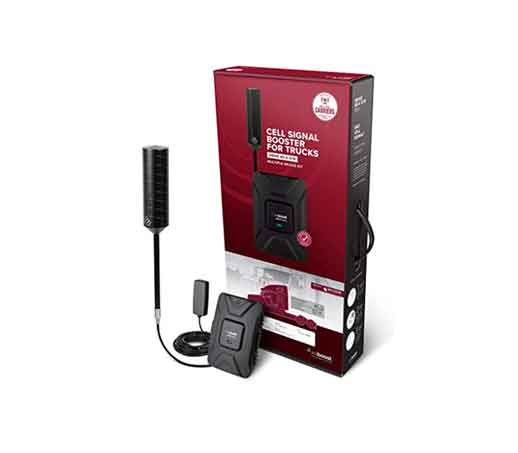 Another ideal cell phone signal booster for your car is the weBoost 4G-X OTR. If you are a truck driver, then this is the perfect option as you need to keep communication lines open at all times with your colleagues.
The booster enhances your phone's signal up to 32 times so that you can enjoy a seamless internet data connection in the U.S. it has a system gain of 50dB of which is an FCC-approved kit letting you enjoy precise, uninterrupted talk time.
PROS
Compatible with various mobile carriers
CLA power supply
Extends voice and data coverage
It has a 3-way mount included
Easy to install
CONS
Doesn't work in isolated areas
6) weBoost Drive Sleek OTR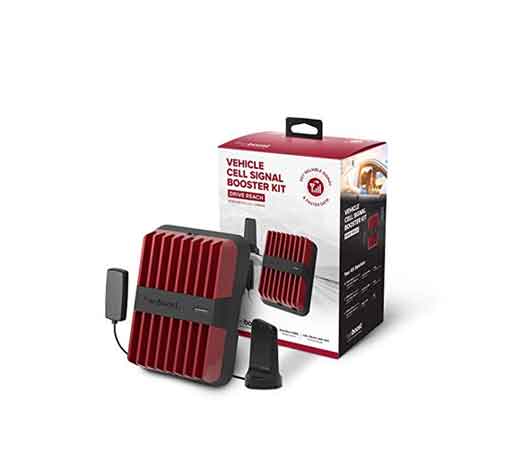 You can also get the weBoost Drive Sleek OTR if you spend most of your day on the road. The amplifier cradle grasps your phones and strengthens signals for any 4G LTE carrier. With the top-performance 4G trucker external antenna provides maximum range to any cell tower. No need to worry about which phone it supports as the amplifier supports various mobile brands.
PROS
Supports various mobile brands
Small in size
The antenna extends voice and data coverage
Provides maximum range to a cell tower
Prevents dropped calls
7) weBoost Drive 4G-X R.V.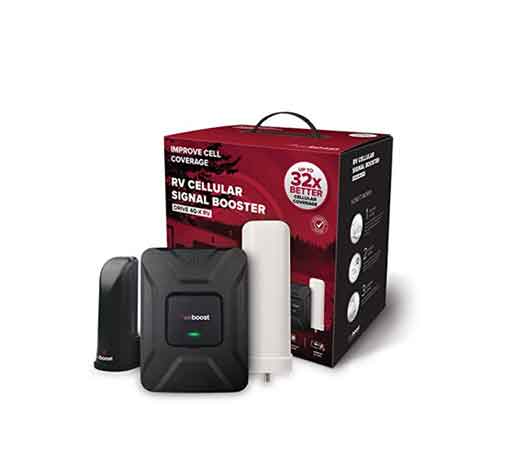 Lastly, the weBoost Drive 4G-X R.V. is an ideal option that you can get, and it comes with various features that you will love. Stay connected with your peers during R.V. excursions with the amplifier. You can stay connected at all times as it has a long battery life as you get two hours of smooth talk time in remote areas. T
he amplifier strengthens your phone's 4G and 3G networks so that you can enjoy the various mobiles offered by Boost Mobile. Compatible with multiple mobile phone networks and carriers so you can decide, but an ideal option is Boost Mobile.+
PROS
Improves phone battery life
Extends voice and data coverage
Enjoy fast download speeds
Prevent dropped calls
Compatible with various phones
CONS
Can't be used with different devices at once
Bottom Line
As you have seen above, I've highlighted the best cell phone booster for Boost Mobile that you can place them in your house for smooth network coverage. As much you desire the soothing breezes in the countryside in the afternoon, splendid sunrise and sunset, you need to have a network reception that lets you stay connected with your friends and family.
Also, if you stay in a camper, it can come in handy so that you have a good reception as you adventure the country's landscapes. The ideal place to get the cell phone signal booster is at BestBuy is it is among the top online stores and offers a variety of products. I hope that I've answered your burning questions and that you'll choose the best cell phone signal booster so that you can enjoy Boost Mobile mobile plans.