The 4 Best Wilson Cell Phone Signal Booster
If you are experiencing poor cell phone signals in your office, home, or car, then a cell phone signal booster can do you a great deal by offering increased signal strength to your cellular devices. Booster's help by amplifying signals from the cell phone tower to your device hence you get a full network status bar. There are many cell phone boosters that you can go for but in this review, we will dive into the Wilson cell phone booster.
Wilson electronics started the manufacturing of cell phone boosters back in 2011. They have a good rating with many customers and one good thing about their products is that they are all FCC verified. This means that they are unlikely to give you any issues with your carrier in terms of network interference. Wilson electronics offer cell phone signal boosters for home, office, and cars making it easier to choose one which will be more effective.
Are Wilson signal Boosters efficient enough? Well, this article will demystify all you need to know about the boosters. We will discuss the 4 best Wilson signal boosters and how you can verify the booster with your service provider. So, read ahead to get in-depth info on the Wilson boosters!!
How to verify a Wilson Booster with your service provider?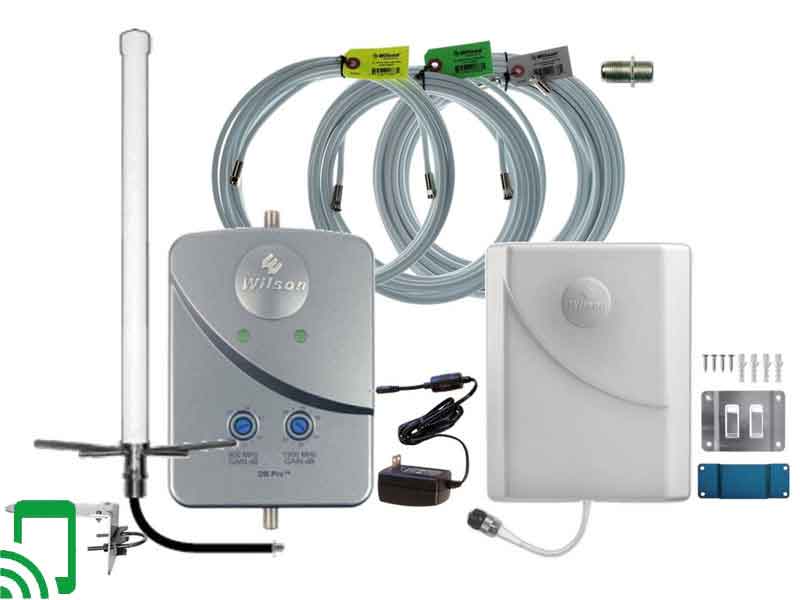 Before using any booster whether it is Verizon cell phone signal booster or any other type of booster, you should always verify it with your service provider. The Verification helps to:
Avoid network interference to other people not using the booster
To avoid authorities claiming your device is illegal
For the service provider to easily communicate with you in case there is a network glitch
The registration is very simple but it depends on your service provider. Some service providers have an online portal in which you can register the device. If you are using the following service providers, then you can do the registration process online;
What to look out for in choosing a Wilson signal booster?
You will need to consider the following before choosing a Wilson signal booster;
i) Area of Coverage
Wilson offers several categories of boosters to choose from. They have boosters for home, office, car and outdoor boosters. Choose one that will be effective with regard to your setting. You can also go for a portable signal booster if you travel a lot.
ii) Costs
Consider a Wilson booster that is affordable and within your budget. Also, consider some long-term costs like repair and maintenance which are likely to be incurred.
iii) Customer reviews
You should always check some cell phone signal booster reviews by customers to learn more about the perks and cons of their products. You can find Wilson booster customer reviews from Trustpilot or Wilson's community forum.
iv) Installation process
Get a Wilson booster in which you can install by yourself with the help of some video tutorials on how to do it. However, you can still call an installation technician near you to help you out.
The 4 best Wilson Cell phone booster reviews
Below are the 4 best Wilson boosters you can go for in 2020.
1) Wilson 801245 AG 60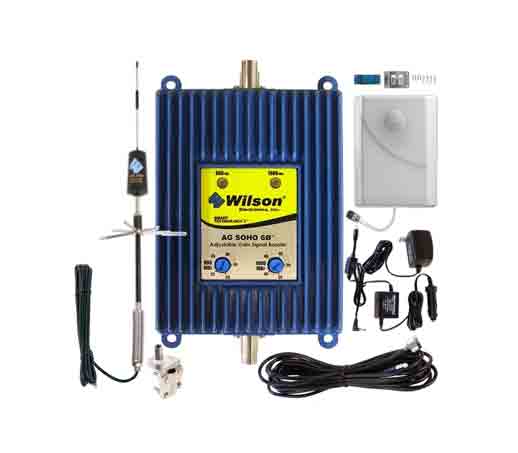 First on our list is the Wilson AG 60 which has a 3.8 rating on Amazon. The booster is very efficient with a dual-band between 850-1900 MHz. It works like a charm by boosting the cell phone signals at a very fast rate compared to any other service provider.
The booster allows simultaneous connection from several cellular devices and you will not experience any network interference.  Recently Wilson electronics updated the device to operate under 60dB gain for 1900 MHz. It also features an Adjustable Gain knob which you can use to control the inside antenna efficiently.
The booster works with major North American carriers but sadly it does not support 4G frequencies. It is very simple to install and it is mostly used as a home signal booster or for a small office. You can also do an automatic shutdown to help in saving energy costs. The booster also has an overload protection circuit to help avoid circuit damages that may interfere with the booster.
PROS
Has a perfect adjustable gain
Easy to install
Can connect several devices simultaneously
It is verified by the FCC
CONS
Does not work with Verizon
Does not support 4G connectivity
2) Wilson UNiversal-859114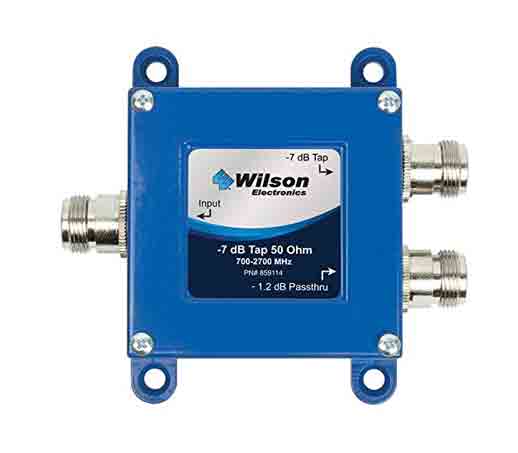 This product comes with great perks to ensure that you get the best cellular coverage in your home. The booster is very simple to install and Wilson has aided this process with the help of tutorials on how to install it. This booster main feature is the -7dB 50-ohm Cellular signal tap.
With this feature, the booster is able to send the amplified signal across multiple inside antennas. This helps to minimize signal loss and prevent signal interference with the network towers. The cellular signal tap can also help in controlling the number of signals being distributed across large and small areas and hence minimizing signal loss.
It is also very light to carry and hence easily adjustable.  The booster works with major carriers and supports 4G, which is rare for most cell phone signal booster. Wilson Universal-859114 comes with a 90-day money-back guarantee for new products while refurbished ones get 30 days guarantee. You also get lifetime technical support plus a 2-year warranty.
PROS
It features controlled signal distribution
Automatic gain is very fast and efficient
Minimal Decibel loss
Easy to install
Affordable
CONS
Not efficient for large areas
3) Wilson Signal Booster for M2M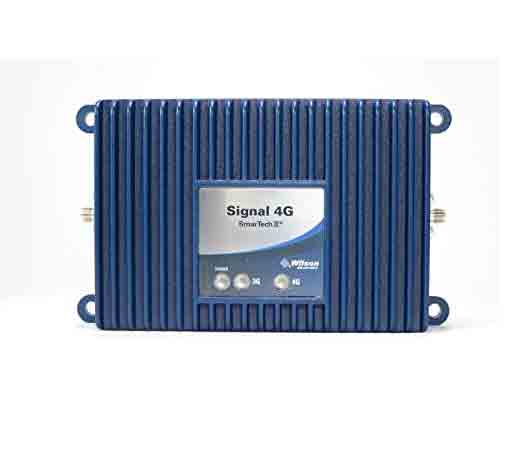 This booster is a very efficient device aimed at providing stable signal coverage fro a wide range of people. It is mostly used for automated two-way quality assurance solutions, for travelers and even home users can use the device.
This booster comes with a full installation kit and you also get technical support for you with regards to the installation fo the device. You get an M2M repeater, mini-magnet antenna, power supply, and a 3 meter SMA MAle connector.
The cell phone signal booster offers a wide area of coverage and has consistent connections and reduces dead zones. It has a maximum gain of 15dB and works on 5V on Direct current. This M2M booster works with at&t, Verizon, T-Mobile, Sprint and US cellular.
However, the booster does not support Sprint LTE and the 2.5 GHz spectrum. The device has a good rating on Amazon and comes with a 90-day money-back guarantee for new devices and old ones you get a 30-day money-back guarantee. You also get a dedicated lifetime technical support and you also get a 2-year warranty.
PROS
Works with 4G efficiently
FCC verified
Can support multiple devices simultaneously
Easy to install the device
CONS
Not reliable for California users
4) Wilson Electronics RF signal detector 867501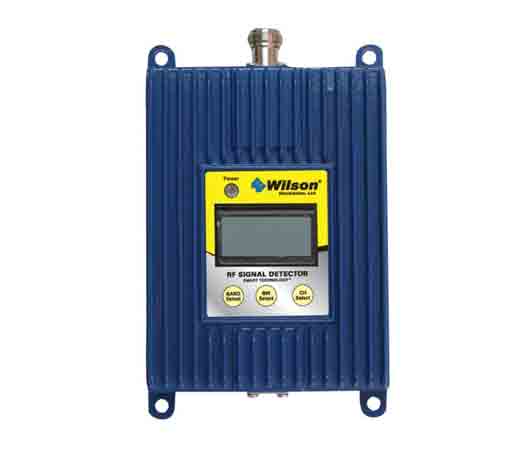 Last on our list is the efficient Wilson RF signal detector with a rating of 4.5 out of 5.0 in Amazon. This detector comes with a full installation kit and you also get a manual guide on how to use it. The signal detector works with both 3G and 4G cellular bands. It is able to detect signals both indoors for a very short time.
It also offers mapping for the outside environment. With an antenna impedance of 50 ohms, you are assured of minimal signal loss and have a 5V power usage. The device also comes with a rechargeable battery that has a long-lasting life.
It has a robust body build and this makes it very efficient especially if it is placed outdoors. If you get this detector, you are assured of lifetime support by the Wilson Technical team. The detector is also tax-free if bought outside Texas. You are also assured of a 90-da money-back guarantee and a 2-year warranty.
PROS
Works with 4G efficiently
FCC verified
Can support multiple devices simultaneously
CONS
Does not work with Verizon wireless
Bottom Line
I hope this article has given you the ins and outs of the Wilson booster offered by Wilson electronics. The boosters are verified by the FCC and are very affordable. We have also done reviews on the 4 best signal boosters which you can go for and they will be very efficient for you with regards to your office, home or car.
Remember to always register the booster with your service provider to avoid any inconveniences in network signals. If you experience any deterrence with the device, Wilson offers lifetime technical support and they are only a call away.
All the boosters have a valid 2-year warranty and you are assured of a 90-day-money-back guarantee in case you are not satisfied with the product. If you have a refurbished device, you get a maximum of a 30-day-money-back guarantee.