Top 8 Indoor Cell Phone Boosters Reviews
An indoor phone signal booster is a type of bi-directional amplifier used to improve cell phone reception. A cellular repeater system commonly consists of a donor antenna that receives and transmits signals from nearby cell towers, coaxial cables, a signal amplifier, and an indoor rebroadcast. The three parts work together to ensure a maximum signal boost to reduce the number of dropped calls as well as increased data speeds for faster uploads, downloads, and streaming.
There are 2 types of cell phone signal boosters: The Analog signal booster and the smart signal booster. The analog signal boosters are the most common today. They are also known as wide-band cellular repeaters, cellular amplifiers, and bi-directional amplifiers and of course signal boosters. They amplify all types of cellular signals across all bands. This feature allows them to work for all major cell phone service providers in the US. The smart signal boosters are a new type of booster attuned to specific frequencies. They are programmable and generally quite advanced.
Cell phone signals boosters are a growing niche market that has recently gained popularity in the past few years. They have spread all across the US moving from rural areas to urban markets. If you generally have weak too good signals outside your home or building but a poor signal inside, then an indoor cell phone signal booster can improve your coverage and signal strength.
Why do you need an indoor cell phone booster?
We are mobile creatures and our cell phones are the centerpiece of all our content from business, convenience to leisure. We, therefore, require something that gives us faster uploads and downloads for Netflix, Youtube, Spotify and all our streaming apps.
A cell phone booster is a solution to the problem of poor cellular reception indoors with multiple floors involved, the problem only worsens. A cell phone booster solution bypasses all building material delivering strong cellular coverage both for employees and clients.
A cell phone booster increases coverage as well as improve download speeds. A signal booster with the right antenna can reach up to 2+ miles to the nearest cell tower to pick up the cell signal. Signal boosters help improve weak 3G and 4G service for any phone on any carrier.
Another reason that might make you want to own an indoor cell phone booster is that it ensures quality signal day-in-day-out. This empowers people to never miss an important call, email and news item.
How indoor cell phone boosters work?
A cell phone booster works by pulling weak signals, boosting it, and then rebroadcasting it inside your area in need. Most signal boosters have 3 parts: The outside antenna to capture weak signal, the indoor antenna to rebroadcast the enhanced signal inside your home or car and the amplifier to boost the weak signal.
The outside antenna is the first major component of a cell phone booster. It is usually mounted high on the roof and pulls in the weak 3G and 4G LTE signal. It comes in two varieties, the omnidirectional antenna, and the unidirectional antenna.
The omnidirectional antenna broadcasts in all directions. It is typically used for a repeater system that amplifies coverage for all cellular carriers. A directional antenna can help improve the quality of signal redistributed inside a building.
The third major component is the inside antenna. It rebroadcasts the signal once it is boosted by the amplifier to the area in need by increasing the strength of cellular signals. It is connected to the outside antenna and indoor antenna by a coaxial cable. Below are the best cell phone cellular signal booster reviews.
Top 8 indoor cellular signal boosters review
1) Surecall Fusion4Home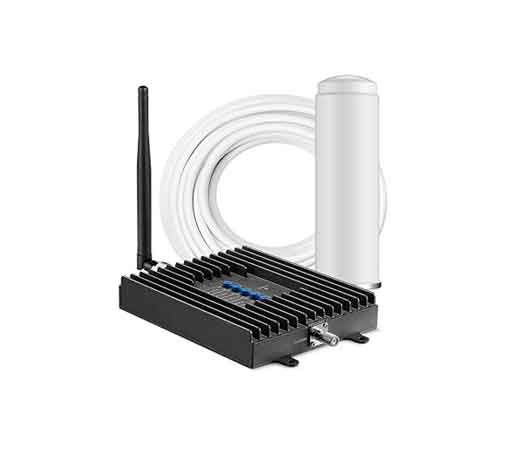 The Surecall fusion4home cell phone signal extender is a remarkably powerful and adaptive device. It can be fine-tuned by those with RF knowledge for optimized cellular signals. It boosts a weak signal up to 2000 square feet in an omnidirectional pattern.
The booster is compatible with all North American carriers including AT&T, T-Mobile, Verizon, Sprint, Straight Talk, US Cellular and many more. It is also FCC improved.
PROS
It allows multiple users
Easy installation
Better signal guarantee
It comes with a 3-year warranty
2) weBoost 470144 Multiroom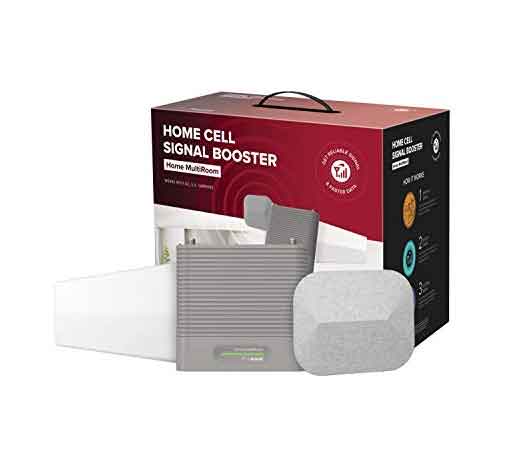 The home multi room provides enhanced cellular reception for up to 5000 square feet or coverage of up to three rooms. This allows everyone to enjoy fewer dropped calls, better voice quality, and faster speeds within its coverage area.
The Home Multi-room works with all US carriers as well as phone phones and cellular-connected devices. With 65db maximum gain, the Home Multi-room meets all FCC guidelines and won't interrupt or harm any carriers' signals to and from the cell tower. It is compatible with the universal phone model.
PROS
It is 5G ready
Backed by a 2-years warranty
It has a toll-free installation
Wide coverage
CONS
A separate male to male connector has to be purchased
3) weBoost 470145 Home Complete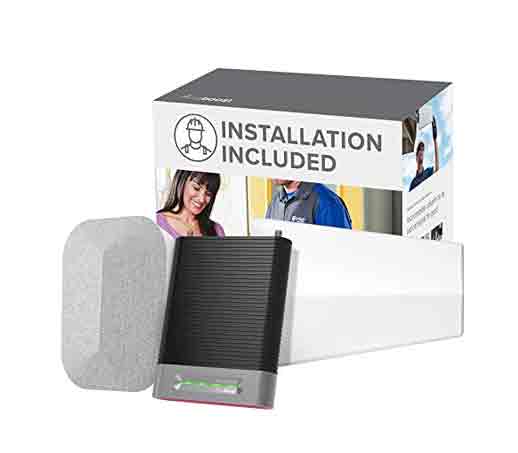 The weBoost Home Complete cell phone signal booster is one of the most powerful boosters in the market. It is ideal for large homes up to 7500 square feet or in any household located in a remote or rural area with a weak signal and limited cell coverage.
It is among the best signal boosters for home. The home complete boosts all available network speeds to provide reliable cellular connectivity indoors and for multiple users.
PROS
It is 5G ready
Compatible with all US carriers
Supports multiple users
It is FCC approved
CONS
Small strength on the signal boosted even on 3G
4) weBoost Connect 4G (470103)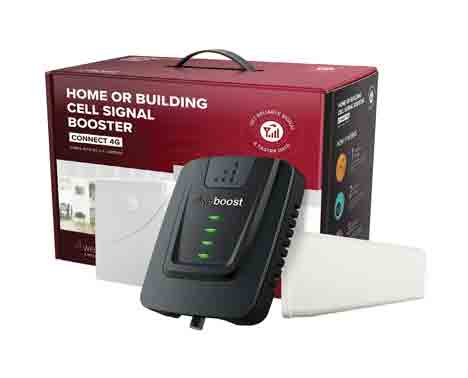 The weBoost Connect 4G indoor cell phone booster for home and office boosts your 4G LTE and 3G up to 32X. The weBoost has a coverage range of up to 5000 square feet hence providing increased signal strength throughout your home. It is compatible with all US cell signal carriers.
The Connect 4G signal booster uses patented smart technology to sense nearby signal conditions and electronically optimizes the booster's performance. Achieve fewer dropped calls and increased data speeds.
PROS
Frustration-free setup
Has automatic gain control technology
30-day money back guarantee
CONS
Must have a line of a sight cell tower to work
5) SureCall Flare Cell Phone Signal Booster Kit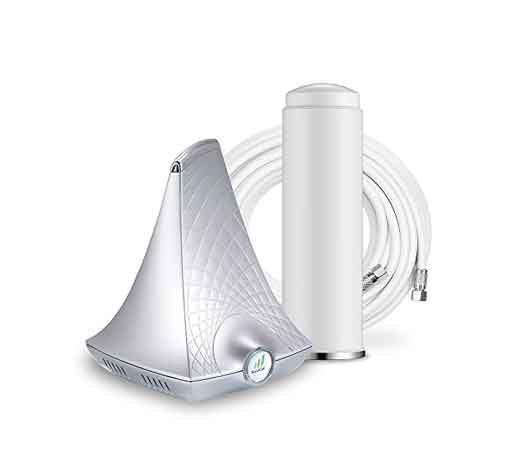 The surecall flare cell phone signal amplifier boosts weak signals up to 2000 square feet. It is the most powerful cell phone signal booster with a simplified installation for small homes. The surecall flare is built to last. It is built with the highest quality materials for reliable connectivity when you need it the most. The booster is compatible with all US carriers and is assembled in the USA. It is also compatible with all 5G phones.
PROS
Easy installation
Future proof
Features 2XP technology
CONS
Small signal boost when outdoors
6) Phonetone 5-Band Cell Booster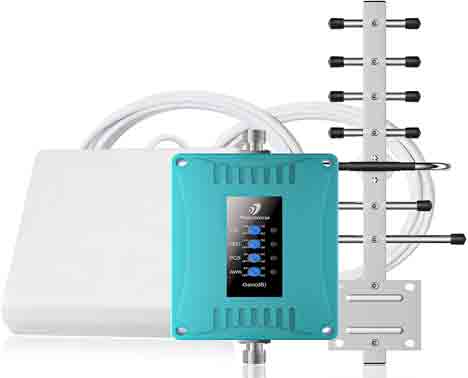 The 5-Band cell phone signal booster is a multiple band cellular repeater kit that boosts voice and data up to 4500 square feet. It enhances voice, text and LTE data speeds. Get rid of expensive monthly internet and home phone land-line fees. It supports multiple users simultaneously.
It may be used as a cell signal for cars also due to its portable nature. It is also compatible with all US networks. It works with all cellular devices operating on band 12/13/17/5/4/2 (700/850/1700/1900 Mhz).
PROS
Advanced features and smart device
Excellent service guaranteed
Powerful antennas and large coverage
CONS
It does not work well on T-Mobile when registered
7) weBoost Connect 4G-X (471104)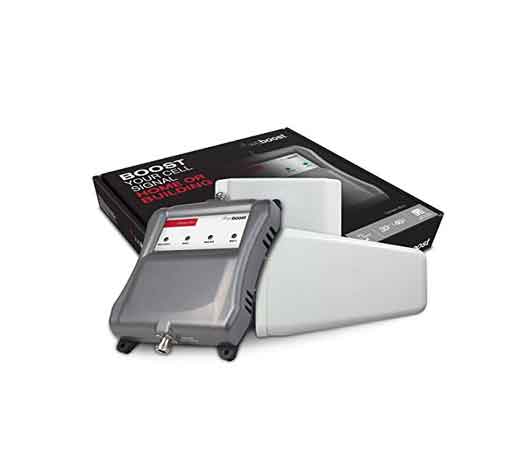 The weBoost Connect 4G-X 471104 cell phone booster for home and office boosts your 4G LTE and 3G signal up to 3X. It has a gain of up to 70db. The booster has a range of up to 7500 square feet that gives you coverage for your whole home.
Enjoy faster uploads and downloads. It is compatible with all US network carriers including Verizon. Straight-forward installation with easy instructions from the quick installation guide included in the package.
PROS
Extended battery life
Frustration-free setup
Coverage for your whole home
CONS
It only boosts 3G cell phone signals
8) Amazboost A8 Signal Booster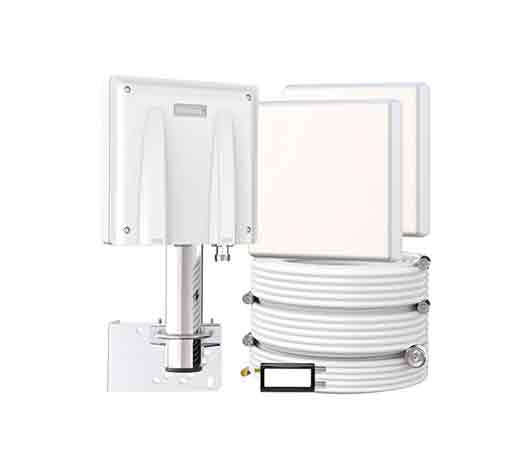 Amazboost innovative technology has emerged after integrating thousands of deployment applications. It has achieved technical maturity with signal loss reduced by 50%-70% compared to the traditional technical solution.
It has a double-wall hanging that can cover multiple floors and rooms. The covering ability is more effective than a single antenna. Enjoy up to 2 hours of additional talk time with the Amazboost A8 cell signal booster.
PROS
High gain up to 70db
Coverage area of 8000 square feet
Multi-point coverage
CONS
Small signal boost when outdoors
Bottom Line
The average cell phone plan in the USA is $1560 per year. This does not include the cost of devices that often cost thousands of dollars. You're paying all these bills. You, therefore, deserve to get great cell phone service. One way to do this is to buy a device to boost your cell phone signal.
With hundreds of devices on the market, you need to pick the right product and install it correctly. Why wait for the carriers to solve your problem when you can control and create your destiny!