Portable cell phone signal boosters have become a modern-day solution to poor cell phone signal reception in our homes, offices, apartments, and vehicles. Experiencing dropped calls or poor voice quality can be very frustrating, especially when working. A cell phone signal booster, therefore, becomes a solution to this problem. The cell phone signal boosters, also known as cellular repeaters or signal amplifiers, are used to improve cell-phone reception.
Cell phone signal boosters are made to work in homes, offices, or vehicles. Some are therefore designed to work indoors while others are designed to work outdoors (especially those that boost signals in the cars). Those used in homes, offices, and large buildings are designed to be fixed once installed. These boosters have two antennas; an outside antenna mounted on the wall on the exterior wall or roof that communicates back to the nearest cell tower and an interior antenna that is connected to the one outside through a cable. It is, therefore, possible to find a portable cell signal booster for your car.
When getting a cell phone signal booster, you might want to look out for one that is certified and approved and certified by FCC (Federal Communication Commission). Many wireless providers such as AT&T, T-Mobile, Sprint, Verizon, and many others have agreed to allow operation of consumer signals that meets the FCC's new rules and guidelines. You can also register your cellular carrier as well as check if your cell phone booster is verified and approved by FCC.
Reasons you may be having Poor Cell Phone Signal
i) Building size
A building that is very large such as warehouses, hospitals, and factories, often suffer from poor cellular reception. This low signal reception tends to occur mostly in underground areas such as basements. In such cases, the external antenna boosts the signal.
ii) Building construction material
Brick, concrete, and steel are some of the materials referred to as "signal killers." Cell signals are unable to penetrate these materials, and the 'cellular' radio waves get deflected or distorted. Glass, particularly the low E-glass used for energy efficiency and metal window screens, will block your signal.
iii) Lousy weather and Cosmic events
Weather phenomenon such as humidity, heavy cloud cover, thunder, wind, rain, lightning, or ice could be some of the factors that may be causing poor cell signal reception. This is because cellular devices transmit and receive electromagnetic waves that get affected by these conditions.
Eruptions on the surface of the sun send streams of gas into the atmosphere, and these have been known to disrupt mobile phone communications.
iv) Hills and Valleys
Geographical landscapes such as hills and valleys could cause significant interference and disruptions in the cell phone signals. This may be due to the distance from one cell tower to the other that may cause poor reception.
If the range is extensive, then you will receive a weak signal. If your house is located inside a valley, you might struggle with getting good cellular reception.
The 6 best portable cell phone signal boosters
There are many cell phone signal boosters in the market today. However, if you are looking into getting cell phone signal boosters for home that are portable and easy to install, you can check out these products listed below.
1) WeBoost Connect 4G-X (470103)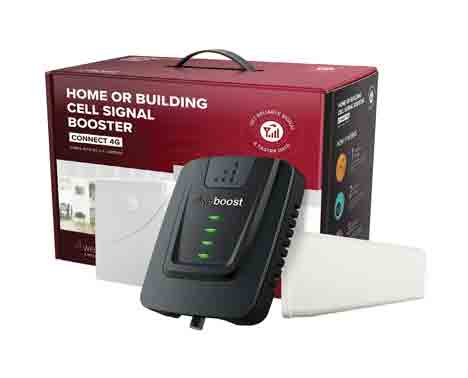 weBoost Connect 4G is a multi-user signal booster for home use. The booster offers a range extension of up to 7500 square feet. It works great for all major cellular-connected devices such as phones, tablets, or hotspots, even to data-connected notebooks.
It offers up to 32X more reliable cell signals for all major providers. The product package comes with a booster, an inside antenna, an outside directional antenna, two coax cables, a power supply, and several brackets for mounting.
Works on multiple devices providing multiple users with fewer dropped calls, better voice quality faster internet speeds, and more.
PROS
It covers up to 7500 square feet
It is FCC certified
It supports all cellular devices
It allows multiple users
CONS
The install experience is fussy
2) Surecall Fusion2Go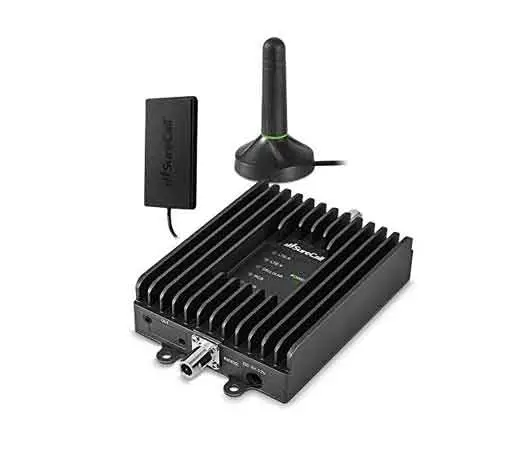 Stay connected with reliable voice, text, and 4G LTE data. The Fusion2Go 3.0 features 2XP technology to maximize the home-to-cell tower range by increasing the uplink transmission power. It can easily be removed and re-installed in just a matter of minutes that makes it very portable and moveable.
It can provide a dear and consistent signal multiple devices due to its maximum gain of 50db. These results in faster speeds reduced dropped calls, and better voice and text quality. The Fusion2G kit includes the booster, interior patch antenna, magnetic antenna (for roof mounting), and 12 DVC power adapter.
PROS
It works with all North American carriers
It has better coverage than other portable devices
It works with multiple devices
It is easy to install
CONS
You need to be within 4 meters from the device to enjoy a better signal boost
3) SureCall Flare Cell Phone Signal Booster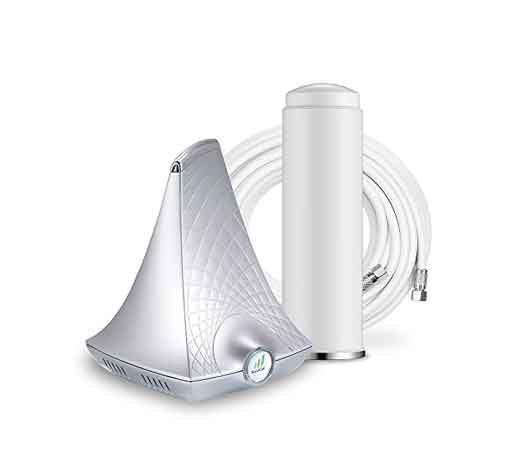 With a strong incoming signal, the Surecall Flare is billed to deliver up to 2500 square feet of coverage. It performs well within the parameters that it advertises and is available at a budget-friendly price comparatively speaking.
The Surecall flare is the most travel-friendly option tested due to its lightweight. It boosts signal speed for any cellular device. It is ranked among the best cell signal booster for Verizon.
It also works for major carriers such as AT&T, Sprint, and T-Mobile. The whole setup process is simple and does not consume much of your time. It practically takes ten minutes or less to set it up.
PROS
Multiple room coverage
Has a simple set up and install
It has a 60-day money-back guarantee
Up to 2 years manufacturer's warranty
CONS
The mount for the antenna is not included
4) WeBoost Home Multiroom (470144)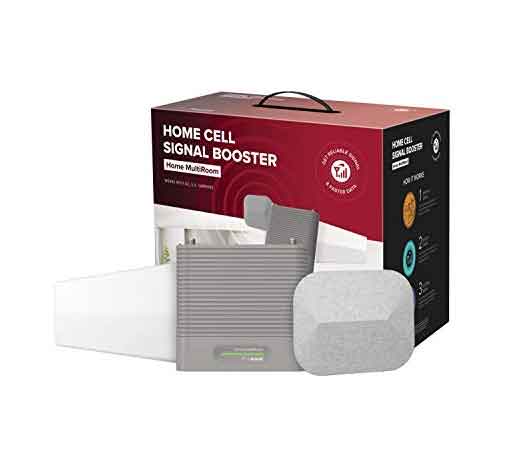 The weBoost Home Multiroom is designed to cover several rooms. With flawless outside signals, you can expect coverage distance of up to 5000 square feet for your iPhone or iPad. It boosts between 200-300 square feet for indoor coverage.
Weboost Home Multiroom boosts signals for all North- American cell phone carriers, including AT&T, Verizon, T-Mobile, Sprint, and US cellular. With up to 65db max gain, enjoy faster uploads and download speeds, reduced dropped calls, and better voice quality with this weBoost Multiform home booster.
PROS
Wide coverage area
It is 5G ready
It works with all US carriers
It is compatible with all US carriers
5) WeBoost Basic Home (47110)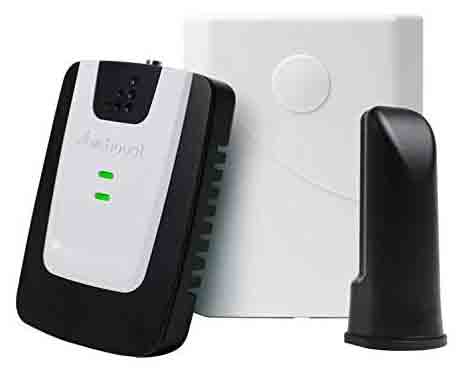 Ideal for home, office, or apartment, the basic home enhances indoor cellular reception for Verizon and AT&T signal for one room or up to 1500 square feet. With 60db gain and 5G technology, weBoost basic home boost signal for Verizon and AT&T subscribers and allows them to experience fewer dropped calls, increased voice quality and faster uploads and download speeds within the coverage area. Enjoy an additional 2 hours of talk time due to extended battery life through a secure connection to a wireless signal.
PROS
It is 5G ready
A 2-years manufacturer warranty backs it
Easy installation
Enjoy wide coverage
CONS
It works only for Verizon and AT&T
It only works in one room
6) Amazboost Enhances Antenna Cell Phone Booster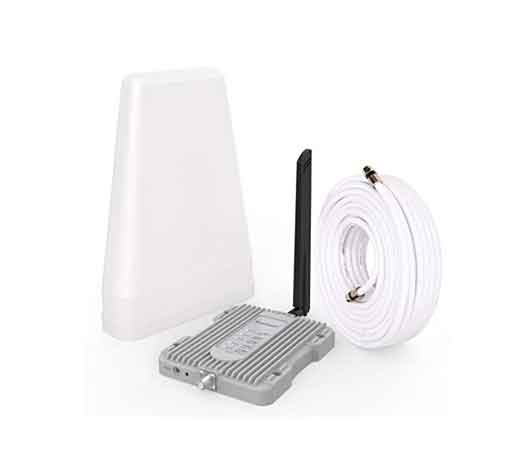 Amazbost boosts voice ng signal and enhances it up to 100X with a coverage distance of 2500 square feet. It automatically adjusts system gain and power level to get the optimum result. Due to its better incoming signal, cell phone requires less output power to send and receive a signal.
This significantly reduces the required transmission power of mobile phones hence extending its battery life. It also reduces the level of electromagnetic radiation exposure to the human body. It supports multiple users simultaneously on all smartphones, tablets, modems, WI-FI hotspots at the same time.
PROS
It is FCC approved
Compatible with all US carriers
It supports multiple users
Has the automatic gain control
CONS
The installation may need a professional
How to install a cell phone signal booster
You can either buy a cell phone signal booster that comes with an installation package or buy a cell phone booster and install it yourself by following the simple and easy to understand instructions that occur in the kit in the form of a manual. Here are a few tips that you may, however, look in to:
a) Install the Outdoor antenna
The outdoor antenna can either be pole mounted or wall-mounted depending on your preference. It should be installed, pointing towards the direction of the tower for better signal strength and quality.
b) Install the indoor antenna
The indoor antenna is connected to the outdoor antenna using two coaxial cables.
c) Install the signal booster
Select an indoor location near a power outlet on a wall and connect the AC power cord to the signal booster. Finally, you can connect the plug to an electrical outlet to power on the booster or repeater.
Bottom Line
A cell phone signal booster will not only boost your calls but also increase your internet speeds. Enjoy faster uploads and download speeds with this device. Work anywhere at your comfort with a portable cell signal booster.