The weBoost 474445 Cell Phone Signal Booster
Are you experiencing dropped calls due to the remoteness of your residential or working area? Worry no more since weBoost brings you weBoost 474445, a powerful signal booster that will ensure that your calls are consistent and clear. Internet connections and SMS deliveries will be fast as well. What you need to do is mount the external aerial facing the nearest cell tower and you are good to go.
Cell phone boosters collect the available signals from the nearest cell tower and amplify them making them useful to phones. They come with two antennas, one to be mounted outside either on a wall or a post while facing the nearest cell tower. There is also an internal antenna that distributes cell phone signals within a specified area for the available phones to pick up the signals.
The weBoost 474445 overview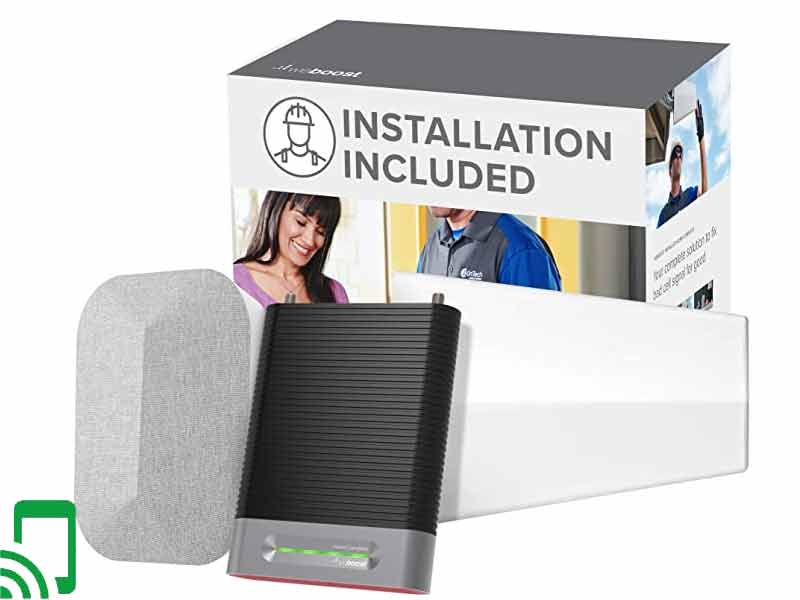 weBoost 474445 has a large area coverage whereby the external antenna can get signals from cell towers in any direction due to its nature. The maximum coverage the machine can have is 7500 ft². This can reduce depending on the signals.
A -89 dB and lower which is about 5 bars can cover an area of up to 7500 ft² while -90 dB(about 3-4 bars) can cover up to 4000 ft². The -100 dB which has about 1-2 bars can cover up to 2000 ft².
Interestingly, weBoost 474445 works with all US carriers and thus you do not have to worry about your service provider. The device can be a good cell phone booster for Verizon, AT&T, T-Mobile, and Sprint among others.
Also, you can mount the internal antenna almost anywhere, be it on a table, shelf, on the wall, on any other relevant place. This makes it very flexible.
PROS
Large area coverage
Works with all US carriers
Two-year warranty
30-day money-back guarantee
Dedicated customer care
FCC approved
CONS
Specifications of Weboost 474445
The device has the following features.
1) Design
The device has an elegant design. The booster itself weighs 1.6 lb / 0.7 kg. It is thus not cumbersome to carry from place to place. It measures 8.3 x 6.0 x 2.4″ / 21.0 x 15.2 x 6.1 cm. However, the whole package including the cable and the antennas is 8.545 lb. This is below 5kg and thus not heavy. The package box measures 13.7 x 11.7 x 8.8″.
2) Coverage
The machine can cover a large area when there is maximum signal reception. The coverage is as below
-89 dB & Lower (about 5 Bars) -Up to 7500 ft²
-90 dB (About 3-4 Bars) -Up to 4000 ft²
-100 dB (About 1-2 Bars) -Up to 2000 ft²
The maximum gain is up to +65 dB.
3) Frequencies
The machine supports various frequencies which include;
Band 12/17 (700) MHz
Band 13 (700) MHz
Band 5 (850) MHz
Band 4 (1700/2100) MHz
Band 25/2 (1900 MHz)
Having numerous frequency bands makes the device compatible with all carriers. You will have fast internet calls, faster SMS delivery, and clear consistent calls with any service provider you may wish to have.
4) Impedance
The Weboost 474445 has an impedance of 75 Ohms which makes it able to contain very high frequencies. Also, the 75 Ohm cables are easily available and it will be easy for you if you need to make a replacement.
5) Power
The device has a wide range of power input whereby it supports 110-240 AC (50-60 Hz, 20 W). It does not work on DC power.
6) Connectors
Weboost 474445 has F-Female connectors that ensure proper signal reception. The connector is good for a 75 Ω impedance match for frequencies over 1 GHz. Furthermore, the cable is cheap and in case you want to replace it, it will not cost you a lot of money. Unfortunately, the F-connector is not weatherproof and might not withstand humid conditions.
Why should you choose WeBoost 474445?
There are various reasons why you should choose weBoost 474445 or any other weBoost cell phone booster. Some of the reasons why the device should be your best choice include;
i) Professional installation
If you feel that you cannot install the device, you can request a professional to set up everything for you. But remember that, just like many cell phone boosters for remote areas, the WeBoost 474445 is easy to install by yourself.
ii) Maximum coverage
WeBoost 474445 is so far the most powerful cell phone booster from weBoost and this explains why you should expect the best from it. It will give you the maximum coverage possible.
iii) A good reputation
weBoost cell phone boosters are well known for excellent performance when it comes to boosting cell phone signals. weBoost Installed cell booster won the 2020 CES Innovation Award and the Gold Edison Award for Innovation.
iv) Work carrier
It is not specific to any network. As I had mentioned earlier, the device works with all carriers of the US. Therefore, it does not matter which service provider you use. It is thus a good cell phone booster for the house.
v) 5G ready
Following the introduction of the 5G network, getting this device will ensure that you are well connected on the 5G network so long as you have a 5G compatible device.
vi) FCC approved
The Federal Communications Commission has tested and okayed the device to be used by Americans and thus you should worry not about potential frequency risks.
vii) US-based customer support
Never worry in case there is an issue with your device. The ever-ready customer representative will always be ready to help you via live chat and email or phone number 800.606.6969. This makes it a wonderful cell phone signal booster for camping as you can request help when things are not right in the bush. You will also benefit from a 30-day money-back guarantee and a two-year warranty.
Bottom line
Cell phone boosters make life easy in remote areas with poor network connectivities. Among the most powerful cell phone boosters from weBoost, the weBoost 474445 tops the list with 5G connectivity capability and a two-year warranty.
The most important of all is the large area coverage.  You may install the device by yourself or get an expert to do all the work for you. Above all, the booster works with all US carriers.