The 5 Best weBoost US Cellular Signal Booster 
Majority of Americans today are connected to the world digital information through smartphones and tablets. According to statistics, 96% of Americans own a cell phone and 81% of Americans own smartphones. The number is expected to rise even higher as lifestyle changes are happening every day. Some areas in the United States of America have low cellular signal reception than others. We are going to explore various US cellular signal boosters available in the market later in this article.
Cellular signal boosters effectively function in rural areas. Cities have good network coverage. However, sometimes, there arises a temporary signal transmission failure. It can be very embarrassing, especially when you were waiting for an urgent call, or are supposed to use an internet connection for one reason or the other. During such a time, the best option is to use a signal booster machine. 
This article will give you detailed information on the best five US cellular signal boosters in the US market. We are going to explore all the features and price. You will be able to determine the best cell phone signal booster for home cellular connection during low network conditions. It will just improve your everyday life.
What is a US Cellular Signal Booster?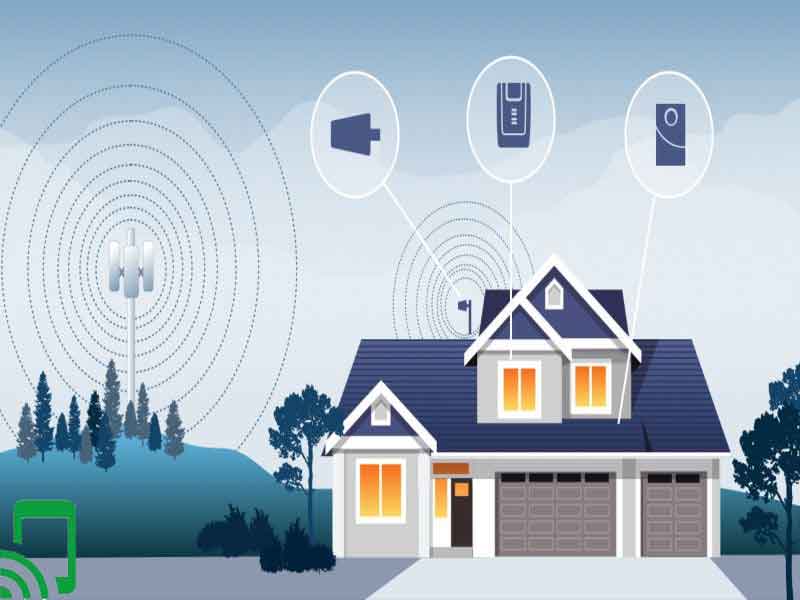 First of all, let us look at what signal boosters are. A US Cellular signal booster is an electronic device that adds power to transmitted signals to your network receiver, which could be a phone or tablet. In other words, it amplifies the signals, thus increasing their strength. The device has three main components.
External antenna
Internal antenna
Amplifier
The three components work in conjunction to ensure excellent signal amplification. The external antenna receives signals and transmits them from a cellular tower. The internal antenna receives signals from the external antenna and allows them into the amplifier. The amplifier adds strength to the network and rebroadcasts them to the surrounding areas. Note that, signal transmission happens in all directions.
What are the factors to consider when choosing a Cellular Signal Booster?
There are several things you should consider before visiting your nearest electronic shop to get one. The following factors are very crucial when it comes to buying a signal amplifier.
i. Antenna type
There are small antennas that function in offices, cars, or at home. They are not sturdy, and sometimes they may not give you optimum service. They are best in areas where signals need a slight boost.
On the other hand, you can have an Omni-directional antenna. It is durable and can pick a signals from several boosters and amplify them to give a steady output. An Omni-directional amplifier is the best since it covers a large area and will never let you down.
ii. The length of the cable
Short cables mean strong cellular signals. Apart from choosing a short wire, ensure that the cable is of high quality to withstand high temperatures or lightning damage. Long cables lower signal strength due to long-distance. The signals need to travel long distances before reaching the amplifier.
iii. Area of coverage
Where do you want to boost the cellular network? A booster for a whole village is different in terms of strength as compared to an office one. Depending on the area you would like to cover, you should choose a machine with the highest gain. It is uneconomical to choose a signal booster with an Omni- directional antenna for a car. Most signal boosters go up to 72 dB. The dB unit is used to measure the loudness of sounds.
iv. Installation process
You should check a machine with ease of installation. Complex installation guidelines are always confusing and make you wrongly install your amplifier. The device becomes ineffective. If possible, get a technician to connect everything for you. However, it is economical to choose the one you can do for yourself.
What are The 5 Best US Cellular Signal Boosters?
The market is full of different kinds of signal boosters. However, they don't work the same. We have come up with a list of the best five and their credible source you can get them.
1. weBoost Home MultiRoom (470144)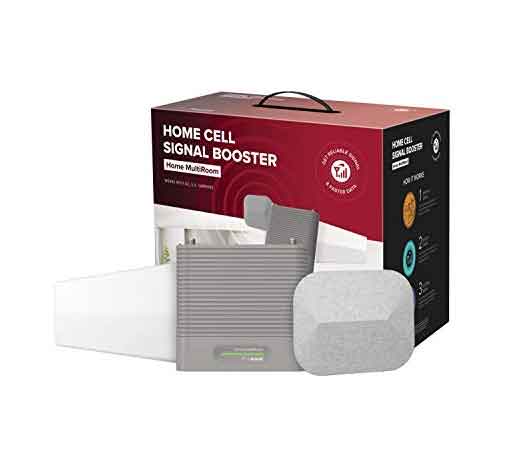 weBoost is a powerful amplifier that can cover three large rooms. In other words, it can cover an area of up to 5000sq.ft. The machine is FCC approved. The device has a robust internal antenna and a beautiful fabric covering.
It comes with wall mount accessories that can be easily fastened on the wall to make the machine more stable. The device enables faster data speeds, improved voice calls, and quality superior streaming capability. weBoost weighs 10.05 pounds. It measures 6.5 by 6.0 by 2.5 inches.
PROS
It has strong 4G compatibility
It has broad coverage
Has  low noise figure of 3dB thus eliminating unwanted frequencies and noise
It is easy to install the components
CONS
It has a small maximum gain of 26 dB
2. weBoost Home 4G (470101)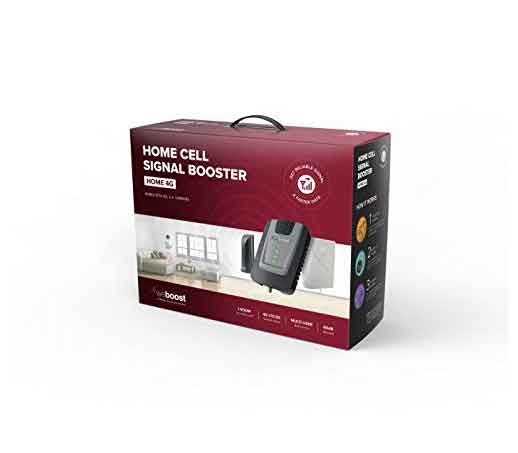 weBoost Home 4G is very efficient for home and office. It covers an area of 1500 sq. Ft. It can work well with Sprint, AT&T, and T-Mobile. This machine enhances 3G and 4G signals to a greater extent. It means that you will have increased internet speed connection; fewer dropped calls and improved voice quality.
This machine works with all carriers in the United States of America. The product comes with an indoor antenna, outdoor antenna, power supply, and a 30 ft coaxial cable. It measures 6.5 by 4.3 by 1.3 inches. 
PROS
Automatic gain settings. The amplifier can automatically sense the nearby signals
High signal gain of up to 60 Db
Simple set up
Works with all US carriers
3. weBoost Drive Sleek (470135)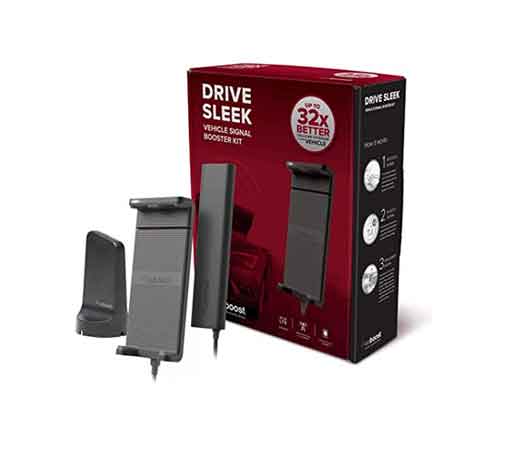 This signal booster is suitable for cars, trucks, or small offices. The device enhances cell signal strength up to 32 times. With this machine, you get more explicit calls, faster internet connection, and better battery condition.
The external antenna can easily stick on magnetic roofs, thus making it easier to install. weBoost is compatible with all service providers in the US. Moreover, the device is FCC certified. It has a 2 – year warranty. You are also guaranteed a 30- day cash back if the device fails.
PROS
Easy setup
Compatible with all cell carriers
It comes with a 2 –year warranty
It boosts cellular signals up to 32 times the area network
It is cheap
CONS
It is limited to a small area
4. weBoost Home 4G Cell Phone Booster Kit (470101)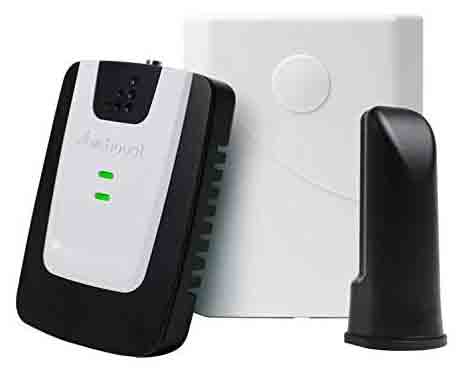 Amazon has renewed this machine. You are required to register it with your service provider once you buy it. It is advisable to contact your service provider and ask them whether they support the device. Installation takes about 20 minutes.
The item weighs 5.5 pounds. It measures 14.5 by 12.1 by 6.3 inches. The product comes with full installation kit comprising of antennas and coaxial cable. The installation process is easy and takes a few minutes to get completed. 
PROS
it is very cheap
it is easy to install the components
Compatible with various service providers
It is eligible for refund within 90 days of use in case it fails
CONS
You must register with your carrier before using it
5. weBoost Connect 4G (470103)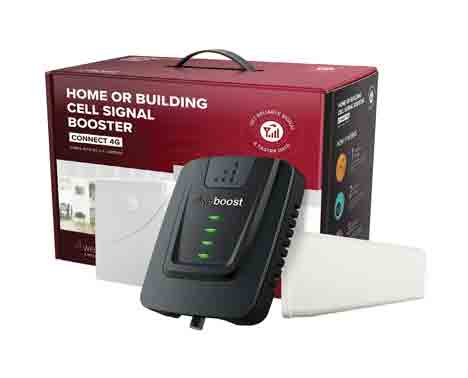 weBoost Connect 4 G is very convenient for home and office use. The device supports all the carriers in the United States of America. It can cover an area of up to 5000sq. Ft. the gadget provides a stable 4 G signal boost for calls and data connection. 
High data connection speeds ensure that you can download and upload documents, videos, music, and videos at a faster rate. With this device, you can use carriers such as Sprint, AT&T, Verizon, and Straight Talk, among others. The device comes with a full installation kit. 
PROS
It is easy to install
It has automatic gain settings
It saves battery up to two additional  hours
It is compatible with all US Cellular
What are the Advantages of Using Cellular Signal Boosters?
Cellular signal boosters have several advantages. They include the following.
Cellular signals improve mobile phones battery life. It is because good network signals require little power as compared to low network signals.
Remote areas with weak network signals can still get connected.
You can stay connected, even when driving. 
Bottom line
You now have the right knowledge concerning cellular signal boosters. It is now upon you to choose the best. I will advise that anytime you need to buy a signal booster, check the one that is compatible with various service providers. It allows you to use any network you wish.
Again, contact your service provider to inquire whether they support the machine of your choice. If you find it difficult to install, request for assistance from the company's technicians. Struggling to fix the components might lead to damage and eventual loss. Such damage is not covered by the warranty.