The 8 Best Laptops For Colleges Students Under $500
Laptops have become an essential tool for almost any college student. Laptops are seen to offer aid when it comes to doing projects, writing reports, learning, and so much more services. In the current century, every college student should have access to a laptop; however, this is not the case. Some people lack access to a laptop due to financial constraints. If you are in such a case, then the best laptops for college students under 500 can be a great deal for you.
Getting a free laptop is not as simple as sipping a cup of tea. You are required to go through several steps which can be time draining and requires writing lots of information on why you need the laptop. However, if you can save up and buy a cheap laptop, it will save you the time to go look for a free laptop which is not a guaranteed deal. Despite online colleges that offer free laptops stepping up their game when it comes to such services, not everyone is entitled to get the free laptop.
It is also recommended to buy a new one and avoid issues like malware and backdoor scripts which may be installed on the free laptop. In this article, we have listed the best laptops for college students under 500 which you can buy today at an affordable price. The laptops are from authorized dealers and have perks like a warranty and money-back guarantee. Let's get started!
How to choose the best laptop as a college student?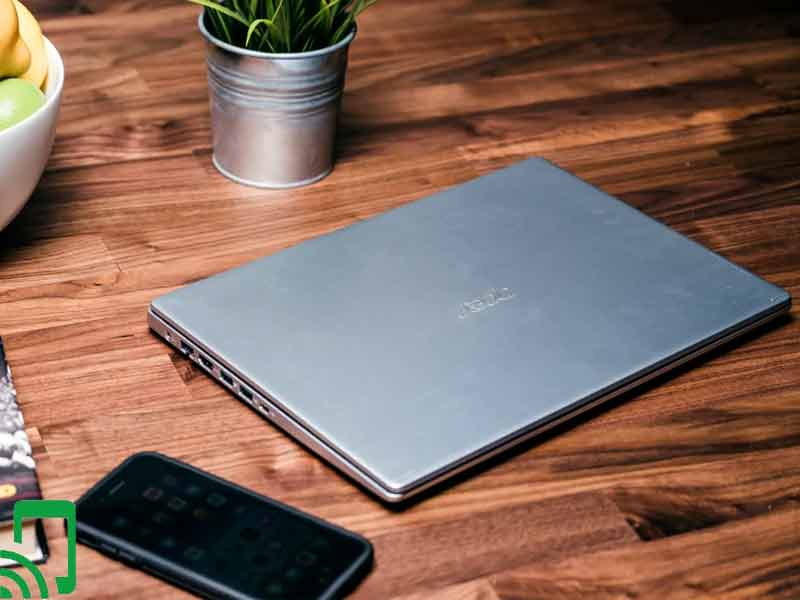 Before you buy a laptop, consider the following:
i) Profession
What are you studying? Does it require installing heavy software that chews up the memory? Consider buying a device with a minimum RAM of 8 GB if you are going to install large software like Adobe and many more. However, if you use the laptops to write reports and watch online content, then a minimum of 4GB RAM is accepted.
ii) Screen resolution
Are you looking to get a laptop that can play high-quality videos with ease and has a high refresh rate? Consider buying a laptop with a minimum screen resolution of 1080p. This will ensure there are no lags and also the pixels will be of high quality promoting vibrant colors.
iii) Warranty
The laptop should come with a warranty for a minimum of 1 year. This will ensure that if there is an issue, you will always get a replacement. Other perks like a money-back guarantee can also be a great benefit
iv) Body build/design
It is recommended to buy a laptop with sleek and sturdy body design. Luckily, most laptop manufacturers have upped their game to provide good body quality which ensures the laptop has a long lifespan.
v) Read reviews
You can read reviews about the product from a verified source. This ensures you get the best product from a verified dealer and limits chances of you claiming for warranty which is a tedious process.
Read More: Buy Now Pay Monthly Laptops.
The 8 best laptops for college's students under 500
1) HP 14-inch Chromebook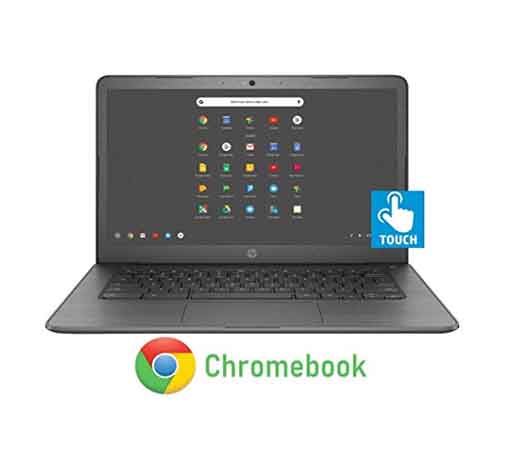 Hp 14-inch Chromebook is a great device for students with lightweight usage activities. The device comes with perks like built-in antivirus protection and so much more. The device uses an Intel Celeron N3350 dual-core with a turbo boost up to 2.4 GHz.
The HP-14-inch Chromebook uses 4GB internal memory and has an eMMC drive. The laptop supports 802.11ACWIFI which is quite fast and reliable. HP-14 inch Chromebook features a built-in media reader for seamless photo transfer and comes with an HP Truevision HD webcam.
The laptop offers a stunning 10 hours battery life and maintains its lightweight despite a massive battery. You also get a 30-day refund if the device is faulty from the day of purchase.
PROS
Has a long-lasting battery life
Sleek body design
High screen resolution
Built-in antivirus
CONS
Chromebook OS does not have a wide ecosystem
2) Dell Inspiron 14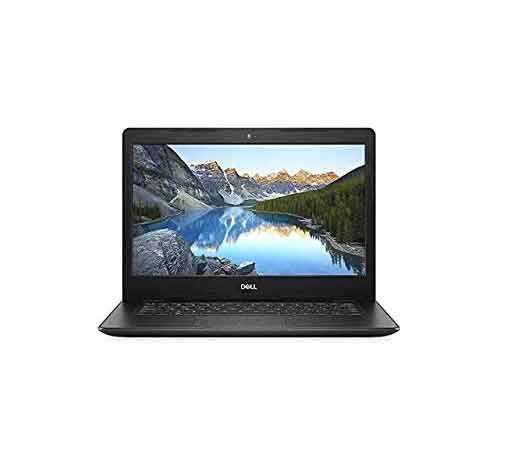 Dell Inspiron 14 is a great option for people who want to install heavy software like Adobe photoshop. The device comes with a 14″ HD anti-glare screen and also features an LED-Backlit. The device is powered by an Intel Pentium Gold 5405U processor.
This processor may not be the best but it gives a good experience when you open a few apps at a go. It has a 128 GB NVMe SSD storage that is super fast.
The device features 4GB RAM that promotes a smooth experience without slowing down. It runs on Windows 10 and you are guaranteed lifetime updates. The phone comes with a 30-day full refund or a free replacement.
PROS
Comes with an anti-glare display
Runs latest Windows 10
Good body design
Stunning anti-glare display
Uses SSD storage
CONS
Not the best battery life
3) HP Stream Laptop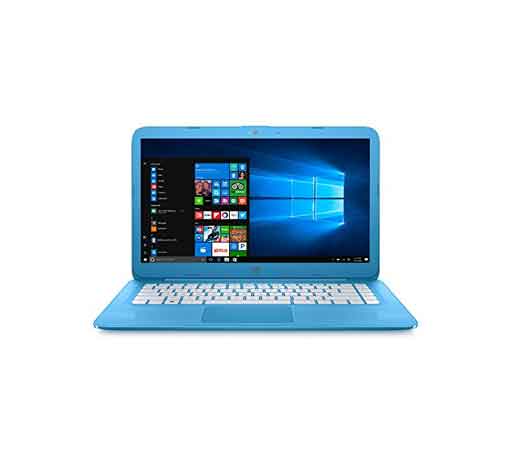 If you are looking for the best budget laptop for Photoshop, then the HP stream laptop may be the best option. The device comes with a stunning design and the body is of high quality. It uses a 14.0″ inch diagonal display which is well lit and has bright colors. The device runs on Windows 10 Home version and you get regular updates from Microsoft.
It also uses an Intel Celeron N3060 processor which is quite fast and reliable. HP stream incorporates 4GB RAM memory and has 32 GB eMMC storage. It supports 802.11 ac WIFI connectivity and also Bluetooth. Battery life is up to 10 hours and 45 minutes under optimization.
PROS
Free Microsoft One drive cloud storage
Has Ample RAM
The battery life is impressive
Good display
CONS
32 GB memory is quite small
4) Lenovo IdeaPad 3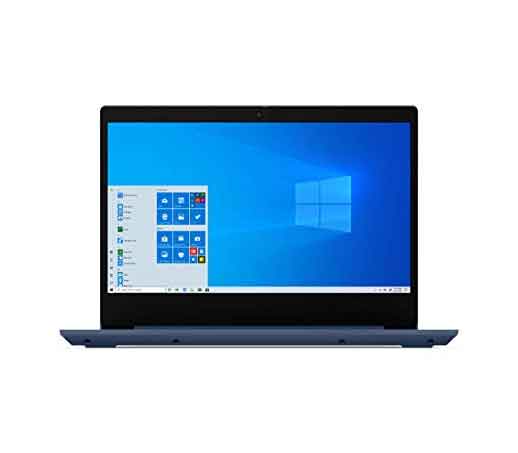 The Lenovo IdeaPad 3 is a great laptop under free government internet and laptops program. If you do not qualify, the laptop can be bought for fewer than 500. It comes with an FHD 1920 X1080 display that has fewer bezels and a wider viewing area.
It comes with an AMD Ryzen 3500U which uses Radeon graphics to deliver stunning performance. The device uses Dopoundsy Audio which delivers high-quality sound. The device has a Q-control feature that lets you switch between fast and powerful performance.
It supports Bluetooth 4.1 and has up to 2 x 2 WI-FI 5, 3 USB ports, and an HDMI port. It also comes with a physical shutter that lets you close your webcam and avoid privacy infringement.
PROS
Uses DDR4 RAM
Has a powerful processor
The FHD is amazing
Privacy is guaranteed
5) ASUS Chromebook C202 laptop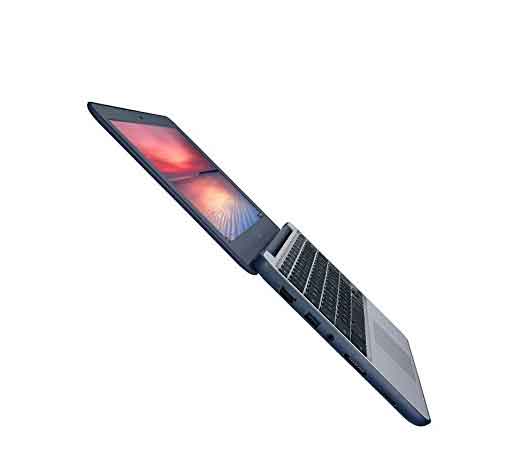 If you are looking for a lightweight laptop with many cool features, consider buying this product. It comes with a cool body build with a 180-degree hinge and spoilt and resistant design. The laptop runs on Intel Celeron N3060 and uses 4GB RAM. It also features 16 GB eMMC storage.
Despite lacking an FHD display, the display is still huge. The device runs on an Intel Celeron N3060 processor that can push up to 2.48 GHz for snappy performance. The device runs on Chromebook OS and has perks like top-notch security and comes with automated updates. It is also lightweight hence running apps smoothly.
PROS
Chromebook OS is lightweight
Uses a powerful processor
Has a 180-degree hinge
The screen is anti-glare
CONS
Unreliable internal memory
6) ASUS F512JA-AS34 Vivobook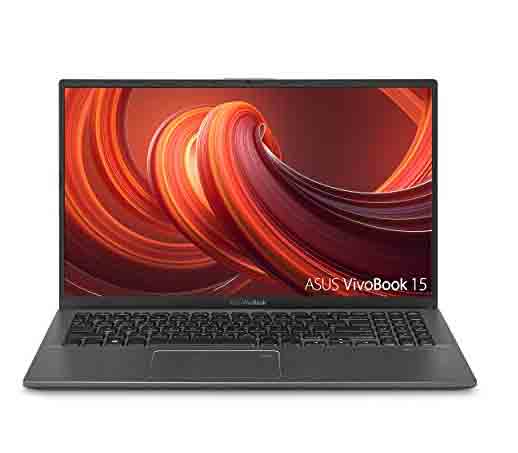 If you are looking for a budget gaming laptop, then this is the right option for you. The device comes in 3 tiers: 10th en Intel 13 CPU, 10th Gen Intel i5 CPU, and 8th Gen Intel i3 CPU. It uses a Full HD 1920 x 1080 display of 4-way NanoEdge bezel display with an 88% screen-to-body-ratio.
The device is compatible with Google Classroom. It runs the latest 10th Gen Intel Core i3-1005G1 CPU that can clock up to 3.4 GHz. It runs on 8GB DDR4 RAM and 128 GB PCIe NVMe M.2 SSD. The keyboard is LED-backlit and has a fingerprint scanner.
PROS
Has a stunning ductile keyboard
Supports USB Type C
Features thin bezels
Supports Google classroom
CONS
Only 128GB memory is available
7) Lenovo Chromebook C320 2-IN-1 convertible laptop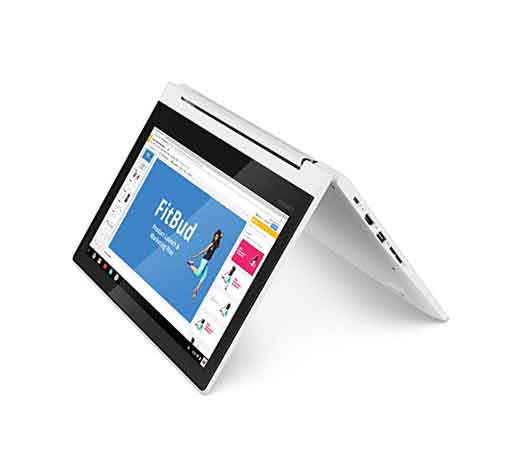 Lenovo Chromebook is one of the sleek devices a college student can consider to buy because it has many cool features. The device comes with an 11.6″ HD display but it has some large bezels. The internal storage is offered on 1 tier, 64 GB. The device uses a MediaTek MT8173C chipset which is arguably fast but not super fast to run many processes at once.
The device comes in Blizzard white color which gives it a distinct look in the light. Lenovo Chromebook c330 has a sleek keyboard that is well spaced and ductile. If the device is faulty upon delivery, Amazon offers a full refund within 30 days of purchase.
PROS
360-degree convertible
Has a powerful processor
It is lightweight
Automated software updates
8) CHUWI AeroBook Pro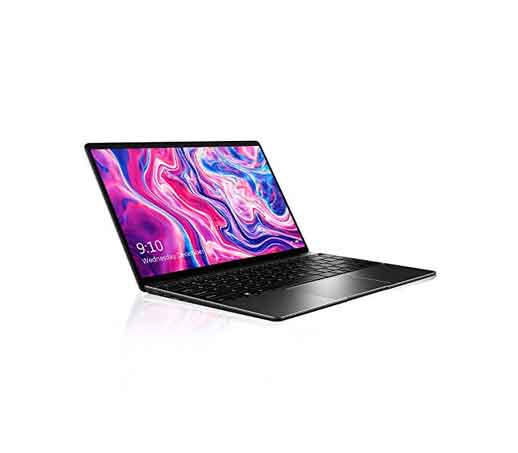 CHUWI is a lightweight device that offers great performance. The laptop features a Full Lamination screen of 1920 x 1080 pixels that features a 90% aspect body ratio and also delivers stunning quality in night mode. The device has Intel HD graphics 615 GPU with 900 MHz frequency that offers a sleek gaming experience. The laptop comes with 8GB RAM and 256 GB ROM which offers a substantial amount of bandwidth.
The laptop comes bundled with Windows 10 OS that offers a sleek performance and gives you a great experience with it's UI. The front camera is of great quality. CHUWI Aerobook is also bundled with either 2.4G/5G dual-band WIFI and comes with the latest Intel 7265 connection.
PROS
Stunning display
It is lightweight
Runs latest Windows 10 OS
The front camera is of great quality
CONS
Some laptops ship with Windows 7
Bottom line
Choosing the best laptop as a college student can be a tough choice if you are not a tech-savvy person. However, by knowing what specs you need for the laptop within your profession, choosing the best laptop is quite simple. Make sure you buy the device from a valid or authorized retailer like Amazon. Buying from platforms like Amazon assures you of a valid warranty and other consumer benefits.