The 8 Best Portable Cell Phone Signal Booster for Car
Cell phone signal boosters help us achieve a full network bar in our cellular devices.  There are many types of cell phone boosters for home, office, schools and many other institutions. The boosters deliver amplified network signals to your device in networks where there are network issues. If you have a network connectivity issue in your car, then you should consider a portable cell phone signal booster for a car.
These boosters are unique compared to the cell phone boosters for home but they are used specifically for a car. The boosters can be easily carried from one car to another or be switched from one position to another within the vehicle creating lots of efficiencies when it comes to using it. It is very simple to set-up and the only time-draining task would be to install the antenna. All the car boosters work under a 50 dB transmission rate in accordance with the laws set by the FCC If a portable booster for a car works beyond that, you should report it to the FCC or return it to your buyer.
If you are in dire need to have a portable booster for your car, then this article is for you. You will learn how you can set-up the device; register it with your service provider and how to install it. You will also learn more about the 8 best portable boosters for cars which are verified by the FCC. Read ahead to learn more!!
What causes poor cell phone signals in a car?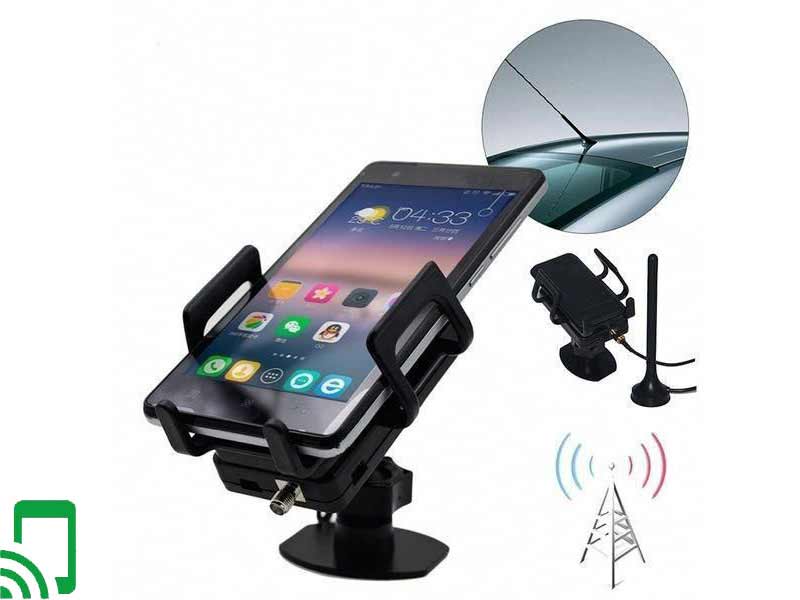 Here is what influences poor cell phone signals in your car:
i) The distance of cell tower
As you use your car often, you may be going to areas where the cell tower is very distant from you. This will make you receive poor cell phone signals and it may lead to poor cell phone signal and that's where products like Cell fi, Boost mobile or Verizon cell phone signal boosters step in.
ii) Materials used to design the car
Materials like glass and metal are known to cause network interference, especially in 4G networks. This will make you experience low signals in your car and also if your car is made of heavy metal and no windows, you are likely to experience no signal at all.
iii) Number of cellular phones
As the number of cell phones rises in a car, network congestion is created. This will, in turn, lead to poor network signals in your car.
What Benefits of a portable Cell phone signal booster?
Not only will you get good cellular coverage but also here are some of the perks;
It is simple to install
Friendly No monthly fees
Most of the boosters have 2-years plus warranty
Works with all carriers and their network technology like CDMA, GSM, and LTE.
How to know if a car booster is verified by the FCC?
Boosters that are not verified by the FCC may cause network interference since the decibels may exceed the recommended one. If you are getting a consumer cellular phone signal booster, you should check an FCC-certified label on the package of the device.
You can also visit the FCC's website whereby they always update information regarding the boosters and how to know a verified one.
How to register a portable car booster with your service provider?
Registering for a booster is done by your cell phone service provider.  If you are on US cellular and you get the US cellular signal booster, you can verify it from their website. Failure to register may lead to network interference. If you find trouble registering it, simply call customer care and they will be able to help you out.
The 8 Best portable cell phone signals booster for car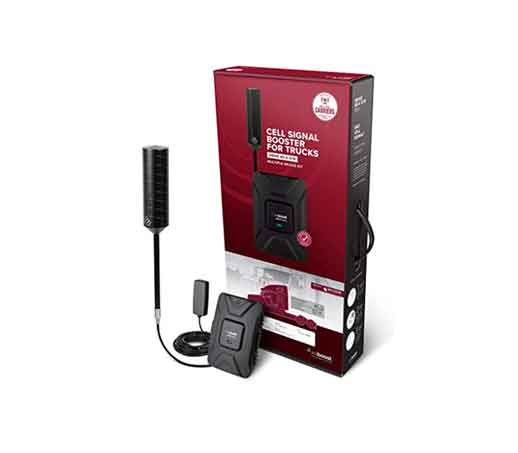 The weBoost drive is primarily a professional-grade in-vehicle booster that can also be used at home since it is portable and easy to install. It has a 50dB gain that is powerful enough to be used at home or in the office. The weBoost drive allows passengers to experience fewer dropped calls, better voice quality, faster network speeds and improved audio and video streaming. It works in both urban and rural areas and is compatible with all US-based cell carriers.
PROS
Boosts signal for multiple devices
Good and improved download and upload speed
Simple DIY installation
Up-to 50dB gain
CONS
It does not work in a motor home
Poor internet performance
2) SureCall n-range booster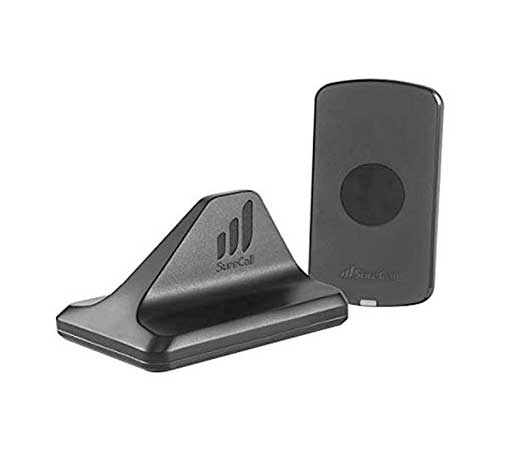 The sure call N-Range booster is a convenient lightweight and hands-free device basically designed for vehicles ( cars, SUVs, trucks and even RVs). It has a power consumption of <12W and supports all cellular standards. It has an input/output impedance of 50 Ohm and a maximum gain of 23dB. By eliminating signal loss before amplifying the signal, the N-Range booster can maximize performance in both urban and suburban environments.
PROS
Boosts signal strength for all signal types including 4G LTE
Quick and easy 3-step installation
Reduced missed and dropped calls
It is compatible with all cellular powered devices
CONS
It can only enhance the signal of 1 device at a given time
3) Phonetone cell phone booster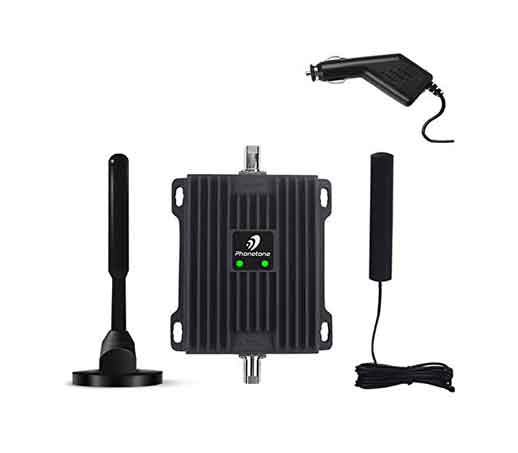 The phone tone is a 3G and 4G LTE signal booster with a 5-bar signal guarantee that is ideal for both rural and urban areas. It has no recurring fees and is FCC CE certified. The phone tone developers have been in the industry for more than 10 years now so that would give you a guarantee of an improved device. It also has automatic gain settings and comes with a 50 feet RG 58 cable and extra 20 feet for an indoor antenna.
PROS
AN Intelligent LED indicator that confirms proper functioning
Has a 5-year warranty
It comes with a bracket to mount on the pole
Has activated signal strength as soon as a call is initiated
CONS
The setup is quite hard and complicated
4) Proutone cell signal booster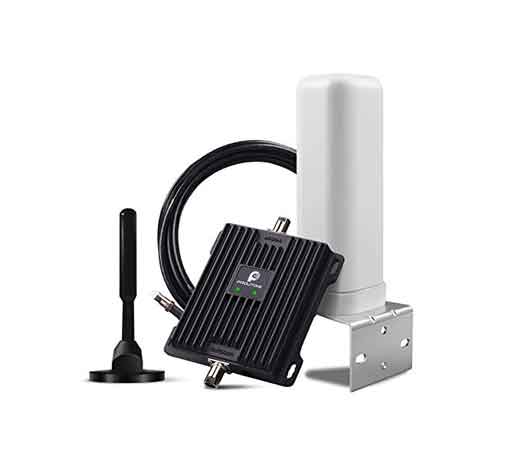 The proutone cell signal booster is a 4G LTE cell phone signal booster. It is FCC ID authentication certified, small, light in weight and is a beautiful repeater. The booster works with carriers with 700 MHz, including T-Mobile, Verizon, Sprinter, and AT&T. It has a 45dB gain that is strong enough to provide a stable signal for multiple devices inside the vehicle. Can be used widely in cars, SUVs, motor-homes, truck, van or boat.
PROS
Automatic gain controller
Improved 4G LTE signal of up-to 35X faster uploads and downloads
Has the inactivity mode achieved an energy saving of up to 30%?
Satisfaction guarantee
CONS
5) weBoost drive sleek 470135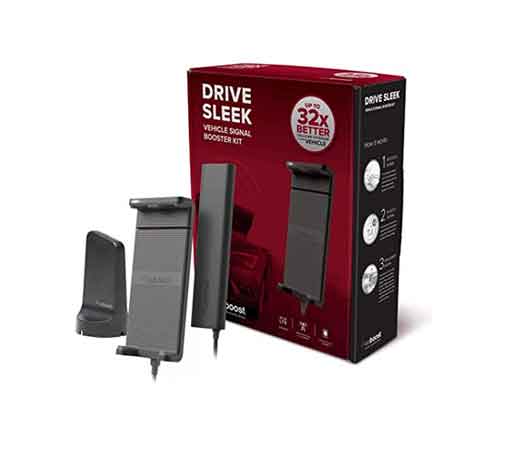 The drive sleek will help you improve your cell phone's usable range and 4G LTE data speeds. It has the most powerful and versatile cradle cellular signal booster. The cradle design can hold phones and cellular hotspots up-to 7.5 inches long and as small as 5.1 inches. weBoost drive sleek is compatible with all US cellular networks including Verizon, AT&T, Sprint, T-Mobile, US Cellular, Straight talk and many more.
PROS
It is easy to install and setup
Comes with a 2-year warranty
It is 5G ready
Up to 2 hours of additional talk time in weak signal areas
CONS
It does not have noticeable signal strength
6) SureCall fusion2go 3.0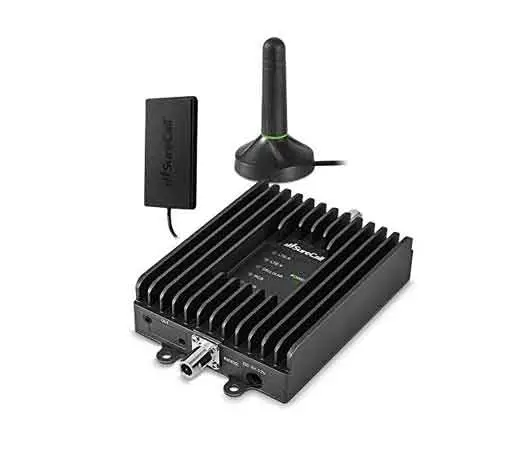 SureCall Fusion2Go 3.0 provides the maximum gain and power possible for an in-vehicle cell phone signal booster, ensuring seamless connectivity for all users inside any vehicle. The 2XP technology provides twice the signal power to the tower for maintaining reliable signal further into the fringe of all cell networks and beyond. This enables the users to remain connected throughout the weakest cell signal environments.
PROS
Supports multiple simultaneous users
The 5G phone is compatible
Maximum gain and power throughout the most remote areas of the road
CONS
No ability for the device to increase the cellular range
7) DUAL 700 MHz BAND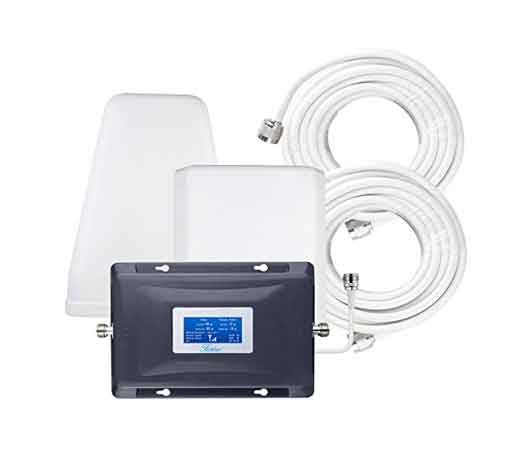 This device can improve 4G LTE voice and data signal for Verizon band 13, and AT&T mobile band 12/17. The booster can sense the cellular environment intelligently and adjust for maximum signal performance. When no user calls, the booster works in standby mode so as to save energy. It also has an intelligent LED light indicator that confirms proper functioning.
PROS
Quick and easy setup
Performance guaranteed
Supports multiple users
CONS
Slow to capture the signal
8) SureCall Fusion4Home Cell Phone Signal Booster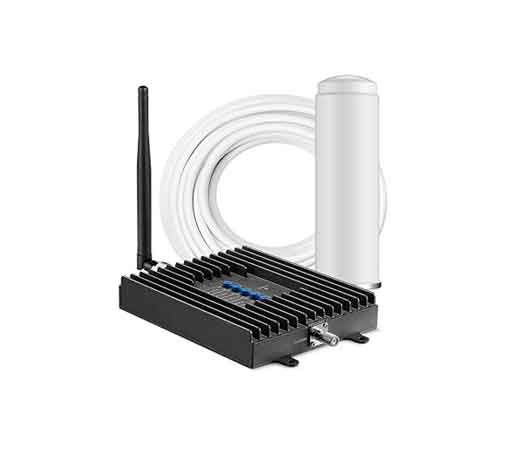 This portable car cell phone signal booster works like a charm. It is Omni-directional and can cover up to 2500 sq.ft. The device is very small and easy to carry around. The booster has a 3.2-star rating out of 5 and it supports multiple carriers across the US.
The booster also has an automatic gain control feature that is able to offer automatic adjustments to give you the best network coverage. With the 50 dB gain amplification, you are assured of reliable amplified signals straight to your device.
PROS
Works with all US carriers
Easy to operate
No contracts
Bought at a complete kit
CONS
Bottom Line
From this article, you can now get the best cell phone signal booster for a car in very simple steps. They are completely portable and easy to set up. Also, all the boosters mentioned in this article are of high quality and are verified by the FCC plus they have a warranty. Lastly, make sure to register the booster with your service provider. The process is done on their website and only takes a few minutes.