Is T-Mobile GSM or CDMA? Full Reviews
T-Mobile is the third largest mobile service provider in the US. Not only do they provide their services in the US but Also in the European Union, UK, Romania and many more. The T-Mobile uses a very reliable network coverage that covers up to 98% of Americans across the country. As for their networks, you may have heard of CDMA or GSM when you wanted to buy a new phone or simply bringing your own device to T-Mobile.
The confusion is quite common among many people with regards to these two types of networks. The GSM and CMDA are the widest used networks in the mobile communication systems. That leads us to the big question as to whether T-Mobile is GSM or CDMA?
This article tends to dig deep on this question and by the end of it; you will know whether your device is compatible with T-Mobile and other exiting information about the company. So, I suggest you scroll ahead for more information about this network. You can also check out their website or refer to their community forums for more details.
Which network technology does T-Mobile use?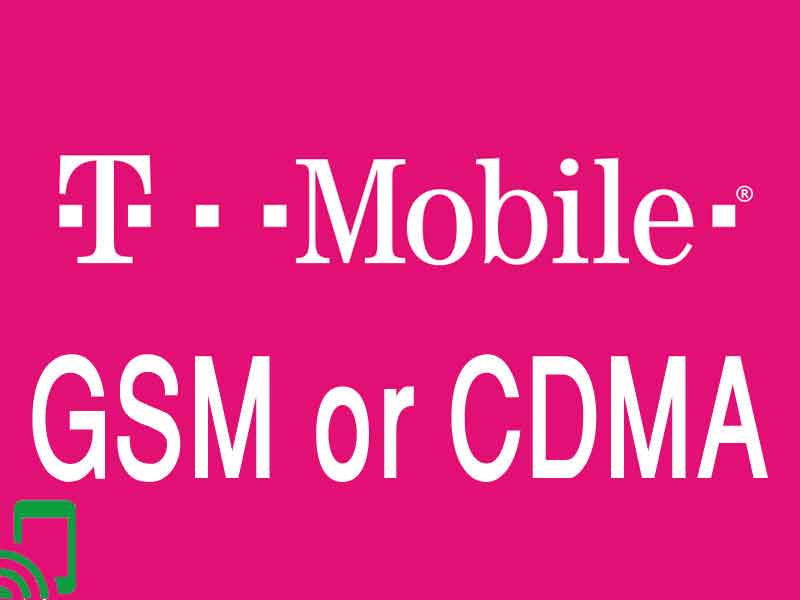 There are four standard service providers in the US; T-Mobile, AT&T, Verizon wireless and Sprint mobile. Some of these service providers use the same network technology while others use a different type.
As for T-Mobile, it connects its customers with the GSM network technology. GSM or rather Global communication systems in full is one of the widest used network types across the Globe.
By GSM being used globally, you get a wide range of phone compatibility since manufactures will tend to lean on the network type that is used by many service providers.
Aside from T-Mobile using GSM, they have also embraced the LTE or rather 4G network which is also a derivative from the GSM network types.
How to know if your phone uses GSM in T-Mobile?
This is another way to know whether your device is compatible with T-Mobile or not. To know whether it is compatible, T-Mobile uses an IMEI checker which is integrated to their website.
To know your IMEI, simply navigate to settings and go to the "about phone" option. You can also dial *#06# and you will get the IMEI number in real time.
Can a CDMA phone work in T-Mobile?
If the device uses 4G networks and it is based on CDMA, it will still be compatible with T-Mobile's network. LTE is a network which all the carriers around the Globe have embraced and also any new Smartphone made is 4G compatible.
So, if you plan to bring your own device at T-Mobile, then make sure that it is 4G compatible.
Can any phone have both GSM and CDMA?
For this case, the device should be 4G compatible. 4G brings a common table to both CDMA and GSM. There are also other devices which use 3G networks and will work with both GSM or CDMA. However, most of these phones are either locked to one carrier or not easy to find.
How reliable is the GSM network technology at T-Mobile?
As I mentioned earlier, GSM is a widely used network technology across the Globe. The GSM is very important since it gave birth to the new and better LTE network type.
At T-Mobile, GSM has proven to be very efficient and many people say that it works for them perfectly. Also, T-Mobile uses high end equipment's for the simulation and distribution of this network to its people. With high quality equipments, you will never be disappointed on their network.
How reliable is T-Mobile's network coverage?
T-Mobile offers nationwide coverage that covers up to 99% of the country. They have received several awards for their relentless work in ensuring that there is stable network coverage across the country.
Whether it's a rural area T-Mobile got you covered. However, not all places may have sufficient or stable network coverage. If you are in such a place, then considering a home or office cell phone signal booster may do great help to you.
What do people say about T-Mobile's network technology?
Most people are not considerate or rather interested in getting to know how T-Mobile's network works. However, most people agree that their network connection is very efficient and they have not had any dropped calls, slow internet or poor signals in general.
You can also check out their community forums for more discussions regarding whether the reliability of the network. Also, this will help you to know whether the network is reliable within your primary location.
Which smartphones use GSM at T-Mobile?
Almost all smartphones which use 4G network will work at T-Mobile. However, if your device uses 3G networks then it should use the GSM network technology.
Some of the brands you are likely to bump in to include the following;
iPhone
Motorola
LG
HTC
Nokia
Huawei
Samsung
If you plan for BYOP but your device is not compatible, T-Mobile offers the best unlocked phone deals whereby you can get a phone at an affordable price.
Bottom Line
T-Mobile is a very reliable service provider that offers affordable plans and deals across the country. The network technology, GSM is very reliable and they also allow 4G networks which brings a lot of diverseness regarding their phone compatibility. If you happen to have any questions, you can always rely on their customer care which has received several rewards.
If you are planning to switch to T-Mobile, make sure to check on phone compatibility and if there is any question, visit their retail store for further assistance. Millions of people are using T-Mobile and they all seem to be happy with their network and you too can start enjoying their services by simply signing up today!