The 10 Best Cell Phone Plans for Seniors
In the recent past, many companies and organizations have come about with several ways to enable seniors to get connected with regards to cell phones. There has been the provision of clarity phones, the jitterbug phones under Great Call, and most of all, AARP programs. These programs have enabled seniors to get good smartphones, but the big question is, do they use the best cell phone plan for seniors?
Currently, companies like Verizon, T-Mobile have rolled out exclusive deals for seniors mostly at the age of 55 and above. They offer cell phone plans with good discounts, for example, the AARP cell phone plans for seniors and many more. This makes it easy and appealing for seniors who do not wish to spend much on cell phone plans.
If you have any health disability, there are some phones that allow the customer to easily contact a hotline, which will be able to assist you. Such phones are popularly known as jitterbug phones. So from this, you can be sure seniors are never left out when it comes to advancement in tech. Seniors do not only deserve an affordable cell phone plan, but also they need a good phone. There are manufactures that have specialized in providing the best cell phones like Clarity phones for hearing impaired or just good and affordable smartphones. Once you read this article's info, you will get to understand some of the best service providers to use, the best phones to be used, and many more.
How to choose a cell phone plan for seniors?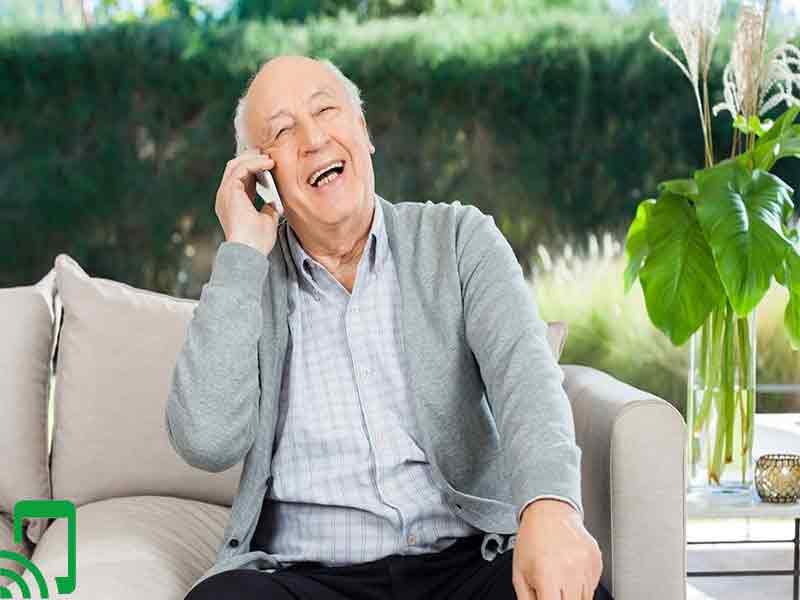 Cell phone plans for seniors are unique compared to other plans. With this in mind, some few guidelines need to be rolled out and some of the best options to look at include;
Network coverage
Unless you are opting for a free government phone, you need to choose a carrier with nationwide coverage. There are two types of service providers; standard operators and Mobile virtual network operators. As for the US, it has five standard network operators with nationwide coverage while the MVNOs lease network from them. This means that most MVNOs offer nationwide coverage, and if you find one that does not, you should think twice about what they offer.
Affordability
The cell phone plans available should be at a good price range to avoid scaring away seniors from opting for it. Many seniors are only looking for simple plans with talk, text, and data only. So this means that the plans should be very affordable. Most service providers are issuing specific plans for seniors, so the competition is quite high. This means finding an affordable plan will be very easy.
Customer care
The service provider should have a24/7 customer care that will help you in case of any issue. Also, their contact number should be toll-free so that if the customer lacks minutes units, he or she can easily contact them.
These are the three major things that a senior should consider before buying a plan. Also, remember to always check out some reviews like the AARP cell phone plan reviews to learn more. You can also leave a review of what you think about the carrier.
What phones can a senior use under the cell phone plans for seniors?
As mentioned earlier, there is a bunch of phones which range from the flagship, mid-range, and hearing impaired phones. Currently, many seniors, especially those of 80 years and above, prefer a hearing impaired phone. This is because the phones have an ample sound system. Some of the phones for hearing impaired include;
JekaVis Bug button cordless phone
Emerson
Yealink, and many more.
However, if you are more of a digital perspective then you should consider buying a phone from the following brands;
Huawei
Nokia
Samsung
Apple
LG
Motorola
The phones can be bought from several service provider retail stores. You can also buy them from retailers like Amazon at an affordable price too.
The 10 best cell phone plan for senior
Below are the 10 best service providers that offer the best cell phone plan for seniors. You can also apply for a cell phone plan from their official website or by making a paper application in their stores;
1. Sprint Mobile Cell Phone Plan for Seniors
First on our list is the Sprint mobile, which has been in the market for quite a while. The company is known best to offer reliable network coverage and at the same time, affordable plans for everyone, not only seniors.  The Sprint mobile senior plan is known as Unlimited 55+.
It comes with a wide range of features that you will truly love. For you to qualify, you have to be 55 years and above and show documented proof. There is not much documentation or the complicated application process. Once you show the age proof, you are good to apply for a plan. The plan includes the following;
Unlimited text, talk and data units
Unlimited mobile hotspot
Streaming video in SD quality
Global roaming for over 185 countries
Gaming speeds up to 2 Mbps
Music streaming up to 500 kbps
As mentioned earlier, the plan is very affordable, and it all depends on the number of lines you want. One line costs $50 per month, and if you buy another line, you will only pay $20 for the second line only if you use AutoPay. Visit Sprint's website to apply now
2. GreatCall Cell Phone Plan for Seniors
Second, on our list is the renowned service provider, GreatCall. The company has partnered with several phone vendors to provide both affordable phones. At GreatCall, they provide two major phones, which are the jitterbug smart 2 and the Jitterbug flip phone.
Both phones are of high quality and have a vast array of features. As for the plans, GreatCall provides its new and existing customers with several plans which they can choose from. The GreatCall use Verizon Jitterbug network, so you are assured of nationwide coverage, even in the remote areas. Below is a price listing of their plans;
250 minutes for $14.99 per month
1000 minutes for $19.99 per month
2500 minutes for $29.99 per month
Unlimited talk and text for only $39.99 per month
For those who want data, the plan starts at 100 MB for $2.49 and $15.00 for 2.5GB at the maximum. You can visit Greatcall.com to apply now.
3. Cricket Wireless Cell Phone Plan for Seniors
Cricket wireless is one of the most vibrant MVNOs across the country. They offer the best and well-outlined plans in the market, which you will truly love. The plans are not fully meant for seniors, but you can easily find a way through their vast array of plans.
They also offer nationwide coverage since they lease networks. In terms of Cricket wireless phone compatibility, they offer a wide array of compatible phones which you can choose from. You can also bring your own phone as long as it is compatible with their networks.
The application for a cell phone plan for seniors can be made online or through a paper application at their retail stores. Below are full details and pricing of their plans;
$25 for unlimited talk and text but no data access
$30 gives you unlimited talk, text and 2GB of data
$40 gives you 5GB of high-speed data and unlimited talk and text
Unlimited everything excluding HD streaming goes for $55 per month
Unlimited everything plus 15GB mobile hotspot clocks at $60 per month
You can start applying by going to their website here
4. Visible Mobile Cell Phone Plan for Seniors
Visible mobile is an upcoming MVNO, and they are known best to offer their $40 plan. This company assures you of free cell phone no money down no credit check, no contract, and mostly, you will never be charged hidden costs. You get to pay for what you only use.
The company does not offer senior only plans, but the $40 plan can be recommended to a senior because it is very affordable. The company does not offer a free phone when you switch; however, it is still worth it to apply considering the affordability.  The plan comes with the following features;
Unlimited talk, text, and data
Nationwide coverage
Unlimited mobile hotspot
No annual contracts and hidden speed
Data speeds are up to 5mbps
The application process is very simple. You can visit Visible mobile site to learn more.
5. Republic Wireless Cell Phone Plan for Seniors
Republic wireless has been in the MVNOs business for quite some time, and they value what the customer needs like the cheap cell phone plan for seniors. The service provider also has an extensive range of phone compatibility. If you love your old phone, you can opt for the BYOP program only if it is unlocked.
They also sell several phones at a very affordable price. As for the plans, they offer very flexible prices, which will cover for those who use smartphones and those who do not. The plans start at $15 per month, whereby you get unlimited talk and text, excluding data.
If you wish to buy data, it will cost you $5 per 1 GB, which seems quite expensive compared to other carriers. However, if you have WiFi connectivity most of the time, then it is best for you to consider their offer. However, Republic wireless offer several phone discounts at designated times of the year, and you will find them very interesting. In terms of customer care, they have a reliable 24/7 hotline number which will help you in case you have an issue or any inquiry
6. Consumer Cellular Cell Phone Plan for Seniors
If you have read about consumer cellular phone for seniors, you may have a clue about the plans they offer. This is a vibrant network which its members compose of seniors as the majority. Their plans are affordable and come with a wide range of phone compatibility which you can choose from.
They also assure you of no contracts and, most of all, hidden fees.  As for the cell phone plans, they are very flexible, and they are all determined by one factor; price. Their plans are divided into two categories; talk plan and the connect plan. Below are more details for the plans;
1) Talk Plan
This offer entails the following;
250 minutes for $15 per month
Unlimited talk and text for $20 per month
2) Connect plan
$5 for 500MB per month
$10 for 3GB per month
$20 for 10GB per month
$30 for 15 GB per month
$40 for 25GB per month
You can visit Consumer cellular site to learn more.
7. AT&T Cell Phone Plan for Seniors
AT&T is one of the oldest service providers in the network business. They offer the best nationwide coverage compared to the rest of the service providers. As for their plans, they are well outlined and very flexible too. You also don't have to worry about extra charges or fees.
Sadly the senior's plan starts at the age of 65 and above, unlike other companies that start at 55+. However, this will not limit you if you are a member of AARP. AT&T, in conjunction with AARP, is offering affordable prices if you are an AARP member.
You get a 10% discount on monthly service and also a 15% discount on some phone accessories. All you have to do is show your AARP membership card, and they will give you the discount. As for the AT&T cell phone for seniors here is what you get;
200 minutes
Unlimited AT&T to AT&T minutes
Data depends on your budget
Unlimited texting
Check out AT&T website to learn more.
8. T-Mobile Cell Phone Plan for Seniors
T-Mobile recently launched its new plan magenta, which has taken the US by storm and also They provide T-Mobile government phone. The plan is divided into sub-categories, which does not only favor seniors but also all Americans.
For status, you get nationwide coverage, and even if you are in a remote area, you will still be connected. T-Mobile uses GSM network technology, so if you plan to bring your phone to T-Mobile, ensure to check out on the type of network technology it uses.
They also sell phones across their retail stores countrywide and also in their online stores. The Magenta Unlimited 55+ plan entails the following;
Unlimited talk and text and data
SD(standard definition) video streaming
3GB of 4G LTE data
5GB of data in Mexico and Canada
24/7 customer care services
No contracts
The plan starts at $35 per month per line. Sadly you do not get a multi line discount, and also, if you use Autopay, you will still not get a discount. Despite this, you still get the best services with this price range. Check out t-mobile.com to learn more.
9. Verizon Wireless Cell Phone Plan for Seniors
Verizon Wireless is one of the epitomes of service providers in the US. The company boasts of several awards for providing the best mobile services across the country. This service provider is also known to offer the best compatible phones for you and verizon wireless government phone.
They have a dedicated 24/7 customer care service that will help you in any needs or inquiries. They have nationwide stores that offer a variety of services to the consumer. As for the senior plan; here is what you get as of 2019;
Unlimited talk and text
SD video streaming
Verizon upward rewards
Unlimited mobile hotspot throttled to 600kbps
Unlimited talk and text to Mexico and Canada
The plan starts at $60 per line, which is quite affordable. You can visit verizonwireless.com to learn more.
10. Freedompop Cell Phone Plan for Seniors
Last on our list is the vibrant Freedompop MVNO. You may have heard and doubted whether they offer free cell phone plans! Yes, they do. You can get a free phone when you switch plus high-speed internet connectivity. This will only happen to qualified States in the US.
They also support both GSM and CDMA networks, so any smartphone will be compatible with them. Sadly they do not offer any unlimited data units, but if they do so, they may have achieved a milestone. The Freedompop plans are also very affordable and start for as low as $9 per month.
They also do not charge any activation fees or extra and hidden costs to your monthly plan. Below is the pricing of their plans;
$24 for 2GB and unlimited talk and text per month
$34 for unlimited talk and text plus 5GB per month
$59 for unlimited talk and text plus 10GB of data per month
You can also go for quarterly or yearly plans which come at a discounted price. The application process is very simple since all you have to do check for availability, and you are good to go. Visit Freedompop.com to learn more about their plans.
Bottom Line
Once you have a good carrier with affordable plans and reliable connectivity, the quest to search for a service provider may be complete. The carriers mentioned above have the best rankings from several organizations, so choosing a plan from one of them will never be regret. Lastly, consider buying a phone that you will be comfortable to use.
You can always consult some friends and doctors if you have a certain health condition like hearing impairment or poor eyesight. This will greatly help in getting the perfect phone for you. Many people fail to read the companies policies, and I would advise you to take time and go through it. By doing so, you will have prior knowledge of what you are going for in that service provider.