The JBL 5.1 Soundbar Review
In simple terms, a soundbar is a long, thin rectangular-shaped bar with speakers. An ideal soundbar is one that has a good pair of glasses and makes the sound crystal clear. Since soundbars are wider than sound bases, the speaker projects sound further, giving you a real home theater effect. With the soundbar, you can mount it either on the wall or place it in front of you. Some manufacturers package their soundbars with a separate subwoofer giving it an extra kick as you enjoy your favorite TV show. Since there are various soundbar companies in the market today, I'll take you through a JBL Soundbar 5.1 review.
JBL Sound systems are well-known to produce high-quality speakers giving you a reverberating movie experience or music session. With the JBL Soundbar 5.1, you can use it as a surround sound system, and you can either choose to Bluetooth connect it with your smartphone or enjoy some music from our favorite music channels. This article will guide you through the various features the JBL Soundbar 5.1 offers and give you some tips on choosing the ideal soundbar. Let's check them out. 
Is it worth getting a soundbar?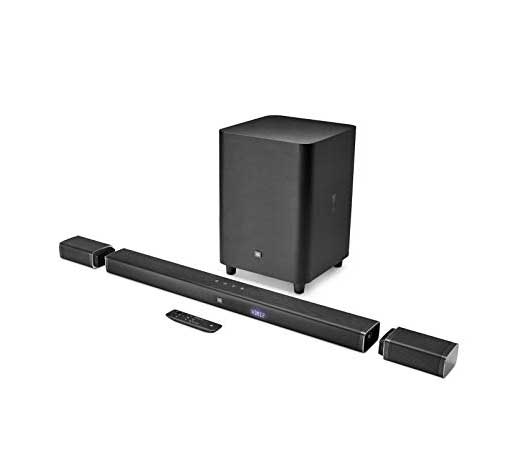 Getting a soundbar is an ideal option, especially if you are on a budget. A soundbar is a perfect alternative if you can't afford a real home theater surround sound system. Having soundbars saves on space if you compare with a home wireless home theater system.
Getting a budget home home theater system, you need to get enough space for at least five speakers, and you will part away with a large sum of money. A soundbar is an ideal option, especially if your TV has a low sound quality, as it will upgrade your TV audio. 
PROS
Wireless subwoofer
Rechargeable surround speakers
Adjustable Bass EQ
Powerful bass depth
Slim in size
CONS
Requires more EQ controls
JBL Bar 5.1 review
Design of JBL Bar 5.1
JBL Bar 5.1 has a sleek design with a chrome metallic trim on the drilled black metal body. With the finished matte black, the subwoofer is large and heavy. It comes with a gravitas that allows it to stand a prop double. The JBL Bar is easy to control with basic controls found on the soundbar for power, volume, and source section.  If you aren't used to the high light, it comes with three dimming levels making it ideal for low light use, and you can quickly turn it off. 
The connection cables' rear access is a little fussy, making it much easier to mount it on the wall. If you are used to plugging and unplugging your HDMI cables, you will be shortening the HDMI ports' lifetime. The soundbar is easy to set up and with the minimalist remote control giving you easy access to audio syncing. 
Features JBL Bar 5.1
The soundbar comes with a subwoofer that gives you a room-filling sound for those who want a minimalist set up at your home. Pro tip: place the end speakers via magnets at the rear end of the room, giving you superb real surround sound. 
The JBL sound systems come with a calibration mic that can automatically set up the sound within seconds. Ensure that you do this once if you place the rear speakers in the same spot in the room. The speakers are battery-powered; no need to worry about that as you can switch into 5.1 modes as soon as you detach them from the power source. 
In case of power shortage, you can use the soundbars for up to 10-hour battery life. It is sufficient, and if you switch to 5.1 modes, you can stream your favorite TV show and then pop the soundbar to the power source and charge automatically.  
Another ideal feature that the JBL Bar 5.1 offers you is SoundShift. The SoundShift feature allows you to play music on a Bluetooth-connected phone or any of the soundbar inputs to interchange the two. If you have connected the soundbars to your phone, it will override the TV input and play your music once you hit play. 
It comes with a few sound mode options such as movie, voice, music, sports, and standard, allowing you to switch the mode to adapt the sound setup to suit what you are watching. If you want a smooth night of chilling music, you can activate the Night mode that reduces the dynamic range to avoid sudden spikes in volume. The night mode allows you to watch in peace without distracting other people in the room with loud outbursts of sound.  
Performance JBL Bar 5.1
In terms of performance, you get to enjoy high-quality audio. Suppose you have a house party, no need to worry as the JBL Bluetooth speakers got you back. The speakers can go loud and give an immersive bass giving you a room-shaking experience. The JBL Bar 5.1 is ideal for movies and music as it gets a subtle bass from the subwoofer, letting you feel dramatic with clear voices and sound effects. 
Once you connect to Bluetooth that you can change the mode from 2.1 to 5.1, the sound systems react quickly and automatically. If you feel free the rear speakers aren't providing a big surround sound effect then you can turn on the "Wireless Surround†on the remote. The mode gives the rear speakers louder sound effects and a balancing effect. 
Wrap up
If you want a minimalist soundbar with an immersion of a surround sound system and Bluetooth enabled then the JBL Bar 5.1 is the ideal option for you. As you have seen from the JBL Bar 5.1 review above, you get to enjoy the big bass sound and immersive and intense movie scenes. The JBL Bar 5.1 is an ideal option especially if you have a slim TV with poor audio quality then it can amplify the audio much better on many levels.