The Hp Color Laserjet Pro Multifunction M479fdw Printer
HP printers are some of the best printing machines you can have for your business. They are durable, easy to use, and very convenient. The HP color laserjet pro multifunction m479fdw wireless laser printer is a machine you can rely on for printing, photocopying, scanning, and faxing. Apart from its elegant design, the machine has amazing features that will make your work easy and enjoyable.
The machine uses laser printing technology that ensures that you get quality documents. Most people prefer laser printers for their offices because the machines rarely smear papers with ink as the inkjet printers do. If you are publishing a book, a magazine, or any other kind of document, then a laser printer will be the best option. Inkjet printers are good for photo printing.
Features of Hp Color Laserjet Pro Multifunction M479fdw Wireless Laser Printer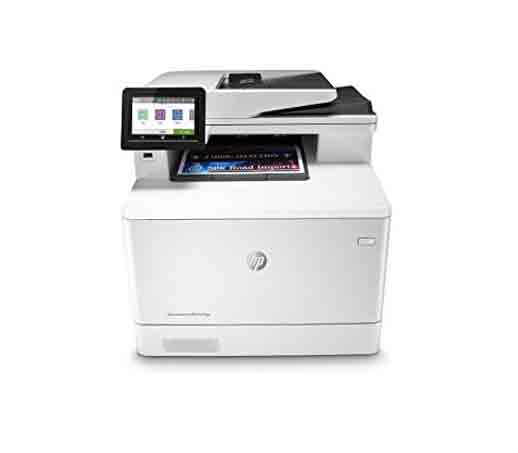 Hp Color Laserjet Pro Multifunction M479fdw Wireless Laser Printer has amazing features that make it a wonderful machine to have in your office or home. Some of the notable features include the following.
PROS
Fast printing speeds
Double-sided printing
Multifunction
Supports wireless printing
Has a touch screen
Produces colored documents
1) Compact design
Although having many items, the machine has a relatively small and perfect shape that makes it easy to handle. Also, it has an elegant design and measures 15.70 x 18.60 x 16.40 inches. It weighs 51.60 lbs, which is approximately 24 kilograms and although heavy, one can lift from one point to another.
2) Multifunction
With this printer, you can print, scan, copy, and fax conveniently. You do not have to buy separate machines for the above-mentioned tasks since this machine will do all. Having a multifunction printer like this helps you to save a lot of money that you could have used to purchase separate machines.  Moreover, you can save space in your working area by just having one machine.
3) Color printing
The machine can produce colored documents hence helping you to print items as they naturally appear. Colored documents are good looking and enticing to read as compared to black and white documents. Even though the printer can produce colored documents, it may not be the best color laser printer for photos.
If you want to start a photo business, you need to get an inkjet printer such as the Epson Expression Photo HD XP-15000 Wireless Color Wide-format Printer. You will be able to print quality photos of various sizes and designs.
4) Data protection
The machine has a high-security mechanism to protect your sensitive data from unauthorized access. It has embedded security features such as optional PIN/Pull printing and instant threat notifications to help you take the necessary actions to safeguard your data.
5) Touch screen
Enjoy operating the machine by touching items instead of using buttons that are tedious for long working periods. The 4.3-inch touch screen is enough to operate the machine with immense comfort.
6) Customizable for complicated workflows
If you have some sort of complicated printing exercise whereby you consistently need a certain layout of documents, you can then customize this machine to always print in that manner instead of setting it for every printing exercise.
This way, you save time for important jobs. You simply save all the steps of a particular printing process in a one-touch button on the touch screen. This makes it one of the best multifunction color laser printers you can get for your office or home use.
7) Two-sided printing
Interestingly, the machine supports two-sided printing that ensures that you save papers that could have been wasted if you printed one side. Dual printing is by default unless you change it to single-side printing. It prints the first page very fast and you can quickly cancel the printing process if the printout is not good. The machine can print approximately 4,000 pages per month.
8) Wi-Fi and Bluetooth enabled
Wi-Fi is a very important feature in a printer. You can print files wirelessly from your computer, smartphone, or tablet. Those gadgets have the WiFi direct whereby you can connect any of the compatible devices with your printer and print files wirelessly.
You can also use Bluetooth technology for wireless printing. It saves you time and also the monotony of connecting cables from your computer to your printer.
9) USB printing
The printer has a high-speed USB 2.0 printing port where you can insert your USB disk and select documents to print from the screen display. This is a very important feature that helps you to print documents even when you do not have a computer or smartphone. It can thus be the best color printer for a home where there are no computers.
10) Energy saver
Do not be shocked by the large size of the machine thinking that it will consume a lot of energy. Unlike the old printers which could consume a lot of power, this machine saves a lot of energy. It is even energy star certified meaning that specialists have tested and confirmed its energy use efficiency.
Furthermore, it has an auto on/off technology that also helps you to save energy. If it stays for long without working, it just switches off and wakes up if there is any activity. Additionally, it is friendly to the environment as it has technologies that minimize paper wastes.
11) Fast printing speeds
You will save a lot of time with this machine since it can print documents at a speed of 28 pages per minute. It makes it a suitable machine for a busy office with hundreds of documents to print in a day. Again, it has a 50 sheet auto document feeder and a 250 sheet input tray that helps in fast printing. Any printer, even the black and white laser printers should have fast printing speeds to ensure that work goes on smoothly.
Bottom line
The Hp Color Laserjet Pro Multifunction M479fdw Wireless Laser Printer is one of the best machines you can have for your office, home, or business-related printing exercises. Being a laser printer, it produces high-quality printouts. Furthermore, its ability to save energy and print both sides of paper saves you money. Above all, the ability to accept wireless printing via WiFi and Bluetooth makes the printing process easy and enjoyable.