The Brother HL L8360 CDW Reviews and Buying Guide
Are you looking for the best single-function printer that can keep up with your printing 1000+pages in a month? Hold on; there is an excellent choice for you. Brother HL L8360 CDW is a respectable printer that has gained a lot of praise due to its versatile performance, production of high-quality prints, and the economical usage while maintaining the operational costs at a minimal level. Overall, this printer has a 4.1 out of 5-star customer reviews rating on Amazon.
According to many Amazon customer reviews; the Brother printer has received a lot of honest and unbiased feedback. Many customers give out positive comments that the printer is the most reliable for high-quality printing prints, speedy printing, dual-sided printing, has an expandable paper capacity, and the latest security features among a long list of incredible features. Also, Brother customer support has received applauds for tirelessly handling customers' queries and complaints.
However, some customers have complained about buffered WIFI connections, but it's clear from the later reviews that the technical team has fixed the issue. Alternatively, you can use the hardwired connection to remedy on the wireless connection issues. Also, reviewers have complained about the lack of a scanner. Furthermore, many people prefer color laser printer for home use as they are no scanning needs in a home setup. However, if a scanner is a must-have for you, check out on Brother MFC-L2750dw.
What Are the Specifications of Brother HL L8360 CDW?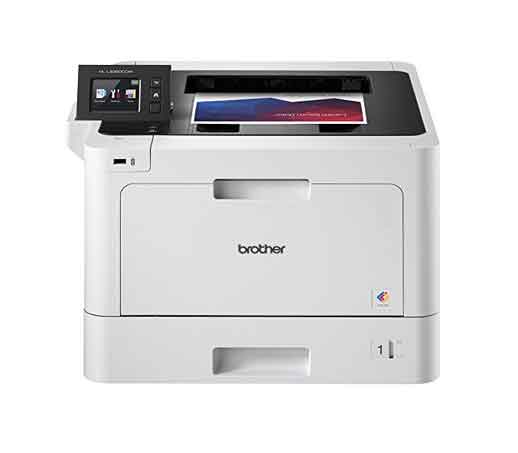 Brother HL L8360 CDW measures 19.1X17.4X12.3 and weighs 48.1 pounds. It produces high-quality prints at a fast speed of up to 33 pages in a minute. However, the printer offers low-cost output due to super high yield 6,500 pages replacement toner cartridges reducing the operating costs.
There are flexible paper handling options that help to minimize refills and save on time spend to do refills. The printer has an adjustable 250 sheet capacity per tray expandable up to 1,300 pages by adding a sheet to the additional shelves.
Moreover, multiple connection options increase the efficiency and functioning of the printer. You can connect wirelessly through WIFI or from your mobile device via USB, or through Gigabit ethernet networks. Plus, this Brother printer has an advanced security feature such as an integrated NFC card reader for secure authentication, and active directory support for network user authentication to protect unauthorized printer access and restrict the number of users at a time.
Interestingly, the brother color laser printer is a very economical tool for your business or office. The automatic duplex printing features two-sided printing that helps saves on money and time. Also, upon activating the Amazon Dash Replenishment feature, you save up to 10% on toner reorders.
The feature will continuously monitor the level of the toner and order more when it's running low. As a result, busy office workplaces operate at peak efficiency, ensuring that you don't run out of toner.
The printer has a 2.7-inch color touchscreen display that helps to navigate easily through the menu and print from popular business cloud services such as OneDrive, Dropbox, Google Drive, and more.
Meanwhile, this device has received a 4.1 out of 5-star rating from 598 customer reviews, meaning it's a right buy quality product. So far, many customers who used the Brother HL L8360 CDW printer gave positive feedback, and others claim that it wasn't a perfect choice since it could only do the printing.
PROS
Automatic duplex printing
Multiple connection options
Expandable paper tray
Color, black and white printing
Speedy, high-quality prints
CONS
Single function, does prints only
The Brother HL L8360 CDW Buying Guide
What Are the Essential Features to Consider?
1) Print speed
Printing speed varies between different laser printers. There are budget-friendly printers that print with a rate of 25 to 50 pages per minute, which is the most ideal for most businesses. However, high-end brands can print up to 100 pages per minute or more. However, knowing your print needs will help you determine how fast you need to print as well as how much do you need to incur for that speed.
2) Monthly output
Printers usually carry a specific workload. Hence, when you match your expected monthly print volume with a printer monthly duty cycle, to reduce the chances of breakdown and repairs. Overloading the printer can result in frequent breakdowns and reduced lifespan of the machine. Manufacturers always include the monthly duty cycle to help the consumers choose the right model.
3) Printer size
If you are looking for a color printer for home and small office, space always matters. Check on the manufacturers listing on the measurements of the printer to have a clear picture of how big or small the printer is. Recently technology has designed smaller LED printers than the standard laser printers. Therefore, it's advisable to know the room size in order to match with the printer dimensions before making a purchase.
4) Connectivity options
Some printers support wireless connection as well as a wired connection. However, a wireless connection is the most reliable for multiple devices or numerous users. Modern laser printers come with inbuilt Wi-Fi or Bluetooth features, but some users still use the hard-wire connection via ethernet or USB. Wi-Fi connection is versatile, but it has limitations for cutting on printing speed. On the other hand, printing speed is much more critical than versatility.
5) Paper handling capacity
When buying for a laser printer, you should consider the paper input in a tray since it determines the efficiency, efficacy, and consistency with which your printer transfer papers from the loading tray and final print delivery. In simpler terms, the more the capacity per shelf, the fewer paper jams, and repairs.  Also, high handling capacity saves time due to fewer paper refills.
Bottom line
The Brother HL L8360 CDW is a great color laser printer for small businesses or individual that only does average printing. When looking for a printer, consider the long term needs and shop outright to avoid buying one device at a time.
If you need a heavy-duty multifunction machine that will print, copy and scan, getting the color laser printer all in one would be the right operational tool for you. Otherwise, the printer under review is the best for a medium set up with massive duty printing with no scanning needs.