The Brother HL L3210CW Digital Color Laser Printer Reviews
You can all agree with me that for your workspace to succeed you need efficient equipment, consistency, and proper management of time. If your office doesn't have such traits, then there will be no productivity, and you will be forced to close down your business hence huge losses. If your office requires a lot of paperwork to be done although the digitization of files, then you need to get a powerful printer for the workload. Having a lousy printer, there will be no productivity in the office, and poor quality output will send a wrong impression to your business people. Are you having a problem choosing the right printer? No need to worry as I have the solution for you and am the Brother HL L3210CW colour printer.
For status, Brother is a well-established company that produces high-quality printers for its customers and creates a variety that you can choose from and suits your workplace needs. Brother is among the top printer manufacturers in the world; thus, you won't get anything else other than high-quality printers for your office.  You can get the best color laser printer for photos if you are a photographer so that you can print quality photos for your eager customers.
If you need the official documents that need to be distributed around, then you can opt for the best black and white laser printer for superb print outs. The Brother HL L3210CW comes with various features that you love and shall increase the productivity in your office. In this article, I shall take you through this printer and highlight the different elements that it has to offer and how you can have maximum productivity in the office. Also, I shall give you tips that you can follow so that you can follow to keep the printer brand new.
What Are the Specifications of Brother HL L3210CW?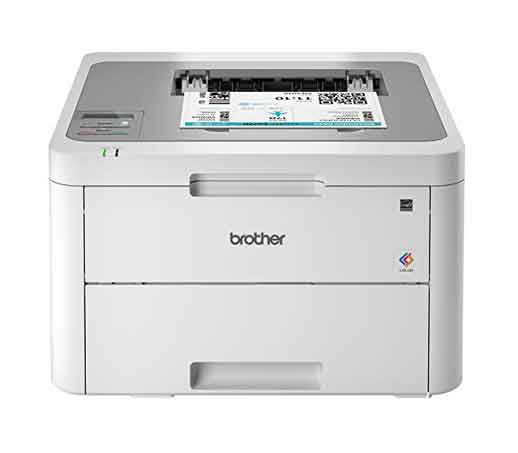 The Brother HL L3210CW is a high-quality printer that comes with a variety of features that can enhance your productivity in the office. Currently, it has a rating of 4.0 out of five stars at Amazon with 1,213 customer ratings; hence you can see it is a printer that up to the task.
The printer is suitable for a small workspace and can be handy if you are on a tight budget that you can opt for the printer. Unlike the other actual laser printer, it is a LED-based machine. With the LED technology in place, it uses an array of LEDs to perform tasks unlike in the laser printer where its mechanism tells the printer where to place the toner on the page.
In terms of paper quality of the printer is 250 sheets as it has a one-sheet override tray that's at par with other major competitors in the market. With a 30,000-page maximum monthly duty cycle with the recommended monthly print is 1,500, it is still up to the task and is unique over the other competitors. Although the superb performance, the printer lacks auto-duplexing and in turn, you have to flip the paper manually so that you can print on both sides.
Although it doesn't have ethernet support, it's connectivity consists of Wi-Fi and connecting to a single PC via USB. Also, you can connect it to your phone and can work with various platforms such as Apple Airprint, Brother's iPrint & Scan app, Google Cloud Print, among others. The HL-L3210CW prints at a rate of 19 pages per minute although it slow as compared to other printers, in the end, you get high-quality printouts unlike other printers with fast printing rate.
In terms of print out quality, the printer consistently churns out well-shaped, legible text with no exception. If you need colored work, then it prints out our set of highly detailed color photos that are well as most laser printers worried about the running costs?
No need to worry as the Brother HL L3210CW helps you save a few bucks. I highly recommend you get them if you have a small office and don't demand lots of paperwork so that you can save on the toner costs, which at times can be costly. Lastly, upon activation, Amazon Dash Replenishment measures the toner level and orders more from Amazon when it's low.
PROS
Fast printing
High-quality print-outs
Versatile
Respectable paper quality
CONS
No auto-duplexing
Average graphics print quality
How to maintain your printer?
Once you purchase, your printer, you need to be careful about how to handle and how to maintain it to avoid high charges of repairing the printer again. Below are a few tips that you can adhere to so that your printer can remain brand new.
1) Clean the insides
You need to clean the insides regularly so that dust doesn't accumulate in the printer. Due to the dust, it can cause the printer not to perform efficiently, thus reducing productivity in your workplace. You can use lint-free cloths that are slightly moist to wipe off the dust. Don't apply much pressure on the parts as you might damage it.
2) Clean the print head
Clean the print head at least once a month. You can remove the cartridge and clean the head with warm water and let it dry completely.
3) Replace cartridges before they dry up
Ensure that you change the cartridges before they run dry. Once you get the alert of low cartridges, then note it and get the cartridge as soon as possible.
4) Keep the manual safe
Keep them safe so that you can refer to them once the maintenance light pops up at which sometimes you can have no clue of what the problem is.
5) Choose quality cartridges
You need to get the right refill and a quality cartridge for smooth operations. Getting a low quality which at times is cheap can have an impact on the printer's hardware.
Bottom Line
As you have seen, the printer comes with various features that can aid in productivity in your office. Although it comes with several flaws, still the printer is capable of the task, and you can perform various functions in the office without any inconveniences.
You can get the printer from Amazon, and you can check it out by clicking the link as at Amazon, you can get the product at a significant discount. Also, it shall be delivered either at your apartment if you work home or workplace at a low shipping fee. Feel free to leave your opinions in the comments section as we shall highly appreciate it.