Why Should I Buy a Black and White Laser Printer
Hello there! Have you been looking for the best black and white laser printer but still you have not found the perfect printer for you. There are dozens of companies producing printers, and some are of good qualities while others, they are just bogus. Buying a printer takes a lot of considerations in place since it is something you will use every day. 
If you get a good quality printer, you are assured of high-quality print outs with regards to documents or photos. This will also create a good impression if you run a business and present your work to customers or an organization, something which most people do.
Printers are assumed to be very expensive, especially if they have some top global company labels. However, this conjecture is entirely wrong. The best color printer for home can be bought at a low price, and you also don't have to get it in second hand. The highest price can be around $300, and it comes with a toner cartridge included to it. So a person thinking that printers are expensive is not a factor to consider. You can also do a printer upgrade if you think the printer you are using is old. 
The Features of Black and White Laser Printer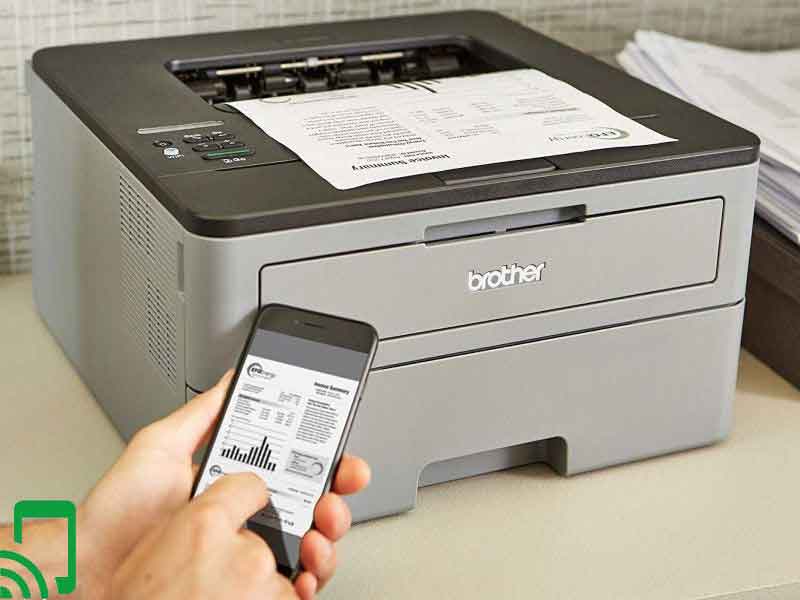 The unsurpassed option is to sell off your old printer on a yard sale or in various online selling platforms that allow second-hand products. This will also help you, gunner, enough money to get a new printer.
In an overview, suitable printers have the following features;
Can print 19 pages at the minimum
They have a mobile App for customizing it
The printer should be made of durable plastic or carbon
Cloud and mobile printing should be available
The printer should be compatible to your home or office setting
These are the rudimentary things you should expect from a black and white printer. Here are the five best printers you should look. 
The 5 Best Black and White Laser Printers
1) Brother HLL2395DW Compact Monochrome laser printer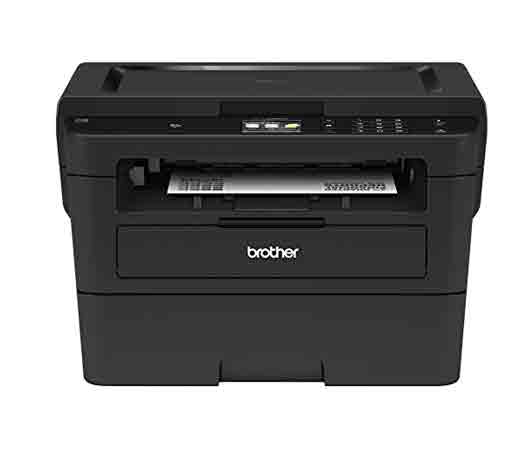 The Brother Monochrome printer has a vast array of features which you will definitely love. It is known to offer the best energy-saving capabilities compared to other companies. If you are looking for speed, this printer has got you covered. 
The printer can print 36 pages per minute which is better compared to other printers that only print around 19 pages per minute. The copy resolution is 600X600, which is quite good since you get that HD touch to your photos and papers. I mentioned earlier that Brother compact saves on energy significantly.  
The power source is AC 120V, and frequency ranges from 50 to 60 Hz. You will also never experience overheating if you use the specific type of printing papers. The wireless, mobile, and cloud printing is quite fast too. Your documents are very secure when you use mobile printing while the printer is connected to a public network.
PROS
It has scan driver compatibility
The user interface is amicable
Cloud printing is fast and secure
The printer is energy-saving certified
2) HP LaserJet Pro M402dw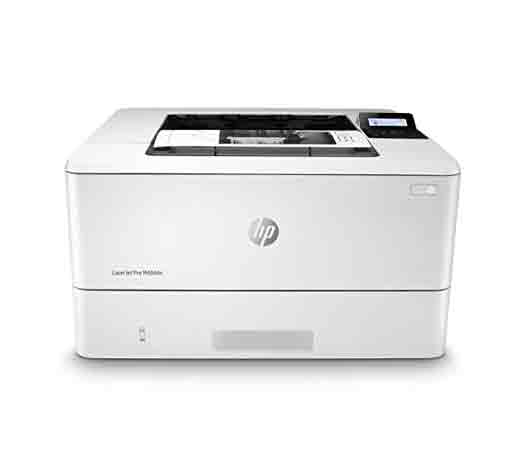 If you are looking for efficiency and compactness in a printer, then the HP LaserJet pro got you covered. This can be the best color printer for home due to its vast array of features and the size of the printer. The printing speed clocks at 39 papers per minute and you get an extensive variety of options in terms of the paper sizes. 
The color mixture for photos is quite impressive since it gives you that HD feeling in your photos. You also don't have to worry about shopping for Toner again since once the printer is activated, it measures the Toner replacements and does smart auto reorders. 
For workgroups, the printer can work with ten people and can preprint around 4000 pages, and the sheet tray can accommodate up to 350 sheets. Cloud and mobile printing are swift and very secure against cyber threats in cases where the printer is used in workgroups. The printer also uses an original HP cartridge; hence, it can last longer and also get sharper images and texts while printing.
PROS
Does not overheat
The body is built out of durable plastic
Mobile and cloud printing is fast
Your documents and photos are kept safe from security threats
CONS
Keypads take some time to respond
3) Samsung ProXpress M3820DW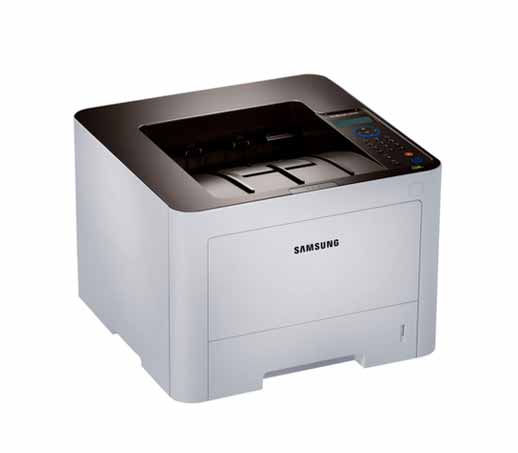 Samsung Electronics is known to offer the best services when it comes to phones, laptops, and even printers. As for the printers, the Samsung ProXpress is something you should really opt for. The printer is ideal for both home and office use, but it cannot print large numbers of pages. 
You get sharp texts and images with the original Samsung Cartridges which take about 10, 000 pages. Cost expenses are also significantly reduced when you use this printer. The printer offers lower toner usage, which is quite effective in saving you that energy bill. 
There is also a print management feature whereby your printing schedule is controlled to avoid documents from being printed continuously. The printing speed is also very fast depending on how you have set your energy-saving mode. 
The printer can print up to 40 pages per minute, and the paper input is up to 820 pages. In a month, you can print up to 2500 pages. At Samsung, you get a one year warranty, so if the device has any malfunctions, you can contact them for assistance. 
PROS
Cloud printing is quite fast
It has an energy-saving mode feature
You get a one year warranty
The printing speed is breakneck
Quality of printed papers is high
CONS
Print management tools are prolonged
4) Canon imageCLASS LBP214dw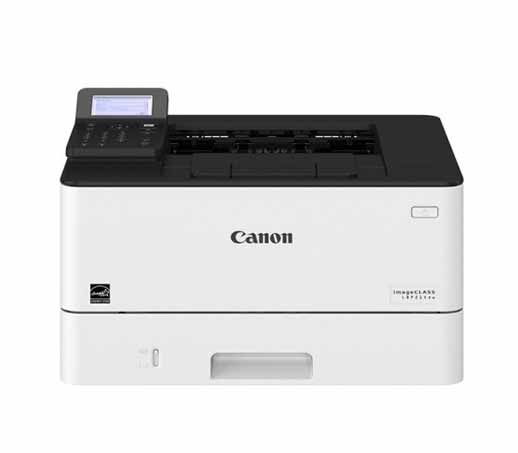 The use of Monochrome Laser printing is very efficient while using this Canon printer. The printer has the ability to print out around 40 papers per minute, and the paper tray can hold up to 250 sheets. The printout quality is very high, according to several Amazon reviews; you get a clear and sharp text with this printer. 
Also, it uses original Canon Toner cartridges to deliver the best sharp texts into papers. It has a mobile and cloud printing feature whereby you can be able to print straight from your mobile phone without the need of using Ethernet cables or USB cables.
The printing speed is fast in both wireless and wired printing. Another feature is that your documents are safe when the printer uses wireless printing mode. The energy-saving for this printer can be customized but remember at energy-saving mode, and the performance will be quite slow. The printer is made up of strong carbon to ensure no damages are done in case it falls.
PROS
It has a user-friendly interface
The printing speed is fast
It is very easy to set-up
Your documents are encrypted if you use wireless printing
CONS
The mobile app takes some time to respond
5) Brother MFCL2750DW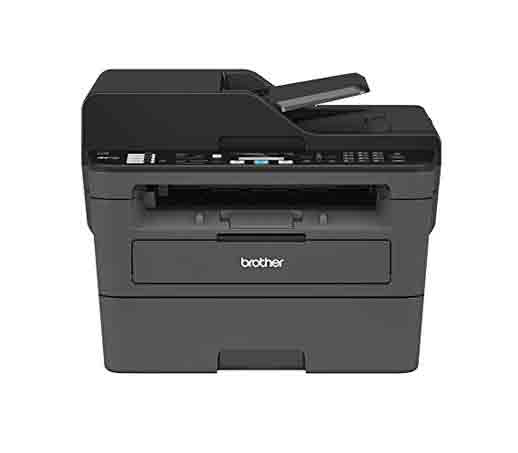 If you are looking for the best multifunction color laser printer, then this is the best printer for you. First, the printer can print up to 36 papers per minute at a resolution of 600X600 dpi, which is quite refreshing. The maximum document enlargement is 400% while reduction is at 25%. 
This makes it easy when printing business cards or increasing the hues of an image. The printer comes with one cartridge that can handle up to 700 pages. You also get a drum of ink which can print out up to 12000 pages making it very reliable. 
The printer has a display of 2.7 inches that allows you to make some changes before going to print a document or customizing the energy-saving mode. To prove that the printer can save on energy, you get an energy-saving star which is certified. 
The sound emission is very low, creating a suitable office environment. Mobile printing can work for Android and Apple devices, plus your documents are encrypted against any security threats.
PROS
The user interface is amicable
Operating temperature is quite low
The printer is energy-saving certified
You get an excellent LCD to customize the settings
Bottom Line
Choosing a printer can be quite easy if you know what you really want. The printers mentioned above are of high quality and have a good rating from Amazon. Getting your printer from Amazon comes with a lot of great benefits. First, all the printers come with Amazon dash toner replacement whereby your printer can do smart auto reorders when the ink is about to deplete. 
This means you are able to save on money to be spent on buying toner cartridges. Remember also to choose a printer that has an energy-saving mode feature which can be customized. With this, you will shred of the high monthly bills on electricity and still get excellent performance on your printer.