The Epson Workforce Pro WF 4630 Review
The workforce pro is a heavy-duty all in one printer that produces laser-quality high-speed printer for busy workgroups. The wireless printer easily prints from tablets and smartphones. Powered by Epson's new Precision cores printing technology, this all in one printer delivers performance beyond laser. The Precision core is a new technology using a revolutionary high-density print chip which can generate up to 40 million precise dots per second with thrilling accuracy, producing professional quality outputs at high speeds. It is ranked as one of the best color laser printers in the market.
You can use Ethernet or WI-FI to connect to the printer to a network, letting you print from iOS, android, windows, and other devices through a WI-FI access point. it also lets you print through the cloud and scans directly to any of several cloud services (box, dropbox, Evernote and google drive). If you connect them by USB cable to a single PC instead, you can't use the cloud-based features, but you can still print from a mobile device by using WI-FI direct to connect directly to the printer.  It is also the best black and white printer with a droplet volume of 2.8 Picolitres.
Enjoy good graphics quality that is good enough for any internal business needs, but with some obvious banding in large areas of dark colors, including black, dark green and dark red. Using the larger XL print cartridges, the WF-4630 delivers economical print costs that rival other laser printers in the market. The Epson Workforce 4630 is the best multifunction color laser printer.
Specs of the Epson WF 4630 Printer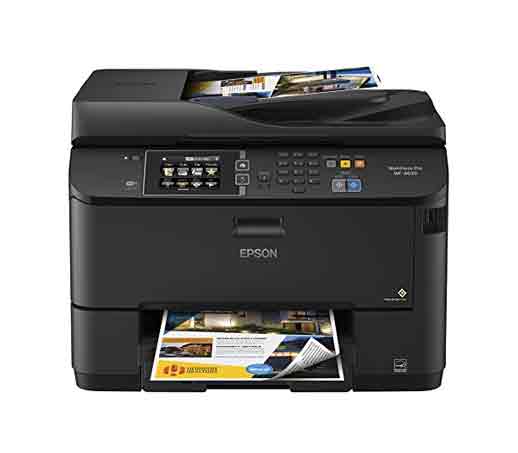 The Epson Workforce Pro WF 4630 is a C11CD10401 printer that prints with the on-demand inkjet (piezoelectric). It has a nozzle configuration of 680 nozzles black, 152 nozzles each color (Cyan, Yellow, Black, Magneta). Its minimum ink droplet volume is 3 droplets and as small as 2.8 picolitres. It serves as the best black and white printer in the market.
Printing Resolution
4800X1200 dpi both for the monochrome and color optimized with variable size droplet technology. It has a maximum printing speed of 20 ppm for monochrome and color. Has the automatic duplexing technology with cartridge configuration of 4 ink cartridges.
Paper capacity
Paper tray holds up to 250 sheets, plus 80 sheets for the rear tray for envelopes or specialty paper that adds up to 330 paper capacity. With the automatic two-sided printing technology, save up to 50% on paper. It has a maximum monthly duty cycle of 30000 pages and the recommended monthly volume of 2000 pages.
Epson connects easily print from iPad, iPhone, tablets, smartphones and more with the Epson Workforce Pro 4630. It supports Android, Apple, Chromebook, Kindle Fire, MAC, and all Microsoft windows editions and servers. The software included in the Epson Scan, drivers and utilities.
Touchscreen
It has a 3.5-inch color touchscreen LCD with intuitive gesture navigation with very easy to use and understand menus.
The Review of Epson Workforce Pro WF – 4630
The Epson Workforce has been listed as one of the most reviewed printers in the market. Here are some of the thoughts that people have on this printing device:
The Epson Workforce Pro WF – 4630 is wireless color all in one inkjet printer with scanner and copier. It is Amazon dash replenishment enabled. This printer is designed for use with Epson cartridges only not third-party cartridges or ink. It is powered by the Precision Core technology to give performance beyond laser.
The printer features Amazon dash replenishment which after activation, keeps track at your ink usage and orders more from Amazon when you are running low. The automatic two-sided printing technology saves up to 50% on paper. You can easily print from iPad, iPhone, Tablets, Smartphones and more. It also serves as the best color printer for home.
PROS
Very fast and speedy printing
Low running costs
Supports Ethernet, WI-FI, and WI-FI direct
Prints through the cloud and has 4 functions: printing, fax, scanning, and copying
CONS
Although graphics quality is good enough but also a bit below par
Benefits of the Epson Workforce 4630 printer
Very high printing speeds due to the highly touted Precision Core technology. The building block of the Precision Core technology is a print chip that can be combined with other print chips in a single print-head.
It is a 4-in-1 printer that can print and fax from, as well as scan to, a computer, including over a network. It can work as a standalone copier and fax machine. Basically, it performs printing, copying, scan and fax function.
It can print from and scan to a USB memory key. The WI-FI enabled printer allows you to print from iOS, android, windows phone, and Kindle Fire devices through a WI-FI access point.
Epson WF 4630 has the best paper handling techniques with a 250-sheet front drawer and an 80-sheet rare tray, giving you a 330-sheet total capacity. This makes it easy to keep two kinds of paper loaded and switch between them easily.
High graphics quality that gives you one of the best-printed photos using the Matte presentation paper that Epson recommends. If you expect to have a glossy finish, however, you can use one of Epson's glossy papers.
Enjoy low running costs with the Epson WF pro. Based on Epson's claimed yields and ink cost, the cost per page works out to just 1.6 cents for monochrome and 8.2 cents for color as compared to Epson 3640 that has 3.2 cents for monochrome and 11.4 cents for the color.
Bottom Line
The Epson Workforce Pro WF-4630 is a good fit as a workhorse printer in a micro or small office. It has impressively fast speed and a long list of multifunctional printer features. Epson offers a lot, besides even output quality.
If you need consistently good text, or a higher paper capacity at low costs per age, the WF-4630 can be an excellent choice for you. Meets all your printing needs whether you are working from home or in the office. Want assured quality prints? Then get yourself an Epson Workforce Pro WF 4630 and relax. We've got you covered!