The Hp Color Laserjet Pro M281FDW Review
Even as technology and the world today makes great strides towards going paperless, the need and demand of physical representations cannot be denied. Millions of hard copy magazines, brochures, documents and more are printed on a daily basis thus the need for a printer in the home and office. A printer is a peripheral device that makes a representation of texts and/or graphics on different materials, most especially paper. The printer has come a long way since the first electronic printer was released by Japanese company Epson in 1968. It has evolved into today's AIO (All-in-one) which can handle printing, faxing and scanning. A great example of such a device is the HP Color LaserJet Pro M281fdw.
There are different types of printers using different printing technologies. First, the toner-based printers. These printers, a good example are laser printers, work by transferring the toner to the printing material which the laser then bonds there using heat. An LED printer works in the same way except for using an array of LEDs instead of a laser. Second, Liquid inkjet printers which work by propelling variably sized droplets of liquid ink on to the printing material. Thirdly, we have the Solid Ink printer which is a type of thermal transfer printer and works excellently at printing on transparencies and other non-porous media.
Multi-function printers (AIOs), incorporate the functionality of multiple devices into one, leaving a smaller footprint on the home and office. It provides centralized document production and has some or all of the following functions; scanning, photocopying, emailing, faxing and printing and id highly convenient in a home or office setting.
What are the specs of Hp Color Laserjet Pro M281FDW?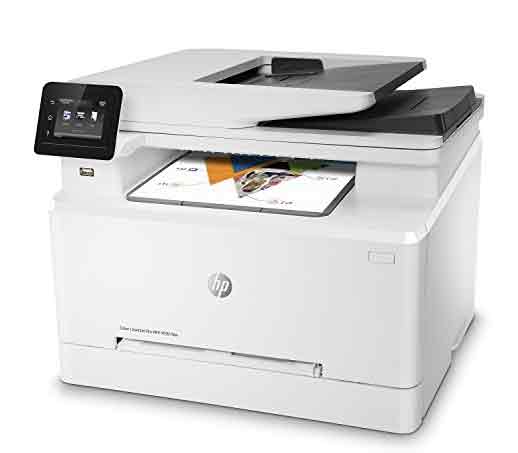 The HP LaserJet Pro M281fdw is an entry-level laser AIO (all in one) printer that combines the ability to print, scan and fax documents in one device hence saving you the hassle of transferring files from a laptop, tablet or smartphone. The key specifications of this device are:
1. Connectivity
The M281fdw offers users a myriad of connectivity options including,
Using the smart HP app to print directly from your smartphone or tablet over your Wi-Fi connection.
Connecting your PC using the USB port on the printer.
Using the printer's Wi-Fi Direct to connect and send documents.
2. Security
The HP M281fdw has an embedded web server with secure web browsing that allows you to monitor, configure and maintain the printer remotely on the same network. You can also access the backend web via basic HTML authentication.
3. Paper handling capability and printing speeds
You can load up to 251 sheets split between 2 trays, a 250-sheet main drawer and a 1-sheet override slot located at the top of the main cassette. It also comes with a 40,000-page monthly cycle through the daily recommended limit of 2,500 pages. The printing speed of this printer is 22 sheets per minute making it among the best color laser printers for home.
4. Printing quality
This printer has good quality text print-outs, though they could get better for smaller prints. Even with printing quality for colored photographs being average, the LaserJet pro m281fdw is among the best color laser printers for photos.
PROS
A variety of connectivity options
Easy to navigate touchscreen
Good security features
Good print speeds (22 sheets per minute)
The printer has Wi-Fi direct which makes using the app more convenient
CONS
Automatic Document Feeder does not support auto duplexing
Lacks NFC (Near Field Communication)
Laser vs Inkjet. Which Does it Better?
When choosing to buy a printer for your home or office, there are a lot of factors to consider beyond price and features. Here are some comparisons based on several factors to help you make a wiser choice.
i) Printing quality
Inkjets rely on liquid ink deposited on the page as microscopic drops of ink. Laser printers, on the other hand, rely on toner which is a powder. The laser is used to transfer the toner to the paper which is bonded to the paper using heat. Inkjet printers are, therefore, more suitable for printing colored images and photos while a laser printer is the best printer for office if your print load is mainly text since it produces crisp, distinct lettering.
ii) Cost
Cost is a big factor to consider whenever you plan to buy any device. What is the upfront purchase price and will you incur minimal or heavy maintenance costs? Laser printers, despite being sold for a more affordable price, will inevitably cost you more in the long run.
The printing ink used in laser printers is significantly more expensive than the toner used in laser printers in the long run. So if you plan to print a lot of documents, the laser printer is the way to go.
iii) Speed
When printing low volumes, you probably won't notice the difference in speeds. But when you are printing large volumes of work, the laser printer will out-do the laserjet despite having a longer warm-up time.
iv) Paper
Laser printers cannot handle a variety of paper or printing materials. Anything that is heat-sensitive can therefore not be run through a laser printer. An inkjet printer, on the other hand, can print on a variety of materials including glossy paper.
What do customers say about the Hp Color Laserjet Pro M281FDW?
Among the many selling points for this printer with consumers is its high text-printing quality. The text it prints was described as clean and crisps with exceedingly little errors. The color printer, though, has been described as quite average and even disappointing at times with some glaring errors. It is therefore not among the best multi-function color laser printers.
The 2.7" inch touchscreen while great in working the machine is also a tad bit small and might give you challenges to operate. Overall, consumers highly enjoyed this product for its great printing speeds, compatibility, and myriad connectivity options.
Final Thoughts
There are few things as stressful or frustrating as malfunctioning office equipment. Or having to run around the office to perform various functions on different devices. With the LaserJet pro M281fdw which is easy to use and has a lot of built-in features, you never need to worry about any of these. This device will help you do your work competently and increase productivity.