The 5 Best Color Printer for Home And Small Office
Color printers have brought about revolutionized ways of printing documents, journals, and photos. Since these printers were invented, people have enjoyed the convenience of printing their documents straight from their homes instead of doing everything from a cyber café or an office. According to several color printer reviews, you will realize that a color printer for home saves you a lot. The maintenance process is not complicated, and so is setting up the printer for usage. 
There are several best color printer for home, and before you choose the best for you, some factors have to be in place. The main factor that people look at is the price tag and quality. They always hope to find the cheapest device, but still, they expect it to offer the best performance. However, I am here to demystify that. You should always consider the quality of the machine even before thinking of costs. 
You also should not expect a high-end printer at a meager price. So ensure to look on performance as your priority since if you have that in mind, you will be able to save on maintenance and repair costs and other costs you are likely to encounter. Tech is always evolving, and you need to understand that printers are part of tech too. So getting you the best multifunction color laser printer is the best option. Color printers are more digitized in terms of printing speed and even some companies offer mobile apps.  Also the printers I am about to mention offer mobile printing hence you don't have to transfer files to your computer before you can print them. 
The 5 Best color printers for home
The set-up process is straightforward because all you have to do is unbox the printer, set up the cartridges, and you are good to go. Check out the five best color printers for home.  
1) Brother HL-L3210CW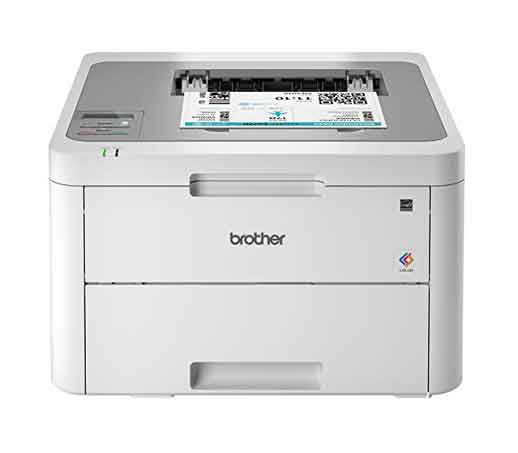 Brother is one of the most vibrant Japanese electronics company known best for producing printers which are sold worldwide. This Brother HL printer comes with very stunning features from the design and the functioning of it. With a rating of 3.8 out of 5 on Amazon, you will get the best out of it.
If you are looking for speed while printing, Brother HL lets you print out 19 pages per minute which are quite fast. The color quality, especially for photos and colored document, is very high and there are no stains left behind.
The printer has a manual feed slot which allows you to customize the type of document you want to print. This makes it easy since you will be able to print business cards, papers at different sizes by only a click away.
Modernity is at its peak when you buy this printer because it lets you connect your phone to the printer; hence, you can directly print papers straight from your device. The set-up process is quite simple; all you have to do is follow the manual guide.
PROS
Allows mobile printing
Can print 19 pages per minute which is quite fast
There is versatile printing which boosts productivity
The installation set-up is very simple
The device meets the compatibility
CONS
Toner save mode is not very effective
2) HP LaserJet Pro M254dw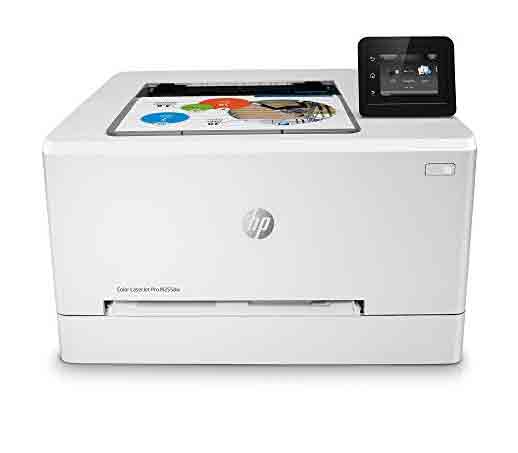 From laptops to printers, HP delivers the best to what other companies can offer. HP laser jet pro can as well be the best color laser printer for photos due to the key specs found in it. The printer comes with a USB port, allows mobile printing, and you get fast double-sided paper printing.
LaserJet pro can print up to 22 pages per minute for black or other colors. The tray for placing papers can accommodate up to 250 sheets of paper. With mobile printing, you can easily connect your iOS or Android device to the same WiFi network to print the documents.
You can also use the WiFi direct to print documents directly without a network. You also get an HP smart app whereby making it very easy to control the device. You can be able to order the tone, print straight from cloud services like Dropbox and Google, and also easily set up your printer.
The color quality is of high definition plus you get to use original HP toner cartridges in association with Jet Intelligence. You also don't have to worry about buying a toner ever again. Once you activate the printer, it measures the toner level and places smart orders when you are running low. So visit Amazon to make your purchase.
PROS
The mobile app is very easy to use
This printer does not occupy too much space
Takes a short time to install and set-u
It has a cool and ambient design
CONS
It takes longer to print documents straight from cloud services
3) Epson Eco Tank ET-2720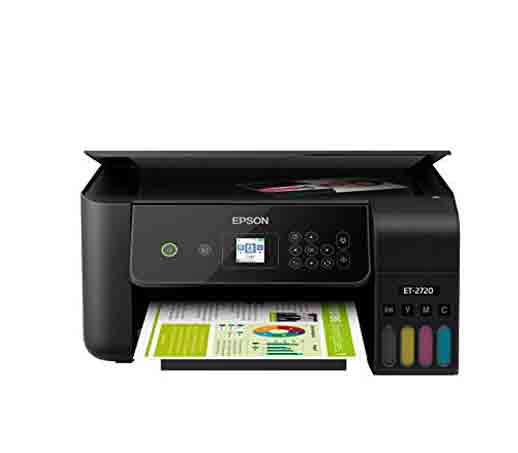 Epson is used by a lot of people who love to print colored documents or photos. The device has a 2.8-inch display that allows you to assess images before printing them. Also you free cartridge printing for up to 2 years because of each ink in the box has a replacement ink set.
The ink tanks are also suppressed such that you get an easy time while printing the documents. You also get a special Eco Fit bottle which is designed to easy filling for each color once it's depleted. If you wish to use mobile printing, Epson got you covered.
You can be able to print documents straight from your phone through WiFi direct or by connecting to the wireless network used by the printer. When printing photos, you get a borderless feature whereby you can easily print border fewer photos less by 4X6 inches. The printing speed is not very fast and also the paper placing slot allows 100 papers only.
PROS
The cartridges can be easily replaced
It has a mobile printing feature
The installation process is very simple
You get a 1.44-inch display for setting up the printer before printing documents
CONS
The paper tray can only hold 100 papers
4) Workforce WF-7710 Wireless wide- format printer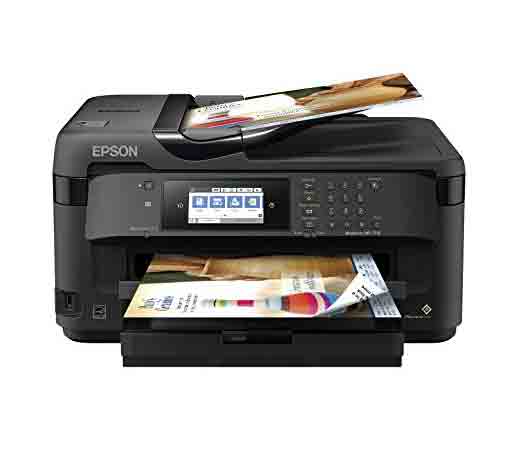 The Workforce WF has a lot of vibrant features which you will love. It is regarded as the best when it comes to performance and printing photos. It also saves you a lot of power because it uses 80% less energy compared to other devices.
You can also customize the power usage to high power if you are looking for better performance. You also get easy navigation when printing a photo or setting up the printer with its 4.3-inch touchscreen display.
Workforce offers wireless and networking printing from a wide variety of devices like iPads, iPhones, and Androids. You can also use Ethernet or WiFi direct for more efficiency. The printer offers fast printing for black only docs while the color printing is slower.
PROS
Saves on energy for slower performance
Easy to set-up with the 4.3' touchscreen
Works best with Epson Cartridges
Large scanning is well enhanced
CONS
You do not get a mobile app
5) Canon Office and Business MB5120 printer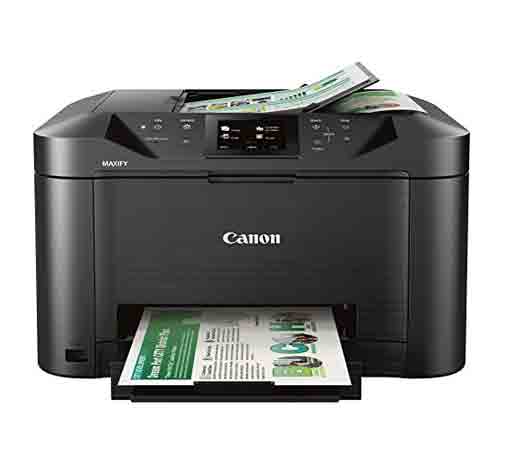 Canon Maxify is a good model if you are looking for a printer that offers the best services when it comes to performance. You also get extra and unique features which are not available in other printers. The printer can work entirely at home or in a small office.
The tray can hold up to 250 sheets of plain paper, and the print out rate is at 6 seconds per sheet. Dual-sided printing is also available, and the AI used ensures that you get quality and sharp texts from both sides of the texts. It has a DRHD feature whereby the ink blotches and highlights quality printouts.
Setting up the device is very easy since you get Canon Maxify app to do all the processes. Cloud printing and mobile printing is also available with this printer. The maximum people who can use the printer at once are 9, and you do not have to be connected in the same network.
PROS
You get a Canon mobile app for controlling the device
Quality docs and photos are printed out
Artificial intelligence capabilities are fully maximized when printing the document
Print out rate is very fast
CONS
Printing tends to be slower with the number of users
Conclusion
Having a printer at home or in an office can be very beneficial. With the printers mentioned above, you will never be disappointed when it comes to using them. Also, if you are in the US, you get full US-based customer care service support from the respective manufacturers.
You should also keep the ink or cartridges away from kids since it's a chemical and they may drink it, leading to complicated health problems. So, from this info, you can visit Amazon and choose the printer of your choice from the ones mentioned above. Ensure also to leave a review of whether the product is good or bad to help Amazon or the manufacturer to improve their services.