Top 7 Photo Papers for Laser Printers
Taking a photograph is only half the fun. Having the memory in a trusted hard-copy format is the other part. Despite the world's move towards being paperless, there's just something about a photo you can touch and frame that beats digital format photographs. It would, therefore, be extremely disappointing for a photo you print to come out blurred and unclear or for a printer to look great for a couple of months and then start decoloring or to lose your photograph by any other unfortunate incident. To avoid losing your memories, you can buy some of these photo papers for laser printers to keep your memories close.
Photo papers come in many types that are used to achieve different effects, and work well depending on what you are trying to print and the final finish you want your photograph to have. The printers also run a wide gamut from some of the best multifunction color laser printers which apart from printing can also run a variety of other tasks like faxing, printing and copying to inkjet printers which spray microscopic droplets of ink on the paper to dye-sublimation printers which are a type of thermal transfer printers. To get the best possible quality, choosing the paper that is recommended in the manual of the printer would be a wise option.
With the photo editing applications out there, you can play around with a lot of edits on your photos to increase contrast or change your photo any way you see fit. Black-and-white photos are also still very much in use for artistic purposes and with some of the best black and white laser printers you can easily make that happen. The best of the photography age is yet to come and with these papers, you can easily keep up.
How to choose the best photo-printing paper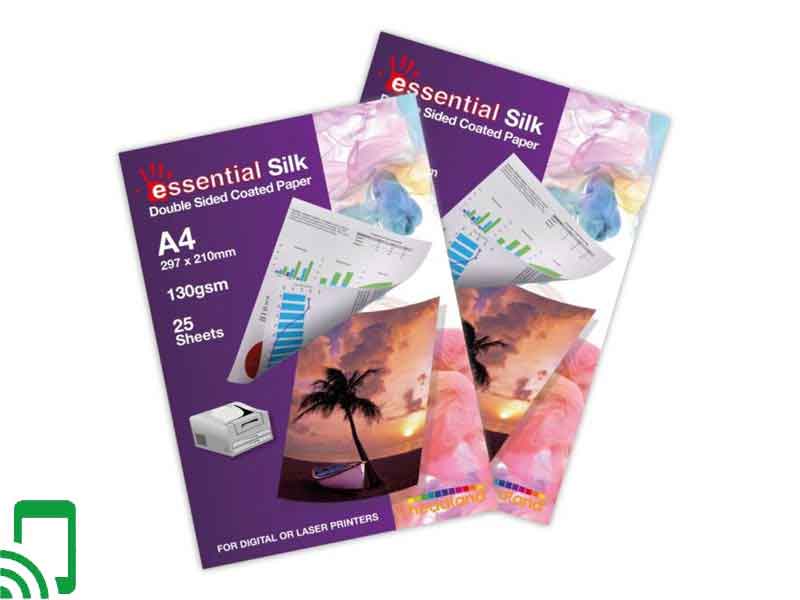 Here are the factors you should consider to make sure you get the best possible quality photos
1. The Printer
This is among the most important aspects of getting great quality photos. It is useless to have great quality paper when you have a poor printer. To get truly great professional photos, you will probably want to use the inkjet or the dye-sublimation printers.
The inkjet printer works by spraying microscopic drops of ink on the printing paper (you can control the intensity of color you want for a photo) and its cartridge creates an image that is 300X300 dots per inch and is the best color printer for home.
A dye-sublimation printer on the other hand works by transferring heat to a specifically prepared ribbon that holds certain pigments (cyan, magenta, yellow and overcoat) to print images at 5760X1440 dots per inch which is a significant improvement over the inkjet printer.
Laser printers, despite being capable of printing photos, will not do quite as well as either the inkjet or dye-sub and cannot be used for professional photos.
2. The Paper
There are different types of paper you can use for photo printing including;
i) Glossy
Give the impression of rich colors though they create a refection that may obscure your image
ii) Matte
They give your photos a darker tone hence greater contrast. Will work wonderfully with images rich in detail and texture.
iii) Canvas
These are great for printing large images and they deliver a matte-like finish. With great contrast in the photos
iv) Art paper
Offers a matte finish with varying amounts of contrast and texture and are great for printing landscapes.
Before you settle on any paper type, keep in mind what you are going to print on it. Durability is also another factor. If your photos are going to be exposed to UV light a lot an ink-based print will work best as it fades slower. For longevity, check the printer manual's recommended paper.
Whiteness is another important aspect to check on. Papers with artificial whiteners will change color pretty fast after the whitening agents wear off, so that's something else keeps that in mind.
3. Brands
Get your paper from trusted brands to get great quality photos. Stay away from papers that produce a lot of dust as these may keep your printer from working correctly. Most brands offer samples that you can test before buying the actual product and this can be a great way to discover which paper works best for you
4. Cost
The more expensive the paper, the greater the quality. If you are printing photos for an exhibition or auction, invest in great quality paper. If you are printing for home use though, investing in an average priced paper is not a bad idea. Ink is also another product that will significantly increase your printing cost as colored photos use a lot of ink. Budget for it whenever you plan to print.
Top 7 Photo papers for laser printers
1. HP Premium Plus Photo Paper | Soft Gloss | 8.5×11 | 50 Sheets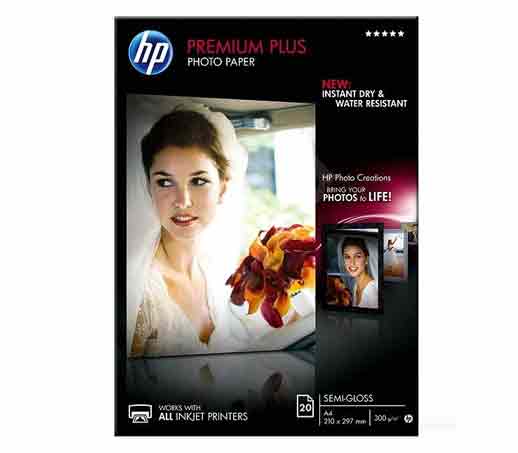 The HP Premium plus Photo Paper pack comes with 50 sheets that are certainly enough to keep you working without running around for more. The soft glossy finish gives the photos a sleek professional look with rich, vivid colors. It is a non-perforated, 0.29mm thick, non-acid free paper that can print both black-and-white and color photos.
Pros
Water-resistant
Bright and clear photographs
Nice degree of whiteness
Quick-drying
Environmentally friendly (FSC certified)
Cons
Non-acid-free
Not waterproof
2. CanonInk Photo Paper Plus Glossy II |4''X6'' (1432C007)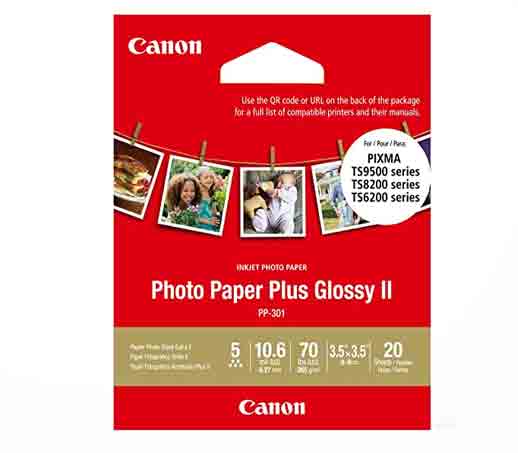 This Canon-Ink photo paper is 4" by6" inches in size and is a pack of 400 sheets. The photographs have a high gloss finish and a vibrant color scheme on your phone. The brightness rating of the paper is 92 lm which means the final colors will be bright and vibrant. It is an excellent match for Canon Lucia & ChromaLife 100+ inks.
Pros
High glossy finish
Crisp and clear photographs
Instant dry photo prints
Durable
Non- sticky
Cons
3. HP Premium Plus Photo Paper, Glossy, A, 50 Sheets (CR664A), White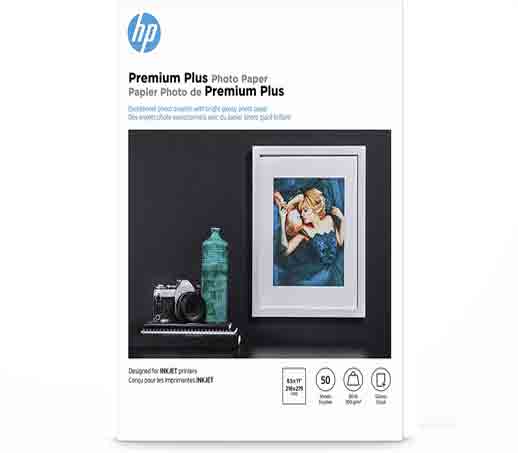 This is a pack of glossy 8.5X11-inch papers with 50 sheets. It produces clear, crisp photographs with a high gloss finish. It is also FSC certified meaning it's sourced sustainably and you are supporting responsibly managed forests. It prints on inkjet printers and can be used for framing, displaying, gifting and for special photo projects.
Pros
FSC certified
Quick-drying
Water-resistant
Rich and vivid colors
Durable
Cons
Reflections on glossy papers may obscure images
4. Canon Photo Paper Plus Semi-Gloss 8″X10″ (50 Sheets) (SG-201 8X10)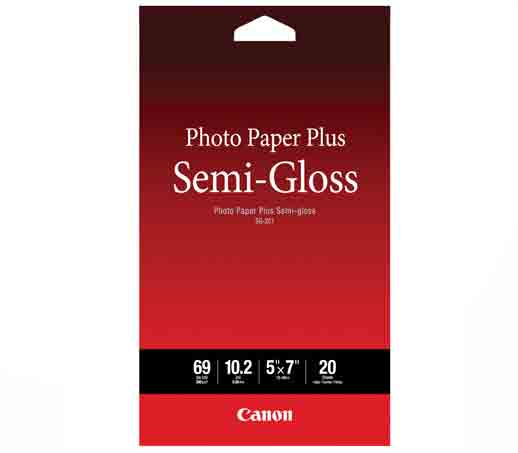 The Canon Photo Paper plus Semi-gloss has a texture that is between matte and glossy with the best of both types. It does not reflect light as much as the full glossy papers and is smudge resistant. Its brightness is 91 lm giving bright and vibrant colors.
Pros
Does not reflect as much as full glossy paper
Resists fingerprints
Great for portraits
Vibrant colors
Quick-drying
Cons
5. Glossy Photo Paper 8.5×11-100Sheets Uinkit 8.5Mil 180Gsm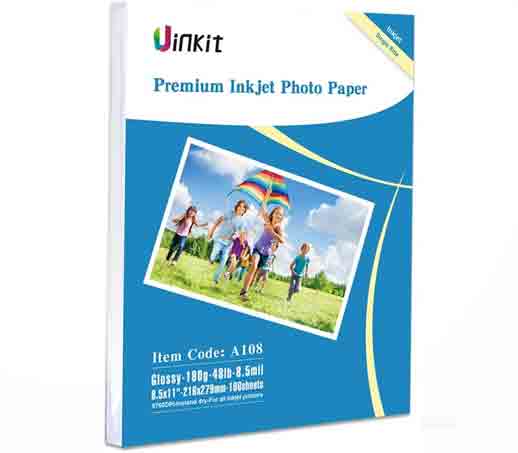 This Uinkit pack contains 100 sheets of glossy photo papers. It has a size of 8.5X11 inches and s fast drying after printing. The paper is FSC certified meaning the paper is sourced sustainably. It produces vibrant, vivid colors that are ultra-smooth, glassy white and long-lasting.
Pros
FSC certified
Instant drying
No smearing
Vivid saturated colors
Two-sided printing
Cons
Glossy finish may reflect light and obscure images
6. Milcoast Glossy White Full Sheet 8.5″X11″ Adhesive Tear Resistant Waterproof Photo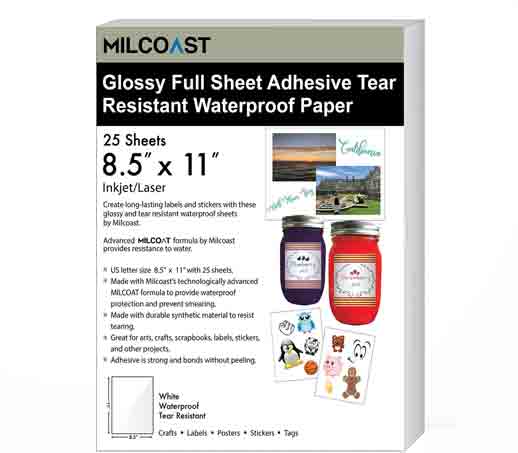 The Milcoast glossy white pack has 25 sheets of 8.5 by 11 inches. They are best for stickers, labels, scrapbooks and bottles. The labels are adhesive and easy to peel and stick.it is tear-resistant and weatherproofed to prevent ink smearing. This paper is compatible with both laser and inkjet printers.
Pros
Waterproof
High-quality photos
Strong adhesive
Can be written on with marker pens and pencils
Non-smear
Cons
Sometimes the colors bleed
Does not print blacks very well
7. Epoch Paper – White Waterslide Decal Paper for LASER Printers – 20 Pages of Size A4 Premium Image Transfer Paper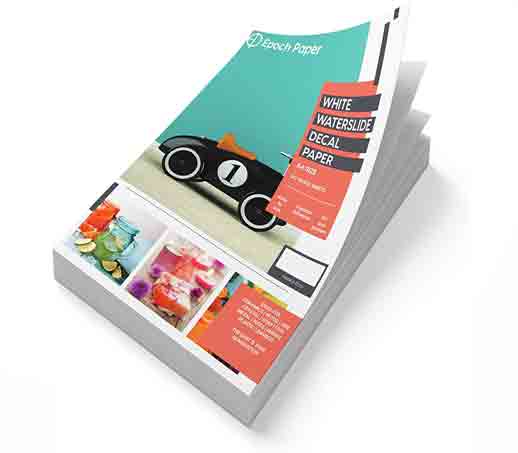 This waterslide paper that is great for creative projects and for creating personalized gifts. You print on it as you do on normal printing paper then transfer it to non-porous surfaces. It creates great images with supreme color quality and presentation. If you are unsatisfied with this product, you can get a refund and a solution that works for you.
Pros
Refund if unsatisfied with the product
Retains color well
Great image transfer
Weatherproof
Can be used on a variety of materials
Cons
Drying time is a bit long
Color may bleed at the edges when placed in water if not sealed
Final Thoughts
Even with the impressive perseverance and endurance of human memory, we can only remember so much of our precious memories, and even then, not in clear and fine detail. These best color laser printers for photos will ensure that you will keep all those memories you make close to your heart.