The Canon Color Imageclass Mf634cdw Reviews
Canon Color Imageclass mf634cdw is an entry-level color laser printer that is suitable for light-duty use in a small office or work-group setup. Also, it comes with ADF that supports single-pass two-sided printing. Besides, canon color imageclass mf634cdw reviews confirms that the printer is amongst the best quality color printers for it has impressive features, numerous connectivity options, and a color touch screen panel, a low buying price, and competitive printing cost.
So, when looking for the best color printer, you must know the objectives and the purpose of the printer. You don't have to go for a high-end color printer if your printing needs are just occasional. Secondly, you must also consider the size of your printer. Indeed, you don't require something so big if you are designing a home or an office set up, it will consume a lot of space as well as making your house look overcrowded.
However, when your printing volume is more than 500 copies and above per month, you should consider a high-volume color laser printer because the more you print using Canon Imageclass mf634cdw, the more the running costs would be. On the other hand, if your copy volume is few hundred pages each month, the canon color MF634Cdw printer does that perfectly well making it the best choice color laser printer for home use.
Specifications of Canon Color Imageclass Mf634cdw
What is the General Information of Canon Color imageCLASS?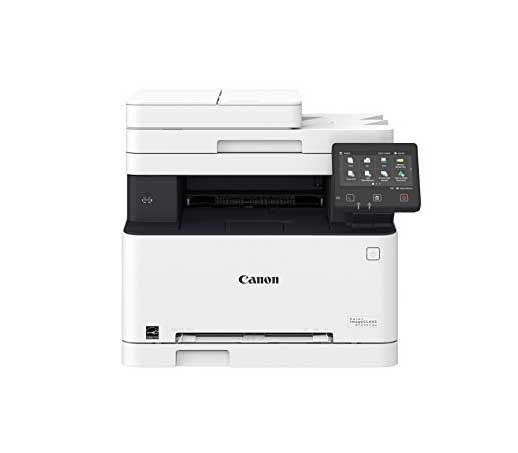 The primary manufacturer of the device is Canon USA (Lasers). The company is a great expert when it comes to making printing machines and has a reputation for that. To ensure that you have sufficient ink, you can subscribe to the Amazon Dash replenishment and enjoy a 10% on any single purchase. You can opt-out of this service any time you feel like it.
The machine is not very big.  Its dimensions are 18.1X17.8X15.7 inches. Its weight measures about 48.4 pounds. It's not that heavy, and any adult can carry it for short distances. Due to the carton plus other accessories, the shipping weight will be something around 60 pounds.
Which Toner Does the Canon Imageclass MF634Cdw Utilize?
The printer uses Canon Genuine Toner 045 of Cyan, Magenta, and Yellow having the capability to give you 1,300 pages each. For the black coloring pages, you can get 1,400 pages in total. The 045 high capacities have Cyan, Magenta, and Yellow having the capability of printing 2,200 pages each. The machine can print black and white pages of up to 2,800 pages. Furthermore, it is an ISO / IEC Standard certified.
How Many Devices Can Connect to Canon Color Imageclass Printer?
You can connect this printer to around 10 computers. It means that up to 10 people in the workplace can use this machine effectively. However, for wireless connections, only 5 devices can connect to this printer. Hence, this machine is the best color printer for home and small office as is very efficient for day to day activities. The only important thing is to ensure that you make the right connections so that you can avoid damaging it.
PROS
All in one printer
Can accommodate many papers in a tray
Has high printing speeds
Can connect to many machines simultaneously
Easy to use
Why Is the Canon Color Imageclass MF634Cdw The Best Buy?
According to customers reviews, the above printer has a 3.6 out of 5-star rating from more than 411 customers who have enjoyed its services based on the following.
1) Great Image quality
The color laser printer has a color technology that produces vibrant colors, this technology expands the color gamut of shadow and dark areas for more exceptional sharpness and details to achieve a high-quality printout. You can also print, copy, scan and send fax messages with just this machine.
2) Genuine toner cartridges
Canon manufacturers are best known for designing authentic genuine supplies by its qualified engineers so you can be assured of quality whenever you shop for a canon device. The MF634Cdw offers a high capacity toner option to cater to your busy printing needs.
3) Customer support and service
The Canons award-winning in the US placed the company as the best leading in terms of service delivery and commitment to its customers. For every product, the user requires maximum satisfaction and returns on investment in the long run. Hence, the friendly and competent customer service team provides technical assistance.
4) Versatile printing speed
The printer has a fast print speed of up to 19 pages per minute with above-average output quality print out, and you get the first print in 12 seconds. The LCD touch screen enables speedy print control with just one touch. Plus, it prints fast enough for the price, making it the ideal color printer for home and small office. Besides, the ready WIFI feature without add-on helps you to print from anywhere in your home or the office.
5) Print on the go
The 5.0-inch touch LCD provides a widescreen display that is user-friendly for easy navigation through the menus enabling you to finish tasks more quickly. Also, you can scan hard copies and convert them to soft copies, store them in a digital drive to print later from the google cloud print. However, you can scan the two sides of your document as a single pass and print.
How Do You Replace the Toner Cartridges?
The usage of the Canon ImageClass is not sophisticated and so is with changing the toner. Therefore, the single cartridge system combines the toner and the drum. Thus, when you are removing it, you need to lift the lever on the side and remove the entire cartridge. However, you can confirm the status of your toner by tapping on the menu to show you exactly the level right on the color screen.
How Is the Canon Color Imageclass Mf634cdw Used?
To begin, plug the printer in a power source and connect to your home network, preferably a Wi-Fi connection. Then, load the tray with papers up to a capacity of 150 sheets, and you are ready to start. No worry about the toner as it is already loaded.
With the help of highly initiative LCD touchscreen, you can easily navigate through the menus for printing, scanning, faxing and copying options. Due to its professional look, you would think that the canon imageclass printer is challenging to use than the inkjet printer, but this is so untrue.
However, if you have ever acquainted with a copier in school or an office, you will easily find the menu of this color laser very familiar. They have similar options for copying including single to double, double-sided and single to four squares.
Bottom line
Whether it's a small office, business or home setup you would appreciate the benefits of having a color laser printer All in one that does all the necessary tasks in just one machine. With the canon color Imageclass mf634cdw, you can scan, print, copy and fax in a high-quality, reliable printer that offers you value for your money.