The 7 Best Rated Hearing Aid
According to research, it's estimated that 48 million Americans experience hearing problems such as hearing loss among others. The most affected people in the us are the seniors in the age group of 64-74. According to the National Institute on Deafness and Other Communication Disorders, at the age of 75, an estimated half of the senior report hearing loss. The solution to such incidences is getting the best-rated hearing aid.
One experience hearing loss is a serious case and can have serious repercussion and there is mounting evidence. Due to hearing loss and not attended can lead to depression and a decline in memory and concentration and even dementia. Due to hearing loss, the inner hair cells are dead so it won't pick up any soundwaves. With a hearing aid in place, it improves our ability to hear and it amplifies the sounds to make it clearer and easier to understand. Thanks to the advancement of technology, the hearing aid is digital as the microphone transmits the sound to the in-built computer chip which in turn adjusts the volume and amplifies the sound frequencies for better hearing.
There are various models of the hearing aids that you can opt for and you can get the ideal one for your older relatives. If you have a serious case of hearing loss then you can get the best hearing aid for profound hearing loss. In this article, guide on the best-rated hearing aids in the market and how you can choose the best one while you go shopping. Also, you will learn more about hearing loss so that you can be informed. Read ahead to find out more.
Which are the various Hearing aid models?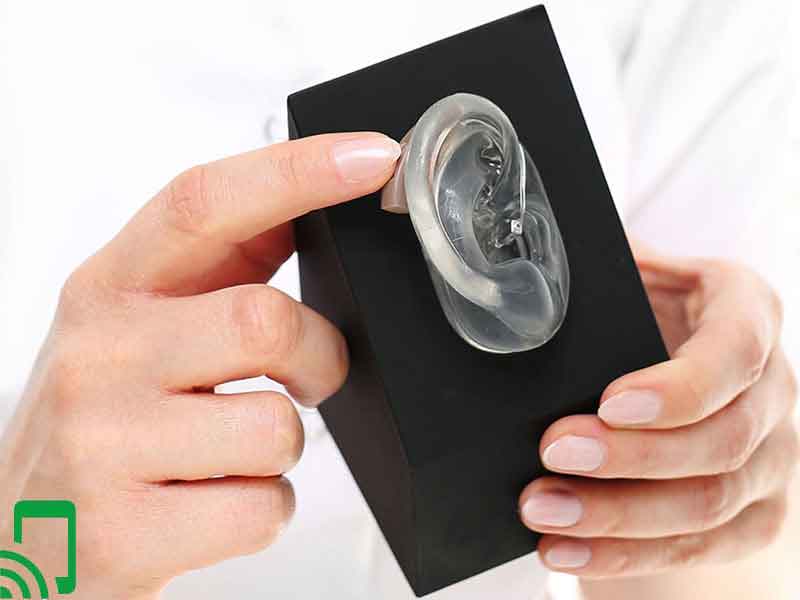 With the advancement of technology, it has given various innovators the platform to develop better hearing aid to their customers. There are various models at the models and I will shed light on each model.
i) Completely In the Canal (CIC)
This model is molded to fit inside your ear canal. It helps improve mild to moderate hearing loss in adults.
ii) In the canal (ICI)-
It fits partly in the ear canal and it's less visible in the ear.
iii) In the ear (ITE)
There are two styles one that fills most of the bowl-shaped area of the outer ear and the other that only fils only the lower part. It is quite helpful for people with severe hearing loss.
iv) Behind the ear (BTE)
This model hooks over the top of your ear and rests behind the ear. It comes with a tube that connects the hearing aid to a custom earpiece called an ear-mold that fits in the ear canal. It has better amplification unlike the others though some of it is large.
v) Open fit
It is the variation of the BTE aid that has a thin tube. Its design helps keep the ear canal that allows low-frequency sounds to be amplified through the hearing aid.
vi) Receiver in canal or ear (RIC/RIE)
The model has the speaker or receiver in the canal or ear and it has a tiny wire rather than the usual tube that connects the pieces. It is susceptible to earwax clogging the speaker and is less visible behind the ear portion.
What are the additional features the hearing aids have?
As you go buying the hearing there are features that you need to check as you get the ideal hearing aid. Also, if you are a business then you need to consider the best Bluetooth headset for phone calls. Below are some of the features that you need to consider as you go shopping for the best hearing aid under $100.
i. Battery
I highly recommend you get one that has rechargeable batteries so that you don't have to spend on the batteries now and then.
ii. Noise reduction
Although all the hearing aid comes with the noise reduction feature, you need to test the hearing aid while at the store before buying it.
iii. Wireless connectivity
The hearing aids come with a wireless interface that can connect with some of the Bluetooth devices such as mobile phones, music players among others. This is ideal if you need to keep tabs of the events and schedule you to have on your device.
iv) Remote control
Some of the hearing aids come with a remote control that allows you to adjust the device without touching it.
v) Variable programming
A hearing aid can come with pre-programmed settings so that you can adjust it any time to your surroundings.
Top 7 best-rated hearing aids
1) Banglijian Hearing Amplifier Ziv 201A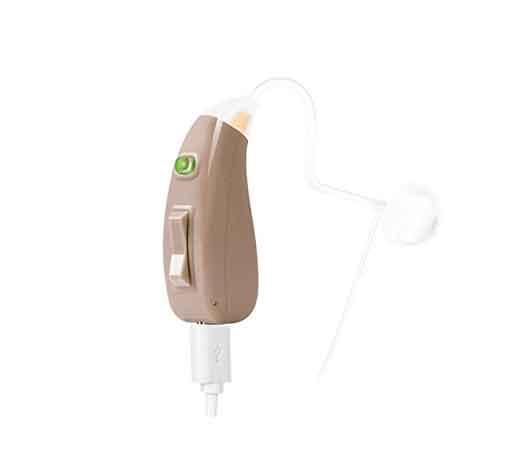 Banglijian is a professional hearing amplifier manufacturer and has produced a variety of hearing amplifiers for its existing customers. Designed by audiologist it is easy, durable and comfortable to wear. It runs on a high-quality rechargeable lithium battery that lasts up to 20-24 hours after a full charge.
The battery is environmentally friendly and you charge it via USB cable. It has a full digital tone quality for low audio distortion and a clearer voice. It has a noise reduction feature that helps the user for maximum clarity.
It has come with fully digital circuitry, adjustable volume control, and two modes; noisy and quiet environments that are efficient and practical. The company provides you with two kinds of sound tubes for both ears and ten ear domes.
PROS
Rechargeable battery
Environmental friendly
A three-year warranty
An efficient noise-reduction system
A full digital circuitry
CONS
Not suitable for profound hearing loss
2) Blomed Digital Hearing Amplifier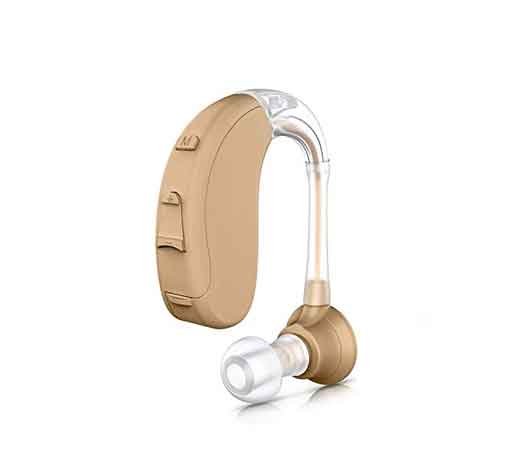 It has a sleek design and small in size so that isn't that visible to others while you going for groceries at the Supermarket. It comes integrated with fourth-generation digital chips with more than 50% noise reduction than the third generation.
It comes with four different modes and eight-channel choices that you can adjust the settings according to your environment. With the advanced noise reduction system, the received sounds are divided into different frequency regions for separate analysis, processing and recurring, speech noise and other to reduce background noise.
PROS
Low power consumption
A two-year warranty
Easy to use
Lightweight
You get a superior sound experience
CONS
It has a faint high-frequency hiss
3) Banglijian Hearing Amplifier Ziv-206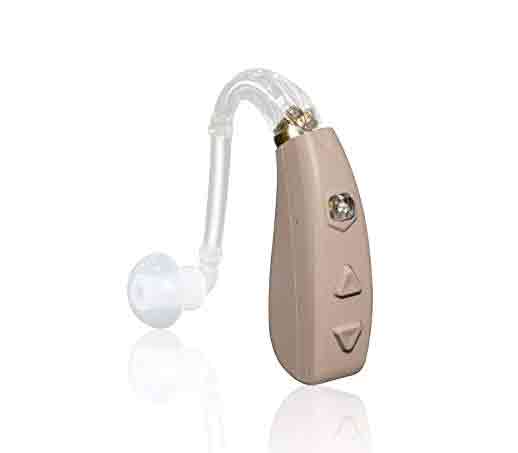 The amplifier runs on a high-quality lithium battery that saves you the hassle of buying button batteries frequently.  It has a run time of up to 20-24 hours after charging it for two hours and its charge via a USB cable allowing you to charge it anywhere.
It comes with four channels of signal processing and four independent compression-amplification channels so that it reduces the background noise and acoustic feedback cancellation. You get an exquisite packaging and complete accessories.
PROS
A rechargeable battery
It's charged via USB cable
It reduces background noise
A year manufacturer warranty
An exquisite packaging
4) Banglijian Hearing Amplifier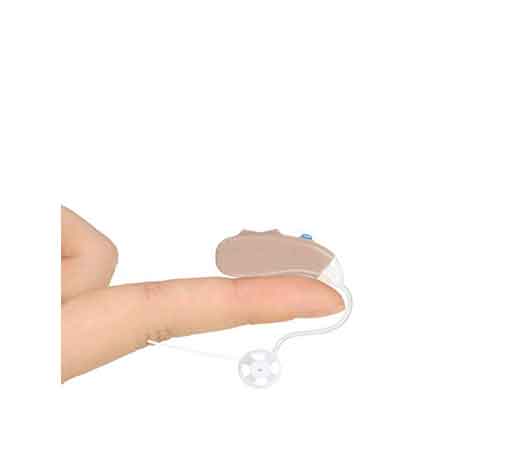 Designed by the audiologist, it is easy to use, durable and comfortable to wear in either of the ears. Once you charge it to full it can last a whole day. It has an automatic power-off after the charge to keep it safe and efficient to avoid any damage.
It has a full digital tone quality for low audio distortion and a clearer voice. It comes with a noise reduction feature that lets the user enjoy maximum clarity and it works hand in hand with the digital circuitry. It has two process choices for a noisy and quiet environment that is more efficient and practical.
PROS
A long-life battery
Maximum clarity
A three-year warranty
It has two process choices
Small in size
CONS
Whistles when you adjust it
5) Banglijian Hearing Amplifier Ziv-201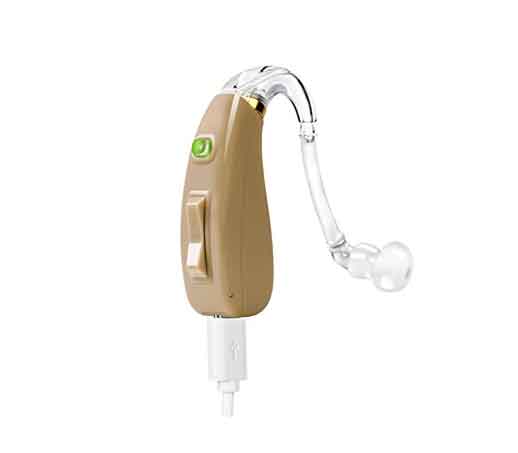 It comes with reachable controls that you can easily control the amplifier. The gadget is easy, durable and comfortable to wear on both ears. It comes with a rechargeable battery thus it saves you the trouble of buying button batteries. It comes with a fully digital tone quality for low audio distortion and clearer voice. With the full digital circuitry and adjustable volume control that aids for a clear voice.
PROS
A rechargeable battery
Fully digital circuits for clear audio
Exquisite packaging
Comfortable
Easy to use
CONS
Not great for severe hearing loss
6) Blomed personal hearing amplifier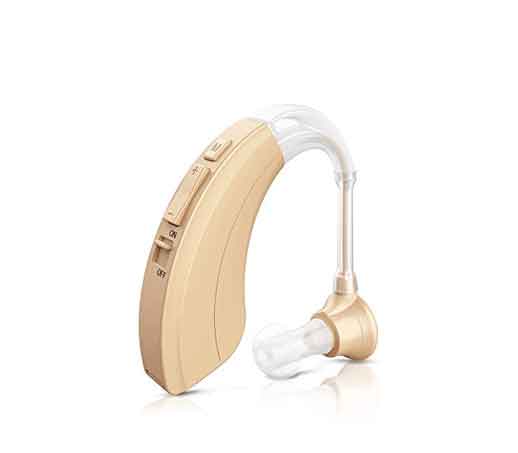 The gadget uses the latest digital smart chip that has improved the noise reduction by 38% as compared to other amplifiers. Due to this improvement, you will hear clearer and more natural sounds and blend in your wonderful life.
It is made of lightweight materials and color close to the skin that make it blend and can go unnoticed. It is comfortable to wear as it comes with an ear hook made of TPE silica gel with is skin-friendly.
PROS
Comfortable to wear
Durable battery
Digital noise reduction
Easy to operate
No risk purchase
CONS
It doesn't have a rechargeable battery
7) Otofonix Elite Hearing Aids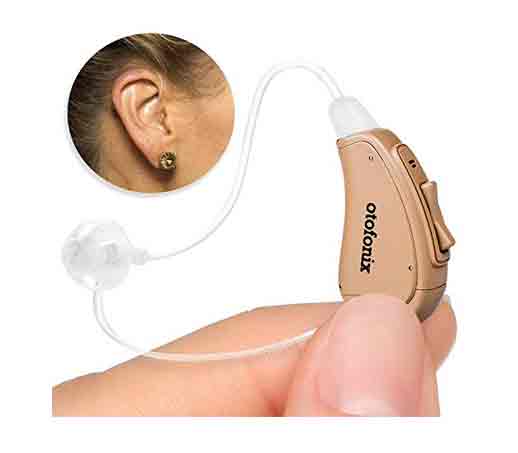 The device is small in size and comfortable to wear so that you can wear it for more hours. It comes with 10 levels of superior volume control so that you can adjust it to your liking. It comes with four different listening programs to accommodate your hearing needs.
It has advanced noise-canceling, feedback suppression, and background reduction. You can contact the company is you experience any technicalities.
PROS
Advanced noise-canceling
Four different listening programs
Modern look
Comfortable
Superior volume control
Bottom Line
Before you go buying the hearing aid, I advise you to go for a check-up so that the doctor can rule out the cause of hearing loss so that you can get the ideal hearing aid. As you have seen I have noted the various hearing aid such as the bone conduction hearing aid so that you get a clearer sound.
Though various stores are selling the hearing aids I highly recommend you get them from Amazon. At Amazon, you get them at a significant discount and delivered on time at your apartment at a low shipping fee. Feel free to leave your opinions in the comment section below as we will highly appreciate it.