The 7 Best Wireless Surround Sound Speakers for TV
Television screens have internal speakers included during manufacturing. However, those speakers are never enough on their own. Many times you need heavy and deep sound as you watch music videos, movies and documentaries. It explains the need to buy wireless surround sound speakers for TV screens to enhance your listening experience.
Wireless speakers do not need wired extensions to receive sounds from TVs. The latest television sets are Bluetooth enabled. It means that they can connect to any Bluetooth enabled sound output device. You should always confirm that the machines are indeed Bluetooth equipped before purchasing them.
Before we take you through the best wireless surround sound speakers available in the market, let us guide you step by step how to connect your TV screen with your Bluetooth enabled speaker. It is a simple process where you will understand very fast. Now let us get started.
How to Connect Wireless Surround Sound Speakers for TV
Step One
Connect your speaker power cable to the wall socket. Switch on your speaker while the volume button is at the lowest gauge possible. Powering on when the volume knob is at its highest may damage the speaker. Using your manual, check where the mode navigation button lies. Press several times until it indicates Bluetooth mode on.
Step Two
Plug your television power cable onto the wall socket and switch it on. Using your manual, find out where the Bluetooth button is. Press it to power the Bluetooth.
Step three
Now using your TV's remote, scroll to check the discoverable devices. By this time, you should know your speakers Bluetooth name. Select it from the discoverable devices and let them pair. Pairing takes less than five minutes. You will get a confirmation sound message. After that, you are ready to start listening to your music, documentaries, and so on. Just adjust the speakers sound adjustment knobs to have the best sound output.
Recommended Article:
The 10 Best wireless video doorbell with monitor
The 7 Best Waterproof Wireless Earbuds
The 10 Best Hearing Aids For Profound Hearing Loss
The 7 Best Wireless Surround Sound Speakers for TV
Now that you understand how wireless speakers work with compatible televisions, you need to know the best wireless speakers you can buy. According to our research, below are the best wireless surround sound speakers in the market.
1. Nakamichi Shockwafe Pro 7.2.4 Ch 800W 45" Sound Bar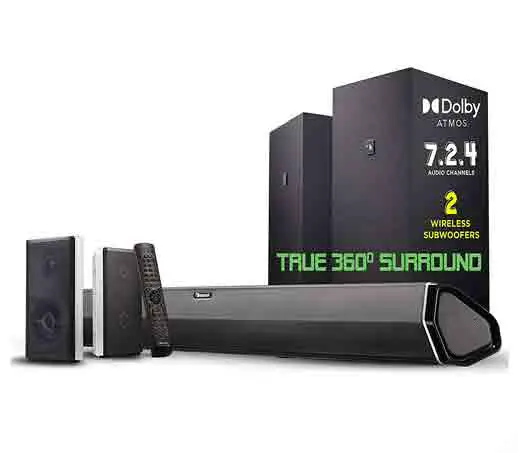 The wireless speaker comes with 8" wireless subwoofers and rear satellite speakers. This machine has the best sound output. Do you want a speaker that will make your room to shake like thunder? If so, you needNakamichi Shockwafe Pro.
It has beautiful tweeters, five individually sealed speaker chambers plus 5 DSP chipsets. The 400watts machine with the 11 perfectly tuned speaker drivers can deliver a crystal clear sound of up to 106 dB. 
The 8" wireless subwoofer produces the most excellent bass you have ever desired. Despite the machine being wire-free, the rear speakers connect to the subwoofer via RCA cables. The machine measures 45.5 by 3.3 by 3 inches. It weighs 23.9 pounds only.
PROS
1. The speaker is Bluetooth enabled
2. It has high sound quality
3. It has three connection options. Bluetooth, HDMI, and USB
4. Simple to set up
CONS
1. It is costly
2. Yamaha YAS – 207BL Sound Bar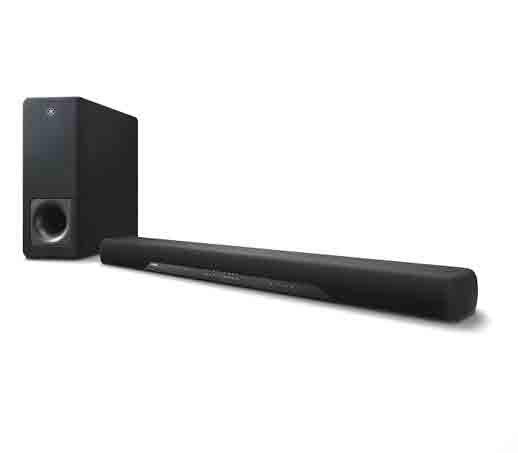 Yamaha YAS – 207BL Sound Bar comes with a wireless subwoofer which is Bluetooth enabled. It is black, thus beautiful. YAMAHA Corporation is the manufacturer. The machine has a DTS Virtual that enhances the 3D sound experience. Moreover, it has been designed perfectly to compliment your TV.
The subwoofer produces powerful bass for the best experience ever. Don't forget that high-quality tweeters accompany the device. Despite being wireless, it allows secure connection with analog TVs. You can also connect through HDMI or optical cables.
The subwoofer can be placed anywhere in the room since it connects automatically without wires. It measures 4.3 by 36.7 by 2.4 inches. The total weight of the assortments adds up to 29 pounds. You can buy it from Amazon.
PROS
1. High sound quality
2. It has different connectivity options
3. It's easy to set up
4. Beautiful design
CONS
1. It is expensive for the common man 
3. Logitech Z906 5.1 Surround Sound Speaker System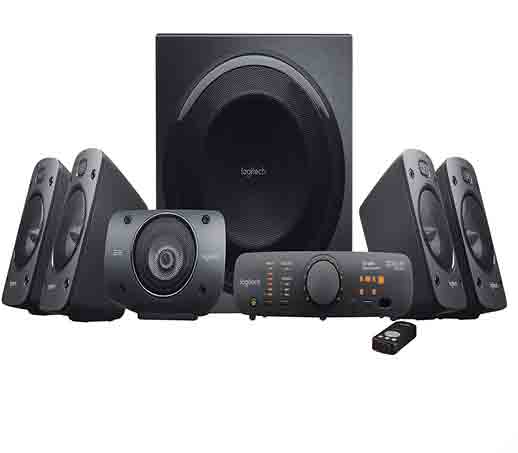 Logitech Z906 is THX certified. It is a high-quality home theater that can give you the best entertainment ever. It explodes with power even when on low volume. If you like hosting parties, then this is the best machine you should get. Its peak power goes up to 1000 watts.
Apart from being a perfect match for your TV, it can connect well with gaming consoles, computers and many more. It comes with a wireless remote so you can sit on your coach and operate everything from a distance. Once you buy it, you will find a user's manual to guide you with the installation process.
PROS
1. It has high quality 3 D surround sound
2. It is easy to control
3. Can connect to a wide range of electronics
4. It has numerous wireless satellite speakers that turn your room into a theater
CONS
1. It is expensive
4. Samsung SWA-9000S Rear Wireless Speaker Kit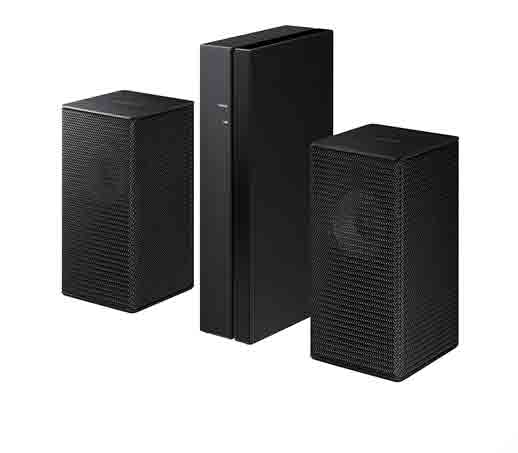 Samsung SWA-9000S Rear Wireless Speaker Kit gives you a pleasant surround sound. They are accompanied by a radio frequency wireless receiver and transmitter that connect the rear speaker kit with your home theater. This system creates high sound quality with heavy bass.
If you like hosting parties, then you better consider this kit. No need for cables to keep the system working. Again, the device is compact and has hanging holes so you can mount on the wall. The best thing about this kit is that it consumes very low power.
It helps reduce your electricity bills. The machine measures 1.97 by 7.39 by 5.2 inches. It weighs 1.54 Pounds. You can easily carry it from one place to another.
PROS
1. Low power consumption
2. It has high sound quality
3. It is cheap
4. It is light thus easy to carry
CONS
1. It only connects through radio frequency wireless system
5. Rockville HTS56 1000W 5.1 Channel Home Theater System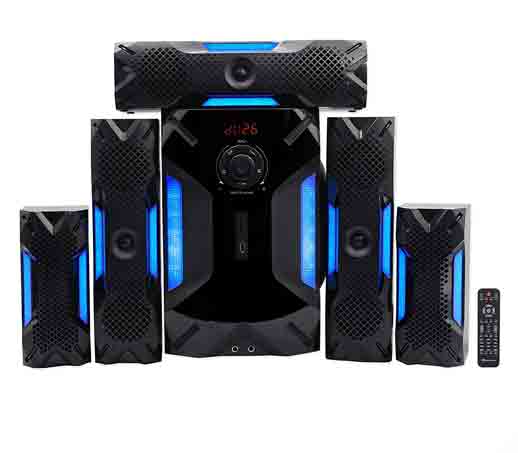 The device is Bluetooth enabled. It has two rear speakers and two front speakers. Moreover, it has one center channel speaker. It comes with antenna cable so that you can listen to your favorite radio stations. With its remote, you can control everything from a distance without struggling.
Again, it is boosted by the satellite speaker mounting kits. It has a user manual to get everything started. The machine gives you a surround sound. Watch movies, play games, listen to the radio and play your favorite music using the device. Don't forget that, the device has USB and Micro SD ports that enable you to play music from the external storage. 
PROS
1. High peak power of 1000 watts
2. Several satellite speakers that enhance sound quality
3. Built-in FM radio
4.It has USB and Micro SD ports
5. Has remote control system
CONS
1. A bit expensive
6. Nebula Mars II 300 ANSI Lumen Home Theater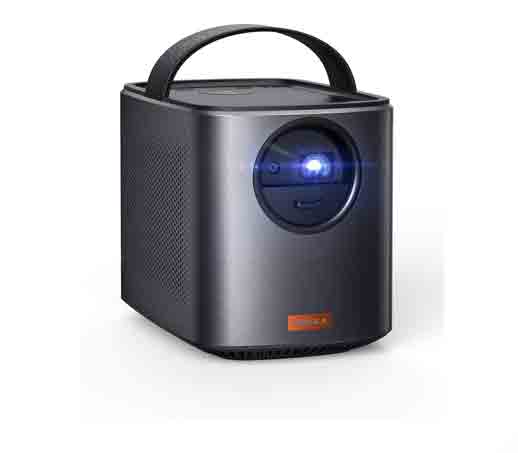 Nebula Mars II comes with an inbuilt projector with 720p. The projector is suitable for both indoor and outdoor presentations. The projector gives you the best movie-watching experience. It has the capability to autofocus depending on the environmental light conditions. It has 10W speakers.
The device comes with the android 7 operating system. It can connect through Bluetooth, WiFi, HDMI, USB, and screen mirroring. You can switch between projector mode and the Bluetooth speaker mode. The device can be charged and used without power connection.
The charging time is three hours. You can play music continuously for 30 hours. The projector can work for around four hours.
PROS
1. Build-in projector so that you can watch your movies
2. Has a rechargeable battery that enables you to get entertained even during power outage
3. Numerous connectivity options
4. High-quality sound
CONS
1. The speakers have a low peak power
7. Harman Kardon Soundsticks III 2.1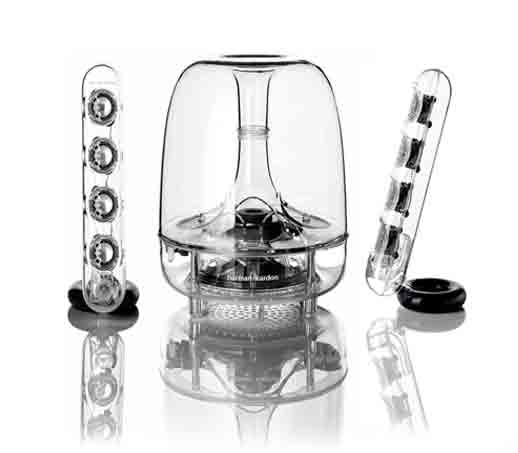 Harman Kardon Soundsticks III is a very stunning machine. It has a 6", 20 –watt downward-firing powered subwoofer. Moreover, it has 8 1" full-range transducers. This device is compatible with many multimedia devices. Using its 3.5 mm stereo audio cable, you can connect to hoofers and all sorts of speakers.
The assembly is used primarily with computers. It has an excellent sound that will make your office a working haven filled with musical sounds. It brings immense entertainment when gaming. The machine is favorable to people who don't like heavy bass sounds. If you are one among these people, then you got the right product. 
PROS
1. Small size which makes it easy to carry
2. It is cheap
3. Connects to a wide range of electronics
4. It has a stunning look
5. It is Simple to set up
CONS
1. Not favorable for heavy sound demands
Bottom Line
Now that you have detailed information on the best wireless sound bars available in the market, it is high time that you pick one for your entertainment. A house without a music system is dull. The music systems discussed above have the latest technology to offer the best sound quality. Above all, they are durable. You will never get disappointed at all by any of them.