The 8 Best Thickest Papers For The Printer
Paper is not paper is not paper. While it might be tempting to just walk into a craft store and pick any paper that looks remotely like what you need for a project, this is a recipe for disaster. Paper, today comes in increasingly different sizes, weights, material, and finishes with each designed with a specific factor in mind. A small wrong variation may translate into an epic fail when you start printing. These thickest papers for the printer will ensure that your work comes out looking as desired.
Cardstock/Coverstock is a type of paper that is thicker, heavier, and more durable than the normal writing and printing paper but thinner than paperboard. But why choose something heavier and thicker? The weight and thickness of the paper have a considerable impact on the final product and its use. Thicker paper is mainly used when; you want something built to last, doing embossing and stamping and doing die-cutting. Card stock will, however, cost much more than regular paper and also cost more to mail. You should also ensure you get the best color laser printer for photos that can handle cardstock well,
Cardstock is mainly used for printing book covers, brochures, business cards, scrapbooking, and flashcards. Generally, they are used to print works that require much greater durability than what is accorded by normal paper. With the best color printer for home, you can easily print out your cardstocks at home in colorful designs.
Cardstock vs cover stock. What's the difference?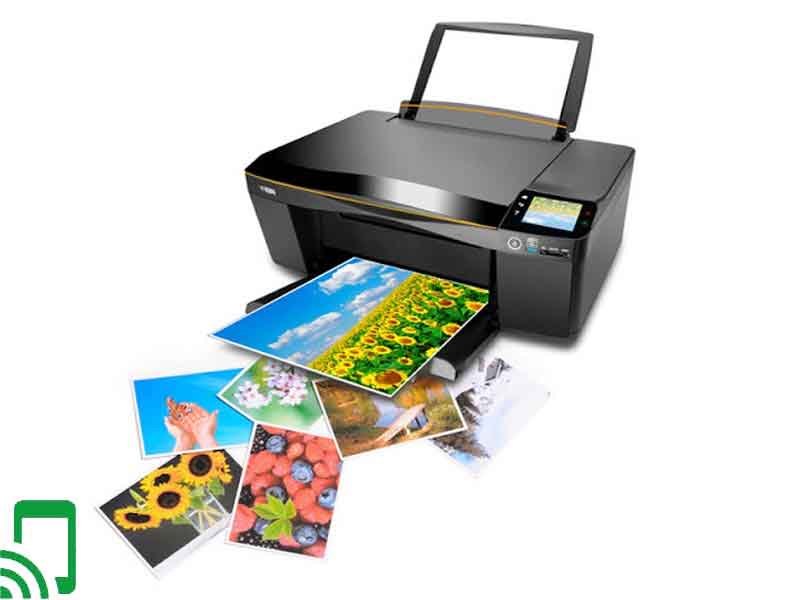 The terms cover stock and cardstock are many times used interchangeably because they are similar, are both heavier than regular paper, and can be used in most of the same projects. Despite this, they do have some differences. The two have different thicknesses, weights, and titles on the package when purchasing.
Cover stock is measured by thickness in points while cardstock is measured and advertised by its pound weight and inches. Also, the cover stock is usually textured and has a protective coating, white cardstock has a smooth surface.
How to choose the best paper for the job
Here is a guide of the factors to consider before choosing paper stock for your project
i) Coated vs uncoated
Coated paper stocks have a thin layer of white clay added to the top to provide a smooth surface. They are generally stiffer than uncoated cards of similar thickness. If you would like to have print outs with precise color reproduction then coated is the way to go. They work well for brochures, catalogs, and material that you don't plan to write on.
Uncoated paper stocks, on the other hand, have nothing covering their surface. It easily soaks up ink and is not a good choice if you are looking to do precise detailing. They are, however, a great option if you are looking to print something inexpensive that you can write on.
ii) Opacity
Opacity is a measure of how transparent a paper is with 100% being completely opaque. If you plan to print on both sides of the paper, this is a factor you should give important consideration.
iii) Paper brightness
The higher the paper brightness, the more readable it is as it will display colors more accurately. The brighter paper will work well in producing high-end colorful designs.
iv) Recyclable and sustainable paper
If you are environmentally conscious, choose a paper that is FSC certified. This means that it has been sourced from renewable and sustainable forest resources.
The 8 Best Thickest Papers for the Printer
1) Norstrom Dumati White Card Stock by Smart Designs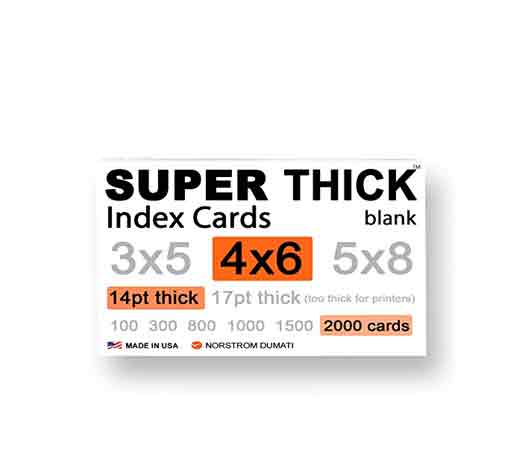 These 6×4-inch index cards are the perfect size for making postcards, greeting invitations, printed cards, and photos. They are made from 110lb index stock and can easily work with photo laser printers, inkjet printers, and offset applications.
The cardstock has a 98, brightness rating to provide brilliant smudge-free printed cards. This pack is also backed by a 30-day unconditional refund policy if you feel you are in any way unsatisfied with the product
PROS
No ink bleeds
Smudge-free
30-day unconditional refund policy
Works with laser and inkjet printers
Affordable
CONS
Difficult to punch using a manual puncher
2) Accent Opaque White Cardstock Paper 1188091R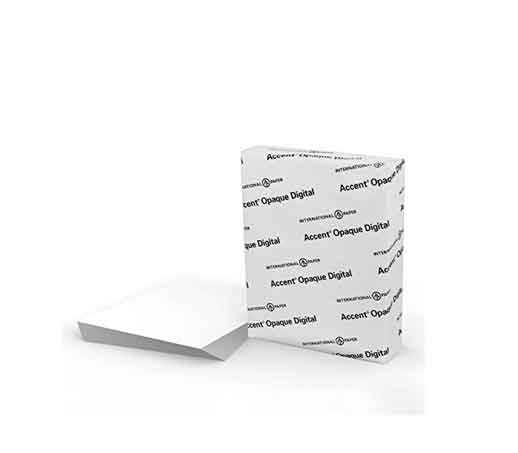 This 8 x 11-inch, 110lb cardstock paper from Accent offers a smooth and level printing surface for great ink holing properties. Ink also dries out quickly on this surface so you don't have to waste time waiting for ink to dry. The paper is compatible with and can run on copiers, inkjet printers, laser printers, and offset presses.
The paper is thick enough and so you have very little if none show-through on the other side. If you are environmentally conscious, this paper is FSC certified meaning it's made from responsible harvested renewable forests.
PROS
Quick ink drying
FSC certified
Runs on inkjet, laser and offset presses
Minimal show-through
Smooth finish
CONS
Difficult to make folds
Difficult to punch through with manual punches
3) Springhill White Cardstock Paper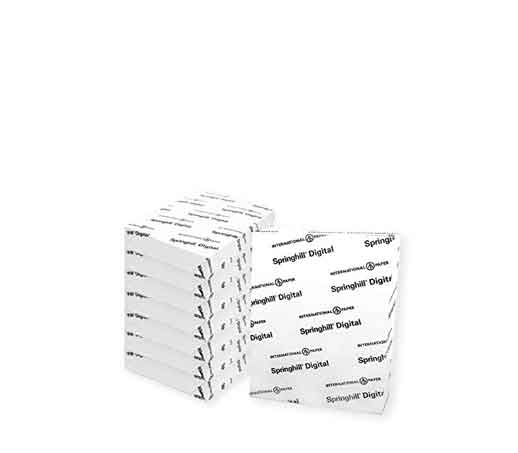 The Springhill white cardstock paper is 8×11 inches in size and weighs 110lb index. This thick cardstock paper works well for craft projects, scrapbooking, and printing other items meant to be durable. The paper has a smooth, velvety vellum finish giving it the feel of premium cardstock.
The Springhill White Cardstock Paper is high-quality prints with no ink bleeds and quick-drying ink. It is also SFI certified, so no worries about the sustainability of its sourcing.
PROS
Acid-free
SFI certified
Quick ink-drying
Prints in copiers, laser, and inkjet printers
No ink bleeds
CONS
4) Neenah Paper 4456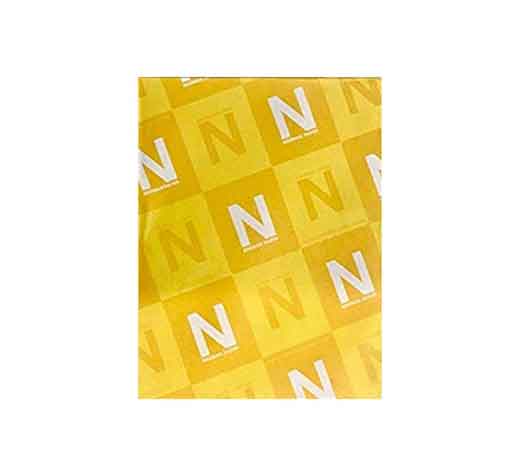 This cardstock package from Neenah comes in a ream of 250 sheets of 110lb with a dimension of 8.5×11 inches. The paper is in classic crest solar white giving you great contrasts when doing colored work. The print quality is good with no ink bleeds and quick-drying ink.
This paper works great with Copic markers though some reviewers had problems when they tried using watercolor. Some reviewers also had some challenges with the poor packaging which arrived damaged in some way. Despite this, Neehan 4456 offers great value for money.
PROS
No ink bleeds
Works well with Copic markers
Easy to trim and fold
Smooth finish
Ink dries quickly
CONS
Not so good with watercolor markers
5) Accent Opaque White Cardstock Paper (188179R)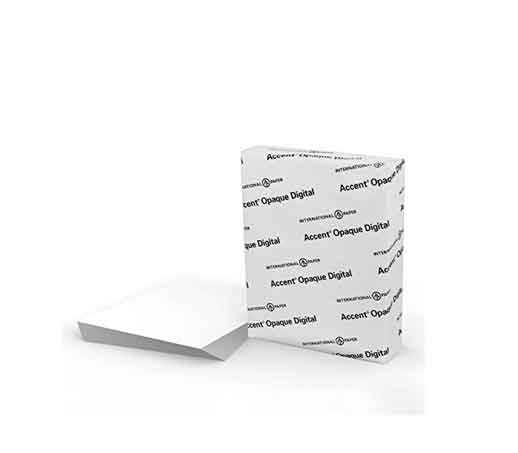 This extremely heavy 120lb cover, white cardstock paper from Accent is perfect for print projects that require thick paper, like greeting cards, posters, brochures, scrapbooking, and crafting. The paper is FSC and SFI certified meaning that it is sourced from sustainable forest resources.
The print performance is top-notch as the ink is quick-drying and doesn't bleed. The cardstock is also acid-free to prevent yellowing and disintegration over time. It works well on copiers and inkjet and laser printers.
PROS
FSC and SFI certified
Quick ink-drying
Acid-free
Minimal show-through
Great smooth finish
CONS
Difficult to use with a manual punch
Difficult to make folds
6) Hammermill Tidal Copy Paper 163120C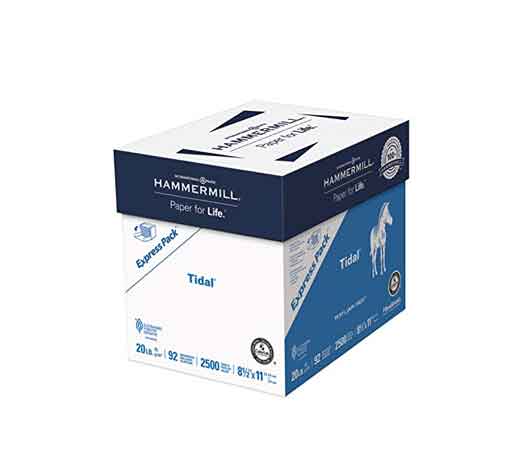 This pack from Hammermill comes with a 20lb copy paper of 8×11" with 2500 sheets. The papers are not in a ream wrap which makes them easier to get and load on your printer when you run out in the middle of a long print session.
The print performance for this paper is great with quick-drying, no bleed ink. Perhaps the greatest feature for this paper is that it has a 99.9% jam-free guarantee to remove the frustration of having paper jams in your copier in a busy office.
PROS
Acid-free
Quick ink-drying
FSC certified
99.9% jam-free guarantee
Works great with laser and inkjet printers
CONS
The lack of ream wrap may inconvenience some users
No protective wrapping when shipping
7) Hamilco White Cardstock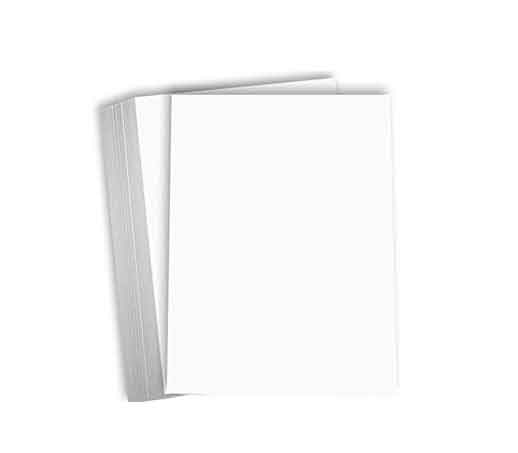 This white cardstock paper from Hamilco is of 80lb cover card and 8.5×11 inches. The paper is thick enough to be used for a variety of projects including printing brochures, restaurant menus, and use in some craft projects. The paper is also acid-free so it will better resist yellowing and disintegration over time.
The print quality is god and can be done from laser and inkjet printers or copiers. If you find that you are unsatisfied with the product, you will receive a 100% cashback.
PROS
Works with laser, inkjet and copier printing
100% cashback if you are not satisfied
Acid-free
Affordable
Good quality prints
CONS
The edges curl a bit after printing
8) Norstrom Dumati super thick index cards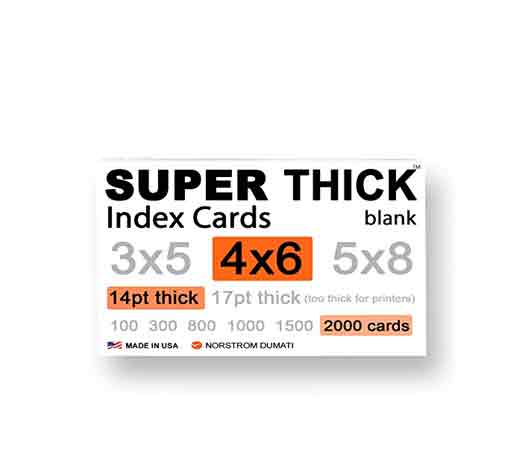 These index cards from Norstrom Dumati are a perfect blend of affordability and utility. The cards are extremely thick and work wonderfully well as flashcards. The ink does not bleed through to the other side at all.
The paper is also acid-free to prevent any disintegration and yellowing over time so it's perfect to be used as an archival note-taking card. The thickness is also USPS approved for postcards and the uncoated smooth surface absorbs gel-ballpoint pen ink, highlighters, and watercolor.
PROS
No ink bleeds
Smooth finish
Cards are thick and sturdy
Ink dries reasonably quickly
Acid-free
CONS
Final Thoughts
The choice of printing paper is at the top of the list of the most important things to consider when undertaking a print job or project. With the wrong paper even the most spectacular design will fall flat on its face, while with the right one you will achieve results beyond your wildest dreams.