The 7 Best Budget Home Theater Systems
When enjoying our favorite film, it is easy to overlook the importance of sound and instead glorify the visual experience. The fact, however, is that films depend on sound to convey and manipulate emotion and mood, give narrative cues, and work together with the visuals to give a mind-blowing experience that neither could manage on separately. This is the core of the cinema experience. The amazing immersive sound that transports you into the movie, and with the best budget home theater systems you can experience this right at home.
A home theater system does exactly what its name implies; it transforms your home into a theater. It is a home entertainment audio-visual system that seeks to recreate the cinema experience in your home. While this may sound expensive, some home theater setups won't break your bank like the best soundbars under $200. You can also opt for a surround system with an AV receiver and surround speakers which can be set up in different ways for a wholesome experience. Surround sound systems can be bought separately, which requires a lot of knowledge in sound systems to efficiently match specifications and compatibility.
If you don't trust yourself that much, a Home Theater In the Box system which comes with all the components would be a great choice. Home theater systems have undergone great improvements from when they went into use. Wireless speakers are now carving a large niche for themselves with their convenience and ease of set up. The best wired sports headphones will no longer be necessary for your indoor gym since you can set up your system to play there. And with even more improvements set to come out, we are in for the best movie experiences yet.
The comprehensive guide to choosing the  home theater systems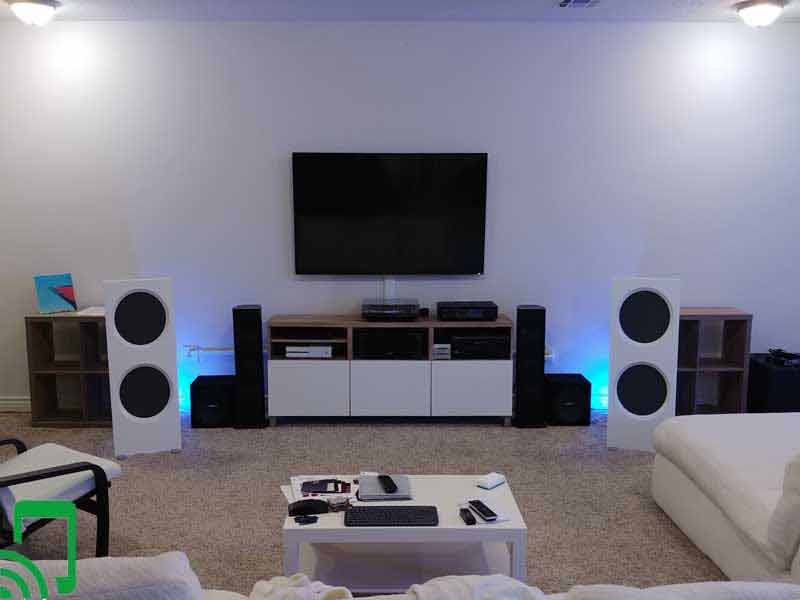 Here is the guide on how to choose and set up the home theater system of your dreams.
i) Soundbar or Surround Sound System
A soundbar would be a great starting point if you are on a tight budget. It improves your sound quality while being easy and convenient to use. Some soundbars also offer a virtual surround sound which sounds great. When buying a soundbar, ensure that you can later add a subwoofer and rear speakers later if you so wish.
If, however, you are looking for something a bit better, the surround system with an AV receiver and surround speakers is just what you need. The best surround systems offer the best immersive cinematic experience with speakers set up at different points for optimal sound.
ii) Video Display Device
If you are purchasing a Home Theater In the Box system, it will generally not come with a television or projector hence this is something you need to invest in separately. Make sure you consider your options carefully as it would be meaningless to have great sound and a poor display.
If you want to go high end, a 4K TV will offer the best resolution you can get for a great viewing experience while a smart TV will allow you to stream shows from online sites.
iii) The Set-Up
Setting up your home theater system is the final step before you can use it. Consider the space in which you plan to set it up carefully. Most systems have a room acoustics optimizer that customizes the sound till it sounds well for your room shape and size.
Find out if you need acoustic treatment for your room to make sure you have no sound distortion. You also need to invest in good seats so you can fully enjoy the experience.
The 7 best budget home theater systems
1. Polk Audio 5.1 Channel Home Theatre System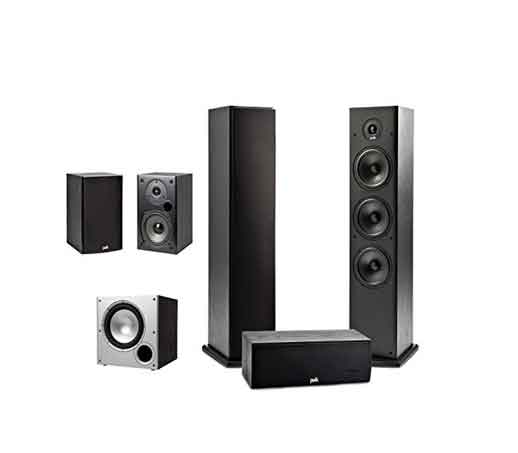 The Polk audio T series is an affordable home theater system consisting of the 2 T 50 towers, the T 30 center channel speaker, 2 T 15 bookshelf speakers, a 100-watt powered subwoofer, and a Denon AVR-S650H receiver. The T 50 towers are full-range speakers with a great frequency range.
All speakers including the subwoofer are built with proprietary dynamic balance technology so that every listener in the room hears 3D surround sound with great bass. The speakers are also compatible with most home theater AV receivers and subwoofers giving you many setup options.
PROS
Voice control with Alexa
Easy to set up
4K stereo receiver
Up to 100W subwoofer
Dolby True HD, DTS-HD, and Dolby Vision
CONS
Small, hard-to-open clips
2. JBL 5.1 Ultra HD 5.1 Channel Soundbar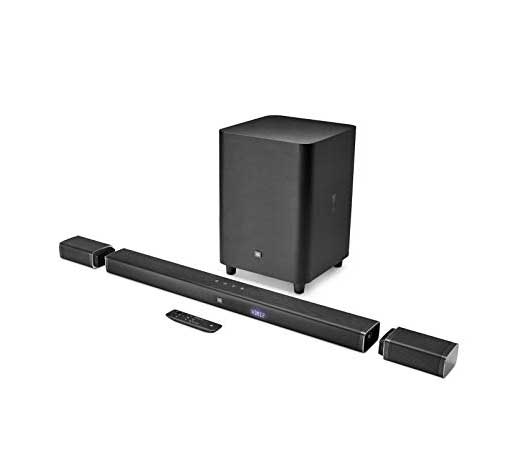 JBL is a household name when it comes to the best Bluetooth headphones for running. This JBL system has a soundbar 5.1 which features 2 detachable battery-powered wireless surround speakers with 10 hours of playtime. The total power from this system is 510W and it has a wireless subwoofer and 3 HDMI inputs to connect 4K devices.
The soundbar allows you to switch between the sound from your TV and the Bluetooth device and with Dolby Digital, Dolby Pro Logic II, and DTS everything you listen to will sound incredible. The compactness of this system and seamless fitting in your room is just another reason to get one for yourself.
PROS
4K passthrough
Battery-powered rear speakers
Detachable into a 5.1 surround option
Powerful bass
Dolby Digital and DTS for powerful surround sound
CONS
No option for quiet listening
Calibrating the speakers can be a bit challenging
3. Klipsch Black Reference Theater Pack 5.1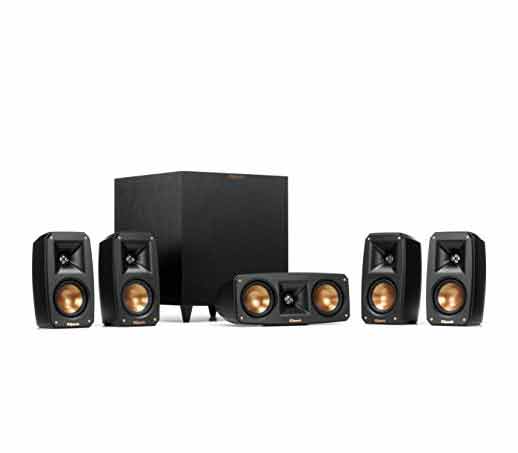 This 5.1 home theater system includes 4 satellite loudspeakers, a center channel loudspeaker, and a wireless powered subwoofer. Each satellite speaker has a keyhole mount and with the wireless subwoofer, setting up this system should be easy to set up with minimal space due to its small footprint. The 2.4 GHz subwoofer connectivity ensures that you get premium-quality sound anywhere in your room.
PROS
Great acoustic performance
Easy to set up
Good value for money
Nicely incorporated bass
Small footprint
CONS
Expensive for a small system
The spring clips on the satellite speakers don't hold well
4. Yamaha Yht-4950U 4K Ultra HD 5.1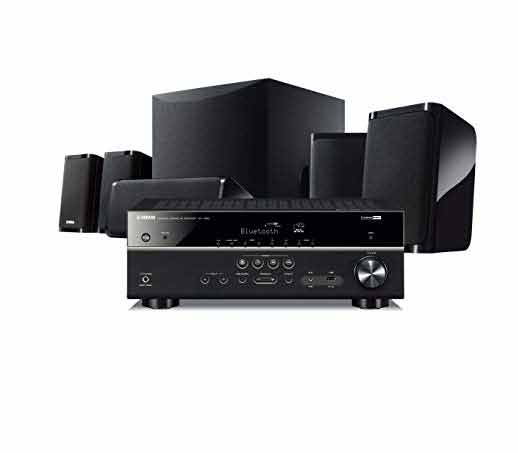 The Yamaha Yht-495OU is an HTIB 5.1 system with an AV receiver, 5 speakers, a subwoofer, and a speaker wire with Bluetooth streaming for all your favorite music. The AV receiver here delivers 4k transmission at 60fpsand supports HDR 10.
The Yamaha Room Acoustics Optimizer analyzes the room acoustics and adjusts the audio to provide the best possible sound for your space. This home theater system also has Bluetooth support for you to listen wirelessly to your favorite playlists on your smartphone or tablet. It also offers voice support from Siri and googles voice assistants.
PROS
4 HDMI inputs
Good quality sound
AV receiver has 4K transmission
Supports HDR10
Bluetooth for streaming
CONS
The sound could be louder
No Wi-Fi or ethernet
5. Enclave Audio CinehomeHd 5.1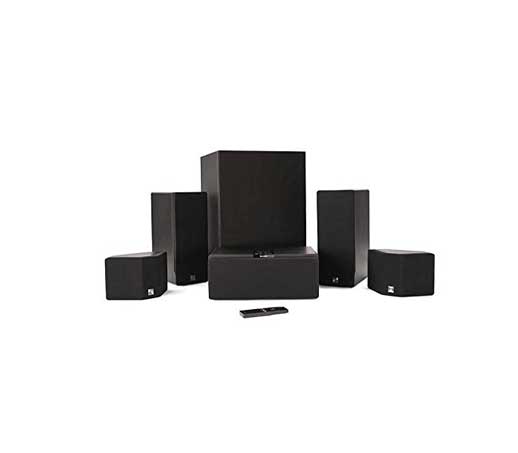 The enclave Cinehome HD comes with 5 speakers and a powered subwoofer. Each speaker has its inbuilt amplifier and except the center channel speaker, each has a built-in wireless receiver though they all have detachable power supplies that must be plugged into an AC outlet eliminating the need for an AV receiver.
The center channel speaker acts as the smart center of the system with 3 HDMI inputs and 1 HDMI output, ARC input, digital optical audio input, and 1 analog stereo. The system allows for direct wireless streaming from smartphones and tablets through Bluetooth.
PROS
Easy to set up
HDMI video pass-through is provided
No lip-synch problems
Good sound quality
No need for an AV receiver
CONS
No Dolby TrueHD or DTS-HD Master Audio recording
A bit costly compared to other similar systems
6. Polk Audio MagniFi Max Home Theatre Sound Bar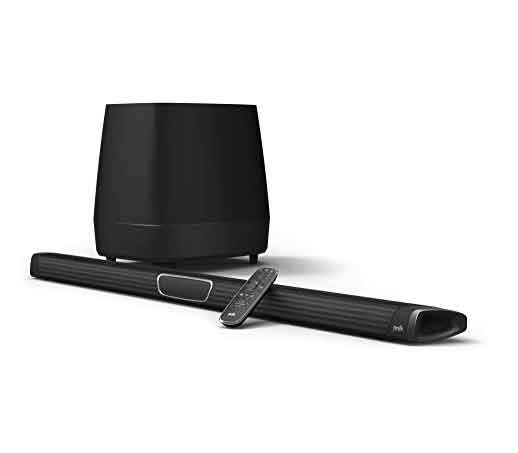 The Polk Audio MagniFi Max Home Theater soundbar usesPolk's patented Stereo Dimensional Array (SDA) which gives a more immersive cinematic experience. The sleek and compact design of this soundbar and 160-Watt subwoofer makes it a great option for small or packed rooms as it seamlessly fits into your room.
When you are not watching your television, you can use Google Chromecast to wirelessly stream music from your favorite apps, and with the Google Home speaker easily voice-control the music selection. Some other great features are the passthrough of 4K and HDR content, Dolby Digital, and DTS recording for an even better listening experience.
PROS
The soundbar is easily set up using the Google Home app
Voice Adjust Technology
Wireless music stream with Google Chromecast
Great connectivity options
4K passthrough
CONS
The soundbar is a bit long
Listening modes can only be changed with the remote
7. Sonos 5.1 Surround Set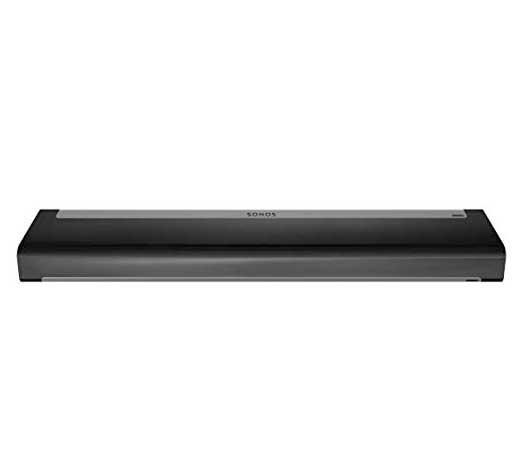 The Sonos 5.1 surround set comes with a beam, a subwoofer, and two Sonos One SL speakers. The 2 speakers are small and can easily fit into a small room without cramping it while the subwoofer also delivers amazing thump. The Sonos beam also connects wirelessly with the other components.
The sound quality with this system is top-notch and with the night mode enabled, quiet audio is boosted to ensure you don't get any noise complaints from your neighbors.
The Google Assistant and Amazon Alexa apps are built-in so you can play music as well as other voice control functions. The Sonos app is amazingly designed and allows you to control all features of your sound system remotely.
PROS
Works with Google Assistant and Amazon Alexa
Wi-Fi support
Easy to set up
Great audio quality
Night mode to avoid disturbances
CONS
No HDMI inputs
A bit costly
Final Thoughts
Home theater systems magnify not only the movie-watching experience but also listening to our favorite playlists. You can now fully enjoy the sound effects created in the studio without having to drive to a cinema every time a film you love is released.