The Nakamichi Shockwafe Ultra 9.2.4 Reviews
If you are looking to transform your house into a theatre-like room with surround sound, then you ought to get a powerful machine such as the Nakamichi Shockwafe Ultra 9.2.4. It is one of the best sound systems I have ever come across. Packed with 9.2.4 channels of extreme sounds, the machine will always be the best thing to have in your house.
Most surround sound systems have up to five channels which may not be enough to give you the best music experience you would wish to have. You may have some spots that may not have equal beats like others. Our system here will eliminate such scenarios. Even watching movies will ever be memorable. For instance, if you have a television, you can bear me witness that the inbuilt speakers sound so bad that you must connect it to a HiFi system.
What are the specifications of Nakamichi Shockwafe Ultra 9.2.4?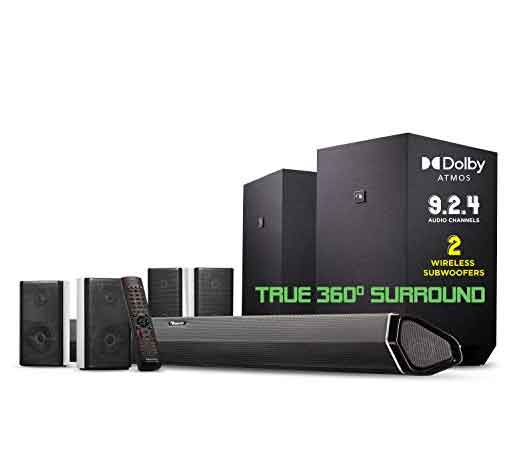 Understand the machine better by checking these amazing specifications.
PROS
1. Numerous sound functions
2. Various audio formats
3. Surround sound
4. Various connectivities
5. Remote control
CONS
1. It is expensive
1) Design and components
The system has a soundbar that measures 45.5″ x 3.5″ x 3.0″ and weighs 7.2lbs. It has two subwoofers each measuring 13.0″ x 11.0″ x 20.5″ and weighs 23.4lbs. Furthermore, each of the four rear speakers measures 5.0″ x 5.4″ x 8.0″ and weighs 2.8lbs, and connect to subs via included wires. The total weight of the whole system is 79.00 lbs including the wires.
The overall audio channels are 9.2.4. Also, have an easy operation of the machine using the remote that uses 2 AAA batteries. You will be able to select different modes including games, movies, or music. The remote gives you one-touch access to all inputs.
2) Surround sound
Nakamichi Shockwafe Ultra 9.2.4 has 9.2.4 channels that help to create a surround sound scenario in your house. A channel refers to sound coming from or moving to a single point. So looking at our machine here, it has more than nine points of sound meaning that every direction of your room will be covered by the uniform sound.
You might have at one time listened to a music system that produced heavy sounds at one point and weaker sounds at other spots. It means that the machine did not have surround sound. J
ust like the Dolby Atmos home theater system, when you get our machine here, you will never experience no uniform sounds in your house. Even Nakamichi Shockwafe Ultra 9.2.4 has the Dolby Atmos technology incorporated in the entire system.
3) Connectivity
The machine accepts Bluetooth connectivity since it has inbuilt Bluetooth Version 4.1 with aptX. You can play music using devices such as smartphones, tablets, and laptops wirelessly via Bluetooth technology.
Furthermore, the machine supports HDMI 2.0a / HDCP 2.2. You can connect it to other devices that have HDMI to get high-quality audio output. HDMI technology is one of the latest connectivity technologies that ensure a great relay of signals. It has 3 HDMI inputs and one output. The HDMI supports video resolution of up to Up to 4K60P. Its HDR format is HDR Pass-Through which is Dolby Vision Compatible 2.
Also, you can connect to your television using the RCA cables. It makes it a convenient device that you can connect to the old television sets that do not have modern connectivity technologies such as HDMI and Bluetooth.
Interestingly, the system supports USB input. If you have music tracks loaded in your USB, just insert it and enjoy immense music at the comfort of your couch.
It also features wireless subwoofers with 5.8GHz so that you do not have to use wires to connect them. The power inputs are 100 – 240V, 50/60Hz for the soundbar, and 110 – 240V, 50/60Hz for each subwoofer. The amazing connectivity enables you to create a wireless surround sound system in your living area to enjoy to the maximum.
4) Audio formats
It is amazing to see that the music system supports various kinds of music formats. The HDMI supports;
Dolby Atmos 2 (Dolby Atmos encoded Dolby TrueHD & Dolby Atmos encoded Dolby Digital Plus)
Dolby TrueHD 2
Dolby Digital Plus 2
Dolby Digital
DTS:X, DTS-HD Master Audio, DTS-HD High-Resolution Audio
DTS Digital Surround
LPCM 7.1
LPCM 5.1
PCM 2.0
The formats for the optical output are Dolby Digital, DTS Digital Surround, and LPCM 2.0 while the USB formats include MP3 and WAV. Audio formats for Bluetooth are SBC and aptX. This makes the system speakers amazing wireless surround sound speakers for TVs which support Bluetooth connectivity.
5) Sound function
The machine has various sound modes which include; Music, Movie, Game, Sports, Clear Voice, Night, News, Clear Voice, and DSP Off. It has Dolby Surround 2 and DTS Neural:X surround sound up mixing. The surround technology includes Exclusive SSE Technology featuring 3 proprietaries (Spatial, Surround, and Elevation) processing engines.
Moreover, the system has four SSE modes which are SSE OFF, SSE 1, SSE 2, and SSE 3. The surround level controls are Side Surround Level, Rear Surround Level, and Surround L&R Balance. Looking at the sound functions, you can see that the machine is one of the best budget home theater systems you can have today.
6) Included accessories
The system comes with plenty of accessories to make the machine useful to you. These include 52-Key backlit remote Control with AAA Batteries, bundled cables (1 x Soundbar Power Adapter with AC Cord (10 ft), 2 x Subwoofer AC Cord (5 ft), 4 x RCA Surround Speaker Cable (32.8 ft), 1 x HDMI Cable (5 ft), 1 x Optical Cable (5 ft) and 1 x 3.5mm Aux-In Cable (4 ft).
It also comes with a wall-mount kit which has 2 x Surround Speaker Mounting Bracket (Dipole), 2 x Soundbar Mounting Screw, 8 x Surround Speaker Mounting Screw, 10 x Soundbar and Surround Speaker Wall-Mount Bracket, 20 x Wall Screw and Bracket, and 1 x Wall-Mount Guide. Even most 7.1 home theater systems come with almost similar accessories and some may also be compatible with the Nakamichi Shockwafe Ultra 9.2.4. Surround sound system.
Can the system support a 3mm jack cable?
If you are wondering whether you can play music using your 3mm cable, then worry not as there is a way you can connect it. You can have an RCA extension and link it to the 3mm jack since we saw that the system supports RCA input.
Alternatively, you can have a 3mm jack to RCA cable so that you connect your tablet, smartphone, or computer to the system. But being also a wireless home theater system, you can utilize the wireless connectivity and get the best music experience ever.
Bottom line
Nakamichi Shockwafe Ultra 9.2.4 is one of the best sound systems you can find in the market. The ability to produce high-quality surround sounds and heavy bass makes the system very admirable. It has various connectivity options that allow you to choose which suits you depending on what you are connecting. Above all, the machine is easy to operate using the remote.