The 8 Best Surround Sound System Under $100
A surround sound system is an audio output that comes from different speakers and outlets, creating a 360 degrees circulation of sound. The term surround system has gained popularity in recent years after the introduction of the home theater systems. Therefore, there is the best surround system under 100 available in the market that can improve your audio listening experience. Besides, this type of all directional sound system comes with multiple channels and speakers.
If you love movies or music, you probably wish for the crispest, deep bass sound that gives out clarity sound more than your inbuilt TV speakers. With the continuing advancement in technology, there a lot of options for an audiophile when it comes to sound systems. However, you don't have to go for the high-end surround sound systems as they are some low budget that can deliver exceptional results.
However, the surround sound systems are unique when it comes to the standards they support, number of speakers, prices, and so on. When deciding on the system sound to buy, consider the sound quality, channels, connections, and speaker strength. For instance, nowadays, the inbuilt TV speakers are of poor quality, and if you want to boost the audio quality, wireless surround sound speakers for TV would be the best option.
What Makes A Good Surround Sound System?
i) Center channel speaker
This speaker produces apparent sound effects with widespread frequency. The speaker placement is at the center of the setup in front of the TV. The speakers are usually broad and flat for uniform distribution of sound. Also, the size of the center channel speaker should be proportional to the size of the TV.
ii) Subwoofer
For additional surround sound experience, a subwoofer is a must-have component. They function by producing a low bass end sound topping up the flavor of the music. Proper bass will make the sound more room-filling and well balanced. However, choose the subwoofer following the size of the room. Big subwoofer in a small room will cause lots of vibration in walls, doors, and windows.
iii) Left and right speakers
These speakers are crucial to give out all kinds of frequencies, higher tones, low bass, sound effects, and so on. The two speakers are necessary to reproduce most of the music in the soundtrack. Also, they help make dialogue so precise when the character's movement is from one side to the other.
iii) Surround speakers
These speakers are two in number and serve the same purpose as the front speakers as they catch all frequencies and give out all kinds of sound. However, these speakers are less critical than the front speakers as they are only crucial in creating a 5.1 channel setup.
What Are The 8 Best Surround Sound Systems Under $100?
1. Acoustic Audio AA5171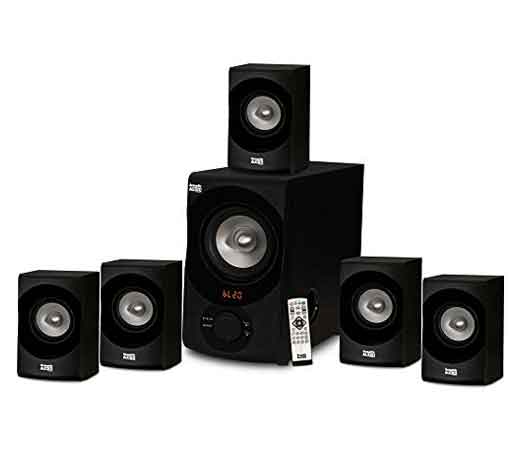 AA5171 is a Bluetooth enabled 5.1 home theater speaker system for streaming music from your phone to the inbuilt Bluetooth receiver. It has integrated power amp with 700 watts system surround function that automatically converts stereo to 5.1 sound FM tuner. However, there are a bass, treble, and central volume control knobs alongside a remote control.
Besides, the system has 5 full-range satellite speakers that are powered by a high-quality subwoofer speaker for excellent sound production. The system has an audio device with a standard 3.5mm headphone or RCA output for use in home entertainment laptop, TV, PC or MP3 player gaming.
Pros
Cheap
Excellent design
Good quality sound
Bluetooth enabled
USB/SD card reader connectivity
Cons
2. Logitech Z606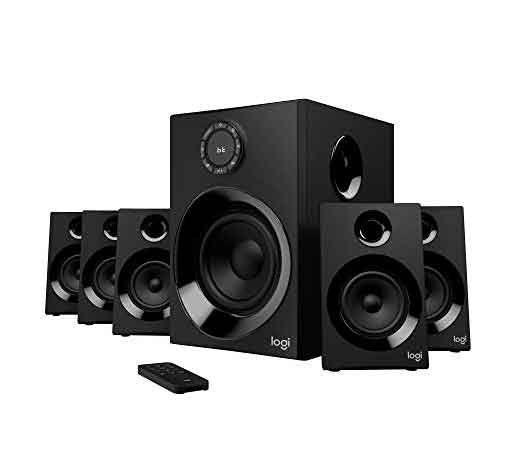 Logitech Z606 5.1 surround sound fills your space with high-quality audio that sounds amazing. Besides, it gives 160 watts of room-filling sound, and you can connect via a wired or wireless connection. With the RCA 3.5mm auxiliary jack, you can enjoy pure surround sound from any source, including your phone, TV, computer, PS, and more.
Also, you can pair your compatible digital device with the system and listen to your favorite music wirelessly. The 5.25″ Subwoofer drivers pump out a deep bass while the included remote and 6.2-meter rear cables make it easy to set up and use. Plus, the extra-long 20-foot rear satellite speakers allow for flexible placement anywhere you want or mount them on the wall.
Pros
Pocket friendly
Wired/wireless connections
Room filling high-quality audio
Remote control
Simple to set up and use
Cons
3. Fluance SXBP2WH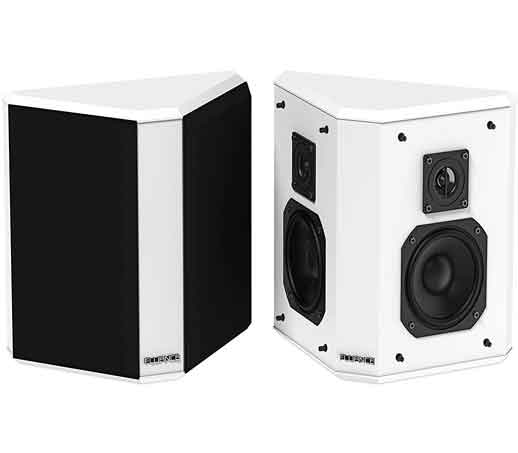 SXBP2WH home theater bipolar surround sound speakers produce high definition sound effects with a 2-way speaker configuration, 4 driver bipolar surround speaker creating a 3D soundstage. The unique setting is met by having two complete full-range speakers on opposing sides of the cabinet.
Besides, the premium components ensure serious performance, natural sound, and seamless TIMBRE to match with any high-quality systems. However, the speakers' power handling is 20-100 watts with a response frequency of 130Hz to 20KHz. Made with audio-grade MDF wood cabinetry for reduced resonance; SXBP2WH bipolar speakers provide superb, vibrant sound performance at every volume level.
Pros
Durable wood finish design
Excellent performance
Lifetime customer support
Produces quality sound
Affordable
Cons
Limited connection options
4. Yamaha NS C210BL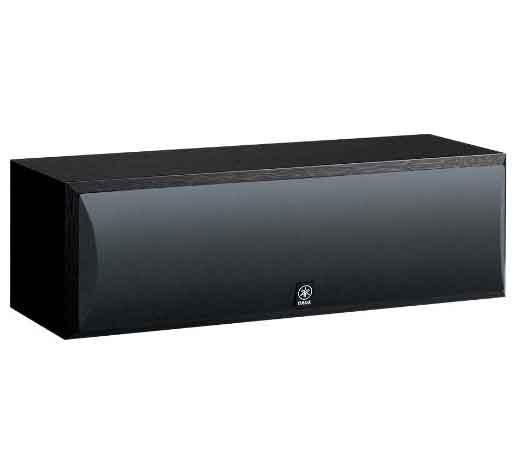 Yamaha NS C210BL is a two-way bass-reflex center speaker system with a slim design that matches the flat-panel TVs and allows for flexible placements. Besides, it has a 7/8 inches balanced dome tweeter for the best possible sound from the HD sources. However, the use of lightweight aluminum cone woofers allows high-speed cone movement for fast response to each music.
Moreover, the speaker design is to reproduce the full, dynamic sound of HD sources with intense bass response. The frequency response is 65Hz to 45 kHz with a nominal power input of 40W and a maximum power input of 120W and is with no magnetic shielding.
Pros
Lightweight design
High HD sound quality
Slim design for flexible placement
Very cheap
Has a fast response
Cons
5. Polk Audio Blackstone TL1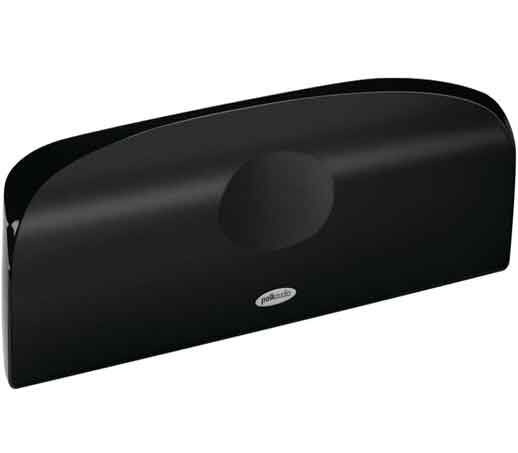 With Polk Audio Blackstone TL1, you can build your home theater unit either a 5.1, 6.1, or 7.1 by adding four to eight satellite speakers and a subwoofer of your choice to this center channel. Besides, it has two 2.5″ drivers, a 0.5″ silk dome tweeter that creates a soundstage comparable to any extensive system. Alternatively, you can combine with the best soundbars under $100 for better audio quality.
Moreover, the unique curved shaped based on the time lens technology delivers smooth high, superior audio details reducing distortions and diffraction while ensuring that the right sound reaches you at the same time. The setup is easy to connect and operate as the center channel connects to a receiver just like any other speaker.
Pros
Compact size
Easy to connect and operate
Powerful bass
High performance
Bargain price
Cons
6. Monoprice 5.1 Channel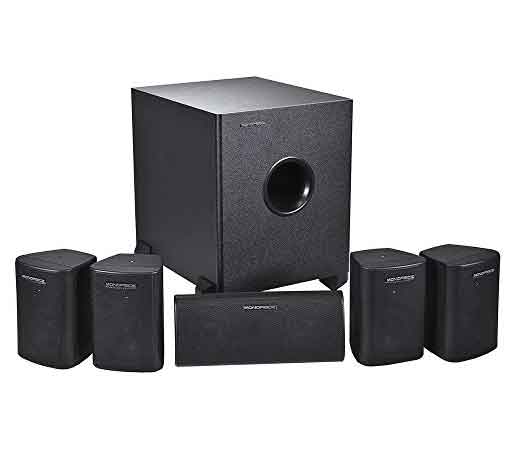 Monoprice subwoofer is powered by a 60-watt RMS amplifier, driving a downward-firing 8″ cone. The subwoofer handles frequencies between 50Hz to 250Hz and has adjustable crossover frequency and volume balance controls. The 8-ohm speaker will handle up to 125watts of power from your home theater receiver at frequencies from 150Hz to 20kHz.
However, you can enjoy the advantage of the high current headphone with other audio sources. The RCA line outputs allow you to send the output to a stereo amplifier or powered speakers when you don't want to use the headphones. RCA line input can connect to external audio sources including CD player.
Pros
Quality full-spectrum sound
Attractive black finish design
Volume balance controls
Adjustable crossover frequency
External audio source connection
Cons
7. Goldwood Bluetooth 2.1 Speaker System

The speaker system is Bluetooth enabled so that you can connect to audio input devices such as smartphones, laptops, and tablets. Moreover, it is a 2.1-Channel home theater speaker system meaning that it can accept two peripheral speakers.
Again, you do not need to operate it manually but just sit on your couch and play music comfortably using the remote. It has a built-in audio amplifier that gives you great bass and treble. Above all, it supports flash disk and memory cards. It also comes with audio in cable.
Pros
Bluetooth enabled
Supports audio in cable
2.1 channel
Supports SD card and flash disk
Heavy bass
Cons
Only two peripheral speakers
8. Acoustic Audio AA5102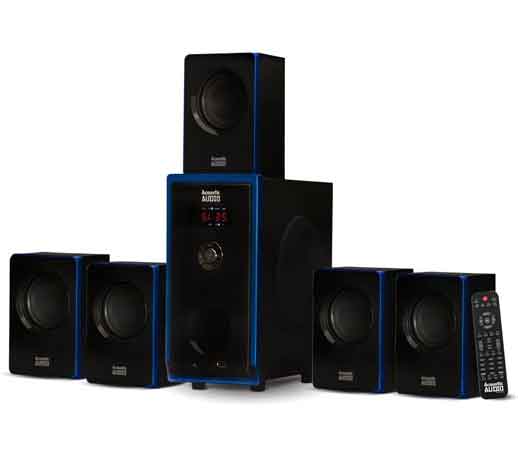 The first thing you will notice with this machine is the numerous peripheral speakers. You can distribute the five speakers within your room to create a theater like a scenario just there. Also, the system is Bluetooth enabled. Connect your phone with the system and play music over the air.
Interestingly, the system comes with a remote. You can operate the device hands-free. Moreover, it has audio in line so that you can connect your phone, computer or tablet to the system. Again, it supports memory cards and flash disks.
Pros
Audio in cable
Heavy bass
5 peripheral speakers
Supports Bluetooth connectivity
Remote control
Cons
Bottom Line
Tired of poor-quality speakers of your TV and in search of a solution that will improve on your music listening, gaming, and video watching experience? Fortunately, there are plenty of surround sound systems that you can get with less than $100 budget and improve on your entertainment experience.
However, if you just need something that is a bit louder than your TV speakers and you don't need sophisticated sound systems, soundbars for the money will get you sorted. Otherwise, this article will help you to get first-hand information before your shopping move.