The 8 Best Surround Sound System Under $200
Take an odyssey through the jungle and extreme climates in multi-player online role-playing games, undertake an extensive war campaign in your favorite action movie or videogame, go live to a music concert: these are all experiences waiting for you from the comfort of your home with surround sound audio. Surround sound, simply put, is sound that comes at you from virtually every direction giving you that immersive cinematic experience. This article will focus on the best surround systems under $200.
Surround sound systems as part of the home theater system are a home entertainment system that seeks to recreate the cinema experience in your home. They can either be wired, be the more commonly used wireless surround, sound speakers. Some necessary components are a must in any surround sound speaker system. First is the subwoofer, which is designed for reproducing bass, sub-bass, and other low-frequency notes and is critical to getting the maximum effect from movies and Music. The center speaker where dialog and other essential sound effects are channeled and the satellite speakers placed on the sides of the center speaker is also part of the surround sound system finally, the equalizer which will mostly be part of your computer.
If you feel the cost of all these speakers seems a bit much for you, you can always get one of the best soundbars for the money. Soundbars have a much smaller footprint and are mounted above a television or computer monitor. They contain several speakers in a single cabinet, which helps to create the effect of surround sound.
What are the different types of surround sound speaker systems?
Surround sound configurations will vary a lot depending on the size of the room, room acoustics, and, of course, your budget.
1) 2.1 surround sound system
Though this configuration is not technically surround sound, it is a definite improvement from using shelf speakers. It consists of 2 surround speakers and one subwoofer and is an excellent choice if you don't have enough money for true surround sound.
2) 5.1 surround sound system
This is a step up from 2.1 as you have 5 satellite speakers (2 left and right front speakers, 2 left and right rear speakers and a center one) and a subwoofer. 5.1 is the minimum configuration to achieve true surround sound.
3) 7.1, and other multi-speaker configurations
The best 7.1 home theater systems will give you a real home theater experience. Other configurations do not vary overly much and depend on the number of speakers, size of the room, and quality of immersive sound you want and can go up to 22:2 speakers.
The 8 Surround Sound System Under $200
1) Harman Kardon Soundsticks III 2.1 Speaker System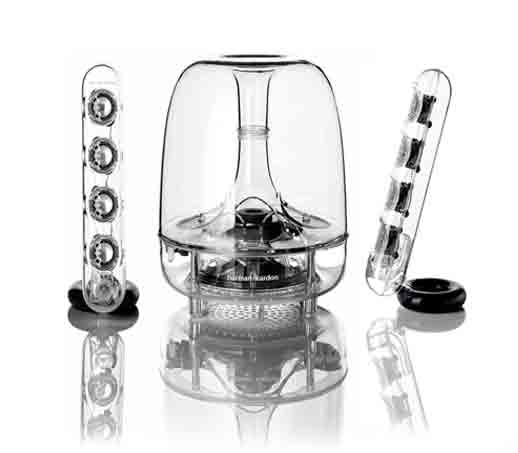 The Harman Kardon Soundsticks' appeal can best be encapsulated in the fact that they became part of the permanent collection in the New York City's museum of modern art. This 2.1 channel sound system comprises of a 6- inch, 20-watt downward-firing subwoofer, and eight 1-inch full-range transducers.
The transducers fill any listening room with great sound that has less distortion while the down-firing subwoofer gives a consistent performance. The 3.5m stereo audio connection makes this system with most other audio components. They also have a small footprint and can easily be placed in any room or office.
Pros
Aesthetically pleasing design
East set up
Great audio performance
Affordable
Good cable quality
Cons
No remote control
No external headphone jack
2) Edifier R1700BT Bluetooth Bookshelf Speakers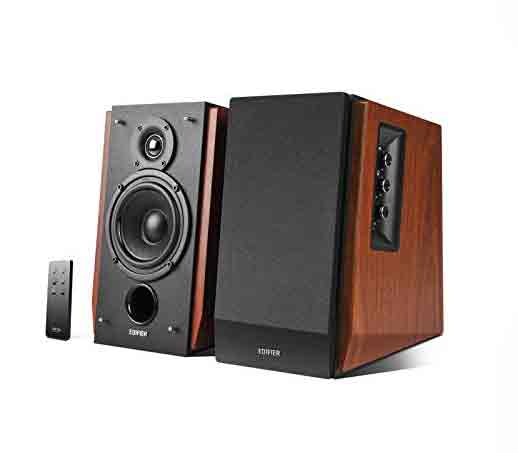 The Edifier R1700BT bookshelf speakers feature a 2.0 set-up. Perhaps the best feature of these speakers is the Bluetooth connectivity. You can easily pair these speakers with your phone, tablet, or computer for smooth wireless streaming experience with any android, windows, macOS, or iOS device.
The inclusion of remote control for a system of this price is also a huge plus. The 2 x AUX input also enables you to connect to two devices at the same time with no switching needed. This system has a beautiful finish and will blend well with different types of décor.
Pros
Affordable
Bluetooth connectivity
Come with a remote control
2-year warranty in the USA and Canada
DSP and DRC to prevent distortion
Cons
Doesn't come with a subwoofer
Midbass quality is not that good
3) Alphasonik 10″ Portable Rechargeable Battery Powered Amplified Loud Speaker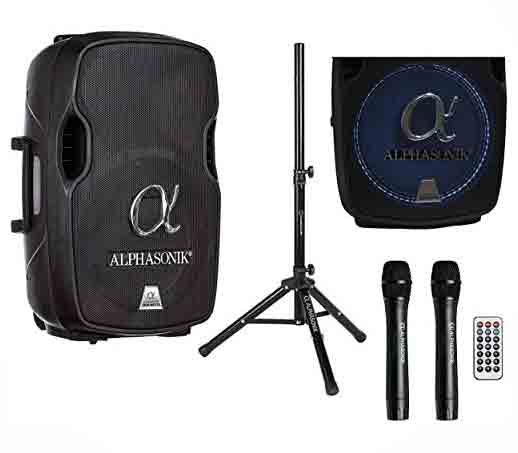 This amplified loudspeaker from Alphasonik is a rolled-up portable, party pack. The speaker system has a built-in rechargeable battery that goes for long hours on a single charge, which makes it perfect for outdoor events and parties.
The Bluetooth connectivity option also allows you to stream your music wirelessly from any Bluetooth enabled device. You can also play your Music via an SD card or USB drive, or via the aux input. The 2 wireless microphones make peaking or performing at an event much easier. The LED strobe lights that flicker in tune with your beat is a great addition at any party.
Pros
Built-in rechargeable batteries
Bluetooth connectivity
Comes with 2 wireless microphones
Has a remote
Built-in LED strobe lights
Cons
The bass is not so good
Operating the microphones without a license is subject to certain restrictions
4) Polk Audio PSW10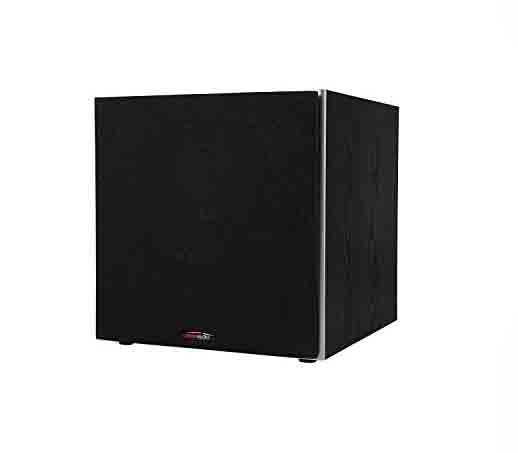 Subwoofers can dramatically improve the sound quality of your wireless surround sound speakers for TV by reproducing low-pitched frequencies of bass and sub-bass. The Polk Audio PSW10 sub-woofer would make a great addition to any home theater system.
This package includes the sub-woofer, an owner's manual, a grille, and an online registration card. The PSW10 has a 10-inch composite woofer and a 50-watt high current amplifier which produces great sound.
Connecting this subwoofer to any other system is also no hassle as it has multiple inputs and outputs including a pair of spring terminals. At this price point, this subwoofer is among the best you can get.
Pros
Value for money
Beautiful finish
Easy connection to any system
Great sound quality
Easy to set up
Cons
5) Edifier R1850DB Active Bookshelf Speakers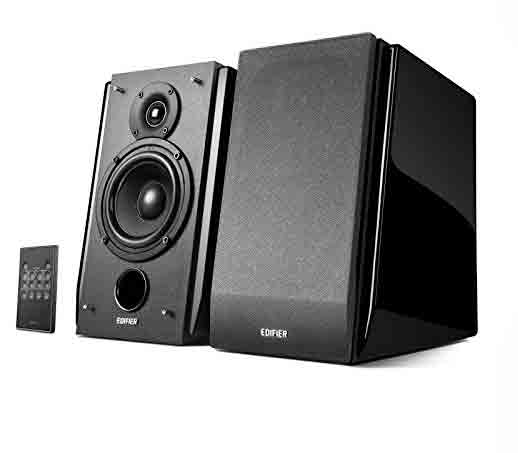 The Edifier R1850DB bookshelf speakers offer a 2.0 speaker set up with a built-in amplifier and a subwoofer line out to get even better sound. This system is equipped with Bluetooth v4.0 that allows you to stream wirelessly from your Bluetooth enabled device.
The wireless remote is also a huge plus and is handy for volume adjustment and track control when connected to a Bluetooth device. This system also has a myriad of input and output connections including a subwoofer output that makes connections to other devices easy.
Pros
Value for money
Beautiful finish
Easy connection to any system
Great sound quality
Easy to set up
Cons
If the bass is set to full, there is distortion after 80% volume
The subwoofer is purchased separately
6) Creative Stage 2.1 Channel Under-Monitor Soundbar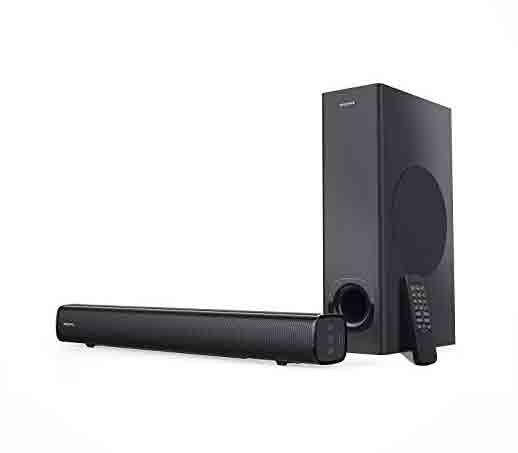 This 2.1 channel under monitor soundbar with a subwoofer from Creative is among the best soundbars under $100 you will find around. This soundbar fits perfectly under a computer monitor or TV and its classic design and finish allow it to blend seamlessly with your room.
The attached subwoofer reproduces that deep, thumping bass that makes your surround sound more immersive. The connectivity options for this soundbar include wireless Bluetooth for streaming from Bluetooth compatible devices, aux-in, optical audio input, ARC, and USB MP3. The controls are conveniently located on the soundbar for easy access and this package also comes with remote control for adjusting volume and other functions.
Pros
Inexpensive
Easy installation
Comes with a remote control and wall-mounting kit
Lots of connectivity options
Small footprint
Cons
High sounds can be a bit muffled sometimes
No option to connect through USB
7) Razer Leviathan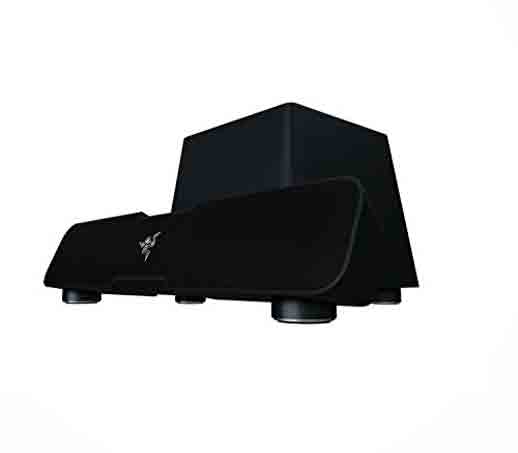 The Razer Leviathan surround soundbar from Razer with a dedicated subwoofer is perfect for surround sound for PC gaming and Music at close range. The downward-firing subwoofer projects deep thumping basses from your gaming scenes and movies making the experience more immersive.
The connectivity options for this soundbar are also quite diverse as it has Bluetooth v4.0 for pairing with Bluetooth enabled devices and NFC for ultra-fast sharing. With the addition of Dolby technology, this soundbar will transform your gaming and cinematic experience.
Pros
Value for money
Powered by Dolby technology
Comes with a dedicated downward-firing subwoofer
Compact size
Bluetooth and NFC connectivity
Cons
Doesn't wake automatically
Doesn't retain volume settings
8) Klipsch Heritage, The One Powered Audio System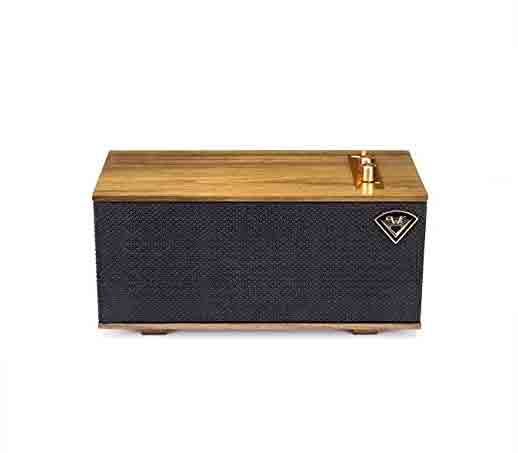 The audio system from Klipsch is among the best TV listening devices for hearing, and to make it better, it is highly portable. It has rechargeable batteries that can go for up to 8 hours on a single charge and if the charge runs out, you only need to plug it in and resume using it.
The Bluetooth wireless technology is a great addition to this device, and it allows you to stream and enjoy internet services and radio or audio files stored on your Bluetooth enabled device easily.
The relatively small size of this speaker makes placing it in any room, office, or even your car extremely easy, and with its classic finishes, it will blend in seamlessly.
Pros
Rechargeable batteries
Bluetooth connection
Great acoustic performance
Easy to set up
Affordable
Cons
The resume from sleep function doesn't work very well
The battery is not replaceable
Final Thoughts
Surround sound is one of the most important features in your home entertainment. These best surround systems under $300 will give you complete gaming immersion, cinematic experiences and will have your heart thumping away to the beat of the drums.