The 7 Best Rechargeable Hearing Amplifiers Reviews
Hearing amplifiers are very beneficial to people with hearing loss. Choosing the best hearing device is sometimes challenging. The best rechargeable hearing amplifiers should last for a long time before requiring you to recharge gain. There are renowned companies that make high-quality hearing aids, which I will discuss later in this article. Most companies are reputable, while others are there to con people since they mimic.
The best thing to do when in need of a hearing aid is visiting an expert. There are different types and sizes of hearing aids. All these have their specifications in terms of operations whereby, not everybody can wear a specific device since it might turn less useful to them and useful to others. The material used may turn out to be uncomfortable on your skin.
The best hearing aid under $100 should have the ability to filter all the background noise to give you the best output ever. Background noise could be a strong wind blowing within your vicinity, animal sounds, or large passing vehicles. Such sounds should appear faint. Moreover, the best hearing aids should allow Bluetooth connectivity so that you can connect your smartphone for music or video playing.
What are the Types of Hearing Loss?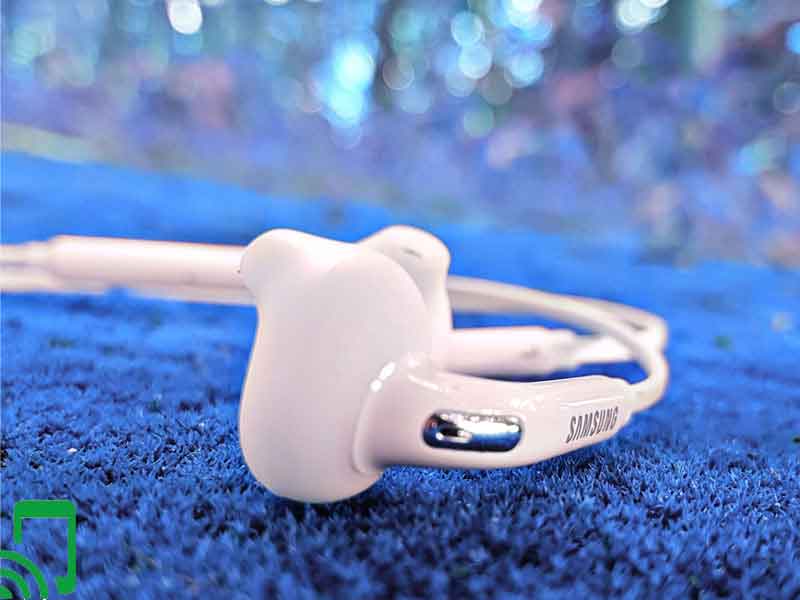 There are several types of hearing loss, which include the following.
1. Mild hearing loss
At this stage, the hearing is not that bad as you can hear other people talk, although voices seem to come from far. You may not need a hearing aid.
2. Moderate hearing loss
People should shout to enable you to hear. At this time, you need a hearing aid to enjoy participating in conversations
3. Profound hearing loss
At this stage, you cannot hear sounds below 90 decibels. You can still wear a hearing aid but still will struggle to hear.
How do I Ensure That I get the Best Hearing Aid in the Market?
To get the best hearing device, you need to consider doing things. First, you need to consult an audiologist. The expert will direct you on the best device you can buy depending on your level of hearing problem. He or she has to carry out some essential examinations to authorize a specific model of a hearing device.
The next thing to consider is price. You know your pocket better than anyone else does. Consider by the device, which you can afford easily without compromising quality. It should be able to last for long.
Moreover, consider getting a more comfortable device that will make you relaxed when using it. We have several types of hearing aids, depending on how you wear them. The In-The canal hearing aids are small and fit perfectly inside the ear canal.
In-The ear hearing aids fit in the ear but not in the canal. They are slightly larger than in the ear ones. The last lot is behind the ear hearing aids. These fit behind the ear and have a tube that extends to the inside of the ear.The waterproof wireless earbuds are wonderful since you can use them in any weather.
What are the 7 Best Rechargeable Hearing Amplifiers?
1. Coniler Smart Hearing Amplifier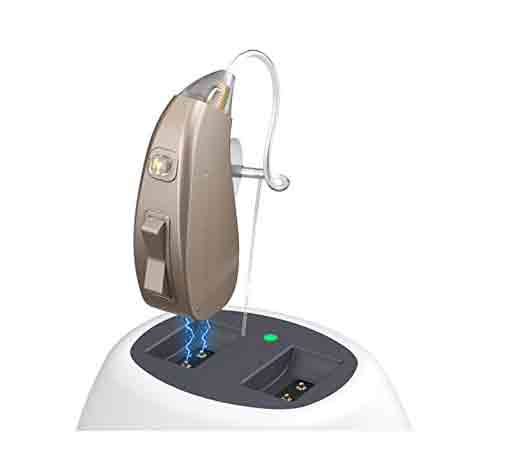 Coniler Smart Hearing Amplifier has excellent digital noise reduction capability. Listen to conversations anywhere irrespective of the noise condition of the place. It helps you walk comfortably on a busy road and avoid vehicles as you can hear them properly. Moreover, it has smart language processing. It can detect the Kind of language under use and give the best output.
It is a rechargeable device whereby it charges via a magnetic process. It ensures the charge and durability of the battery. That is why it can last for long when in operation.
Again, the device is comfortable to wear, as you will never have any irritation experience or any other discomfort. Furthermore, the sellers have dedicated customer service that is always ready to help.
PROS
Smart language processing
Has noise reduction capability
It is rechargeable
Durable battery
Comfortable to wear
CONS
2. TKING Rechargeable Hearing Amplifier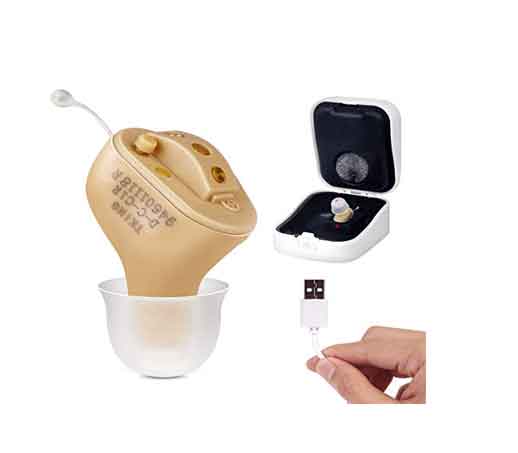 The amplifier has noise reduction technology. It helps you to enjoy the most listening experience no matter the noise condition within your area. Moreover, it has three modes of adjustments according to environmental noise conditions. It can pick automatically upon detecting noise.
It has volume control buttons to help you set the preferred volume that pleases you. Apart from volume adjustment capability, the device has acoustic gain. Moreover, it is comfortable to wear as the earplugs fit perfectly into the ears.
When buying, remember that the device only fits on the right ear, it cannot work with the left ear. However, you may decide to buy two to have the remaining option. The item weighs 1.6 ounces.
PROS
It has acoustic gain
It has noise reduction capability
Comfortable to wear
Three switch modes
Has volume control buttons
CONS
3. Empower Hearing Amplifier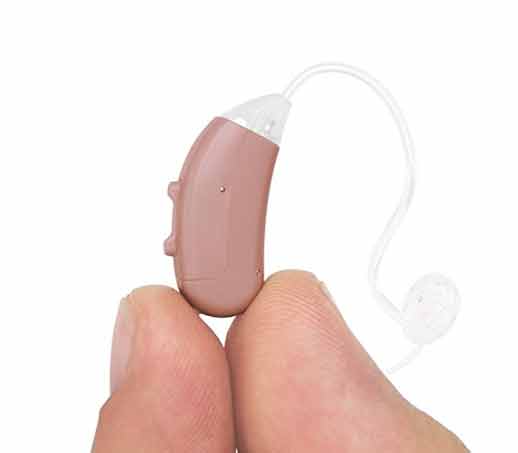 The device comes with a 12-month warranty. Within the period, you can test the viability of the gadget. If it develops issues, you can return for a replacement. However, the device warranty will become invalid if you destroy it yourself.
Again, the hearing aid has a digital noise reduction capability. It helps you to enjoy listening to your colleagues as they speak no matter the area you are in, interns of noise. The device is beneficial in industries with a lot of noise.
The device comes with eight batteries included. You can charge them all and just change to each other thus staying connected to the world for long. Finally, enjoy the small, almost invisible size.
PROS
It has a 12-month warranty
Have 8 batteries included
It is rechargeable
It is easy to wear
It is small and almost invisible
CONS
4. Otofonix Elite Hearing Amplifier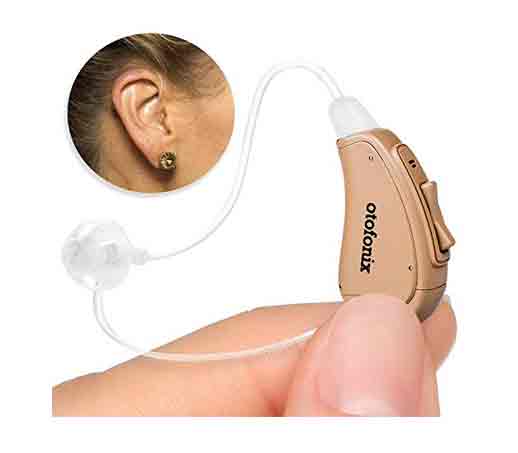 The device is specifically medical. Most doctors may recommend this device since it has high performance. Mostly, it helps people with extreme hearing problems. The design is elegant and pleasant to wear.
Moreover, it has digital noise reduction capability. You will be very pleased anytime you are using the device since you will not experience any noise interference from any source whatsoever.
The device also has dedicated customer care. You will always get help whenever you request because the service is still excellent without time limitation. You should know that the device is not rechargeable and not Bluetooth enabled. You cannot connect to any wireless device such as a phone to listen to music at all.
PROS
Dedicated customer service
It has a durable battery
Has noise-canceling capability
Suitable for all hearing loss cases
It is easy to use
CONS
5. ZVOX Voice Bud VB20 Hearing Amplifier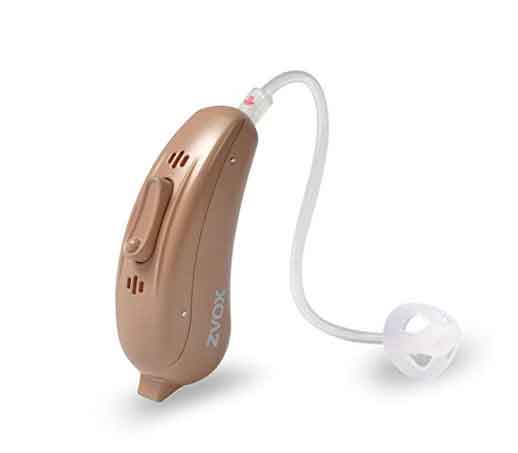 It comes with two microphones for sound reception. It makes the device very useful since it can capture any slight sound within your vicinity. Again, it has the best noise noise-canceling capability, whereby it filters all unwanted noise to give the best outcome.
The device has an app that helps you to control volume with just taps on your screen. Again, the machine helps those with mild to moderate hearing loss. Those with severe hearing loss can get better hearing devices such as Otofonix Elite Hearing Amplifier.
The buds are comfortable to wear. It comes with six buds with different sizes so that you can choose the one that suits your ear. Moreover, it is easy to assemble.
PROS
Noise reduction capability
Durable battery
Easy to use
Has an app
Have two microphones
CONS
Only assists mild to moderate hearing problems
6. Banglijian Hearing Amplifier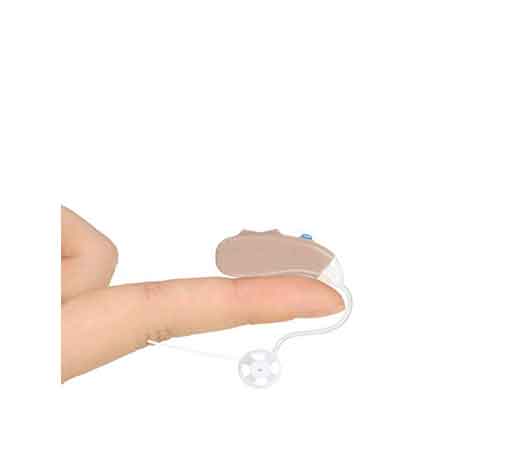 The device is rechargeable. You can charge it anytime it goes low. Again, the charge can last you for the whole day while on active use. Ensure that you recharge it thoroughly every time you are moving out to avoid switching off due to low battery.
The most pleasing feature is the ability to reduce background noise. You will always enjoy listening to conversations anywhere without obstructions whatsoever. It mostly assists the seniors, as it is extra small and highly sensitive.
Interestingly, the hearing aid has a three-year manufacturer's warranty. It gives you enough time to test its operations and return it when it fails to operate well. It is unique due to the three-year warranty while others have one year.
PROS
It has three years warranty
It has noise-canceling capability
It is rechargeable
Suitable for seniors
Small to use
CONS
7. MEDcaTM High-Quality Rechargeable Ear Hearing Amplifier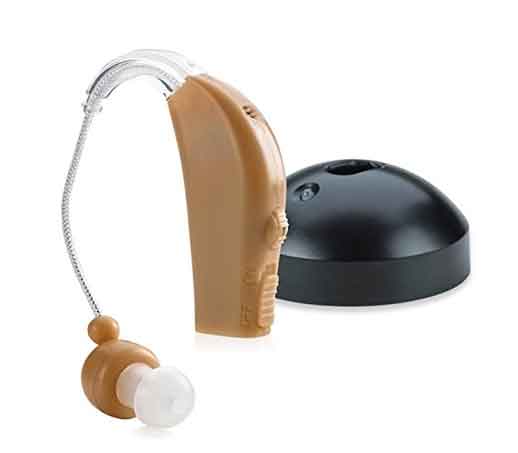 The device comes with a unique design in that it fits in whichever ear. It means that you can wear it on either the left or right ear. Some devices can only fit on a single ear limiting their usage. Moreover, it is light to wear.
It is among the best noise reducing devices ever in the Market. Converse confidently even when within a noisy environment such as a town center or within a factory setting.
Again, the device has lower energy consumption. You might also charge a few times within a week. The sure thing is that the device can take you throughout the day while busy in a conversation with colleagues during a conference or group discussion.
PROS
It has noise reduction capability
Has low power consumption
Comfortable to wear
It is rechargeable
Easy to wear
CONS
Bottom Line
Hearing aids have since their invention helped the majority of the population with hearing issues to link with the other people since they get the ability to listen. It is such an overwhelming experience to hear for the first time through the aid of a machine.
Although the devices may not be competent, they help to some extent. Bluetooth enabled hearing aids can help you listen to radio and TV, thus having a reasonable time like the other people.