The Spectrum Low Income Internet
Spectrum was launched back in 1995 and over the past years, it has grown to become a substantial player in the internet service provider sector by serving over 20 million people. They do not only offer internet services but also cable TV and phone subscription services. If you are on low income and are looking for an affordable internet service, then Spectrum low income internet services is something you can consider.
The federal Government and companies have been working together to ensure that citizens who do not afford secondary needs such as mobile phones or internet services are able to get them at a low price or for free. The common free services are the free government phone offered to low income households and those who are totally homeless. Spectrum offers affordable internet services to all American that prove that they are eligible for it.
This article will give you all the ins and outs when it comes to getting an affordable Spectrum internet plan for low income families. You will also get to learn if spectrum is worth it in comparison to other service providers in the market. So, read ahead to learn more.
How do I qualify for Spectrum Internet service for low income?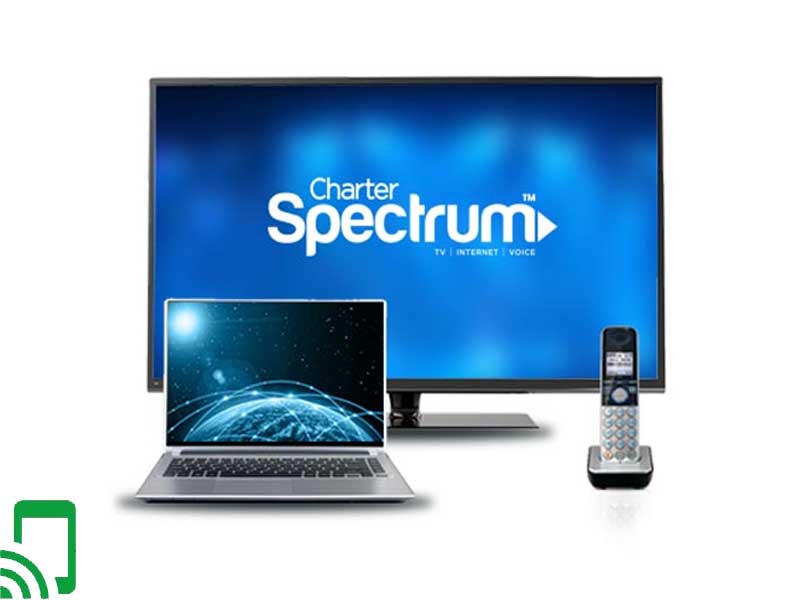 For you to qualify for the spectrum internet for low income families, you need to prove eligibility. The eligibility tends to defer to that of the free government phone in that you are not eligible based on your income.
Eligibility for a free government phone may be based on low income such that if your income is below 135% of the federal poverty level, then you may get a free phone and plan easily.
If you want to get an affordable internet from Spectrum, then you must qualify through the participation in federal assistance programs. The federal assistance programs include;
Supplemental security income for seniors only (65 years and above)
THe national school lunch program- You can qualify if you receive reduced costs on lunch or absolutely free lunch
Community eligibility provision.
The requirements mentioned above are the core programs to facilitate you with a low income internet service plan from Spectrum. The following lifeline programs are not accepted currently; Social security disability, social security disability insurance, social security retirement and survivor benefits.
However you should always check their website or call customer care to know of any changes with regards to the eligibility requirements in order to foster a smooth transition to the affordable income internet services by Spectrum.
Does spectrum offer nationwide coverage?
With over 100 million customers using their services, Spectrum has a very reliable network coverage. Currently it offers the internet services to 44 States across the US. To narrow down on that, there are 3 States with the best coverage which is; Texas, California and New York due to their large populations.
To know if your area is covered visit spectrum and navigate to the coverage section. There you will be requested to key in details such as zip code and your home address after which you will get a prompt to tell you if your area is covered.
If your area is not covered, Xfinity cable internet for low income families can be a good option to consider since they have very positive reviews from millions of people.
Spectrum low income internet plans: What to expect?
The Spectrum internet plans are not unique or something new in the market. Also, even though you are getting the plan at an affordable price, it does not mean that the services offered are shady. If you qualify for the spectrum low income internet plans, you get the following;
A free spectrum internet modem
30 Mbps high speed internet services
No contracts
Parental control features on the network
There is no throttling or data caps
The pricing however varies from State to State depending on the economic structure of the State. You can also visit the nearest Spectrum stand or retail store within your area to learn more on the pricing.
How to apply for Spectrum low internet plans?
If you qualify for the low internet plans, then the application process will be very simple and straightforward. You should however note that integrity is very important for you to be approved.
Below are the simple steps in the application process;
Step 1: Check if Spectrum internet is available in your State
Spectrum wireless offers their services to 44 States. You can easily know whether your State is covered by visiting their website and navigating on the coverage section
Step 2: Check if you qualify
Earlier in the article we talked about the eligibility requirements. The requirements may change from time to time so make sure you are up to date with their terms to ease the eligibility process.
You should also provide valid documents and if you provide false documents, you may be barred permanently from accessing their services or you will have to face the jury if it is a serious forgery.
Step 3: Fill in the application form
The application form looks like this: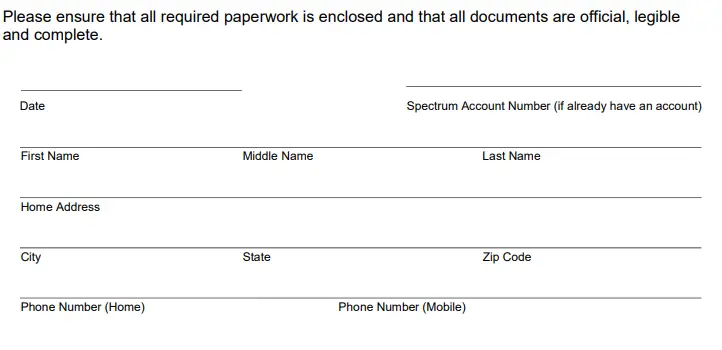 Once you fill up the application, you have two options to submit it;
1. Send the application form and the eligibility documents to this mail:
Spectrum Internet Assist Program –
  OCS 4145 S. Falkenburg Road, Riverview, Florida 33578.
2. Scan the documents and send them to: [email protected]. If you decide to scan the documents, acceptable formats include pdf, jpeg, jpg and png.
Step 4: Wait for approval
The approval process may take up to 10 days. If you qualify, a customer care agent will call you and tell you on the next steps with regards to your payment options and also schedule an installation date. However, if you do not get approved and you think everything is in place, make sure to call them and get to learn why you did not qualify. If it was a technical glitch, then they can help you with rectifying it.
However, if you are not eligible as per their requirements, then you have to seek other alternatives.
What if I do not qualify for the low income internet service at Spectrum?
There are a bunch of other affordable internet service providers whom you can resort to if you don't qualify at Spectrum. Below is a lost of the 5 best cheap and free alternatives which you can go for;
1) Google Fiber
If you qualify and Google fiber happens to be within your area of residence, then you can get cheap internet plans for up to $15 per month
2) Comcast Xfinity
If you are a senior and you qualify, comcast offers the best low income internet services for you. You get a free internet modem with an unlimited mobile hotspot plan, a free computer and free training classes.
3) FreedomPop
Freedompop offers exciting deals with regards to internet plans and also mobile phone plans. You can get discounts and free internet plans for up to 1 year.
4) AT&T
AT&T offers affordable internet services for up to 21 States. If you qualify you get to pay between $5 to $10 per month depending on your internet speeds.
5) Verizon FIOS
Verizon full fiber-optic network offers the best deals and discounts on internet plans. You can get a good deal of $39 per month with internet speeds of up to 100 Mbps.
Is spectrum internet worth it for low income families?
Spectrum is indeed a convenient service provider for low income families because of the following;
Reliable coverage- Spectrum offers their services for up to 44 States. This means that a large number of low income families may benefit from their cheap internet plans. You should however check if your area is covered before making an application
Affordability- The plans are very affordable but price may vary with your State. You can contact customer care to get a quite of pricing in your area.
Easy application and approval process- The application process is very simple and you are only required to fill in one document. Ou also have two options of submitting the required documents; by mail or email.
Good customer rating- Spectrum has a good customer review on platforms like trustpilot. Their community forum also shows that customers are in good terms with their services expect for some situations. The forum can also be a good platform to ask questions or suggestions to help Spectrum give you the best results.
If spectrum could offer nationwide coverage, they will do a great deal to help people access their services.
Read our related article on Cable With No Down Payment and Bad Credit. We share more services for you to check out in this guide!
Bottom Line
Spectrum aims to promote a simplified way for low income families to access internet services. They offer amazing services and the having 100 million customers gives more solid evidence to their stunning services. So, if you plan to join Spectrum and get the low income internet plans, feel free to visit their website or a Spectrum store near you. I hope this article has given you reliable information regarding the Spectrum low income internet plans as of 2020.