Who Has The Cheapest TV And Internet Packages?
Despite the emerging options of streaming media in today's digital world, the Internet and TV packages take a prominent role in modern entertainment and telecommunication world. For this reason, many consumers are left wondering who has the cheapest TV and internet packages that can help then save a considerable amount on their monthly bills. Besides, the larger TV packages and faster internet speeds you choose, the more the monthly price but with added incentives.
However, if you strive to get TV and internet from the same provider, cable and fibre-optic internet providers are the best options for you. Statistically, about 10% of residents in the U.S. don't have access to fiber or cable internet, but that doesn't bar them from having TV and internet bundle option. Fortunately, there are many cable TV and internet providers in the U.S.
Worth noting is that bundling your internet and TV package can get you deals and monthly savings that may not be inclusive with standalone plans. Also, it offers the convenience of shopping for two or more services simultaneously, and it's evident why so many consumers choose to bundle their home services. Using your zip code, see which providers offer cheap cable for low-income families in your location.
What Provider Has The Cheapest Tv And Internet Packages?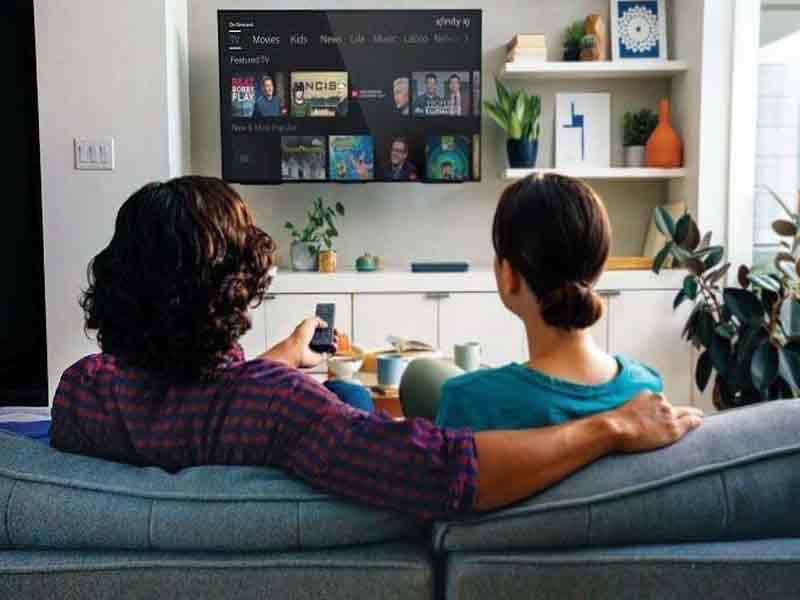 Before we discuss on other TV and internet service providers with affordable packages, it's essential to have a clear picture of the cheapest provider in the industry. Comcast Xfinity is the cheapest Tv and internet packages provider as compared with other nations largest providers excelling at combining tv and internet bundles.
Comcast Xfinity
Comcast Xfinity is the ideal solution for most people's needs, whether it's an individual working from home or a part of a large family that streams show and participates in online games. Remarkably, you get fast speeds, plenty of data, and the channels you want to watch for a reasonable price.
Whether you're researching for the latest digital cable TV deals or looking for Comcast cable TV for low-income families, Comcast got you sorted. You can enjoy new high-speed Internet offers, specials on reliable home phone service while bundling TV and internet package.
This move is a great way to save on your monthly fees slowly. Moreover, you can save up to $30 per month if you combine your internet package plus cable TV through Xfinity from Comcast?
Why Should You Choose Comcast Xfinity TV And Internet Packages?
Has an Optional no-contract plan
Excellent add on channel options
Plenty of on-demand content
Great flexible bundle deals
Top-quality DVR choices
Includes a voice remote
Online virtual support
24/7 customer support
What Internet Connection Does Comcast Xfinity Use?
This internet service provider uses a cable connection, for instance, cable modem for Comcast that offer faster high-speed Internet service packages. However, Xfinity TV and internet packages vary by location, the same case with their bundle pricing and add on.
If you are a resident living in Xfinity service areas who benefit from government-assisted programs, you can access a Comcast cable for low-income families. Still, you can expect discounts and extra bonuses for bundling, regardless of plan options and pricing. These are the package components.
TV and internet bundles costing $40.00 per month
Download speeds: up to 100-275 Mbps
Discount for bundling that amounts to $10 or more for each service you add.
TV and internet bundle perks: Most Xfinity bundles helps customers to have the xFi Gateway router and X1 TV box. The Comcast Xfinity bundles may also feature free installation and additional services including Netflix and premium channels but varies depending on the package and location.
Does Comcast Xfinity Offer Contract-Free Internet Packages?
Comcast Xfinity's packs high speed internet without a contract and the speeds comes at a reasonable price. Moreover, the 275Mbps download speed is sufficient for one person to browse the web or for the whole family to handle multiple devices simultaneously without data caps.
Additionally, there are some areas with particular plans where Comcast Xfinity gives you multiple options for contracts. Put in mind that most triple plays will entail a contract requirement. On the other hand, Xfinity's TV service has a diverse, demanding selection with high channel counts.
What Internet Bundle Deals Does Comcast Xfinity Have?
Comcast's first offerings are its bundles that are Comcast Xfinity. The company might brag for dominating the cable TV industry, but with Xfinity, it takes a few steps beyond the typical packages offered by other telecommunication competitors. The company enables consumers to customize packages that combine the Internet, TV, and home phones.
Therefore, Comcast Xfinity offers the flexibility for you to customize any combination of Internet, TV or phone. There are double plays that combine two services, while triple plays connect three services for the maximum savings.
If you are a beneficiary of a government assistance program or your income levels are below 135% the federal poverty guidelines, then you can enjoy internet services for low income. The sign up is secure, simply click go this site, www.xfinity.com, enter your ZIP code and choose a package from among your many options. Alternatively, you can contact 855-371-9054.
Are There Other Providers Who Offer TV And Internet Packages?
Perhaps, Comcast Xfinity doesn't operate under monopoly. There are other renowned internet services providers of the Tv and internet bundles. Their details are discussed below as per the provider.
1. AT&T
AT$T offers the fastest internet speeds from the Fiber-optic network, but internet and TV bundles are available if either AT&T Fiber or DSL services are available in your area. However, AT&T gives you the freedom to bundle with their satellite TV service, DIRECTV, or their new streaming service, AT&T TV.
TV and internet bundles starting from $79.98 per month
Download speeds: up to 100 Mbps
Discount for bundling which is $10 off internet and TV for bundling
TV and internet bundle perks: Unlimited monthly internet data, includes gift cards with select bundles, various TV options with AT&T TV and DIRECTV
2. Cox
Cox stands out for their bundle discounts, making them the perfect choice for internet and TV service. Moreover, Cox gives you diverse bundle options with monthly savings that vary from package to package. The bundle has;
TV and Internet bundles start at $89.99 per month.
Download speeds: up to 30 Mbps
Discount for bundling is up to 60% or more off the monthly cost compared to purchasing services independently.
TV and internet bundle adds on: On top of the best discounts for bundling, Cox offers free installation for the select packages.
3. CenturyLink
CenturyLink has diversified on their TV service, Prism TV, and now deals with bundles featuring CenturyLink TV and internet service from DIRECTV. Unfortunately, this provider won't get you any additional discounts, but it makes the grooming of home telecommunication services a little simpler. The package has;
TV and internet bundles for $98.98 per month.
Download speeds of up to 100 Mbps but varies by region.
There is no discount for bundling.
There are no adds on for TV and internet bundle.
4. Mediacom
The internet and TV plan options of Mediacom are not different from other cable providers. Usually, there are separate TV options hence, if you want TV, you'll have to get the package with the internet.
TV and internet bundles start from $59.99 per month.
Download speeds: up to 100 Mbps
There is no discount for bundling
TV and internet bundle adds on is the convenience of getting multiple services on a single bill.
5. Spectrum
Mostly, Spectrum offers three TV packages and three internet package, that you can combine depending on your needs to build a bundle with the internet speeds and TV options you want. It includes the following.
TV and Internet bundles starting at $89.98 per month
Discount for bundling: Usually $5 to $10 depending on your package options
TV and internet bundle perks when you switch to Spectrum there is a contract buyout offer. Qualifying Spectrum bundles can give you up to $500 in credits to enable you to terminate your current contract.
6. Windstream
Windstream Kinetic TV service is accessible in select regions to combine with Windstream Internet. Still, to get the maximum benefits out of options for Windstream and TV, you will likely need a satellite TV provider. Windstream has;
TV and internet bundles price from $69.98 per month
There is no discount for bundling with satellite TV but varies with Windstream Kinetic.
TV and internet bundle adds on are unavailable with standalone Windstream internet.
Read our related article on the BEST No Contract Television Services to try today!
Bottom line
Tirelessly looking for ways to keep your home monthly bills at minimal? Well, one of the easiest ways to deal with this struggle is to bundle your TV and internet packages. If you have a cable TV, own a home phone, that are wired with home Internet, bundling your home services with Comcast can significantly save you time and money.
However, allying with Comcast will depend whether services are available in your area, or if, it offers your favorite channels that you're used to watching. Also, you should possess the ability to get out of current contracts on your existing services.