The 6 Best Cordless Phones With Call Blocking Reviews
Despite the rise in smartphone usage, cordless phones have become popular as a great alternative for households and small businesses. These phones have proven to be quite effective for communication with their many perks and the notable one being call blocking. The best cordless telephone with call blocking gives you a chance to block all those calls you have been trying to ignore, and this makes these devices stand out on that feature even compared to smartphones.
Many people using call blocking have benefited a lot by avoiding robocalls and telemarketing. Compared to the call blocker for landline phones, these cordless phones with call blocking bring a lot of efficiencies in that you don't need to use a call blocker separately, and it may be integrated to the phone itself.
The devices also come with long battery life to ensure you communicate effectively during blackouts. This article will give you all the ins and outs when it comes to such types of phones. We will talk about their benefits, buy them, and the six best cordless phones with call blocking To learn more, read below!
What are the benefits of call blocking?
Some of the key benefits of these devices include:
Prevent telemarketers from calling you with deals that you may find not interesting
Do robocalls become a thing of the past- Tired of receiving automated calls from robots? Well, the cordless phones with call blocking are automated to ensure that you do not receive robocalls, and also, you won't even hear any ringing.
Simple to block numbers- Most cordless phones with call blocking allow you to block numbers with only a central button (Red in many cases), and this also saves a lot of time.
Call blocking allows you to block phone numbers either by area code, international calls, private numbers, etc.
The 6 best cordless phones with call blocking
1) Panasonic Link2Cell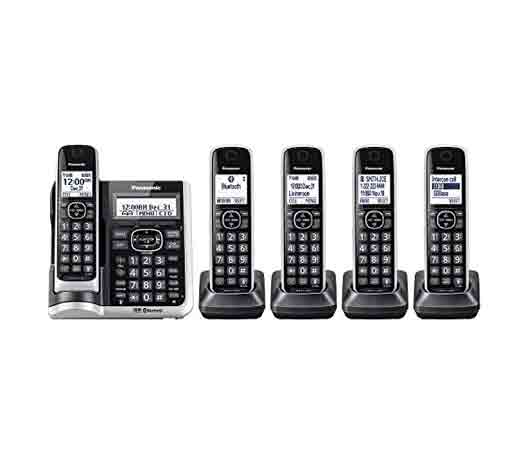 Panasonic Link2Cell offers many perks you will love. The device offers perks like system syncing to two smartphones, Siri, Google assistance, talking caller ID, headset jack, etc.  With the Link2Cell, you can easily link up to 2 devices, and calls can be routed to the two handsets.
You also get an advanced class 2 Bluetooth, which extends calling range up to 330 ft. You also get an app that delivers push notifications when you get emails, SMS, and other information. You can also link google voice, Siri, and S voice with the voice assist feature.
The call blocking feature is also available via a dedicated button on each handset, and you can block robocalls, telemarketers and other unwanted calls. The call blocker can register up to 1000 caller numbers.
This cordless phone also comes with a large backlit display and large dial keys for efficient usage. It also comes with noise reduction feature by suppressing background interference and enhancing voice tones for better conversations.
PROS
Noise cancellation feature is amazing
Low battery alerts
You can block up to 100 numbers
Advanced calling is simple
CONS
Push notifications are available on Android only
2) AT&T TL96477 DECT 6.0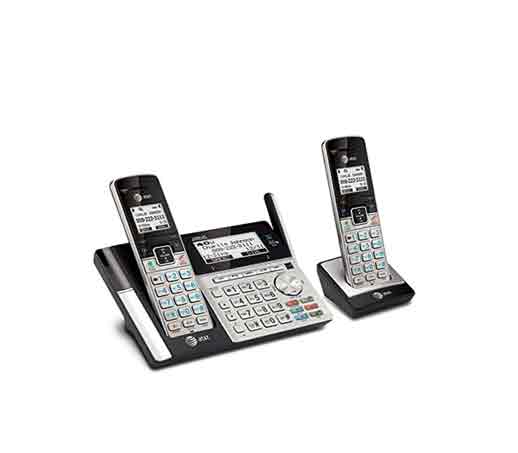 This is a great device that will work for the call, blocking, and a reliable cordless device for deaf persons. The device allows you to pair up to 4 phones and use two paired devices simultaneously to make calls. You also get to automatically block robocalls and also permanently blacklist up to 1000 caller numbers with a dedicated button.
There is also an exceptional smart call blocker that requires a subscription. Screening calls are also made more comfortable with the handset announcing the caller; hence you don't have to worry about running to pick up the phone.
AT&T TL96477 ensures you never miss a call by giving you the mobility of 4 cordless handsets hence eliminating the search for your ringing cordless phone all the time. It also comes with a shared phonebook entries feature that can program up to 200 caller numbers associated with phone numbers on the phones. You can also download up to 4000 caller numbers onto the cordless telephones.
PROS
It allows Siri and Google voice
An efficient way to add contacts
You can call even when power is off (1-hour cap)
Good display
CONS
Answering system voice guide is unreliable
3) PANASONIC Corded/Cordless Phone System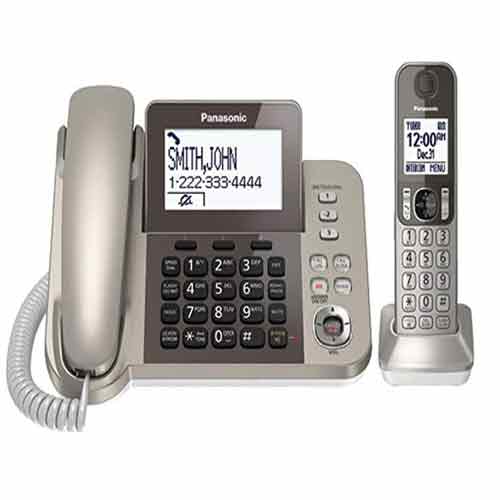 Panasonic Corded offers many features you will love. The device has a good body design and also features an ample 3.4-inch screen that comes with a high-contrast LCD, which easily adjusts forward and back for efficient readability.
The device comes with three one-touch dial pads, which are perfect for changing numbers frequently.  It also comes with a one-touch call block feature that gives you a dedicated button to block telemarketers, robocalls, and anyone, and you can block up to 250 persons.
You also get a caller ID that announces the name of a caller. Panasonic Cordless phone comes with a critical detector that can easily locate lost keys with a small, optional detector device. It has a 7-hour battery backup that allows you to make calls even when the power goes off.
The cordless phone also comes with a baby monitor that ensures your child is safe in his or her room. It also comes with noise cancellation and voice enhancing to hear the person who is calling.
PROS
Noise cancellation is available
Friendly user interface
Wall mount adaptor
Automatic blocking on numbers
Caller ID is fast
CONS
Low maximum number of call blocks
4) AT&T CLP99387 DECT 6.0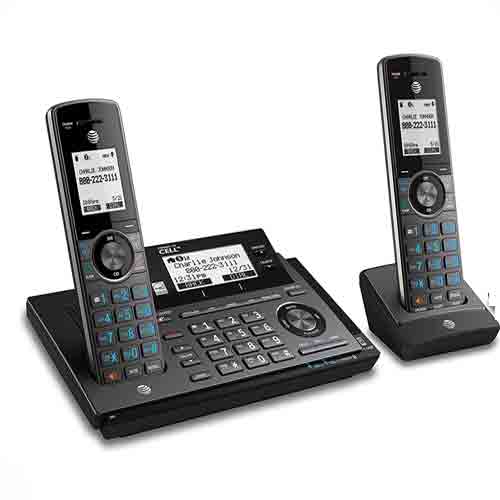 AT&T CLP99387 DECT 6.0 offers a stunning integration between it and smartphones plus other amazing features. The device allows you to block up to 100 contacts, and robocalls are automatically blocked from even ringing. The device will enable you to add up to 12 accessory handsets in just a single minute.
You also get to use Google Voice and Siri, which creates lots of efficiencies when you are far from your device. This feature allows you to make calls, read texts, and straight from the cordless phone. AT&T CLP99387 DECT 6.0 allows Bluetooth connectivity that allows you to call or receive calls from your landline or any other home phone system.
You also get a stunning display that allows you to perform several tasks easily from the phone. The item also is of the lightweight.  You can also call even when there is a blackout since it offers power backup.
PROS
The long-lasting battery in case of a blackout
Google voice and Siri is available
Bluetooth integration is amazing
Stunning design
CONS
Some basic features require subscriptions
5) CPR V5000 Call Blocker for Landline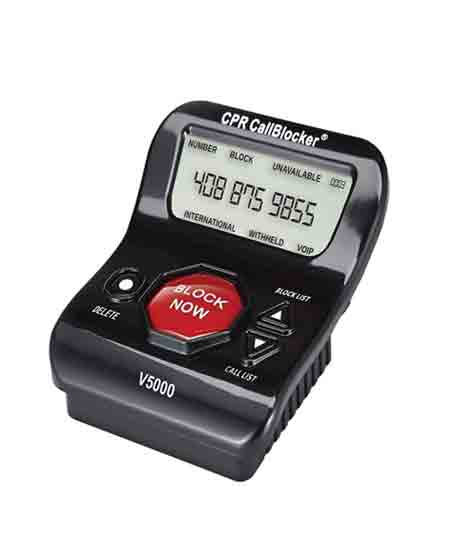 CPR is one of the biggest companies manufacturing devices that use Caller blocking technology. The CPR V5000 comes blocks robocalls automatically. They also block scam calls, insurance calls, unwanted political calls, and telemarketing calls in general. You can also pre-program up to 5000 numbers on their database.
You also get a big red button that instantly blocks phone numbers. The device also has a blocklist button that allows you to see the numbers blocked. The device is compatible with major landline phone manufacturers like Philips, Motorola, Swiss-voice, Panasonic, Uniden, and AT&T.
The device comes with a large 3″ caller display screen. The button is large and tactile hence simple to control.  You can also block all Private incoming calls to the device. The call blocking also allows blocking international, unknown, and Area code blockers, blocking a State or country code.
PROS
Efficient blocking system
You can block up to 5000 numbers
Large screen
Comes with a call list that lets you view blocked numbers
CONS
6) VTech DS6151 2-Line Expandable Cordless Phone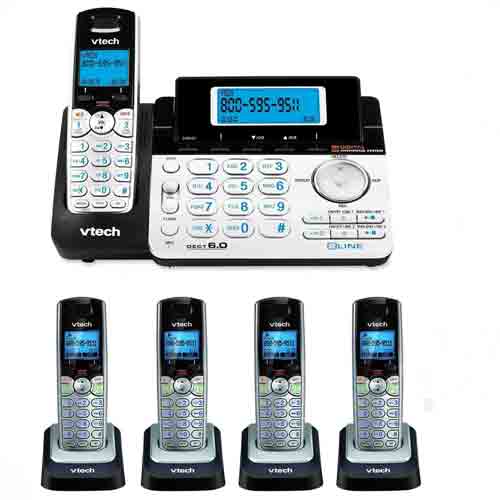 The VTech 6.0 offers many great features for those looking to get the best cordless phone with call blocking. This device is perfectly designed for homes that are usually busy and small businesses. The device has a great display that gives you all the info on who is calling and so much more.
It offers reliable caller blocking technology that automatically blocks robocalls, telemarketers, and so much more. The device also comes with a stunning user interface that makes it simple to see the numbers you have blocked. It also offers an efficient blocking system that can be done either by area code, international calls, private calls, etc.
You can also make calls even when the power goes off with the aid of 5 AAA batteries. Despite the gadget coming with 2 cordless phones, you can add a maximum of 12 phones and use a single phone jack.  The phone also comes with a digital answering system, and you also get a Caller ID.
PROS
Lightweight
Stunning body design
Long battery life
Caller ID is available
CONS
Unreliable for noisy places
Bottom line
Cordless phones with call blocking technology will give you peace of mind by ensuring zero disturbances from robocalls or telemarketers. With this feature, you can also block additional numbers efficiently.
Most devices come with google voice and Siri integration, making it efficient to easily use the cordless phone and your smartphone. From this article, I hope you find the best cordless telephone with a call blocker today!