7 Best Unlimited Data Hotspot No Contract
In this modern age, the internet has become necessary in our day to day lives, and if you don't have access to it, you will be left out. With the internet, you can attend various lessons virtually, or you can learn new cooking recipes on multiple platforms such as YouTube, Instagram, blog sites, and so much more. There are various mobile carriers in the US, and each has its special offers on internet services in their bundles. You can get an unlimited data hotspot with no contract to share your internet with your devices such as laptops, phones, and others to stay connected at all times.
A mobile hotspot is a wireless data that's part of your mobile plan that enables one's smartphone to act as a Wi-Fi to any other device. The demand for high-internet speed gets high every day since nobody wants to be left out with low internet speed. Many mobile service carriers offer unlimited mobile hotspot plans to their customers at an affordable price and enjoy fast internet speeds. Various mobile carriers offer these plans at affordable prices in their mobile plans, so instead of getting the hotspot only, you can enjoy mobile phone services.
Some of the mobile service providers that offer the hotspot feature in their mobile plans include T-Mobile, Verizon, Visible Wireless, T-Mobile, among others. No need to feel lost with the various mobile carriers in the area as you are in the right place. In this article, I'll guide you through some cellular carriers, and the different unlimited data hotspot with no contract plans each has to offer.  Through the article, you shall check out some tips on getting the ideal plan and answered questions that you might have. Let's check them out.
See our related article on How to Use Mobile Hotspot Without Using Data. Unique way to save data!
How does the hotspot work?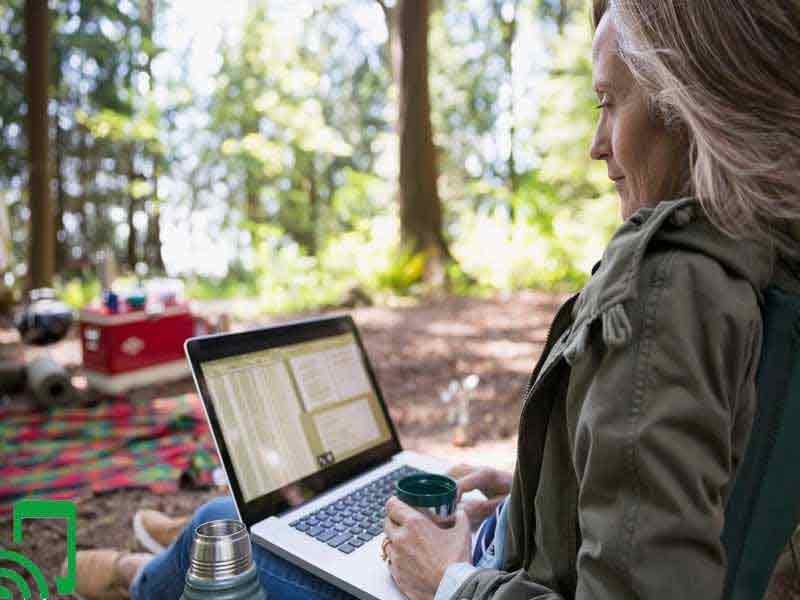 To enable the hotspot feature on your phone, you need to enable the Wi-Fi hotspot on your phone that you can quickly access them in your settings. You can also change the password and hotspot name before the default settings so that you can access the internet easily. Once done with that, you can find your hotspot signal on other devices that you want to connect.
Once the month's 4G hotspot data runs out, you will be allocated with 3G hotspot speeds. The 3G speeds enable you to send emails and browse, but you won't stream smoothly with it. Most of the providers allow you to create a hotspot, but the speeds will be slow.
As you go looking for a hotspot plan, you need to check the offers the service providers have to avoid any inconveniences during the month. If you subscribe to a limited hotspot plan, you need to know that your data is attached to your monthly data allocated in your mobile plan. For instance, if you go for a 3GB plan every month, you will use the data in line with your hotspot to other devices to consume the 3GB data. You need to subscribe to a mobile plan with unlimited high-speed internet without a contract and unlimited hotspot data.
Top 7 unlimited hotspot data without a contract
1) Visible Unlimited Plan
At Visible Wireless, you get to enjoy fast and reliable internet at an affordable price. You get to enjoy unlimited hotspot data capped at 5Mbps. With such speeds, you should be able to do various activities such as emailing, browsing, streaming music, and do much more without worrying about any data limit. The good thing about Visible is that it uses Verizon's network to enjoy fast and smooth internet services.
The problem at Visible Wireless is that you be a deprioritization subject, meaning that your data speeds can at times drastically drop as Verizon gives priority to its customers first. The unlimited mobile hotspot plan goes for $40 per month to enjoy a smooth internet connection.
2) Verizon Do more plan
As you all know, Verizon is among the top-notch mobile service providers in the US and are known for their reliable and fast internet speeds. With the Verizon unlimited mobile hotspot plan, you get to fast internet, and you can do a lot of heavy internetworks if needed. If you work from home, then it is an ideal choice as you can transfer large files and fast online communications.
The plan goes for $80 per month for a line, and the price increases with the number of lines taken. In this offer, you get 15GB of 5G LTE mobile hotspot to enjoy super-fast internet on your other devices, unlike 4G.
3) AT&T Unlimited Elite
Being among the top mobile carriers in the US, AT&T has conquered the hotspot battle as it got a super plan among other service providers unlimited mobile hotspot plans. AT&T offers the unlimited mobile hotspot plan that goes for $85 per month with autopay and paperless billing.
In this plan, you get to enjoy 30Gb of high-speed hotspot data, and you compare with other mobile carriers with such a plan it is expensive. In this plan, you get to enjoy HBO Max, an excellent way to spend your leisure time on the latest series in the trend.
4) Metro By T-Mobile unlimited data
The company's name says it all, formerly known as MetroPCS, it is a subsidiary of T-Mobile. The service provider has various unlimited data hotspot with no contract plans in store for its customers. The Metro unlimited data plan goes for $50, and you can add more lines for $30 each, and enjoy unlimited talk time, texts, and data. You get 5GB of hotspot data so that you can most of your work on your laptop.
It comes with Amazon Prime so that you won't stay bored in this pandemic. If you like streaming movies, then no need to worry as you get to enjoy video streaming at $80 and any taxes and fees are included.
5) Verizon Get more plan
In the Verizon get more plan, you get to enjoy much faster and reliable internet speeds. You can do a lot of substantial internet activities such as streaming music and movies, file transfer, and browsing for long hours. At only $90 per month, you get to enjoy 30GB 4B LTE of mobile hotspot data to stay connected on your various devices. With such amount of data at your hands, you get to complete the heavy tasks with the internet without it any inconveniences.
6) T-Mobile Magenta
If you are on a tight budget, then the T-Mobile Magenta plan got your back. The plan goes for $70 per month and it comes with various exclusive features that you will love. You get to enjoy unlimited hotspot data, so you need to worry about any limit as you stream your favourite Tv shows.
At times it may be slow due to the 3G speeds, but you will be able to do most of your work efficiently. It comes with unlimited texts and calls to stay connected with your friends and family anytime. You can also add a line for $60 for a line a month so that your household can enjoy the services.
7) T-Mobile Magenta Plus
If you need faster speeds at T-Mobile, then you can opt for Magenta Plus. In this plan, you get to enjoy 4G internet speeds to do your work efficiently. It came with 20GB of data and boosted to 4G LTE speeds to stream without any stops or loading. In the Magenta Plus, you get to enjoy dedicated customer care and unlimited talk, text, and data on your network. You get to enjoy Netflix the standard plan for two screens in HD so that you can check out the latest series in trending.
Which is the cheapest hotspot plan?
Suppose you are on a tight budget or want to get reliable internet services at a lower price. In that case, it can be a tough decision to make with the various options available offered by multiple mobile carriers. As the saying goes, "cheap is expensive," you need to check the one that is reliable to avoid inconveniences as you work and at a lower price.
I highly recommend that you go for the Visible Wireless plan as it goes only for $40, and you get unlimited data at 5Mbps for the whole month. You can take your time and compare the prices of the plans of various mobile carriers.
Wrap up
The hotspot feature is offering a fast and smooth internet connection to various devices that you have. The good thing is that the hotspot is reliable, and you can complete any task on the internet, either personal or business projects. There are various unlimited data hotspots with no contract, and above are but a few of the unlimited plans offered by multiple mobile carriers.
As you do your research, check out the customer's reviews so that you can know what you are subscribing to and compare the prices as well. Feel free to share your comments on the plans in the comment section below as we will highly appreciate it. Remember to stay safe and ensure you follow the guidelines administered by the health ministry.