The Best Mesh Wifi for Thick Walls – Top 7 Pickets
Are you experiencing dead WIFI zones in your house? Do you find yourself being disconnected from WIFI when moving from one room to another? If that's the case, then the best Mesh WIFI for thick walls can be a great option.  Mesh WIFI routers work like normal routers only that they amplify the WIFI from your main router to other centers of your house. This ensures that your house has no WIFI dead zones or areas with slow internet connectivity or dropped internet.
Mesh WIFI has become quite popular among American homes due to their efficiency and also the wide coverage of areas. If you live in a large home, then getting this Mesh WIFI will be of great benefits. Gamers who use the best satellite internet for gaming can also benefit from such a device if your room tends not to be WIFI efficient. Wifi meshes are also easy to set-up and have robust software which ensures you get the best WIFI connectivity without breaking down.
Choosing the best Mesh WIFI for thick walls can be a tough choice. However, by reading this article, you will gain some insights on choosing the best Mesh WIFI. We will also dive into the best Mesh WIFI you can consider depending on your home. Let's get started!
What to know before buying a Mesh WIFI router?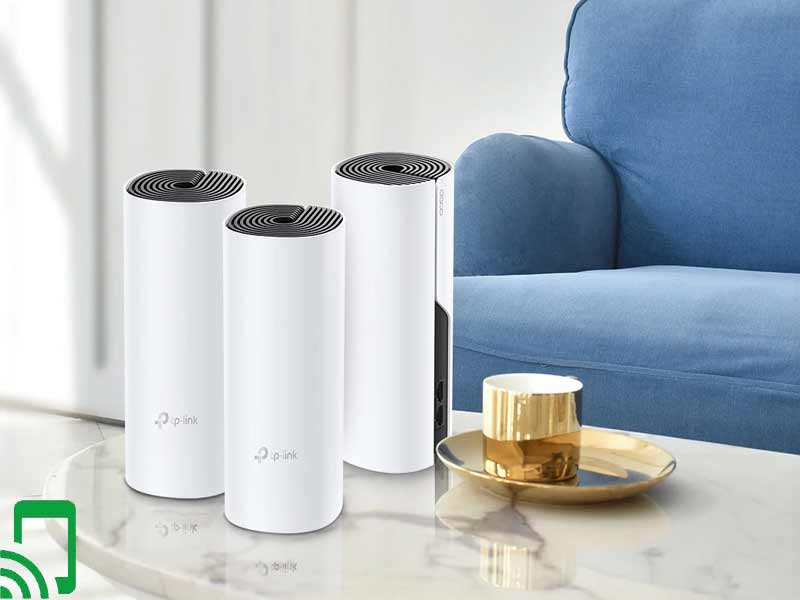 Before buying a mesh WIFI, here is what to consider:
i) Multiple dead zones
If your house has multiple dead zones, it is best that you get a Mesh WIFI router that covers a wide area. The device should also be able to bypass thick walls ensuring you get the best network coverage across the house. Consider a device with a 3 x 3 mimo which bounces signals around the house. You can also consider a Mesh WIFI that uses a maximum power system if it does not have the mime feature.
ii) Size of your house
The size of your house greatly matters. If your house covers more than 3,000 sq.ft, consider getting a device that covers the whole house with ease. First you need to identify that sq. ft coverage of your house or homestead then while shopping, filter out Mesh WIFI devices which offer perfect coverage for your home.
iii) Type of Modem/router in use
Despite the not being a major factor, it may contribute to stable and faster internet speed. If you are using a flagship or a well-known model router like Netgear, then you should consider a mesh WIFI that will work perfectly with such a router. It is also recommended to buy a Mesh WIFI from the same brand that you are using on the router.
iv) Wifi speed
Consider a Mesh WIFI that will not reduce your internet speed. If you are using the internet without cable or phone line, consider a Mesh WIFI that provides a lossless or minimal loss of signal when you use it. This will ensure high speed internet connectivity.
Range extender vs Mesh WIFI: Which is better?
Range extenders work by simply connecting to your wireless network, broadcasting the network in a new SSID name. This is like recreating a WIFI network but still using the same network. Despite it being a great option if you have a fast, super fast internet speed, it is not recommended for a small house.
Mesh WIFI works without having to create a new SSID for your router but rather use the existing credentials to access your WIFI networks. The Mesh WIFI simply makes your complicated router setup to a simple and well-distributed WIFI across your house. This ensures you get stable network coverage unlike the range extenders.
Mesh WIFI makes it easy to distribute WIFI in your house compared to range extender. So, if you are using WiFi Hotspot Devices which Provide Unlimited Data, you will never experience WIFI dead zones.
The 7 best Mesh Wifi router for thick walls
1) NETGEAR Orbi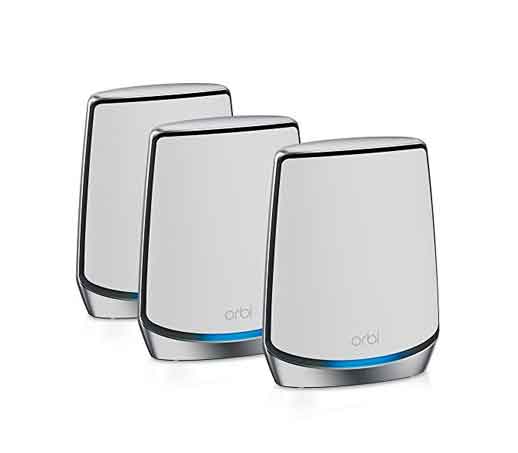 Netgear Orbi is one of the few premium Mesh WIFI devices in the Market. It offers perks like Tri-Band Mesh WIFI system and can connect up to 60 Devices with WIFI speeds clocking up to 6 GBPS depending on your service provider. This Mesh WIFI system is very simple to set-up and configure.
Every technical aspect has been taken care of by Netgear hence you get a simple non-technical set-up process. The device covers up to 7, 500 sq. ft and you can expand up to 2,500 sq.ft. More with satellites sold separately. The devices can offer high speeds of up to 6 GBPS with its AX6000 feature.
This lets you have stunning gaming, streaming and working from home experience. The Mesh WIFI system works with all the carriers in the US. It comes with a Tri-band Backhaul which offers a dedicated band between the router and orbi system. The system also features the Mimo smart feature connect which I mentioned earlier.
PROS
Supports wired ethernet ports
Obri Connect App makes the system easy to set-up
It is secure
Covers up to 10,000 sq.ft
CONS
Sync system needs firmware updates
2) ASUS ZenWIFI AX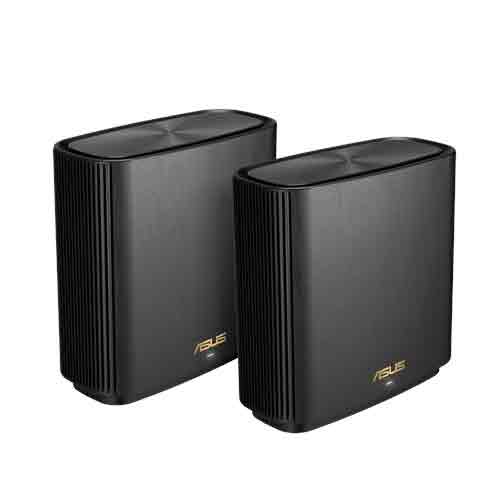 By offering perks like Parental control, Life-time free network security and so much more, the ZenWIFI AX truly stands out. The device supports coverage of up to 5, 500 sq.ft and you can extend on that by using a WIFI satellite which is sold separately.
It is a Tri-band system with unique antenna placement that ensures you get the best stone WIFI signals. ZenWIFI AX uses WI-FI 6 technology that has the Mu-MIMO feature which ensures stable and faster transmission of signals through thick walls and also allows faster uploads/downloads when using the device.
Installation and configuration process is very simple. You can follow a 3-step set-up process on the ASUS Router App. You also always get protection that ensures privacy is adhered to anytime you are using the Mesh WIFI.
Asus supports AiMesh which ensures that it works with Aimesh-compatible routers to form a powerful and reliable system.
PROS
It is easy to set-up
Supports MU-MIMO
Covers a wide area
Supports WIFI 6 technology
CONS
Issues with Device switching
3) NETGEAR Orbi RBK752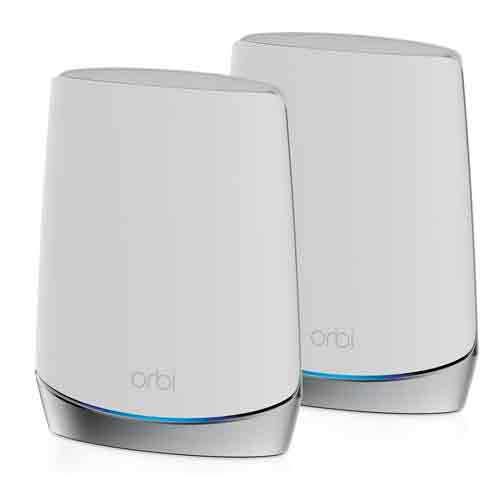 If you are on a tight budget and are looking to get a Mesh WIFI system for the best WIFI home system experience, then Netgear RBK752 is a great option. The major difference between this and the latest Orbi model is that this one covers only 5,000 sq.ft while the other covers 10,000 sq.ft.
You can also use additional satellites to get coverage up to 2,500 sq.ft more. The system supports fast WIFI 6 which powers up to 4.2 Gbps that ensures a seamless experience in gaming, streaming and other internet activities for many devices.
This may also be ranked among the best Whole Home Wi-Fi Systems because it supported all internet providers ranging from Cable, satellite, DSL and so much more. The device supports Tro-band Backhaul that offers a dedicated band between orbi and the router eliminating other bands to ensure maximum speed on your devices.
It is also easy to set-up and manages with the Orbi app. The device also comes with wired ethernet ports that support up to 4 gigabits.
PROS
Has advanced cyber threat protection
Easy to set-up
Orbi App is super sleek
The body design is amazing
CONS
Lacks frequent firmware updates
4) TP-Link Deco X60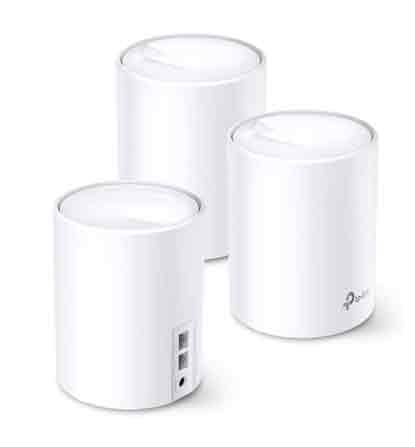 If you are on an unlimited data hotspot with no contract, having the TP-Link Deco X60 can be of great benefit. The Mesh WIFI system supports WIFI 6 AX300 which is a powerful system that ensures maximum power is utilized on the router. This ensures you get the best network coverage and no dead zones.
The three WIFI routers can cover up to 7000 sq.ft seamlessly and you can extend the coverage by getting additional 2 satellites. This makes it the best Mesh system for office or home use. It supports OFDMA and MU-MIMO which lets you connect up to 150+ devices and there will be no lagging experience.
Parental controls are also available and allow you to monitor and limit data usage across some devices. It also works with all internet providers and service providers in the US and Globally.
PROS
Easy to set-up
Fast WIFI connectivity
Minimal signal loss
Reliable technical support
CONS
Rounded design makes it hard to be mounted
5) NETGEAR Orbi RBK23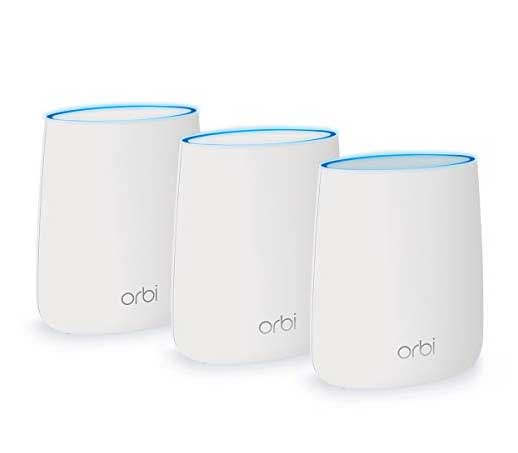 The Orbi RBK23 is a great Mesh WIFI system to consider if you are looking for reliable WIFI coverage in your home. The device supports several WIFI networks within the US. The WIFI system works with all internet service providers in the US. If you are running on DSL, cable, satellite or Fiber, the Mesh WIFI will work on any.
It can connect up to 20 devices and extend coverage to 2000 sq.ft which can also be extended by buying satellites sold separately.  It comes with a Triband backhaul that offers a dedicated band between your router and satellite and frees up other 2 bands hence you get ample speed to your devices.
It also comes with a wired ethernet port that offers 1 GBPS max speeds which allows fast streaming and gaming. You also get cyber threat protection powered by a bit defender for a 30 day free trial. The system is also easy to set-up and manages with the Orbi App available on Playstore and Apple store.
PROS
Supports 20 devices seamlessly
Works with all internet providers
Triband backhaul is efficient
Easy to set-up
CONS
Becomes slow when many people use it at once
6) Linksys (WHW0303)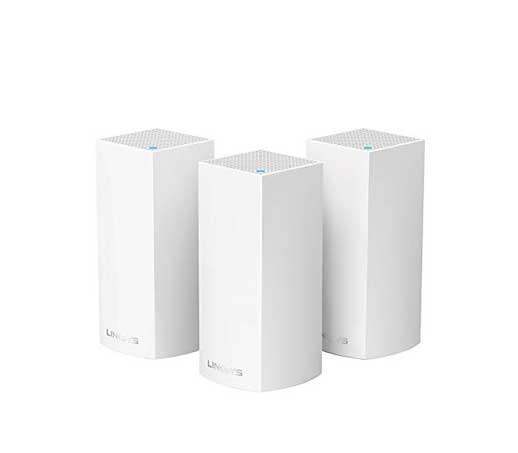 This 3-pack WIFI system offers the best features you can get within a Mesh WIFI network. It supports Tri-Band connectivity speed. The Mesh WIFI system can cover up to 6000 sq.ft which is ideal for a 5 bedroom house. It is also Apple Home-kit-Enabled giving you seamless integration of Apple home products.
You can also connect to your existing modem from any internet service provider. So, if you use Fiber, DSL, or satellite, you are assured of reliable coverage. The system is easy to set-up with the Linksys App that has a 716 processor with a MHz Quad Core.
It also supports Ethernet connectivity and has a maximum memory storage capacity of 512 MP. The Mesh WIFI system for thick walls also supports Alexa making it easy to manage your home WIFI and the devices using it.
PROS
Sleek design
Affordable
Compatible with Alexa
Works with all US carriers
CONS
Not the best speed in the market
7) GRYPHON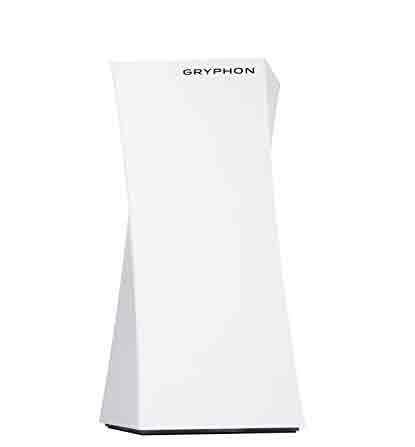 If you are on Unlimited mobile Hotspot plans and are looking for  mesh WIFI to ensure dead zones are eliminated, then the Gryphon Mesh WIFI system is a great choice. First impression when unboxing is a sleek design and friendly user interface. The device supports several ISPs ranging from fiber, DSL and satellite.
It is also easy to set-up with its graphical Manual that offers easy steps on setting it up. The system comes with a Mobile App that lets you perform several tasks including parental controls and managing devices connected to the network.
Gryphon offers unmatched protection with daily security updates, Ad blocker and also scans all devices on the networks for security vulnerabilities. You also get malware filtering by ESET technology. You also get high performance capabilities that allow you to download stream content and play games with ease and reduced latency.
Some performance perks include 4×4 Mu-MIMO antenna performance features and the Trio-band radio. You also get 3 Gbps fast throughput and 5 GHz (x2) frequencies. Coverage for this system clocks at 6000 sq ft and can pass through thick walls with ease. By buying the system, you are assured of dedicated telephone support and 90 day money-back guarantee.
PROS
Has stunning parental controls
Has powerful processors
Works with any US carrier
Covers a wide area
CONS
5 GHz radio frequency is not the best
Bottom line
Buying a dedicated Mesh WIFI system assures you of improved WIFI coverage in your home. Ensure you choose a device that can cover the sq ft of your house and they have reliable technical support. The system should also be easy to set-up. Choosing the best Mesh WIFI system for thick walls ensures your home is free of WIFI dead zones and you enjoy faster streaming speeds and gaming.