The Hiboost 4K LCD Cell Phone Signal Booster – Up to 4,000 sq ft
Are you experiencing dropped calls in your location? If that is the case, we can solve that problem today. Places with poor signals require a cell phone signal. One of the best cell phone signal boosters is the Hiboost 4k cell phone signal booster. Furthermore, the device works with all carriers of the US and thus it does not matter which service provider you rely on.
Signal boosters are different from routers and so do not confuse the two. A signal booster just boosts signals from the cell tower while the router connects you to an internet service provider. For a router, you require a periodical subscription to a data plan. There is no form of subscription is associated with cell phone boosters. Once you buy one, you are done.
What are the specifications of Hiboost 4K (F10G-5S-BTW)?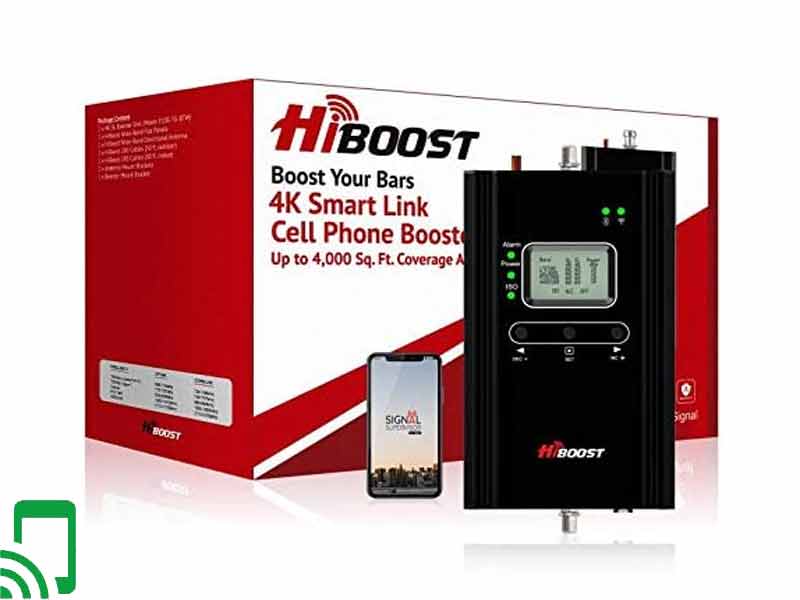 To understand the device better, let us look at the various specifications associated with the device.
PROS
Large area coverage
Easy to manage over an app
Allows modification
Works with any network
No subscriptions
CONS
1) Design
The dimensions of the device are 8.6 in×6.5 in ×2 in /218 mm×165 mm×50 mm. It weighs ≥ 5.0 lb / 2.2 kg and has a true heat sink design and integral aluminum fin that helps to dissipate heat while in operation. This makes the machine to perform to the maximum.
2) Working bands
The cell phone signal booster works with 698-716 / 776-787 / 824-849 / 1850-1915 / 1710-1755 bands.
3) UL frequency range
The Hiboost 4K UL frequency range include 728-746 / 746-757 / 869-894 / 1930-1995 / 2110-2155.
4) DL frequency range
It has Band 12 / Band 13 / Band 5/ Band 25-2 / Band 4 DL frequency ranges.
5) Network support
This cell phone booster supports various network technologies which include; CDMA, WCDMA, GSM, EDGE, HSPA+, EVDO, LTE, and all other cellular standards. This makes it a suitable cell phone booster for Verizon which uses CDMA.
6) Maximum Gain
Hiboost 4K has a maximum gain of 60dB and thus has a capability of amplifying very low signals to strong ones thus eliminating the issues of call dropping, slow internet, and slow message delivery among your devices.
7) Power supply
Input AC 100~240 V, 50/60 Hz, Output DC 12 V/3 A. Maximum output power; UL 24 dBm, DL 10 dBm. (MGC) Step attenuation; ≥ 25 dB/ 1 dB step. IO/Port; F-Female. Impedance; 50 ohm; Environment condition; IP40.
You also Maybe Like
HiBoost 10K Smart Link – Cell Phone Signal Booster
weBoost Installed | Home Complete (474445)
weBoost Drive X RV (471410) Cell Phone Signal Booster
What are the general features of the HiBoost 4K cell phone booster?
See the various features that make the device a wonderful cell phone booster.
i) Coverage
The device has strong network reception and a one bar display can connect up to 1000 square feet. 2-3 bars can connect an area of 2,500 sq.ft. and when full with five bars, it can cover an area of 4,000 sq.ft. This makes it one of the suitable cell phone boosters for remote areas.
ii) Network support
Hiboost 4K supports all networks of the US and Canada. If you live in those countries, you can be sure to benefit from the device maximumly. It boosts networks such as AT&T, MetroPCS, Tracfone, Sprint, T-Mobile, Verizon, US Cellular, Straight Talk, C-Spire, Cricket, and Rogers among others.
iii) High gain outdoor antenna
The device has a powerful 9 dBi directional outdoor antenna that is capable of receiving signals from distant cell towers.
iv) Powerful indoor panel antenna
The indoor antenna can transmit signals to a large area of up to 4,000 sq. ft. Therefore, it makes it suitable for a large organization or a large home. It is thus a wonderful cell phone booster for the house.
v) Expandable signal coverage
You can customize the device by adding extra indoor panel antennas to extend signal coverage for many rooms in your house or company offices.
vi) Signal supervisor app
This is a smartphone application that allows you to install the booster easily. Also, the app allows you to enjoy customer support services. With the app, you can easily monitor the right direction for optimum signal reception.
Furthermore, the app allows you to do remote monitoring of the booster signals from anywhere and thus you can direct someone to set it as you watch on your phone. The app is available both in Google Play Store and App Store.
vii) Smart LCD
Use the LCD to monitor gain, frequency, and output power to know how the device is functioning all the time. You will be able to know if there is a need for any adjustments.
Also, the screen displays any kind of malfunction of the machine thus letting you know where to rectify at a specific time. Looking at the screen, you can also know the right point to do the antenna mounting.
viii) Quality components
Any machine's functionality depends on the quality of various components. Hiboost 4K has separate antenna ports that prevent wire cross thus keeping the device tidy.  Also, the cables are of high quality as they have standard Type-N connectors, protecting the signal system from rain, dirt, and dust.
How does the Hiboost 4k work?
The working of Hiboost 4K is as follows.
The outdoor antenna picks the signals from the nearest cell tower and directs them to the booster.
The booster then amplifies the signals and transmits them to the indoor antenna. In this case, amplifying signals is making them stronger.
Next, the indoor panel antenna broadcasts the amplified signals over a certain area. The stronger the signals, the larger the area of coverage.
Mobile phones and tablets receive amplified signals. You can now get clear calls, clear internet connectivity, and faster SMS delivery.
Where can I use the device?
You can use the Hiboost 4K cell phone booster at the home, office, garage, and within a metal building. It is also a good cell phone signal booster for camping and you can carry it for the next time you go camping in a remote area with poor signals.
Bottom line
A cell phone booster is good for helping you receive uninterrupted calls, SMS, and internet connections. Cell phone boosters do not have any monthly subscription and thus are economical to buy. Understanding how a cell phone booster works is a wise thing so that you can fully benefit from its services. Hiboost 4K is an amazing cell phone booster since it works with all carriers.