The GreatCall Cell Phone Plans
GreatCall is one of the few service providers in the US that are focused on providing cellular services to seniors. Since its inception back in 2005, the company has boasted in providing the best services when it comes to offering affordable cell phone plans and deals under their Great call cell phone plans for seniors. This has led them to expand their business across manor States in the US and it also led to an acquisition by Best buy for $800 million.
If you are a senior and are looking for the best plans and phones, then Greatcall is the right option for you. The Jitterbug phone reviews also assure you of exemplary services when you use their phone. They also use one of the biggest service providers in the US for network coverage. This assures you of stable network coverage whenever you travel to any State in the US.
This article aims to give insights on some of the GreatCall cell phone plans. We will also review some of the devices that you can use with those plans. Are you on AARP? Well we will also give insights on how you can get a discount from GreatCall cell phone plans! Let's get started!
What plans are available on GreatCall?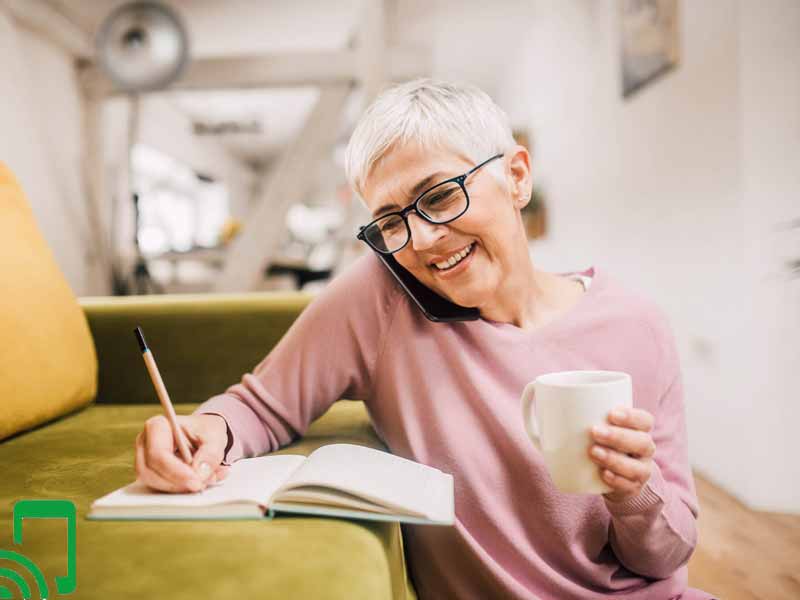 GreatCall offers a wide range of plans depending on the type of phone you want to buy. Here is a list of what to expect:
1) Jitterbug Smart 2
If you get the Jitterbug smart 2, the plans will come in 2 categories:
i) Talk, text and data plans
a) Monthly Minutes
250 minutes – $14.99/month
1000 minutes @$19.99
2500 minutes @$29.99
Unlimited talk and text @$39.99
Unlimited Talk, text and Data @ $59.99
b) Monthly Texts
500 Texts @$3/month
100 texts @$5.00
2500 texts @$10.00
Unlimited texts @$15.00
c)  Monthly data
ii) Health packages
You can also consider an additional health package to match with the plan of your choice.
Basic package- This package goes for $19.99 per month and you get perks like Urgent response and brain games
Preferred package- This package offers urgent response, GreatCall Link, Urgent Care and Brain games at only $24.99 per month.
Ultimate – The Ultimate plan goes for $34.99 per month and offers all the perks in the preferred package and you also get a personal operator at your service.
To use these plans, you will need to buy the Jitterbug smart 2. Taxes, and fees apply on billing. However any other cost is not included in the pricing.
2) Lively Flip plans
The Lively flip plans offer affordable phone plans for persons looking to buy a flip phone. The plan comes in two categories:
i) Monthly minutes
250 minutes – $14.99
1000 minutes – $19.99
2500 minutes – $29.99
Unlimited talk and text – $39.99
ii) Monthly texts
500 texts- $3.00
1000 texts – $5.00
2500 texts – $10.00
Unlimited texts – $15.00
You can also consider a healthcare package which is a great option:
Basic $19.99 – This plan offers Urgent Response and Brain games.
Preferred $24.99 – The plan comes with Urgent response, brain games, urgent care and GreatCall Link.
Ultimate $34.99 – This plan comes with Urgent response, brain games, urgent care, greatCall Link and personal operator.
3) Lively Mobile Plus / Lively Wearable 2
The lively Mobile plus and lively wearable 2 are amazing devices that come with many cool features.
The Lively Mobile Plus offers features like:
Waterproof
Fastest call response time
Highly trained certified agents at your assistance
Offers reliable coverage
It features enhanced GPS
The device goes for $49.99 and is inclusive of a monthly plan and the activation fees. Lively Wearable 2 comes with many benefits like:
Water resistance
Fall detection available
It is sleek and stylish
24/7 help anywhere
Comes with 4 months of battery life
You get daily health tips
The wristband is quite comfortable and you can also use a Lanyard.
This device works with Android 7.0 or iPhones running iOS 11 or later. These two devices use the same plans under the healthcare packages for GreatCall Inc.
Basic $24.99- The device comes with Urgent response.
Preferred $29.99- It offers urgent response, Urgent care and GreatCall Link.
Ultimate $39.99- This plan offers all the packages in preferred option and you also get a fall detection feature.
Which phones should you buy on GreatCall?
If you are planning to bring your phone to GreatCall, that may not be possible. GreatCall does not support bringing your own device. However, you can use your current phone on some of their wearables like the lively wearable 2.
If you are looking to buy a phone and get the Jitterbug phone plans Verizon, then the Jitterbug smart 2 or Jitterbug flip can be a great starter pack.
Some specs of the Jitterbug smart2 include:
Long battery life
Friendly user interface
Has a stunning front facing speaker
Comes with a large 5.5" screen and is easy to see
Simple User interface
Has a 5Star emergency button.
How to get a free GreatCall cell phone plan?
GreatCall does not offer free government phone plans. However, you can get discounts offered at designated times of the year. GreatCall tends to offer personalized deals in which you get discounts on selected plans. If you want a cell phone plan with free phones or simple a free phone plan, consider the following providers:
Qlink wireless
True wireless
Safelink wireless
Assist wireless
American Assistance
To qualify for the free government plan:-
The income should be below $135% of the Federal Poverty level. This may however vary in each State.
Participate in the Federal Assistance program. Such programs include Food stamps, Housing Assistance and so much more.
When making the application, attach original scanned documents of the plan you wish to consider. The application process takes less than 5 business days.
Does GreatCall offer nationwide coverage?
GreatCall offers nationwide coverage under Verizon wireless. Verizon is one of the largest standard service providers in the US. They offer steady network coverage in all the States except for some rural parts.
However, in general, their network is amazing compared to some standard service providers. Also, they have active 5G areas but sadly it may not apply to GreatCall since you can't bring your own device.
How to get an AARP discount on GreatCall cell phone plan?
AARP has always been a partner with GreatCall Inc to offer affordable deals and discounts. With GreatCall, you can save up to $60 per year on selected health and safety packages. The offer is available on Mobile Plus and Lively Wearable2.
To get the discount, you must be an AARP member. If you are not, Sign up now and enjoy other benefits aside from the discount from GreatCall. The process to create an AARP account is super easy and here are some membership term options:
$63 for 5 years
3 years – $43
1 year – $16.00
1 year with automated renewal – $12
What are the benefits of GreatCall cell phone plans?
GreatCall cell phone plans come with the following benefits;
i) Affordability
GreatCall offers affordable phone plans. The plans start for as low as $3/month. You also get exclusive deals and personalized offers at designated times of the year.
ii) No contracts
GreatCall offers no contract cell phone plans. You are also assured of no extra charges or hidden fees. This makes people trust their services and also assures of never maxing out your credit card on unknown fees.
iii) Customer support
GreatCall Inc offers reliable customer support. They will respond to emails within 24 hours and also have retail stores which you can visit for their services. The health support Agency is also super responsive for any medical issue that arises.
iv) Good quality devices
Despite the fact that you can't bring your phones, the Jitterbug devices are of high quality and are tailored for seniors. This assures you of a seamless experience when using the phones. Also, if the phone becomes faulty, GreatCall assures it's customer of free replacement or repair only if the problem is under the warranty.
v) Reliable network coverage
With GreatCall, you can leverage the network from Verizon wireless which is super stable and there are minimal chances of dropped calls and slow internet. However, you may be affected with slow internet speeds during a network congestion whereby Verizon wireless throttles internet connectivity.
Cons of GreatCall
Despite all the benefits, some cons of GreatCall include:
You cannot bring your device
GPS does not work effectively for some wearable devices
The Jitterbug smart 2 has limited features.
Final thoughts
Getting a plan for seniors can be a tough choice but the greatCall cell phone plans are here for you. If you want a tailored senior plan, they offer affordable plans for as low as $5 per month. The devices are also of great quality and have a user interface made easy for seniors.