How Do Pay As You Go Phones Work?
Pay as you go phones have been in existence for roughly 3 decades now. It all started when people had a rough time with poor credit checks which would deny them the chance to have a postpaid phone. The pay as you go phone commonly known as prepaid phones comes with endless possibilities but still is far from overtaking the predominant rivals, postpaid. By now you may be asking yourself the main question on how do the pay as you go phones work?
The pay as you go phone is just normal phones which you are familiar with and can be found in any retail store that sells mobile phones. However, the title prepaid comes about since the devices are not tied to any service provider making it easy to enroll for the bring your own device program. This means that you can use prepaid phones on any network provided your phone is compatible with their network.
Despite the prepaid phones becoming very popular over recent years, postpaid phones seem to be outshining them in a number of ways. Want to know how the prepaid phones work and their effectiveness compared to postpaid? Read ahead on this article as we give you all the info you need to know about prepaid phones and plans.
What is a pay as you go phone?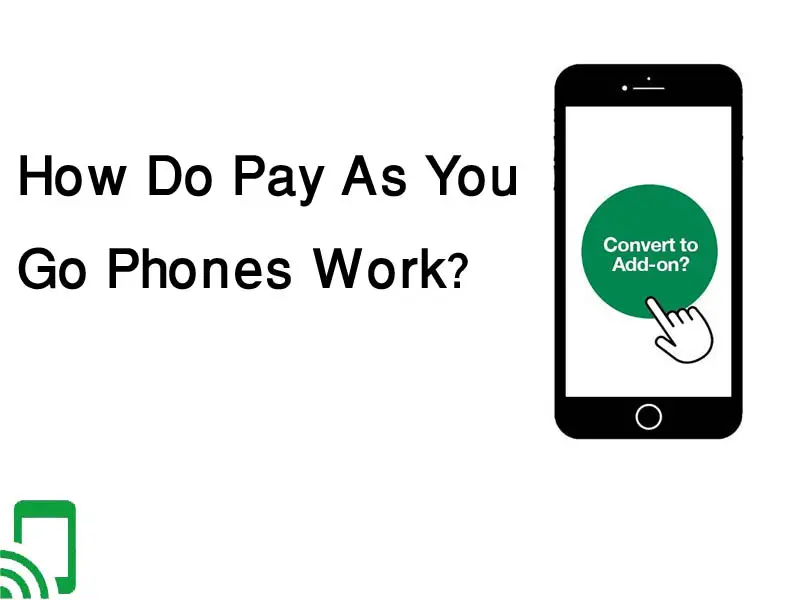 Pay as you go phones are devices that are not tied to a contract carrier or service providers. They are designed to be used by anyone on any network provided the phone has a compatible network technology to the service provider.
The title "pay as you go" or rather "prepaid" dates back in 1993 when the first prepaid phone service was launched by voice system technologies in Arizona. Currently, close to 10% of American citizens use prepaid phone plans and the number seems to be increasing each year.
These prepaid phones use a prepaid phone plan in which the cost of the plan is paid upfront compared to postpay which you are supposed to pay at the end of each month of your contract.
Prepaid vs Postpaid: What is the difference?
Below are some points which we will use to differentiate between pay as you go phones and postpaid phones:
1) Contracts
By now you know that the pay as you go phones are not tied down to a contract compared to the postpaid plans. Most postpaid plans come with contracts and if you break the contract, some early termination fees are likely to be incurred. The pay as you go phone allows you to have a no-contract cell phone plan which for most service providers, you simply pay for what you use.
2) Credit Checks
One reason that spiked the rise of prepaid phones and plans was credit checks. In the past, people with poor credit checks had trouble securing postpaid phones. This led to the creation of prepaid plans to help people with poor credit scores to have access to communication services.
3) International Call Rates
The international call rates are quite high compared to the postpaid plans. In some cases, the international plans for Mexico and Canada are usually the same for prepaid and postpaid but the cost tends to be higher when it comes to other countries.
4) Talk, Text, and Data
The talk, text and data allocation for prepaid and postpaid plans are totally different. Postpaid plans are known to be cheaper but some are not cheap with Unlimited everything. At around $40 per month, you can get Unlimited everything and you don't have to pay anything upfront
5) Phone Availability
In the past, most of the pay as you go phones were categorized between mid-range and low budget devices while postpaid phones offered all types of phones. However, this has changed over the years whereby people can now buy a flagship prepaid device.
6) Customer Services
The customer service for Postpaid outshines that of pay as you go plans. However, if you want the best customer service for the pay as you go phone plans, you should consider a service provider that solely offers such plans. This applies to the MVNOS or a big service provider with reliable team divisions that are capable of providing the best customer care services.
7) Bring Your Own Device Program
For most postpaid phones, it is harder to bring your own device to a network compared to that of Pay as you go. This is because the phone may either be locked or you are in a contract. Unlocking the phone may cost some money and canceling the contract will lead to early termination fees.
For pay, as you go phones, you have the power to bring your own device to any network since it is most likely to be unlocked
What are the best plans for pay as you go phones?
There are many cell phone plans to choose from if you have a prepaid phone. In this section, we will give you a list of service providers and what they are good for with regards to their prepaid phone plans;
You can find the plan of your choice by visiting the company's website or by going to their nearest retail store to learn more about their products.
Pros and Cons of pay as you go phones:
PROS
The pay as you go plans are very affordable
No credit checks
No contracts
Phones can be bought from an authorized dealer
CONS
International call rates are high
Unreliable customer service for the pay as you go plans
Final Thoughts
Unlocked cell phone deals come with great benefits if you are looking for the best pay as you go phones. Despite them not being popular compared to postpaid, they are still a good option if you are looking to save money and avoid contracts.  You should also buy a prepaid phone from a genuine phone dealer to avoid landing on a fake device.