AT&T Bring Your Own Phone – What Should You Know
AT&T is ranked among the top four best service providers in the US. Since its inception back in 1879, the company has been providing fascinating deals when it comes to plans for seniors, unlocked cell phone deals and many more services. This company is also acknowledged for offering nationwide coverage and they also have a convenient customer care.
The bring your device started a few years back, many people have opted into the services. They don't have a complicated approval process for your device. If it is compatible with their network, the next steps will be elementary. Bring your device program does not only work AT&T solely but also in almost all the service providers across the country.
However, the significant difference is that the costs for the plans under Bring your own phone are very affordable and you get a wide range of bundle capacity compared to other service providers. This article tends to inform you on what you should know before you plan to Bring your device to this network. There are some major pros and a few cons which we will also discuss about as you read along.
Which devices are compatible with AT&T?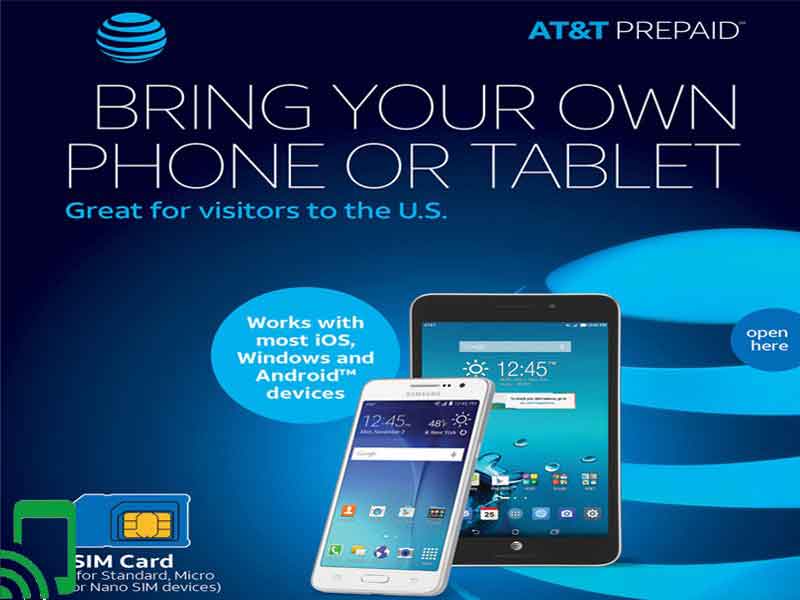 AT&T has some conditions for you to bring your device. The good thing is that they also offer a platform for people to check whether the devices are AT&T compatible or not. Below are the conditions put in place for your device to qualify for BYOD.
The phone should never have been stolen
The phone should be unlocked
It should use GSM or LTE networks
The device can work with an e-sim
The device should be a domestic version
To know whether your phone is compatible with their network, you can use the IMEI checker found at their site. IMEI checking is the most recommended option compared to going to a store or making a lot of calls to inquire whether the device is compatible or not.
If the device happens not to be compatible, you can buy another phone from their online or retail store. AT&T offers tons of unlocked cell phone deals which you can choose from. The phones are categorized into mid-range and high-budget smartphones, so no matter what your budget is AT&T got you covered.
Can you also port your number?
Not only can you bring your own device to AT&T but also port your number to their network too. This service is also available for AT&T free Government phones and below is some of the conditions;
Check if the number is eligible (at&t official website)
Do not deactivate your plan with the previous service provider
Call AT&T and inform them that you plan to switch phone number. In return, they can request the following information from you;

Your name
The last billing info from the previous SP
Your current address
Once every detail seems to be in place, the porting process may begin and take a minimum of 2 hours or one day. After the process is complete, you can now deactivate the plan you had with your previous service provider.
Are there activation fees for BYOP at AT&T?
If you are a new customer to AT&T you will have to pay an activation fee of $30. However, if you are an existing customer, there are no activation fees for Bring your own device program.
You should also refer to your receipt in case there are some extra charges to your credit card which you are not aware of.
How to bring your device to AT&T-step by step guide
Step 1: Check on phone compatibility
We talked about phone compatibility earlier so the process will be very simple. Remember, the device should be unlocked. You can know whether the device is unlocked or not by placing several types of sim cards from different companies and if two different types of sim card work on the phone, then the device may be unlocked.
Consult customer support on other ways in which to know whether the phone is unlocked.
Step 2: Buy an e-Sim card
The sim card is what connects you to AT&T's network. You can get the tool kit from their online store or check out their retail store. Once you have made the payment, the sim kit will be sent to your address within a day or two.
Step 3: Choose a phone plan
There are very good no contract prepaid plans which you can go for at AT&T and here are the best plans;
Prepaid Promo plan
At $25 per month you get unlimited talk and text. You also get 8GB of data which is rolled over for the next one month. The plan also features mobile hotspot features.
Unlimited plan
The plan gives you 250 MB of data plus unlimited talk and text. The plan goes for $30 per month.
Prepaid plan 2
For $35 per month, the user gets unlimited talk and text plus 1GB of roll-over data.
Prepaid plan Ultimate
This prepaid plan gives you 8 GB of data plus unlimited talk and text. Also, you get unlimited mobile hotspot and the total cost is $50 per month.
Step 4: Activate your device
Once you have everything in place, the next step is to activate the device which is very simple and takes a short time. Luckily, if you bring your own device and choose a prepaid plan, AT&T may waiver the activation fee for you. However, this is an offer valid for a short time so you better hurry and grab the offer.
Bottom Line
AT&T has a very simple criterion for people to bring their own devices. You also get a good plan with unlimited everything and the best network coverage across the country. The company also has a dedicated customer care team that is always available 24/7 and they will help you very fast. When you Bring your own device, there are no contracts binding you hence if their services do not impress you, you can opt out very easily. Check out their site to start applying for the BYOP services!