The 7 Best Verizon FIOS Compatible Routers
Verizon Fios is an American internet company that offers bundled internet access, telephone services, as well as TV services through Verizon Fios compatible routers. The management also markets it as Fios by Verizon. The company started its operations in 2005 in some states of the US. It expanded the business with time although some areas cannot get phone and TV services due to franchise agreements.
The company relies on fiber optic communication technology. As we speak, statistics show that the company has over five million US customers using their services. Before we go far, know that Fios means Fiber Optic Service. Optical fibers have internal glass or plastic materials that transmit data signals by total internal refraction. The transmission is fast and accurate. Moreover, the fiber optic is very sensitive.
If you want to make the best use of the Verizon Fios services, you should have the best router for multiple devices. You can connect several mobile phones, computers, and tablets and so on without compromising speed and efficiency. Besides, such routers have low latency. It means that everything goes smoothly and fast. If you have a cyber café business, customers will always flock for your services.
Which Services Does Verizon Fios Offer in Details?
Earlier on, I mentioned that Verizon offers bundled internet access, telephone services, and TV. Let us discuss the services in detail.
i. Television
You can get a high definition TV or a standard definition and Video on different packages. The company charges each package differently from the other. You can decide to select a smaller number of channels or a larger number. It depends on personal preferences and pocket size. The Verizon internet for low income families helps the less fortunate to access standard definition TV since they may not be able to afford the high definition one.
To deliver TV to you, Verizon Fios relies on QAM technology to send TV signals to the customers via the fiber optic cables. When the signals reach your home, the signals change into radio frequencies that reach the TV set box via the coaxial cable. The system is different from the one that uses boosters to transmit signals into your set box in that; it does not need an antenna.
ii. Internet access
In a similar manner as the TV signals, the internet signals travel via the optical fibers into the routers that broadcast the internet to the available devices using WiFi technology. The area of coverage depends on the strength of the router. Moreover, you can decide to use the internet to stream TV channels.
The data services are cheap and prove to be the best cable for low-income families since they can comfortably purchase. Just as you will have amazing Verizon phone deals for existing customers, Verizon Fios will always surprise you with amazing package offers to improve your experience on using their services.
Read More: Netgear c7000 vs c6300. This guide compares the c7000 and the c630 routers and weighs their pros against their cons!
What are the 7 Best Verizon Fios Compatible Routers?
The following are the seven best Verizon Fios Compatible Routers.
1. NETGEAR Orbi Tri-band Whole Home Mesh WiFi System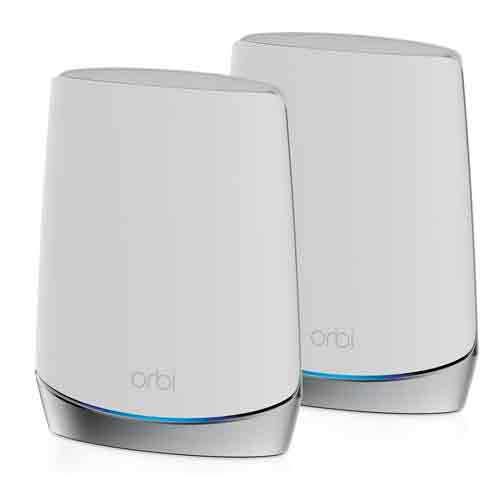 If you have been looking for the best machine to work with, then you came to the right place. Netgear Orbi Tri-Band can cover an average area of 6000 square ft. moreover; it can connect 20 devices simultaneously. You can decide to extend area coverage up to 2000 square ft.
The device works with all internet providers. It has data speeds of up to 2.2 Gbps effective for online HD video gaming, online TV streaming and faster download of large files from the internet.
Again, it has parental controls to limit content and internet time to the children. Besides, it has inbuilt internet security to prevent attacks.
PROS
It works with all internet providers
Has large area coverage
Has parental control
It has inbuilt security against cyber attacks
Expandable coverage area using the satellite dish
CONS
2. TP-Link AC4000 Smart WiFi Router – Tri-Band Router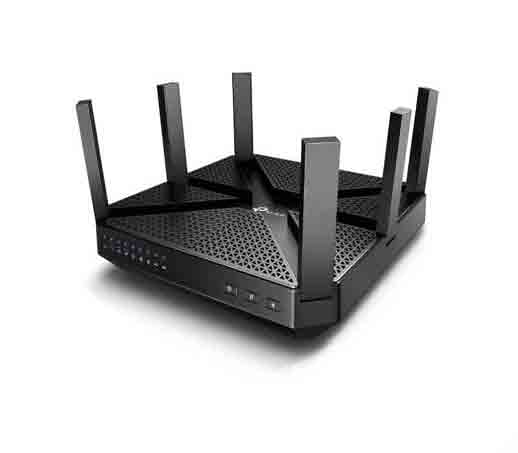 The device works with Alexa by using Alexa compatible device such as a smartphone. You can issue voice commands to have things done the way you want. The machine has an AC4000 tri-band speed that helps you to stream HD games, watch 4K videos or stream internet TV.
The 1.8 GHz quad-core with a 64-Bit processor ensures that the machine processes commands very fast. Everything you want happens with lightning speed. It has an inbuilt range booster to ensure that you get large area coverage.
It has an inbuilt security system that protects the device from online malicious attacks. Moreover, it has parental control. To make things interesting, the device has a two-year warranty.
PROS
It works with Alexa
It has fast internet for streaming
Fast processing speed
Has parental control
Has inbuilt online security
CONS
3. NETGEAR Nighthawk Pro Gaming XRM570 WiFi Router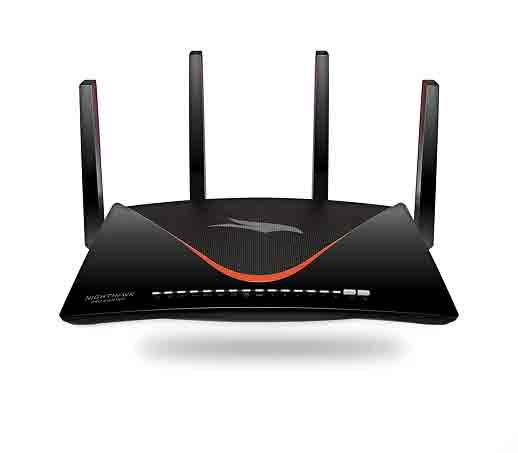 The machine has six Ethernet ports. Four ports are on the device while the two are on the extender. It means that you can connect up to six computers using Ethernet cables. It is ideal for office works. Again, the Mesh Wi-Fi – tri-band extends WiFi connectivity in your vicinity.
Moreover, the device supports wireless connectivity. You can connect to mobile phones, tablets, laptops, and wireless printers. You can choose whether to connect wirelessly or by using Ethernet cables. In most cases, the Ethernet connection is fast.
The machine is compatible with gaming systems such as Xbox, play station, Nintendo Switch, mobile devices and many more.
PROS
It has six Ethernet ports
Has Mesh WiFi –tri-band Wife extender
Compatible with a variety of gaming systems
Fast connectivity
Wired and wireless connection
CONS
4. TP-Link WiFi 6 AX6000 8-Stream Smart WiFi Router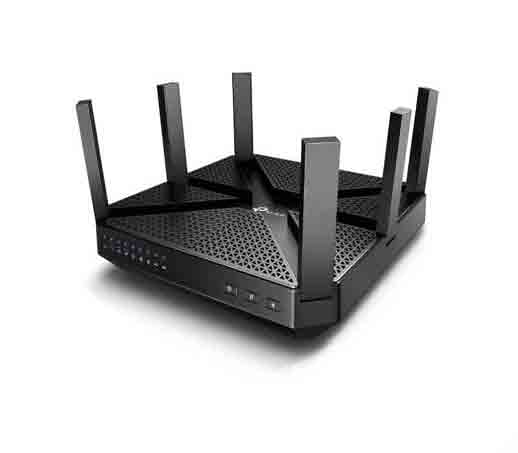 The machine works with Alexa. It means that you can use voice commands to instruct the machine to perform different tasks according to your preferences. It frees you from monotonous adjustments here and there.
Again, TP-Link has AX6000 Dual Band that gives you very fast internet connections with speeds of up to 5952 Mbps for the 5GHz band and 4804 Mbps for the 2.4GHz band. The WiFi speed gets a boost from 1024QAM.
The device has a powerful processor of 1.8 GHz, a Quad-Core processor, and 2 co-processors that ensure fast internet speeds without latency. Moreover, it has parental control, an inbuilt antivirus system, and a two-year warranty.
PROS
It has fast processing speeds
It has parental control
It has an inbuilt online security system
Has two-year warranty
It works with Alexa
CONS
5. NETGEAR Nighthawk WiFi 6 Mesh Range Extender (EAX80)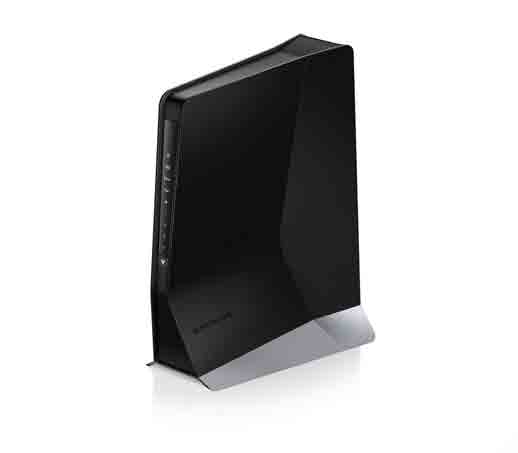 NETGEAR Nighthawk WiFi 6 Mesh Range Extender can increase your WiFi coverage area up to 2500 square feet. Again, with the aid of the device, you can connect up to 30 devices simultaneously.
Interestingly, the device has universal compatibility for all networks. You should thus not worry about whether your network service provider will support it or not. Moreover, the device has an inbuilt internet security system to fight any malicious attack. Besides, it is easy to set up.
The device has fast connections. It has AX6000 speeds that can deliver 6 Gbps. You can download and upload large files very fast. Again, you can stream HD games, videos and internet TV.
PROS
Large coverage area
Ability to connect many devices simultaneously
Has a fast connection
It has consistent internet connections
The inbuilt internet security system
CONS
6. NETGEAR Nighthawk X6S Smart WiFi Router (R8000P)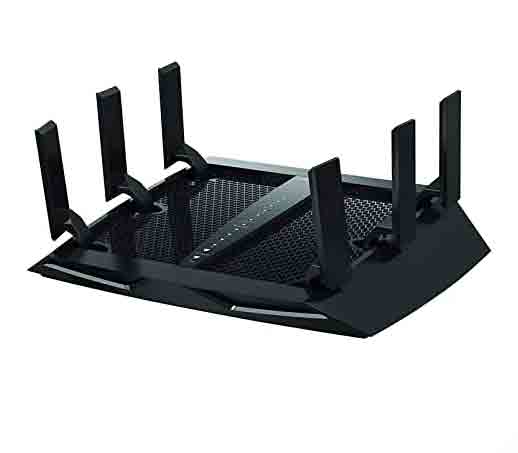 The device has wide area coverage. It can cover an area of 3500 square feet. The area is large enough to reach many people simultaneously. Moreover, it has three bands with AC4000. The bands deliver amazing speeds of 750 Mbps, 1625 Mbps, and 1625 Mbps. It can connect up to 55 devices at the same time under high speeds.
Moreover, it has four Ethernet ports where you can plug in your PC, game consoles and printers for fast internet connection. Again, the device has a duo Core processor with 1.8GHz processing speed.
In addition, the device has six antennas. It can work with Alexa thus making its operation easier. It has parental control to regulate children WiFi usage.
PROS
It supports Alexa
High processing speeds
Has wide-area connectivity
It has three bands
It has parental control
CONS
7. NETGEAR Nighthawk AX8 8-Stream WiFi 6 Router (RAX80)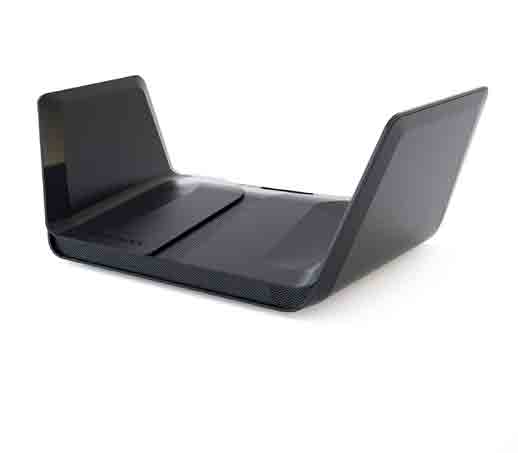 Use the five Ethernet ports to connect to various devices such as PCs, gaming systems, printers, and others. Moreover, the machine has fast connection speeds. It has a 64-bit with 1.8GHz processing speeds. In addition, it has a quad-core processor. The four amplified antennas make the connections strong.
It has universal connectivity. Its WiFi 6 can connect with earlier versions without any difficulty. It has an inbuilt security system to protect it from malicious attacks. Again, it has an option for creating a guest WiFi to ensure that your setup gets no interference.
The device allows for multiple connections where you can connect several WiFi compatible devices at once.
PROS
Have five Ethernet ports
High processing speeds
It can connect several devices simultaneously
It is Easy to set up
Inbuilt security system against malicious attacks
CONS
Bottom Line
Verizon Fios routers are of great help when it comes to establishing an internet connection for your home or office. The most beneficial routers are the ones with universal connectivity. You can connect to any internet provider you may wish.
Again, when choosing a WiFi router, see the range and the number of devices it can connect simultaneously. Routers for a big office have many Ethernet ports and can connect to multiple devices wirelessly.