The 7 Best Cell Phones For Seniors With Dementia
Dementia is a condition that affects one's memory, thinking, and social abilities. It can severely interfere with someone's social life. It is characterized by memory loss and the affected tend to forget a lot. Dementia normally affects the elderly. Some young people also suffer from the condition. This article will be about the best cell phone for seniors with dementia.
Cell phones for people with dementia are special in their ways. Features such as alarm settings are easily accessible so that the phone owners can set reminders to perform a certain duty at a particular time. Furthermore, the buttons must be big enough for easy usage. Also, the phones should have an easy to read screen so that the users can capture things fast before they forget about what they were doing.
Another important feature of cell phones for people with dementia is the SOS function. This is a button that is useful during emergencies and such people can find it easy to use the button to call since it is large and conspicuous due to its red color. Most free government phones for the elderly have a SOS button.
How do I choose a phone for a senior with dementia?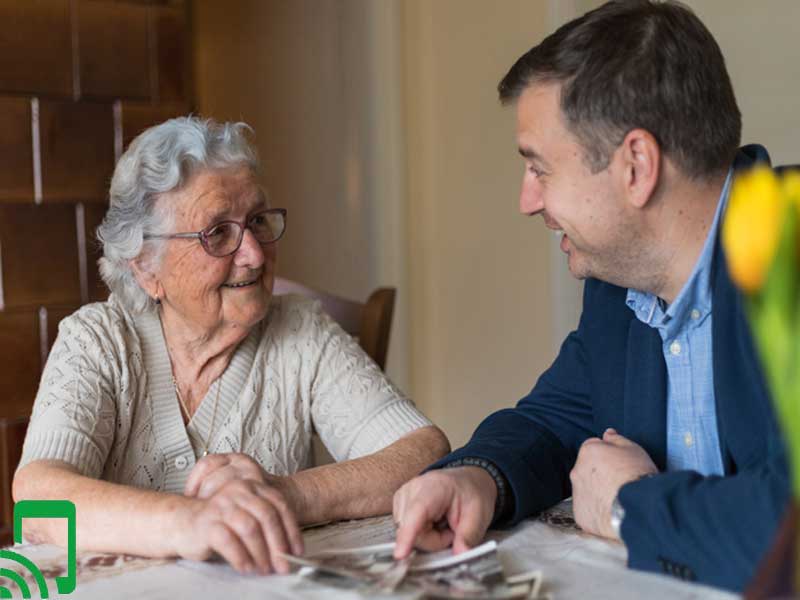 Choosing a phone for an elderly person with dementia can be challenging. I had mentioned SOS, big buttons and big screens as some of the things to consider when buying your old mum, dad, grandmother, or grandfather a phone. Other factors include the following.
i. Easy to understand functions
The elderly people do not need a complicated phone since their minds do not think too much. Ensure that the phone is as simple as possible. Message, Contacts, torch, and alarm among other icons should be easily visible.
ii. Long-life battery
Ensure that you get a phone with a battery that can stay for long without running low. The elderly need to be connected throughout the day so that in case of anything, they can be assisted.
iii. Bright and clear screen
Everything should be visible since elderly people have eye problems.
Does the US government offer free cell phones for the elderly?
Yes. The government gives free cell phones for seniors and the disabled from poor families. This is part of the Lifeline Program that aims at assisting the less fortunate citizens of America to access cellular services. If you are a senior and come from a humble background, then you can check out if you can get a free cell phone.
How do I apply for a free cell phone from the government?
There are various steps you should follow to get a free phone from the government. These include the following.
i) Find a free government service provider
The first thing is looking for the best phone service provider that will meet your needs. Freephone service providers include; Alaska Communications, Assist Wireless, Care Wireless, I-Wireless, Budget Mobile, YourTel Wireless, Tag Mobile, Cintex Wireless, Terracom Wireless, Life Wireless,  and Wireless for Hope.
ii) Select the best offer
There are various offers you can get from your service provider which includes minutes, data, and SMS packages. Compare different offers and select that which favors you. Free government phone service providers have cheap cell phone plans for seniors.
iii) Apply for the phone
Having selected your service provider and determined the best offer for you, you can then apply for the phone. The phone will be delivered to the address that you provide during the application.
Which are the seven best cell phones for seniors with dementia?
They include the following.
1) CPR CS900 Retro Flip Phone For Seniors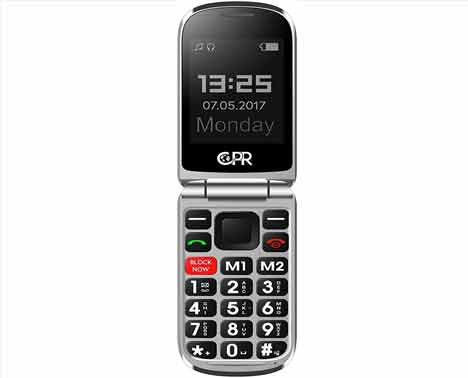 The big buttons are very important so that the seniors with eye problems can easily see as they operate the phones. Furthermore, the SOS button will help the seniors to call for help in times of emergency. Moreover, it will be difficult for scammers to call the phone owners since it has a robocall blocker.
The screen is 2.4 inches and large enough for visibility. Also, the phone has a 16 GB ROM that the seniors can save music to play for relaxation. The phone is 3G unlocked to be used anywhere in the world. However, it does not support CDMA networks such as Verizon and Sprint. You can get AARP cell phone plans for seniors and use them with this phone.
PROS
Large screen
SOS button
Large storage space
It is unlocked
Robocall blocker
CONS
Does not support CDMA networks
2) Rugged Flip Phone 4G GSM Unlocked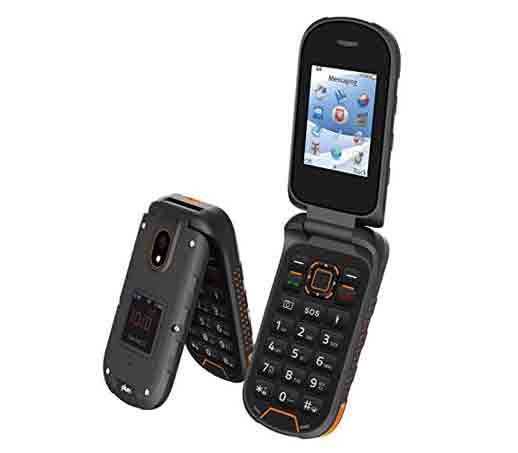 The phone is rugged to absorb shocks in case it falls. Also, it is 4G enabled and this makes it function very fast. Interestingly, it is waterproof and thus unlikely to be damaged by water in case the senior accidentally drop it in a water pool.
The phone has a dual SIM so that you can utilize services from two carriers simultaneously. Furthermore, the camera is wonderful as it has a resolution of 5MP. You can take high-quality photographs for future reference. The screen is 2.4 inches and thus large enough for easy visibility. It has a 1200 mAh battery with standby 120 hours. Moreover, it has a dual display.
PROS
Large screen
Durable battery
Dual SIM cards
High-resolution camera
It is waterproof
CONS
3) Uleway 3G Senior Flip Phone Unlocked with SOS Button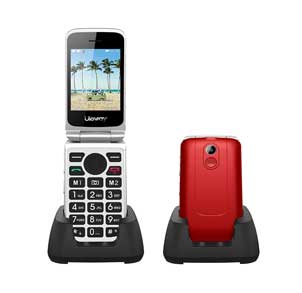 I like this phone very much because it has a SOS button that a senior can press to call when in need of help. Furthermore, the phone supports dual SIM. You can utilize the services of two different providers at once. Interestingly, the phone comes with a charging dock.
The battery is durable as it has a charge capacity of 1200 mAh and thus reliable. The 2.8-inch screen is also very important as it helps you to see the display easily. Other features include a torch, FM radio, and alarm among others.
PROS
SOS button
Large screen
A durable battery
Charging dock
FM radio
CONS
4) Tkexun M2 Men Flip Touch Big Screen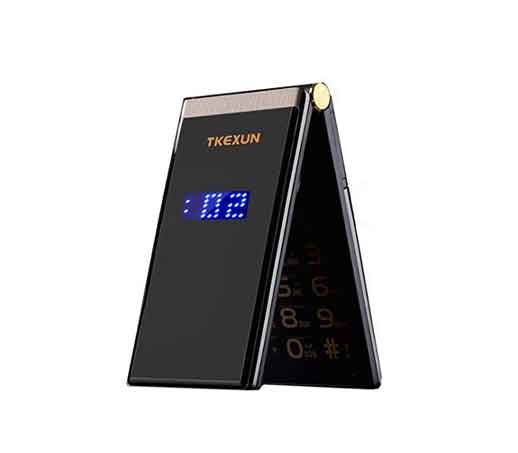 The phone has a large display of 3 inches. It also supports two SIM cards that must connect to GSM networks. The screen is easy to use since it is a touch one other than having buttons. The battery is durable as it has a charge capacity of 3200mAh. Again the phone is a great entertainer as it has an MP3 player, FM radio, video player, and supports memory cards.
Furthermore, the phone supports multiple languages such as English, Russian, Indonesia, Malaysian, Arabic, and Vietnam. Other features include a mini SOS, calendar, ebook, and alarm. Above all, the phone has an elegant design.
PROS
Large screen
Durable battery
MP3 and video player
Supports multiple languages
Elegant design
CONS
5) Alcatel SMARTFLIP 4052R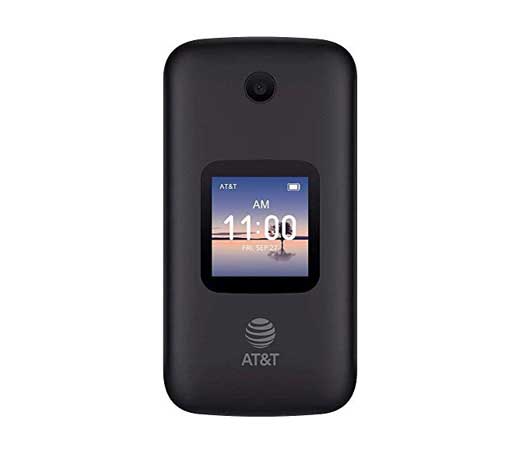 The phone has a dual display so that you can see time as well as who is calling even when flipped on. The phone is elegantly designed and thus makes it classy. It supports 4G networks and thus its connections are very strong. This phone has big buttons that are suitable for the elderly. Furthermore, it has a 4 GB storage space where you can save songs and videos for entertainment.
In addition, the phone is GSM unlocked to be used anywhere with a suitable network. It has Bluetooth connectivity whereby you can share items with your colleagues. Furthermore, it connects to the internet via WiFi. The screen size is 2.8 inches and thus the display is easy to see.
PROS
Large storage space
Large screen
Connects to WiFi
Supports Bluetooth connectivity
It is GSM unlocked
CONS
6) Ushining Flip Phone Unlocked 3G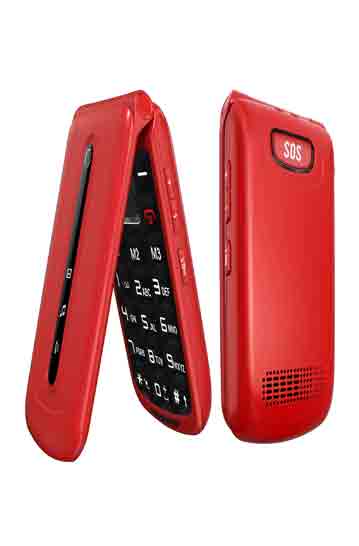 Use the SOS button to call for help in times of emergency. The phone has large buttons that are easy to use. It supports 3G networks and has dual SIM cards. This makes it possible to enjoy the services of two different carriers. The phone is a flip and thus the screen stays safe from mechanical damage. It is suitable for seniors and kids.
It has an internal storage memory of 32 GB.  You can use a memory card of up to 32 GB to expand your storage space. The screen is 2.4 inches and thus very easy to use. The phone uses a 900 mAh battery and has a power-saving mode.
PROS
Large storage space
Supports 3G network
Dual SIM cards
Suitable for both seniors and adults
Elegant design
CONS
7) Ushining Seniors Cell Phones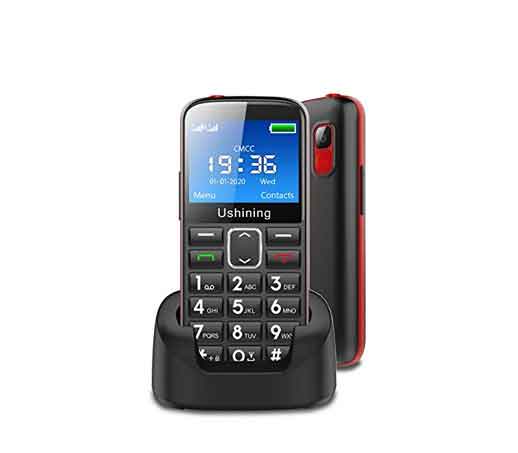 This phone has a SOS button that helps you to call for help when in need. The phone is unlocked to be used with any compatible network. It is 3G compatible and thus very fast in connectivity.  It also comes with a charging dock where you can just insert your phone for charging.
The 2.4-inch screen is large enough for easy visibility of icons such as contacts, torch, FM radio, and others. The phone's battery is 1000mAh and is enough for the phone to operate for long hours.
PROS
Large screen
Easy to operate buttons
Has a SOS button
A charging dock
It supports 3 G Network
CONS
It has a low capacity battery
Bottom line
Seniors with dementia need special phones that are easy to use. A complicated phone will be stressful since most of them have memories that cannot cope with complicated issues. A phone with a SOS button, a large screen, large buttons, and a durable battery will be a great option for a senior. If you as a senior cannot afford a phone, you can apply for a free government phone.